REMEMBER when he was a one-season wonder?
When Sergio Ramos was supposed to have broken him beyond repair in the Champions League final?
When a few wild shots and quiet games early in the season was proof that he was actually a bit crap?
Yeah, Mo Salah wants a word.
Salah's game-winning penalty against Brighton on Saturday was his 14th league goal of this season. Nobody has more.
Even more impressively (as per the ever-excellent Andrew Beasley) out of these 14 goals, nine of them have been the first of the game. Almost two thirds of his league goals have broken the deadlock for The Reds, helped break the spirit of the opposition.
Crucially, each of these nine goals have come in games The Reds have won. So that's 27 points Salah has set us on our way to, 27 steps along the long and winding road to May.
These nine opening goals compare very favourably when we look at Europe's best goalscorers and helps to underline how vital Salah is to this Liverpool team. Seven of Harry Kane's 14 league goals this season have been the first of the game, Cristiano Ronaldo has struck first with seven of his 15, while Messi's return is just four of his 16 goals.
All of that is basically to say that Salah is properly, genuinely elite. An undeniably world-class forward, to be mentioned in the same breath as any of the best in the world. His greatness is not just in doing special things, but important things. He is not ornamental, but decisive.
While players like Eden Hazard express their class in moments of skill and wonder, Salah is busy doing it by deciding games.
Liverpool's refined playing style this season, less freewheeling chaos but more restrained and deliberate, has only heightened Salah's importance to the side.
Last season, we all just rolled with the punches, laughing louder and louder as Salah's scoring stats got madder and madder. This season, with the stakes of a title race and a potential 100-point season very clear from the very first game, it's all seemed a lot more serious. And Salah has responded in kind.
Goals like his third at Bournemouth prove he hasn't lost his proclivity for leaving lads on their arse, but the number of big goals he is scoring is proof positive that he's happy to take the weight of expectation on his shoulders.
He carries himself like the most important player on the team, right down to his now famous non-smiling celebrations. You can almost see the thought process; why would I lose the head, just because I scored? That's what I do, it's who I am.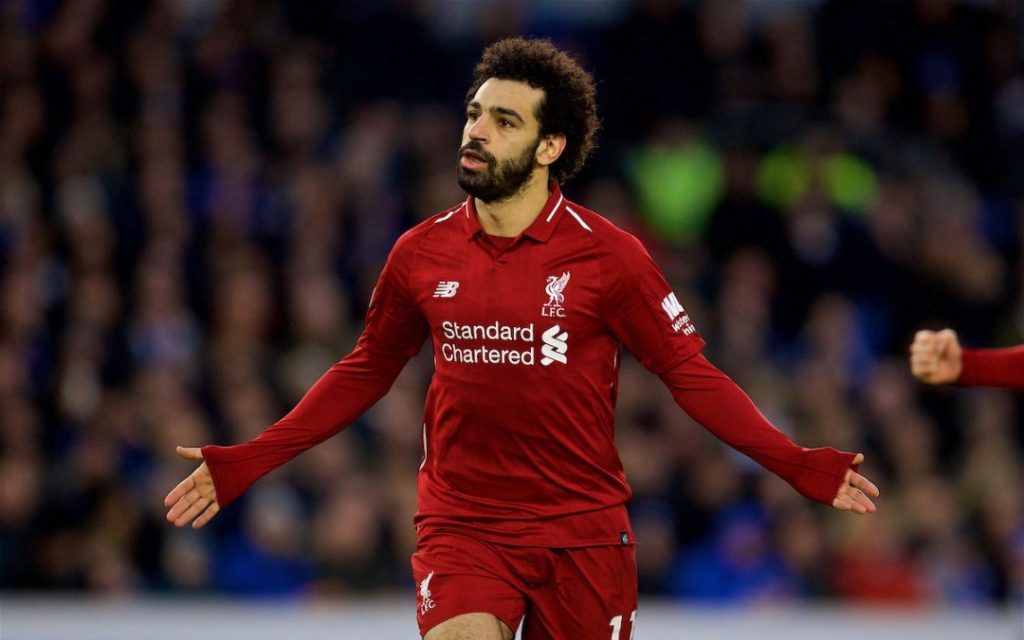 Jordan Henderson is club captain, James Milner the squad's most experienced player and Virgil van Dijk perhaps its most natural (and certainly vocal) leader.
But Salah is every bit their equal, leading by doing, in deed more than word.
The human brain is a funny thing, isn't it? Much like eaten bread, scored goals are seemingly soon forgotten.
It's only natural, given their performances this season, that Alisson and van Dijk have received a lion's share of the plaudits dished out to The Reds this season. The improvement in the defence is the rock upon which this title tilt is built.
But Salah's scoring exploits have barely slowed down from last year. And his sense of timing, his knack for big goals, is only improving.
He has the swagger and belief of an elite forward, and the numbers to back it up. He has the weight of expectation on his shoulders, and he welcomes it.
One-season wonder? Mo Salah wants a word.
"I thought Fabinho was excellent. He provided everything you would want from a centre back." 👏

🗣 Listen to this week's FREE Anfield Wrap show, after the Liverpool went seven points clear at the top of the League, in full here 👉 https://t.co/HAXBh02e62 pic.twitter.com/bIkF3roPfs

— The Anfield Wrap (@TheAnfieldWrap) 14 January 2019
Recent Posts:
[rpfc_recent_posts_from_category meta="true"]
Pics: David Rawcliffe-Propaganda Photo
Like The Anfield Wrap on Facebook