I WOULD like to be looking back on these previews in the summer and laughing at my own childish anxiety and fecklessness in the face of a Liverpool title challenge.
I want to be basking in the summer sun and the glow of Liverpool having been crowned champions. I'd like my June self to be putting an arm around my broken January self and saying "see, I told you there was nothing to worry about…"
If only. For now this seems so much a pipe dream.
Manchester City, our nemesis, are cast again in that role of breaker of our hearts. We can never forgive them for 2014. We focus on our folly against Chelsea in that season's run in, but City had no right to win all of their last clutch of games. But they did, and we were left with the emptiest of feelings. Even today it's hard to process quite what happened over the course of those fateful weeks weeks in April/May.
Winning a league is no different to winning a single football match. The latter is a microcosm of the former. However dominant a team aims to be over the course of 90 minutes there will always be ebb and flow within any encounter. The trick is to exploit the high-octane phases and to damage limit the periods when the opposition is willing and able to pose a threat.
Liverpool have already had one bad spell this season, but it was so serenely administered that it barely registered as having occurred. The received wisdom in the autumn was that Liverpool were "winning ugly". The key was that they were winning, and when not doing so, crucially, not losing.
Whisper it, but The Reds may well be playing through a downturn right now. They haven't looked anywhere near their best for the past four matches. But the net result has been to only slightly impact this title challenge.
The setback in losing for the first time in the campaign at City's ground has been followed by narrow but characterful wins over Brighton and Crystal Palace. The ship was steadied very quickly. It may not yet be entirely back on course even now, but the opportunity to further correct and build a base from which to take this title race by the scruff of the neck beckons.
By contrast, Man City seem to be firmly back in the groove that saw them lay waste to all comers back in September and October. Then we clung to their coattails for dear life. Although we were matching them stride for stride in terms of points, there seemed to be something of a chasm between the quality of the performances being produced by the two sides.
Then the direction of the wind changed. City lost form and focus, losing three in four Premier League games. Liverpool responded to doubts that they could progress from winning ugly to winning well by embarking on an eight-match winning run, which was as impressive in its depth as in its breadth.
It may be wishful thinking but the hope is that City are currently expending a surge in their form on relatively meaningless fixtures. They have 28 goals for in their last six games, but these include four fixtures in the domestic cups against makeweight opposition. A telling few weeks lie immediately ahead for both of this season's title combatants.
From playing football all the time, Jürgen Klopp's Liverpool team are now playing only in fits and starts. The recuperation phase the manager yearned for is upon him, but it brings with it fresh challenges and hazards.
Pep Guardiola spoke last week of how he saw the intensity of fixtures his Manchester City face as being crucial for keeping his men in rhythm. Who can be sure if he believed his own words, but there is something to be said for a consistent frequency of games. One every seven days is pretty much the ideal, but Liverpool will face Leicester on Wednesday night having been effectively inert for 11 days.
It is a small bonus that Claude Puel's Leicester were also without a fixture at the weekend, having been deposed from the FA Cup by lowly Newport County in the third round. Yes, Leicester will be the fresher for the break but they will also be as potentially ring rusty as the possibly over-rested Reds.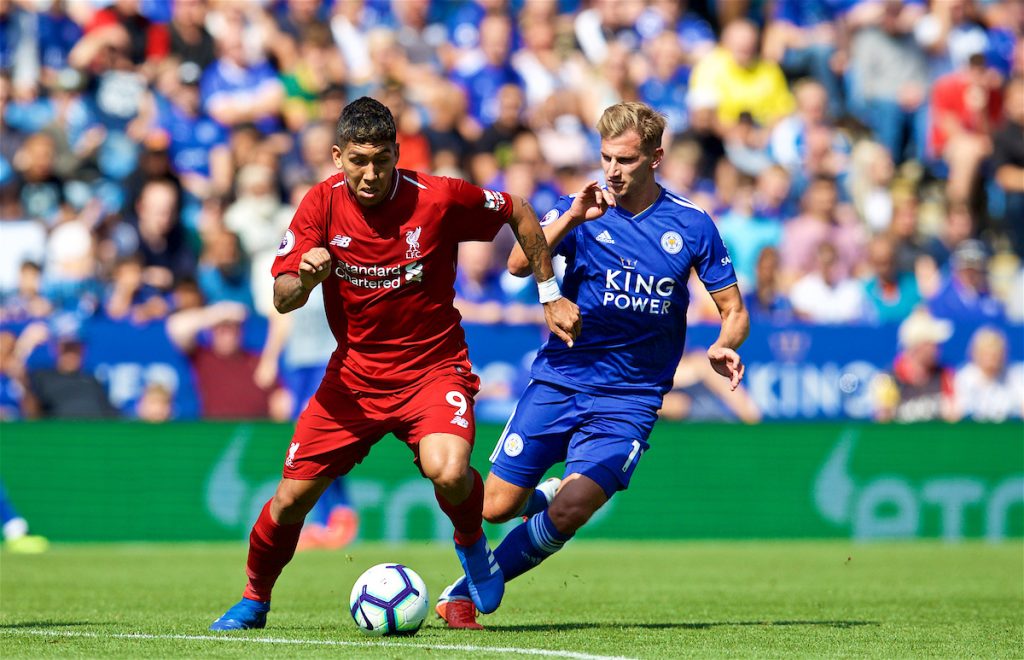 Klopp had hoped that the enforced respite might serve to provide more time for squad-wide injuries to heal. Wednesday's lineup will be instructive in this context. If Trent Alexander-Arnold is fit again, it will make picking the rest of the side that bit easier.
Fabinho is looking better every time he pulls on a red shirt and it would be nice to see him become something of a fixture in the centre of midfield. The suspension for James Milner, though, means Klopp is short of right-back cover and he may require Fabinho to deputise there should Trent still not be ready for a game.
The Liverpool manager will also mull over whether or not his now preferred 4-2-3-1 formation is the right one for the men he presently has at his disposal. Recent evidence suggests it doesn't bring the best out of Naby Keita. Marooned on the left wing, Keita is not the force he can be when breaking from the middle of the pitch.
A wide billet may suit Xherdan Shaqiri more, but he's proved such an explosive gift from the bench this campaign that Klopp may prefer to make him wait for game minutes. I'd persist with Keita and indulge him positionally. His ceiling is sky high and patiently playing him into form will prove its own reward.
At Anfield under the lights, Liverpool could well be irresistible. But Leicester, in the mood, are awkward customers. They recently took Man City's scalp, as did Crystal Palace who gave us a game last time out.
Klopp will seek to strike a balance that enables The Reds to throw the kitchen sink at Puel's team while simultaneously not offering any encouragement to the genuinely dangerous counter-attack threat posed by the pace of Jamie Vardy and Demarai Gray.
Predicted 11: Alisson; Fabinho, Lovren, van Dijk, Robertson; Henderson, Wijnaldum, Keita; Salah, Firmino, Mane
Kick off: 8pm, Wednesday
Referee: Martin Atkinson
Odds by Redsbet: Liverpool 2-9, Draw 5-1, Leicester 11-1
Recent Posts:
[rpfc_recent_posts_from_category meta="true"]
Pics: David Rawcliffe-Propaganda Photo
Like The Anfield Wrap on Facebook
To get the latest Liverpool news straight to your phone, download the Football Flash app…