MY pre-game action was a show there, today.
Decorating, left it too tight to get ready to get out anywhere, my electric shaver ran out of juice mid use, so watched the first half like a fucking mental case, half a shaved head, half a baldy wool accountant head. Blame me for the first half, boys. I was a fucking disgrace.
Bicced me head at half time. The Reds won. Bald bonus.
I can't take much more of this, though. I watched the game kneeling down and started crying at full time. That isn't fucking normal. That's the last game I watch this season when I'm not off me barnet. In fact, I might just bat on like I live in the 1600s; no clean tap water, have to drink lager till The Reds win the league.
Alisson: 7
Not even sure he had to pass the ball first half, never mind anything else. Could have played in a cream pair of slacks and a pair of school shoes, there.
Trent: 8
Rumours he was hurt. I have no clue as the Streamy Daniels I was watching looked like Match Day on the Spectrum and the commentary consisted of a fella saying Nabil El Zhar a lot and not much in between.
Looked alright when he cut that one back that Shaq headed wide, mind you. Thought he was excellent throughout, proper man of the match stuff. Won his battles, kept the ball.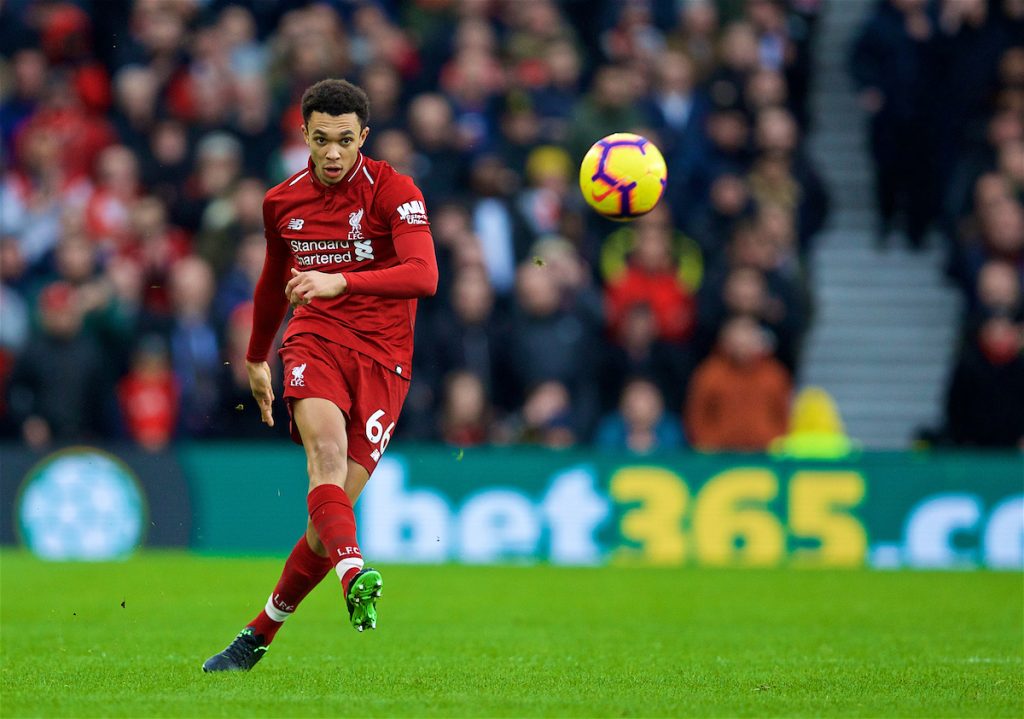 Fabinho: 7
They were trying to get after him and Trent with the big man cheating left wing for them, but did alright. Got sucked under the ball and absolutely forgot about his man for the quarter of a chance Glenn Murray had. Great block second half.
Virgil: 8
Tried to get The Reds playing from the back. Would quite like him just to twat one in there second half, if possible. Absolutely love his arm movements when he is trying to get someone to do something. Did like a helicopter thing for about five minutes to get Trent to move six inches.
Robbo: 8
Played well first half when there wasn't much doing at all. Does great for the Firmino chance that he maybe should have made more of and was great throughout. This defence mate, best in the business.
Henderson: 8
Not a great deal on offer for the midfield in general to pass forward to, first half. Played a couple of loose ones early on that let them break to the edge of our box before we took the ball off them again. Was great second half. Kept the ball, forced the play, broke it up.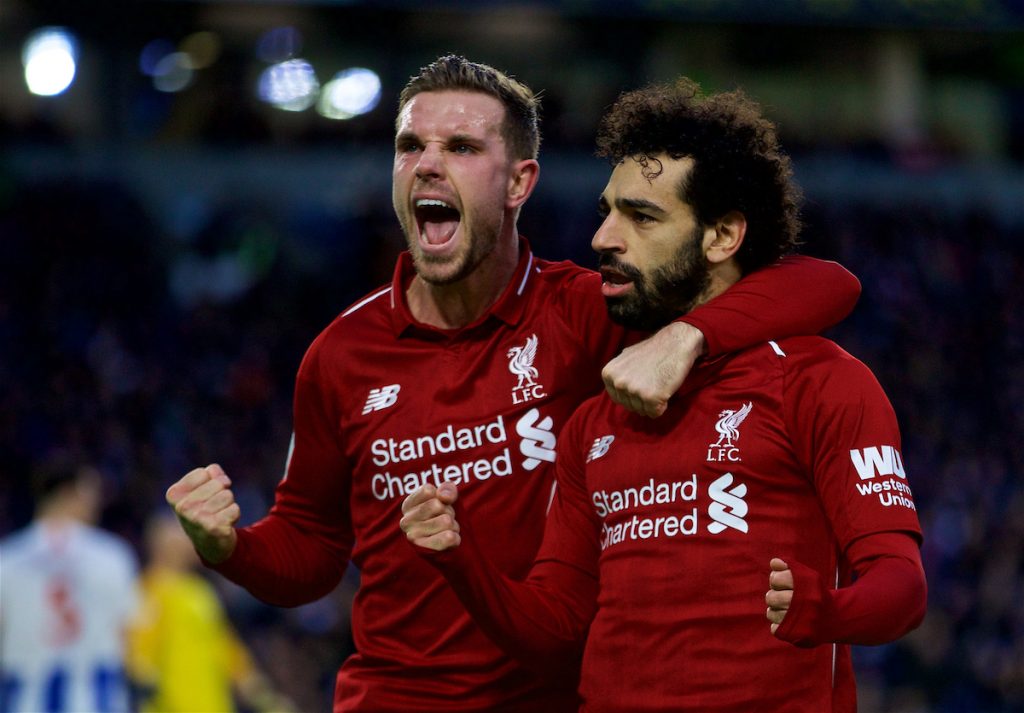 Gini: 7
One of them games were he seemed to do nothing until he had to do something and then bossed the last 10 minutes. Extra prom points for going over when their big carthorse centre half was cryarsing about a handball pointing at his chest, to point at his arm.
Shaq: 5
Really unlucky with the header but, that aside, thought he was poor first half. Great little one around the corner to Mo for the pen but that was about it. Shite for the first time, but who gives a fuck?
Sadio: 6
Quiet today, Sadio.
Mo Salah: 8
Quiet first half. Got half a yard first thing second half and got his shot off. That seemed to spark him into life and then he just wragged their lad all over for the pen. Sneaky switch at half time to drop him deep worked a charm. Got The Reds playing today, the difference maker. When he missed that sitter I thought I was going to be sick, though.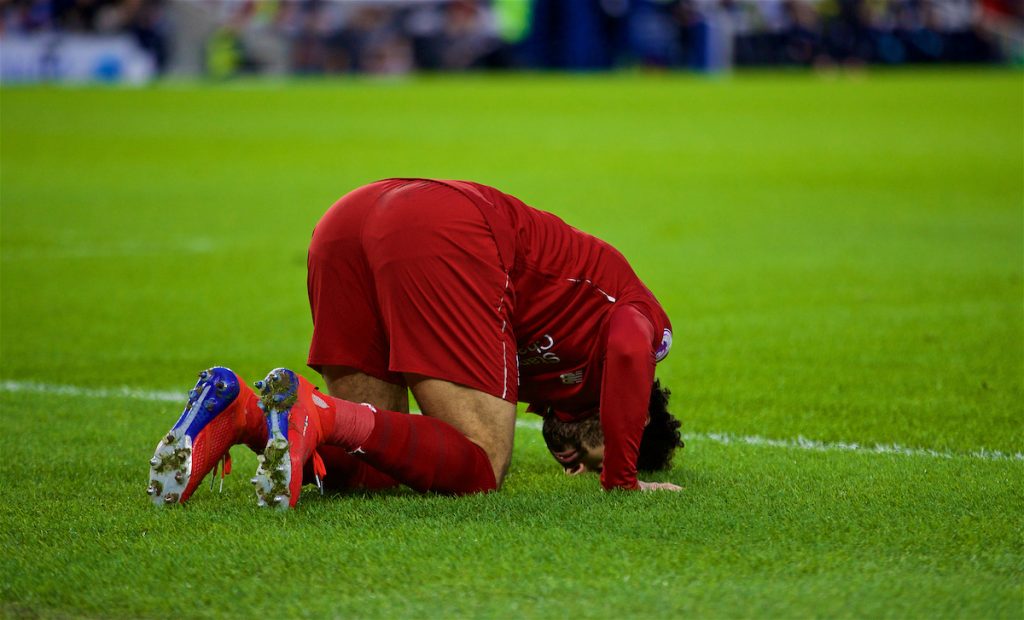 Firmino: 7
Thought he was good, made space for himself, was pretty central to loads of stuff The Reds did right.
SUBS
Naby:
Come on and give it to them for a laugh.
Milner:
Fella.
"It wasn't pretty but Liverpool are seven points clear at the top of the League." 🏆

🗣 Subscribe and listen to our immediate post-match reaction show after the Reds' 1-0 win over Brighton 👉 https://t.co/XZAK9veWt7 pic.twitter.com/kfOYyyCXbc

— The Anfield Wrap (@TheAnfieldWrap) January 12, 2019
Recent Posts:
[rpfc_recent_posts_from_category meta="true"]
Pics: David Rawcliffe-Propaganda Photo
Like The Anfield Wrap on Facebook