EARLIER this week, a Swiss research group called CIES Football Observatory announced that Andy Robertson, the magnificent left back and Scottish captain, is now worth £72.12m.
The organisation, which provide "technical analysis of player performance and the scientific estimation of transfer values", added that his stock has risen by 32 million euros in the period from September 1 to December 1.
Liverpool paid £8m for the Scottish international last July. Such has been his searing rise over the past 19 months that he is viewed as one of the new stars of European football.
£72m though?
Seriously.
Not even close, lads.
There is no figure to match his worth to Jürgen Klopp's starting 11. He's as important as Mo Salah and Virgil van Dijk. They are indispensable to their positions, particularly the latter, but Robertson may be more so given the gap between him and his understudy.
Alberto Moreno is still popular in some quarters, but hardly anyone would want to see Robbo on the bench while Albie starts. That's not a criticism of the Spaniard — just an example of how far apart they are in style and reliability.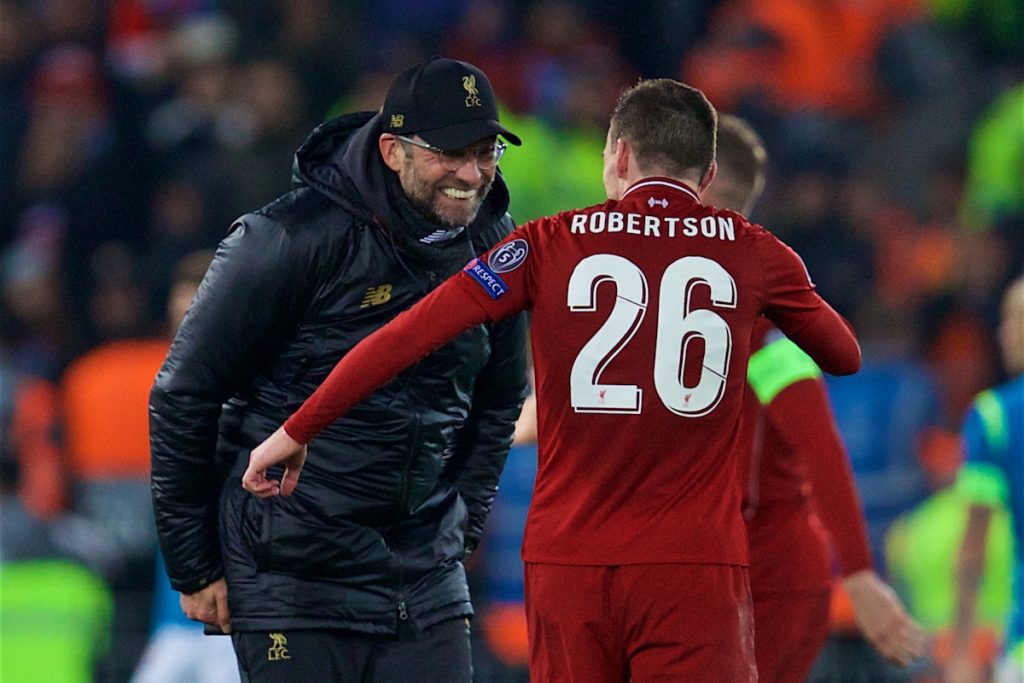 Left back has long been a problem position for Liverpool. Since the days of Steve Nicol the quality had ebbed and flowed. Some have concentrated on defensive solidity at the price of attacking further up the park while others have been frustrated midfielders with a weakness for leaving the back door open. The balance has seldom been right for years.
Arguably, Fabio Aurelio was the best of the recent era, but he was too prone to injuries. Others — Andrea Dossena and Jose Enrique, for example — were just nuts.
Andy Robertson loves a surging run, a cross AND a tackle. This is a Godsend to a formation which needs its full backs to provide width to an often narrow three-man midfield.
As solid as he was, Steve Staunton would struggle in the current setup while others wouldn't be overly keen to be back in Alisson's earshot seconds after giving away a goal kick from the other penalty area. The current role needs brains as well as an engine to get up and down.
But, Andy Robertson's popularity is based on more than football.
Firstly, he's Scottish. And Liverpool loves a Scot.
Billy Liddell, Matt Busby, Bill Shankly, are obvious examples, but the 1978 European Cup-winning side was based on the spine of Kenny Dalglish, Graeme Souness and Alan Hansen. Twenty-three years later, Gary McAllister of Motherwell scored the most famous derby goal in years and, a few weeks later, provided the ball which secured our third UEFA Cup. We'll pass over Charlie Adam for the time being.
So when Robbo and Milner were interviewed on the pitch after the Napoli victory, it was good to hear his Scottish brogue. Synapses were firing all over the shop for us older fans. Liverpool tend to win things with a Scot in the side.
During that interview he paused during an answer to BT Sport's Des Kelly as The Kop sang his name behind him. Despite the cameras, he turned to them and applauded before continuing. That was his priority. How can you not love a player like that?
For Andy Robertson is a fan's player. Not a sponsorship unit or a hashtag, but someone who has shared the experiences of the everyday supporter. He has much in common as the rest of us who sing his name. Andy Robertson is one of us.
His humble approach to life and his meteoric rise to fame are wonderful. This is the man who told his family and friends who wanted to buy him booze for his 21st birthday to donate £20 to the local foodbank instead. He doesn't drink so thought their generosity would be better suited to where it was most needed.
As he told The Guardian following the time he learned of a seven-year-old Roberto Firmino fan who donated his pocket money to a foodbank: "The foodbank is something I've always supported because there's no excuse for anyone to go without food". He sent the lad a signed Firmino shirt as a thank you.
Two elements of that story demonstrate a genuine humility. Firstly, he was a little embarrassed that his involvement made it into the public realm when the child's dad tweeted the accompanying letter and that he donated his teammate's shirt rather than his own as "nobody wants the left back's shirt".
That might change.
There is nothing saccharin about his keenness to help the community. His journey to European Cup finals and national captaincies has been beset with peaks and troughs. Rejected by Celtic at the age of 15 he signed for non-league Queens Park where the only fee he received was his weekly travel expenses.
He had to work behind the tills at the Sauchiehall St branch of M&S on matchdays to make ends meet. In 2012 he tweeted: "Life at this age is rubbish with no money #needajob". No comfy centres of excellence and academy life for him.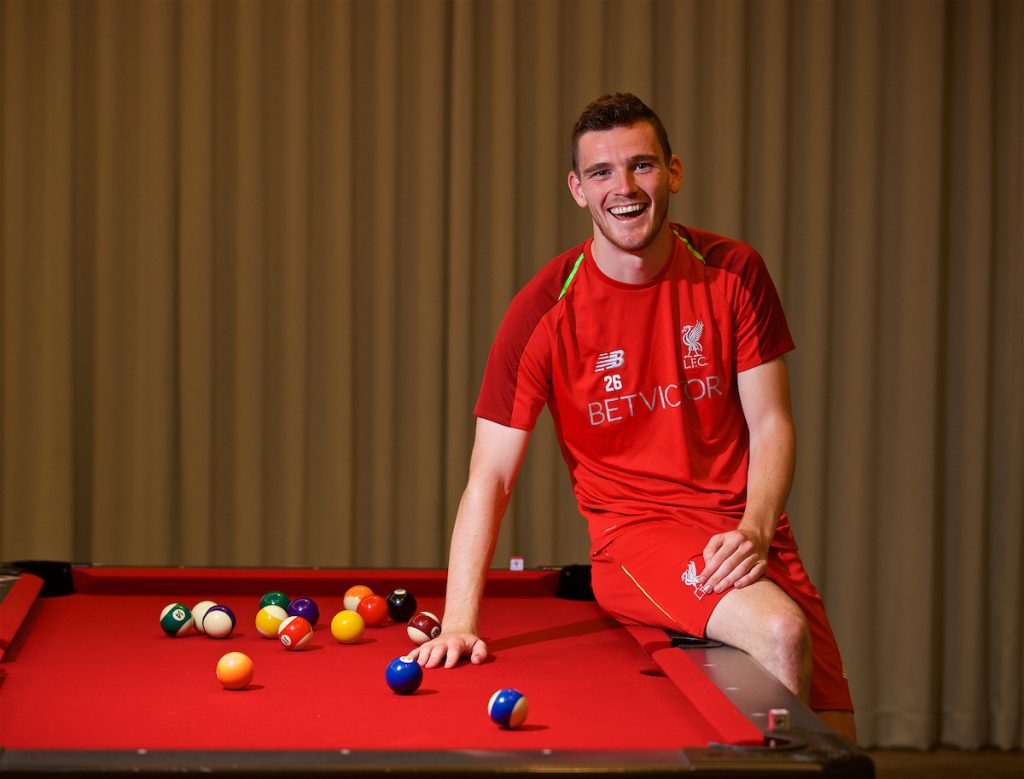 He also worked part time for the Scottish FA and once showed Vincent Kompany to his seat and gave him a matchday programme before a Scotland v Belgium game. It's that start to his football career which has made him grounded.
Furthermore, he always looks delighted when the crowd sing his name. There's no casual nod to the crowd or feigned indifference. That began in earnest after the 4-3 win against Manchester City in January after he chased down their retreating defence and keeper in a vain attempt to win the ball.
It ended in a generous free-kick for the visitors — something Robbo wasn't happy with. He later told podcaster Graham Hunter that he wanted to complain to the referee, but was simply too exhausted at that point. He became a fan favourite as of that moment.
At midnight that night, he received a text from Kenny Dalglish to congratulate him on his performance, though the great man accidentally pressed the wrong button and ended up Facetiming the bemused Robertson while in bed.
It's been a long road through non-league football, life in the Championship and even his early days in L4 when he vomited in his first training session, but now it's almost unthinkable for him to be out of the team.
More than that though, he has an affinity with the club and our fans, and though Mo and Virgil will always receive the lion's share of the plaudits, it's great to have a universally loved left-back again.
Only £72m? Come back when you're being serious.
🗣"It's a great moment when the Kop are singing your name."

"I think @Alex_OxChambo was wanting [a song] but I think his name is just too long!"

✍️Subscribe to TAW Player to listen to our exclusive interview with Liverpool left back @AndrewRobertso5: https://t.co/q0tg7SFik9 pic.twitter.com/4q2EjYu2y9

— The Anfield Wrap (@TheAnfieldWrap) 23 July 2018
Recent Posts:
[rpfc_recent_posts_from_category meta="true"]
Pics: David Rawcliffe-Propaganda Photo
Like The Anfield Wrap on Facebook