THE continued rise and fall of Liverpool and Manchester United was encapsulated in The Reds' 3-1 victory at Anfield on Sunday.
Given that it was swiftly followed by the departure of Jose Mourinho from Old Trafford, a sense of revisionism has been necessary for both sides.
This was Jürgen Klopp's first league victory over our prestigious rivals in six attempts, stemming back to January 2016 when a Wayne Rooney effort was enough to separate the two sides and give Louis van Gaal's team the points at Anfield.
The Liverpool team in that fixture was not unrecognisable from the current crop, with players such as Jordan Henderson, Adam Lallana, Nathaniel Clyne and Roberto Firmino all starting, yet it was the substitutions on the day that give a more considered indication of just how far this team has come in the last three years.
During that encounter, Liverpool brought on Jordon Ibe, Christian Benteke and, most notably, Steven Caulker to act as a makeshift striker in the final quarter of the game, in a desperate attempt to salvage a point.
Wretched, predicable and unsuccessful are all acceptable words to describe those substitutions. Yet they were not a one off. Klopp went on to fight fires throughout that season and the next with no real ability to put a contingency in place beyond the 11 at his disposal.
While it remained clear the German was deep routed in the beginning of his rebuilding campaign at Liverpool, questions were asked at the time relating to naivety around using youngsters and his ability to effect the game from the bench while it was happening.
Fast forward to Sunday December 16, 2018, and Liverpool fans found themselves being privy to yet another tactically astute and controlled performance from the Liverpool manager and his backroom team, in a season where they have become almost steeped in regularity.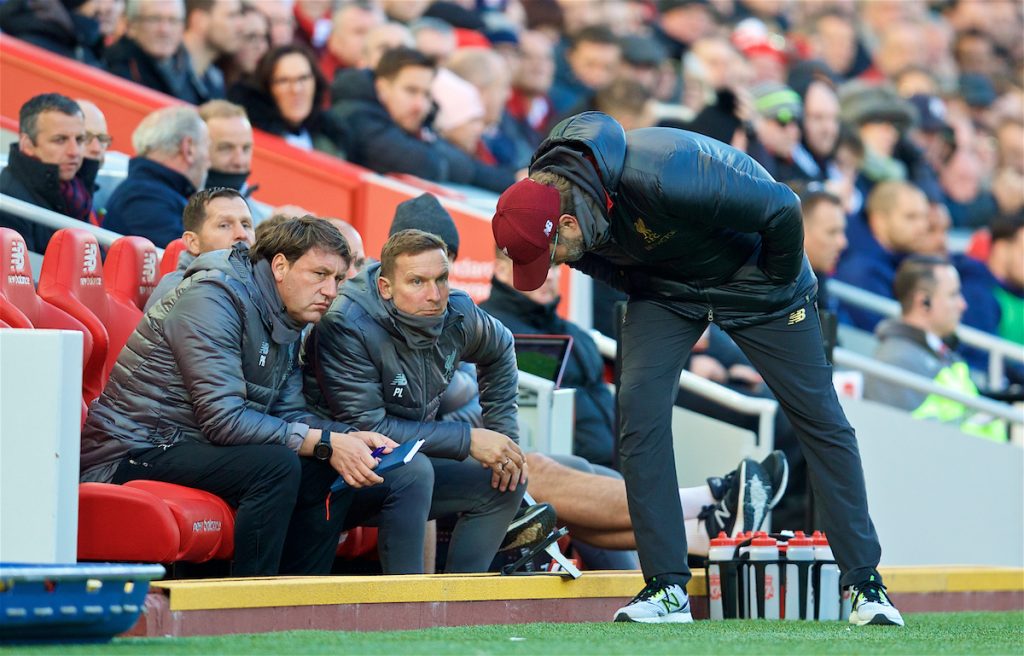 The introduction of Xherdan Shaqiri and the Swiss forward's subsequent double strike earned collective plaudits and was seen as the key decision which ultimately won Liverpool the game.
However, Klopp and his coaching staff deserve more credit for their approach this season which yielded yet another three points to keep his team at the top of the Premier League summit.
In praising the manager for introducing Shaqiri into the fold, it must also be acknowledged that his decision not to start him also paid dividends.
Shaqiri had started in recent fixtures such as Watford, Everton and Burnley and his contributions at all times this season should ensure he warrants more than the "super-sub" tag some have attributed to him.
Looking at the United fixture now, it feels a conscious decision was made to hold Shaqiri back as the first attacking option, especially given the two previous damp squibs served up in this fixture in recent years.
A player with that attacking impetus and urgency was, in hindsight, exactly what was needed at the time to give The Reds the extra attacking prowess and conviction required.
This type of substitution this season has not been in a vacuum; Divock Origi's against Everton, Firmino's versus both Paris Saint Germain and Burnley, and Daniel Sturridge's introduction at Chelsea, have shown there is more wealth in options but also a knack from the bench of knowing what the game needs at a particular moment.
Making the right substitution to add an extra attacking threat can sometimes be more difficult than it seems. Liverpool have a method and way of playing unlike many others and for every action taken from the bench there is a consequence in terms of shape, spaces and balance across the pitch. Not to mention deciding who is the right player to be withdrawn.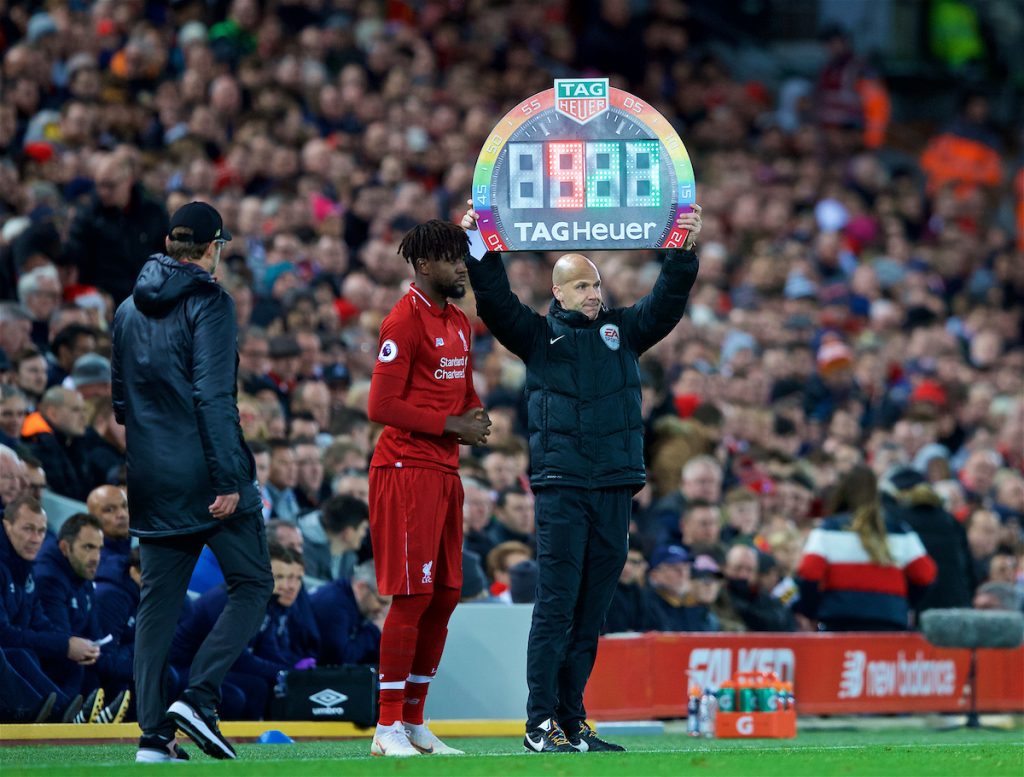 Liverpool have managed this perfectly at times this season. Origi's Everton cameo is maybe the best example to use, as his introduction had several eyebrows raised at the time.
Yet his running of channels and exploitation of an already exhausted Yerry Mina meant Liverpool could stretch the game and inject pace into a fixture which was threatening to fizzle out to nothing more than a point.
Recent fixtures have also shown an ability to react to an opposition move in more of a chess-like fashion. A contingency for what to do should your opponent do a certain thing.
The Manchester United performance was close to being tactically perfect from Klopp and his team. The decision to use Sadio Mane from the right and make Marcus Rashford go backwards as well as providing extra support for Clyne was something Mourinho hadn't prepared for in any way.
As the game wore on, and after Liverpool had introduced Shaqiri, United readied Anthony Martial, an action almost immediately countered by The Reds summoning Henderson into the fold.
This allowed Henderson to shuffle over and assist but also for Shaqiri to continue to exploit the spaces behind Martial down United's left side.
A similar story was present when Naby Keita was introduced at home to Napoli to play behind the space vacated by substitute Faouzi Ghoulam when chasing an equaliser which never came.
In many ways these are brave moves. The introduction of a third centre back from the bench to hold on to a lead has often been criticised, yet Klopp and his staff now seem to be fighting fire with fire and in doing so are backing the team to continue to attack, and reinforce the notion that another Liverpool goal is always a possibility.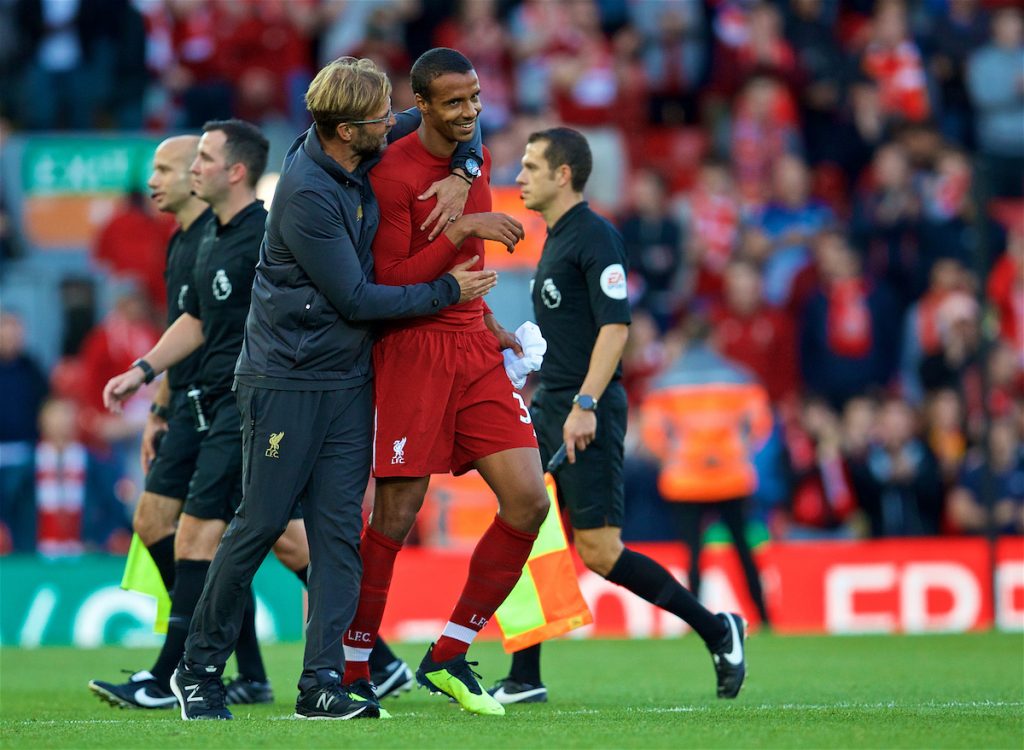 It is no secret the makeup of Liverpool's backroom staff has changed in recent times. The absence of Zeljko Buvac in Liverpool's technical area has, you feel, led to a more collective responsibility to provide Klopp with the support he needs at Melwood and also during a game.
One figure growing in influence is that of Pep Lijnders. The popular Dutch coach seems to have a lot more of a hands-on role since his return to the club.
Lijnders can often be seen orchestrating substitutions and discussing options with both Klopp and Peter Krawietz during a fixture as well as his enthusiastic pre-game duties in the warm up.
There is a sense that a victory for the manager is a victory for all of the coaching staff. The collective release in moments this season, where a decision made from the bench has positively affected the outcome of the game, shows that the unity Klopp continued to emphasise the importance of throughout his time on Merseyside is now present across several facets of the club.
As we enter another crucial encounter tonight in the Midlands against Wolverhampton Wanderers, it would be wise to cast an unenvious glance along the M62 and realise how quickly all of this can unfold into chaos and disarray if the wrong decisions are made.
As one English footballing superpower now finds itself in a state of uncontrollable limbo, another is finding its feet as one of the most talented and tactically astute squads built in its Premier League history.
The Reds are coming up the hill, boys. Those stuck at the bottom are now none of our concern.
"These are the games you have to win. You've got to go to Wolves and win if you want to win the League…"

🎥 Watch our Wolves 'Preview Show' in full here on our YouTube channel 👉 https://t.co/QJPteZIGFh pic.twitter.com/b6ZN84dxSS

— The Anfield Wrap (@TheAnfieldWrap) December 20, 2018
Recent Posts:
[rpfc_recent_posts_from_category meta="true"]
Pics: David Rawcliffe-Propaganda Photo
Like The Anfield Wrap on Facebook