WHEN the full-time whistle sounded at Anfield on Sunday, it was almost eerie how comfortable it all felt.
Liverpool had beaten Manchester United in the league for the first time since 2014, but it all seemed so routine that the feeling from most was that it was a shame there weren't another 10 minutes so The Reds could make the scoreline reflect the dominance.
The outcome wasn't predicted by everyone heading into the game, though. You know who you are. The pessimists who thought that the now former United boss Jose Mourinho would "do a job" on Jürgen Klopp again, parking the bus and frustrating the hosts.
Given the comfort with which Liverpool ended up sealing the win, it's easy to forget that, with 20 minutes to go, it looked like Mourinho might just pull it off, and those pessimists would be proven correct.
The pressure from The Reds attack was cranked up. Liverpool won about 40 corners in three and a half minutes at one point, but couldn't find the breakthrough and it was starting to feel like "one of them".
Klopp perhaps thought the same, which might be why he turned to his pocket rocket, Xherdan Shaqiri. Off came Naby Keita and on came a more attack-minded player to try and force the issue, and force it he very much did.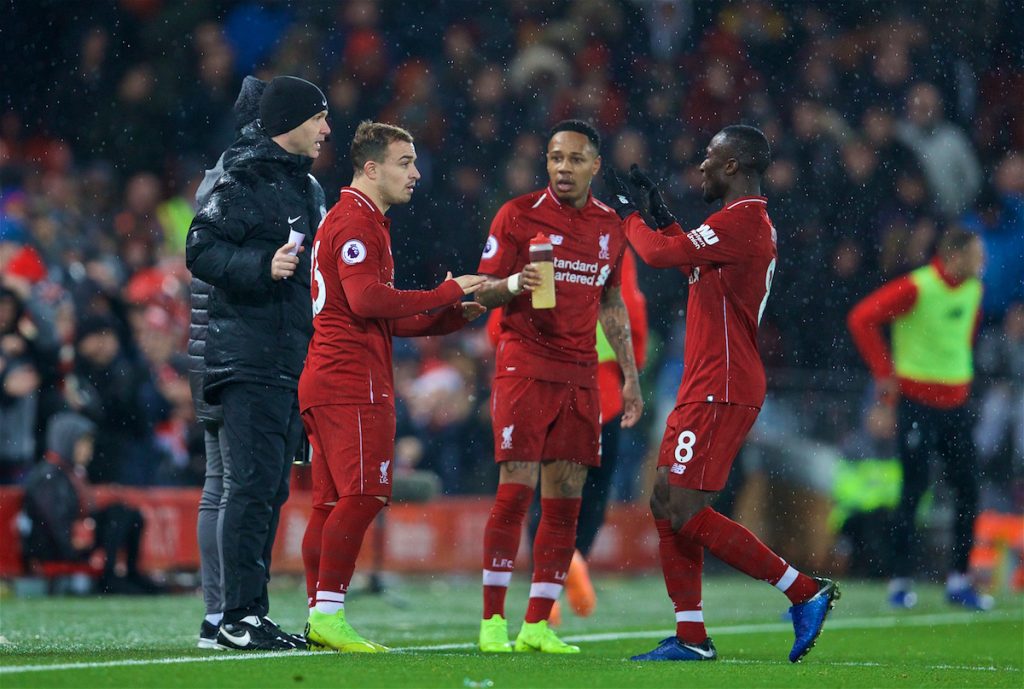 Both of Shaqiri's goals were deflected, which according to some United fans seems to mean they shouldn't count (Frank Lampard's ears prick up in alarm), but they were his goals nonetheless.
Who knows? Had the little Swiss maestro not come on, they may not have come from anyone else and I would be sat here writing about Mourinho's bus parking paying off for him once more.
That wasn't the case though, and Shaqiri's impact rightfully meant the three points stayed in Liverpool to send Klopp's men back to the top of the Premier League, and send another number 23 into the hearts of millions of Kopites.
Of course, Shaqiri has already had his moments at Liverpool prior to Sunday. The beautifully executed goal v Cardiff, the well-taken game clincher against Fulham, and the well-taken game clincher at Burnley, but Sunday's game-winning brace elevated Shaqiri to another level. The Kop is ready to love him, not least because 80 per cent of his goals for Liverpool so far have come in front of the iconic stand, but have also come at crucial times in games.
Four of his five goals have been to put his team two goals ahead in the second half of games to essentially kill off hope for the opposition, while the other was the one to give the hosts the lead on Sunday.
To be honest, I've always had a soft spot for Shaqiri. I remember hearing about this boy wonder coming through for Switzerland, labelled the "Alpine Messi", which drew the necessary skepticism. Then the first time I saw him play in 2010, he did this against England:
The first time I saw him turn out at club level, for FC Basel, he single handedly tore Manchester United to shreds, helping to dump them out of the Champions League in the group stage as he led the Swiss side to a 2-1 win in the 2011-12 season. I was sold.
And so was he, but not to Liverpool unfortunately, who he had been linked with. He was on his way to Bayern Munich.
However, as long as he struggled to make an impact at Bayern, thanks largely to being behind arguably the two best wingers in Europe at the time in Franck Ribery and Arjen Robben, I held out hope that The Reds would rescue him from their bench at some point.
While we watched players like Stewart Downing and Victor Moses turn out for Liverpool over those years, Shaqiri continued to show promise, but not enough to oust the two men ahead of him. Brendan Rodgers did eventually try to prise Shaqiri from the Bundesliga club in the summer of 2014, but Bayern vetoed the deal and he was forced to stay.
"That summer, I had offers from Liverpool and Atletico Madrid," Shaqiri told Spox in 2016.
"I wanted to leave Bayern at all costs. I decided to join Liverpool, Brendan Rodgers had already called me a couple of times before the World Cup, but Bayern stopped me."
Agonisingly, just six months later, Shaqiri was allowed to leave, but was sold to Inter instead of The Reds. It didn't work out for one reason or another for him in Italy, and in the same interview with Spox, the Swiss attacker suggested that Serie A didn't suit his game and criticised the training he was asked to do at the Nerazzurri.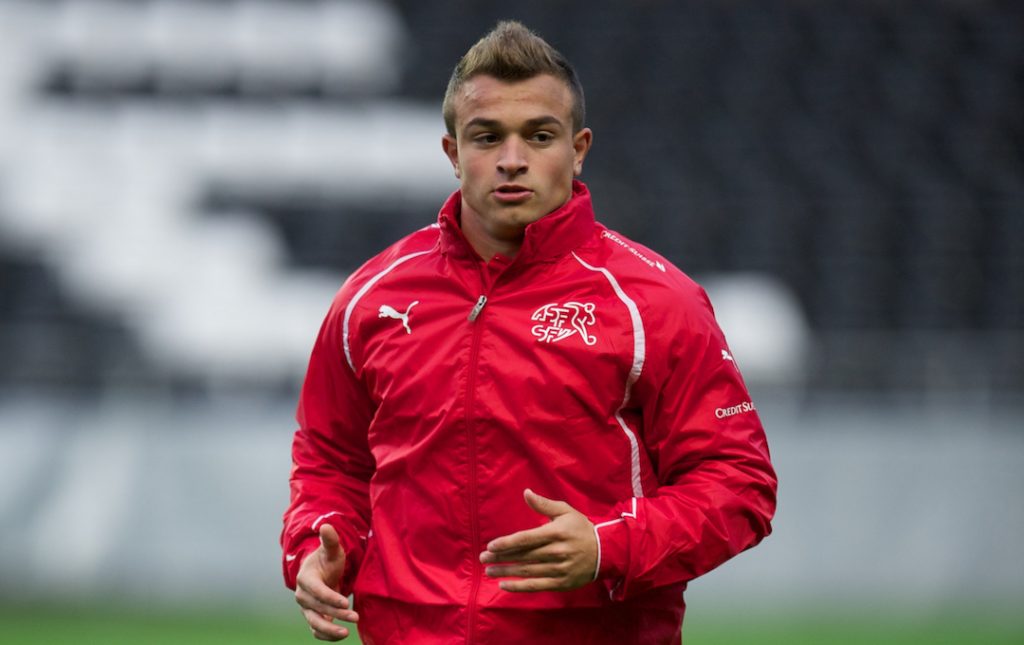 "Italian football, however, I didn't particularly like. It was too slow, full of tactics and difficult for me to show my explosiveness.
"Once, during a training session, I took 200 corner kicks from right and left for two hours. I had never done such a thing."
His Italian nightmare was ended with a move to Stoke City, which shocked everyone. He showed flashes of brilliance during his three years at the Staffordshire club, including a wonder goal against Everton, a couple more against Hull City, and a freekick against Crystal Palace last season that gave brief hope that it might keep The Potters up, but ultimately they couldn't maintain their spot in the Premier League.
Shaqiri's move to Liverpool was rumoured during the 2018 World Cup, which was shortly followed by the infamous Gary Neville rant about how he was lazy, a liability and in no way suited to this Liverpool team, or any team that wanted its players to put in a shift. The irony is surely lost on no one that it was Shaqiri who put Neville's beloved United to the sword at Anfield, and also hammered the final two nails into the coffin of Mourinho's United tenure.
A clause in Shaqiri's Stoke contract meant that he was available for a fee of approximately £13million, but while that perceived "bargain" fee was enough to convince some, the perception of who he was as a player meant that many others remained unconvinced, citing signings such as Mario Balotelli as talent not being enough to outweigh attitude and application (I always felt Balotelli's talent was overstated, but there we are).
However, Klopp and Michael Edwards were convinced and Shaqiri was brought in. On his first appearance for Liverpool from the bench in a US tour game against, yep, Manchester United, he showed some nice touches, flicks and tricks, and then blammed in a bicycle kick to break Twitter as well as the United net. As first impressions go, it wasn't bad.
Shaqiri has not been a regular starter since the season began, but has probably played more than many anticipated, and with every appearance he has justified his next one. There are no signs of laziness and no signs of a bad attitude. Just signs of a supremely talented player finally being given a platform to show the world what he's really capable of.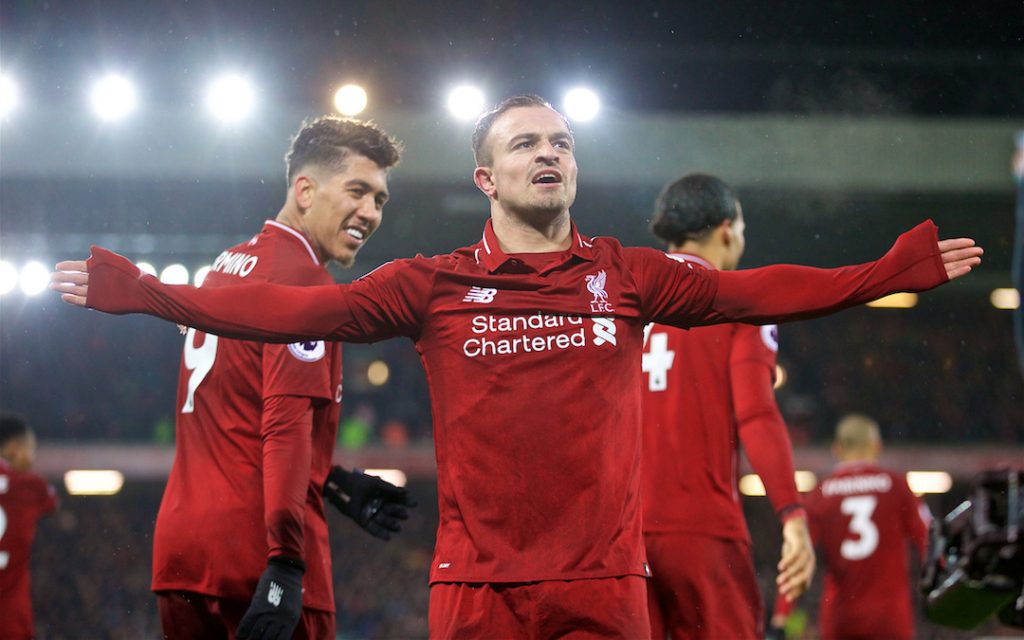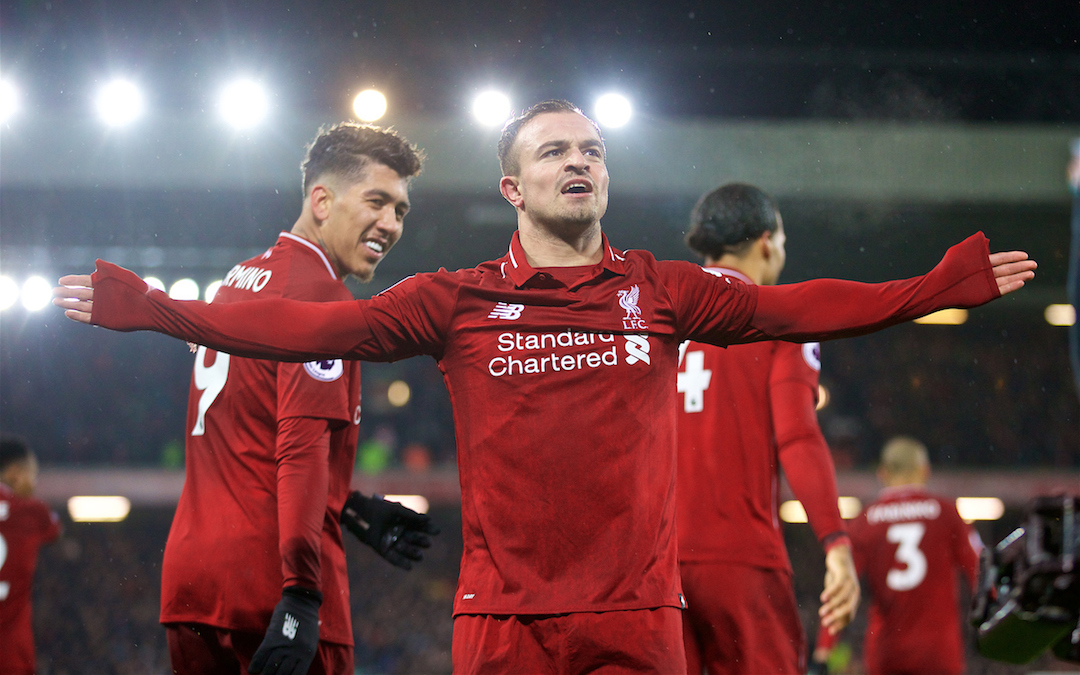 On the free Anfield Wrap show after the Fulham game earlier this season I said that playing for Liverpool after being at Stoke must be like experiencing waterboarding for Shaq, in a good way (bear with me).
Having to play with a Stoke side with very little in the way of high-level talent — barring the odd Marko Arnautovic here or Joe Allen there — must have been like a metaphorical drowning sensation for him, and perhaps why he got a reputation for being moody and selfish. He felt he had to do everything himself because, frankly, he did. That Charlie Adam partly blamed him for Stoke's relegation last season is a bit like Jim Royle blaming Barbara for burning the roast, though I'm sure Charlie wouldn't say no to some charred Yorkshire puddings.
Now that he is among equals, Shaqiri is thriving, looking like a man inhaling much-needed oxygen. This is really the first time in his career that he has been allowed to play with some regularity with players on his wavelength, and it's no surprise, least of all to himself, that he is looking like the player he threatened to be at Basel.
The man shaped like a muscular dishwasher is getting a reputation as a closer of games. He might not be too happy with that as it could mean being asked to come on from the bench even more, but it is certainly something that could prove crucial to Liverpool as the season goes on. To have someone they know they can call on in tight encounters to unlock stubborn defences.
Some have accused Shaqiri of arrogance in the past. Is that a fair accusation? Sure, but it's a good arrogance. The kind of arrogance that tells Nathaniel Clyne that the loose ball is his because Clyney can't shoot very well, even though this is on his weaker foot. The kind of arrogance that plays against United as if he knows he's far too good for them. The kind of arrogance that folds his arms and grins at The Kop as if to say: "When you're all on the bevvies tonight, remember that I'm the reason you're necking strangers with reckless abandon."
Shaqiri is turning doubters into believers. If he can also help to turn Liverpool into title contenders and trophy winners, then he really will have found a home for life.
In the meantime, if he just wants to continue specialising in scoring against United and getting their managers sacked, that will be a good starting point.
"Shaqiri believes that he should be here, he believes he's a star. He's got the whole Kop singing his name." 👏

🎥 Watch last night's 'Post-Match Pint', after Liverpool beat Man United 3-1 to go top of the League, here 👉 https://t.co/6XETZsrMqD pic.twitter.com/NtgKkZpe0H

— The Anfield Wrap (@TheAnfieldWrap) December 17, 2018
Recent Posts:
[rpfc_recent_posts_from_category meta="true"]
Pics: David Rawcliffe-Propaganda Photo
Like The Anfield Wrap on Facebook