THE tipping point came at Molineux. Or the Molineux car park to be more precise.
It was there that Gary Neville conceded that The Anfield Wrap had a pundit better than him. Pep, Poch and the rest knew they were in trouble then.
Neil Atkinson's elevation to Carra status may not prove to be the single defining moment of the season, but something the Breck Road Bard wrote in his TAW match review that night came back to me during the heady victory over Arsenal…
"… Our rivals for the big one are better than us at perfection, better at purity. Occasionally we crave purity, but our boys are brilliant at imperfection. Brilliant at the chaos…"
Liverpool led 4-1 at half time on Saturday, and yet it still felt like a far from perfect performance. It was a marvellous mashup.
Fabinho played a suicidal cross-field ball one moment, then quashed a dangerous break the next. Sadio Mane turned into trouble and lost the ball on the halfway line, then turned effortlessly away from Lucas Torreira and ran at Arsenal's quivering heart. Dejan Lovren tossed a nothing ball down the right flank that led to the opening goal and was putting put his body on the line to cut out a searching cross minutes later. Georginio Wijnaldum… No, Gini didn't put a single foot wrong.
But he was probably the only one.
This was a performance from last season. This was not the smoothly controlled lockdown display that Liverpool have been perfecting during the early winter weeks. The Grohl guitar was out again. Moshpit football. Heavy duty, full on, in your face, under your skin combat football. Come and have a go if you think you're intense enough.
Liverpool can do both now.
It is bordering on treachery to suggest that they are still not playing as well as they can, and yet Jürgen Klopp himself never misses an opportunity to say that there remains room for improvement. I don't think that's diplomatic flannel.
What has returned during December is the goal threat, the nagging doubt in the minds of even the most stubborn opponents that they can possibly keep Liverpool out.
Pundits (lesser than Neil) still talk about "that front three" as if they haven't been paying attention to the now regular tactical tweak. When the full backs bomb on, it can feel like a front 10.
It can also feel a little chaotic and crazy. Fever pitch football. It's like grandpa has sat on the SkyPlus zapper and it's all running at x6. You find yourself shouting "slow it down", "just keep it", "take your time" at 42 inches of plasma, but they don't hear you. Not when they are in that manic mood, not when they smell blood. They just keep on coming until the resistance breaks.
No wonder there are deflected goals, borderline offsides, disputed penalties. This is not luck, this is the product of pressure.
When even Kalidou Koulibaly gets caught out, when even Jose Mourinho can't find excuses, when even Lovren smacks a sweet half volley into the roof of the Kop End net, it's because of the buildup of pressure.
It's a form of torture, an interrogation. All that arm twisting, all that thumb screwing forces the submission. It is not purity, it is not Silva to Silva to Silva, it is not Manchester City. It's just irresistible at the moment, that's all.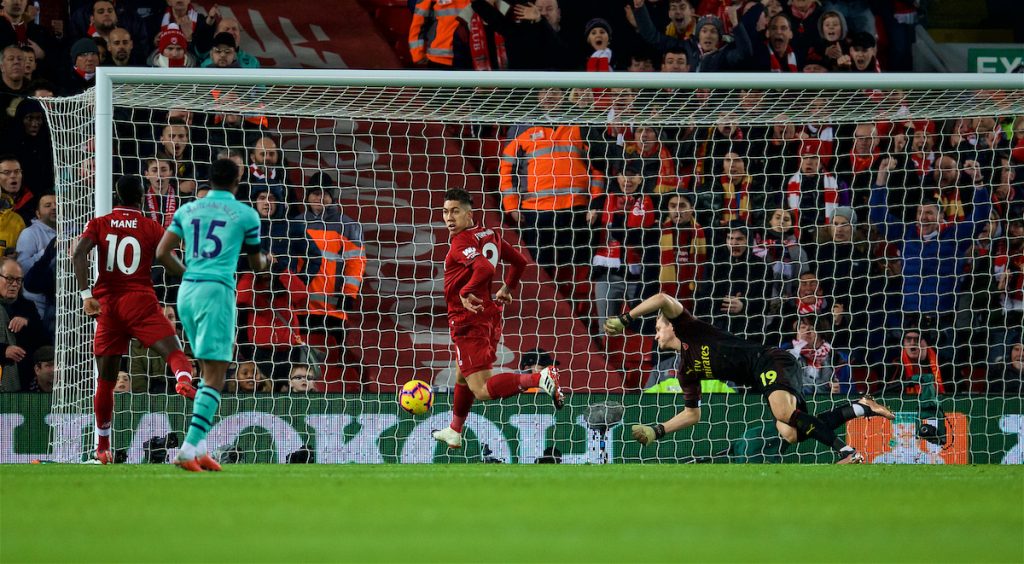 I don't know, you don't know, Klopp doesn't know how Liverpool will handle Premier League leadership. This is largely uncharted territory, but progress always comes with advances into new ground.
This is not a race like an Olympic 10,000-metre final, where the stalking pack are holding something back for the sound of the bell. This is a race where you run every yard flat out. The guys over your shoulder are breathing heavily too.
Saturday's flat-out football will no doubt be tempered at the Etihad on Thursday. Amid all the poppers and streamers that burst out of Liverpool's Christmas crackers, it should be noted that Jordan Henderson has turned in a couple of his best displays of the season. Klopp will want that mature management of games to return for a while now.
The curious thing about the utterings of Messrs Atkinson, Senior and Gutmann in the Wolverhampton rain was how bloody "on message" they were. Three wise men fresh out of the boozer bearing gifts of caution, courtesy and conservatism (small c…). As Rob, the self-proclaimed elder, said: "I've seen proper Liverpool teams, they haven't."
Anyone that truly cares about the potential of this season will toe the party line. Those "proper" teams that Rob and I watched in another century were kings of "take every game as it comes". It's the only way, the Liverpool Way. No triumphalism here, please. Not yet.
Make no mistake about it, this team are "proper" challengers. And in their own image. In two rather different images, actually.
The great and the good of the media were publicly purring about Liverpool's sparkling, splendiferous attacking football on Saturday. They must have missed the Huddersfield and Fulham games. This Liverpool can bump 'n' grind as well as they can rock 'n' roll.
As Neil wrote 10 remarkable nights ago, they are not perfect… But they are brilliant at that.
"The reaction to going 1-0 down, that's the sign of champions…" 🏆

🗣 Subscribe and listen to our immediate post-match reaction show after the Reds' go NINE clear at the top of the league 👉 https://t.co/XZAK9veWt7 pic.twitter.com/RyN9Hotzth

— The Anfield Wrap (@TheAnfieldWrap) December 29, 2018
Recent Posts:
[rpfc_recent_posts_from_category meta="true"]
Pics: David Rawcliffe-Propaganda Photo
Like The Anfield Wrap on Facebook