IT teemed down. It bounced down. It danced down. And you're damn right we danced.
Fucking hell, that was glorious. And fucking hell it was. Mad Friday and a mad Friday night in Wolverhampton, possibly the best night out in Wolverhampton that has ever been had. A crazy night out in the driving rain when you could have seen Liverpool players slide all over the show and make a mess.
Even through torrential, pouring, biblical rain, Liverpool's class shone through. Liverpool stood tall as it bounced, as it danced. Liverpool soaking and resplendent. What a gang of lads. What a set of heroes.
Mo Salah's speed, right until the 95th minute was immense. Wolves weren't even that bad. They were just left in the cold by a man whose gift from god cannot be beaten. You might think it would be impossible to control the ball in such a storm, but Salah has skill, control and precision, even while lashed by water from every direction.
However, the travelling pilgrims who had come from Liverpool to the West Midlands had the most hymns for the man not leading the charge for The Reds, but for the big fella at the back. Both Salah and Virgil van Dijk scored at Molineux. Both played brilliantly through the bouncing rain, but Virgil's control of every aspect of the game probably gives him the stronger claim for man of the match. It was lovely watching him burn off Adama Traore, a siege weapon of a footballer. More rugby league than association football, but no less dangerous for it.
Honestly, let me tell you, lad. Honestly, let me tell you, queen. Let me tell you what it was to watch that game in those conditions. The potential for it to go wrong was everywhere, but Liverpool found their way through everywhere. This was the essence of managing imperfection.
There is this thing — our rivals for the big one are better than us at perfection, better at purity. Occasionally we crave purity, but our boys are brilliant at imperfection. Brilliant at the chaos, and the filth, and the mud and the driving, pissing rain. The driving, pissing rain defined a contest in Wolverhampton and while Wolves are a good side, Liverpool were better.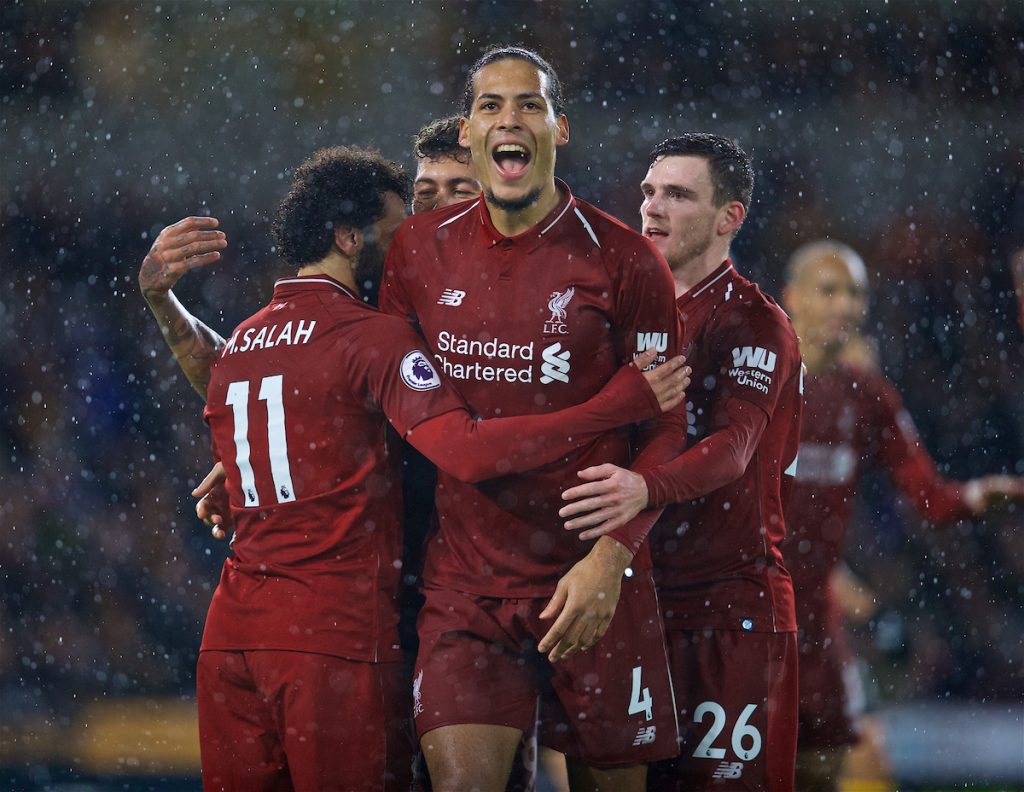 While there is something around the Liverpudlian tradition of pitching teammates against one another, Jordan Henderson and Fabinho complimented each other gorgeously in the middle of the park. They locked so much down and propelled so much forward. They looked a lovely two, all size and certainty. Walk around them.
Possession wise, Liverpool's 60-plus per cent tells the usual story. While the ball was heavy and — like in the recent derby — the football was never going to be as attractive as in dry conditions, neither Liverpool nor Wolverhampton gave up the attempt to pass the ball with grace. It just happens The Reds are at least 10 per cent better at it. It just happens Liverpool have more cutting edge, have better players in every position. It just happens that however good Willy Boly does, Liverpool can do that bit better.
I feel a bit sorry for their lads. Firstly, they whacked some absolute bangers on pre match which was great of them because it set the whole night up marvellously. Then they played well. They have loads of football players doing odd things. It's not easy in that side but when it works it finds unexpected space. They are a board game you aren't quite sure of the rules too.
But Liverpool are great at dice and great at working out what to do with good throws and bad throws. Liverpool are irresistible. Liverpool are played 18, won 15 and lost sweet fuck all. Salah caps a lovely move, van Dijk stands up to his song, 10 men give everything and James Milner keeps it in the corner so long he has squatter's right by the time it is over. He keeps it in our corner.
They are all out Liverpool. All out for each other and their manager and for us. Liverpool's players and manager and staff can't go to town. We can. We will.
And it is Mad Friday. Black Friday before the other black Friday gegged in. It's a night to savour, and enjoy, and get stuck into.
Eighteen down. Twenty to go. Dancing in the rain. You are damn right we danced.
"Played 18, won 15. Up the fucking Reds." 🔥

🗣 Subscribe and listen to our immediate post-match reaction show as Liverpool go top at Christmas 👉 https://t.co/Y74hlIMXs5 pic.twitter.com/6OltAoHmrt

— The Anfield Wrap (@TheAnfieldWrap) December 21, 2018
Recent Posts:
[rpfc_recent_posts_from_category meta="true"]
Pics: David Rawcliffe-Propaganda Photo
Like The Anfield Wrap on Facebook