YOU know what I love about Anfield? Every time I go there I feel like a child.
I was a kid when I first went there. I'm far from one now, but in that place, I will be forever.
As Liverpool summoned the gods and overwhelmed Napoli on a chilled Tuesday December night, I was a jack in a box in my seat. I couldn't settle myself the whole night long. I'd occasionally glance leftwards to catch the eyes of my two sons and sensed their embarrassment and mirth at my immaturity. "What's that dickhead doing now?" Oh, the things that we do when watching The Reds.
I was ready to lose the Champions League, our beloved Champions League. I've said it before, no English club more defines themselves by that competition than us. But then again, no other side from this country is more about winning the league, about being the champions, the best team in England. We are truly a club torn between two great endless loves.
Our wild night with the European Cup, in midweek, must now be filed and the next challenge prepared for. Europe will be there be there for us again in February. We haven't lost our cup just yet. It's back to league action this weekend and a matchup with the nasty neighbours.
Manchester United remind us, more than most, about who we are and where we've come from. Our rivalry with them seems to defy contexts. It's never mattered whether we were shit and they were top dogs, or vice versa, the aching to beat them never goes away.
They're not in a good place at the moment, while we're flying. The opportunity to check us though, will motivate and focus Jose Mourinho like nothing else can. I think we hold a special place in his heart. I suspect we are his great lost love, the one that got away. I could be completely wrong, but we just seem to affect him.
Anfield certainly affected him on that night in May 2005, when his champions Chelsea fell to European Cup semi-final defeat. The apparent illogic of the outcome has always vexed him. They were much better than us, but we were Liverpool and we had Anfield. Jose has always wanted to possess Anfield.
I'll never forgive him for the way he almost spitefully set up a Chelsea team to do nothing more than frustrate us as we stood on the crest of a league title win in 2014. Of course he was entitled to be conservative in the face of our attacking machine that year, but he seemed to take the challenge more personally than was necessary. His team had virtually nothing to play for yet it remained his mission to hurt us. You most hurt the one you love.
The world is criticising and pointing fingers at Man United at the moment. They are perennially football's favourite story. Mourinho will be seething with envy at Liverpool's progression and will savour an opportunity to remind that he is not the spent force football wants him to be.
We all expect him to set up this mediocre United outfit to simply park the Jose bus and stifle the existence out of the game. That's probably exactly what he will attempt but you never know with Mourinho. His sense of the theatrical is never ending. Maybe he'll simply attack us, just for shits and giggles.
Mourinho will appreciate that this current Liverpool side are not daunted by teams that low block. If anything they relish it. I think Klopp will treat United like the mid-table team they have become. He will not show them the respect he showed Napoli in the week. To this end, expect him to revert to his recently favoured 4-2-3-1 formation. Xherdan Shaqiri could well come back in, as well as Naby Keita. Both were pivotal in the demolition of Bournemouth last weekend.
Given that the squad will enjoy the rare respite of six game-less days following United, there shouldn't be any rotation for its own sake. The main front three should go again. From the midfield pool, Gini Wijnaldum and Fabinho may all find themselves benched to facilitate returns for Shaqiri and Keita. James Milner may again stoically deputise at right back.
Mourinho will have been relieved to win with something to spare against Fulham a week ago and should be inclined to largely trust in the same 11 again. But Liverpool are not Fulham and he will surely look for greater security in midfield. That could come from either the maddening but potentially world-class Paul Pogba, or from the crude but unreasonably effective Marouane Fellaini.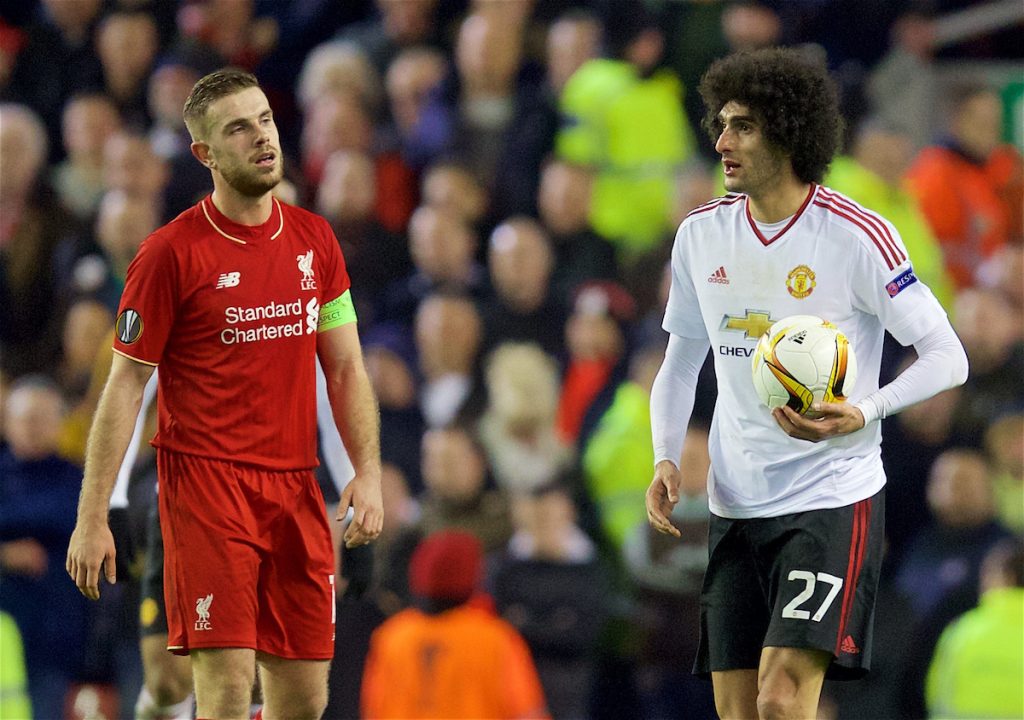 One of the forwards misses out in that circumstance and in these situations that often means bench duty for Marcus Rashford, although he troubled Liverpool's defence when the team's last met and could be tasked to do so again.
Liverpool are brimming with confidence. I want this bubble to stay unburst indefinitely. Good things can come to good people. The Reds are delivering us Christmas after Christmas and we've not even put our stockings out yet.
If you don't feel like a child again in the midst of all this you're doing it wrong. I just want to always feel this way.
Forever young.
Predicted 11: Alisson; Milner, Lovren, van Dijk, Robertson; Henderson, Keita; Shaqiri, Firmino, Mane; Salah
Kick off: 4pm, Sunday
Referee: Martin Atkinson
Odds by Redsbet: Liverpool 10-19, Draw 16-5, Man Utd 21-4
"I'm so excited for this match, the atmosphere's going to be absolutely bouncing." ✊

🗣 Subscribe for all of our buildup and reaction to Liverpool vs Manchester United 👉 https://t.co/lmNtBz4ADz pic.twitter.com/xuEQIlcFEc

— The Anfield Wrap (@TheAnfieldWrap) December 14, 2018
Recent Posts:
[rpfc_recent_posts_from_category meta="true"]
Pics: David Rawcliffe-Propaganda Photo
Like The Anfield Wrap on Facebook
To get the latest Liverpool news straight to your phone, download the Football Flash app…