LEADERS shone through at Burnley on Wednesday night.
Leaders all over the pitch, in what was eventually an excellent win on the back of the ecstasy and elation of the Merseyside derby.
Last week I wrote about leaders and specifically captains, yet the truth is this Liverpool team has them in abundance.
Virgil van Dijk is currently the best centre back in world football. His levels are are absolutely head and shoulders above any of his peers while still carrying water for someone such as Joel Matip, who came in relatively cold to the Turf Moor cauldron.
The goalkeeper, what about this goalkeeper? Alisson Becker looks like a towering presence in every sense with each passing game. His ability and character has shone through in Liverpool's last two games and his injury-time contributions in both games in particular are a testament to his desire and maturity also.
Indeed, the biggest compliment I can pay this goalkeeper is he looks like a player who has weathered the Watford and Burnley aways of this world for many years, yet we so easily forget that all of this is still relatively new to him.
Throughout the game on Wednesday the captain and vice captain grew in responsibility and stature, as did the more experienced Daniel Sturridge.
By the end of the game, Sturridge had firmly established himself as playmaker in chief for The Reds, who were in no mood to make the game anything other than a procession to another three points, to further disprove the notion they are unable to keep up with the current pacesetters.
Jürgen Klopp's men have shown time and again this season that they are no bluff merchants. The sight of somewhere like a Burnley away in years gone by would always lead you to look deep into the soul of your team and ask questions of character and resolve.
This team are burying such ghosts on a regular basis. Klopp and his players no longer feel like a game can get away from them at any point. As such, he is able to back his whole squad in these tricky encounters and know that his reinforcements from the bench can afford him the luxury of not only boosting his own team, but destroying the determination of an opposition who have already put everything into the encounter and are feeling the effects both physically and mentally.
This is a signal of assertion, a reminder of where you are, but more importantly where we are on the food chain. While an opposition can only make changes to stick plasters on wounds and fight fires, The Reds are able to set the narrative with an array of strength and attacking prowess if required.
This was evident against Burnley but also Everton and Watford before that. The sight of Ademola Lookman and Dominic Calvert-Lewin may, on the face of things, seem an attacking move by an opposition manager at Anfield, yet after five minutes of either of them being on the pitch it was clear they had been given a more defensive instruction to quell the threat of Liverpool's marauding full backs over a brief to attack and push for a goal of their own.
A glance back at some of Liverpool's victories this season paint a dramatically improved picture. Crystal Palace, Leicester, Tottenham, Huddersfield, as well as credible draws at Chelsea and Arsenal stand up to the fact the manager and team have learnt lessons from fixtures past, and have adopted a mentality that lends itself to that of the very best.
It should be noted The Reds have faulted three times on European soil. As disappointing as those performances were, it is important to remember this group of footballers are not immune to collective error and that any kind of expectancy for them to be impenetrable on all fronts is unrealistic and honestly unfair.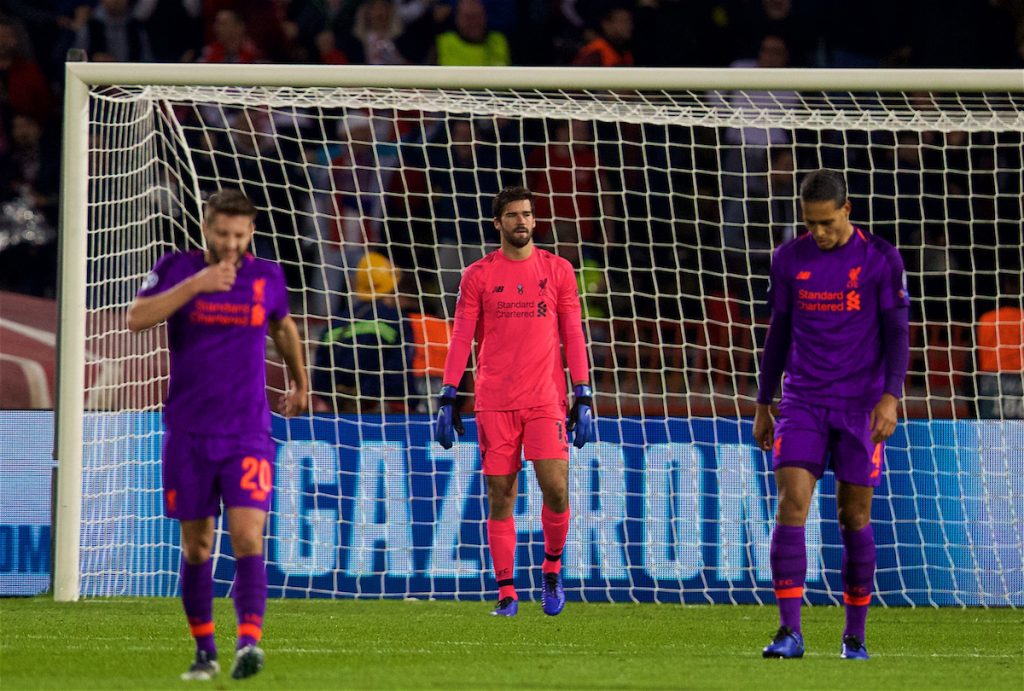 During the swashbuckling run to Kyiv last season, Klopp never had the equivalent of what is essentially a must-win domestic encounter every week to deal with. Maybe, therefore, the focus has dipped in the buildup to those games given the frantic pace back home.
The players and manager will be disappointed with this if so, yet an olive branch remains held out on that particular front and the chance to redeem any current sense of underachievement on the continent can still be rectified.
The Christmas period offers a change up the gears for all. It is a period the manager has been in an internal battle with since he first encountered its pace and demand back in 2015-16. Klopp has since conditioned his players to move through such gears around this time and it has worked to good effect.
This will be needed as the margins for error remain so slim that only winning will suffice.
Liverpool remain in a toe-to-toe slug with the heavyweight champions of the world, they are more than holding their own, and you sense if they can get to the new year still trading blows at this pace, they will undoubtedly look to put Manchester City on the canvas at the Etihad Stadium.
Before that comes many more challenges in their own right, starting with a trip to the south coast on Saturday lunchtime against a good AFC Bournemouth side.
The Vitality Stadium will represent another demon The Reds have sought to exorcise in recent times, following a 4-3 collapse in December 2016 which at the time only sought to reinforce such fears that lay deep about that Liverpool team at that particular time.
That time has passed, Liverpool today are a different proposition, one we as a collective have not seen in a long time.
As the time for recollection and being grateful approaches, we should all embrace how far this club and team have come, and be thankful for all of the Burnley aways they now give us on a regular basis.
As another challenge presents itself, there is no doubt that every opposition will now know this: Liverpool are serious in both attitude and application.
The ghosts of seasons past can no longer scare us in the way they used to.
"Most of the players who missed Burnley will come back in for Bournemouth…"

🎥 Watch this week's 'Preview' show, looking ahead to Liverpool's trip to the Vitality Stadium on Saturday, in full here on our YouTube channel 👉 https://t.co/zYpTVAFjE2 pic.twitter.com/39jr1ftozK

— The Anfield Wrap (@TheAnfieldWrap) December 6, 2018
Recent Posts:
[rpfc_recent_posts_from_category meta="true"]
Pics: David Rawcliffe-Propaganda Photo
Like The Anfield Wrap on Facebook