HERE we are again.
Face to face with the future we crave. All we've ever wanted. What we've ached for. It's carved in angry biro into every fibre of our long-suffering, Liverpool-loving beings.
We get up in the morning to win the league. We put up with the working week, to win the league. We kiss our kids goodnight, silently praying that one day they will see us win the league. We send our loved ones to their graves pledging that we will win the league for them.
We might win the league. In a way, that's enough. I've loved all the years when we "might win the league". Yes, we always get our comeuppance like the eternal tragic heroes we feel pre destined to be, but the journeys to those points. Oh those journeys. I think I could just about live out my years "nearly winning the league".
In some respects we've never nearly won the league like we've nearly won it this season. We're on the cusp of being the greatest "nearly won the league" Liverpool team of all time. Whatever happens next, no one can take this nearly achievement from us.
I don't recall Liverpool achieving daylight in a title race since, I don't know, 1987? A gap at the top. Liverpool "running away with it". What a thing that is. What a concept. Never in wild dreams did I think I'd see Liverpool take such a decisive grip on this competition.
Of course, by 7.30pm on Saturday night things could look a bit more grounded. Arsenal are good enough to check our flow. But if we can just, summon ourselves again, bring our fury once more, and just despatch them, then we go to Manchester City as a bonus game of sorts. I'd take us coming up for air on January 4, with a four-point lead on City. Three points on Spurs would be fine too. The programme post City favours us.
Two weeks ago I made a deal with god that said: "just let us be within two points of Man City on Friday January 4". From that base, with the easier 17-game run in, and a bit of fortune, I felt we could win this league. Never did we imagine that our worst case scenario would be a one-point lead over the champions.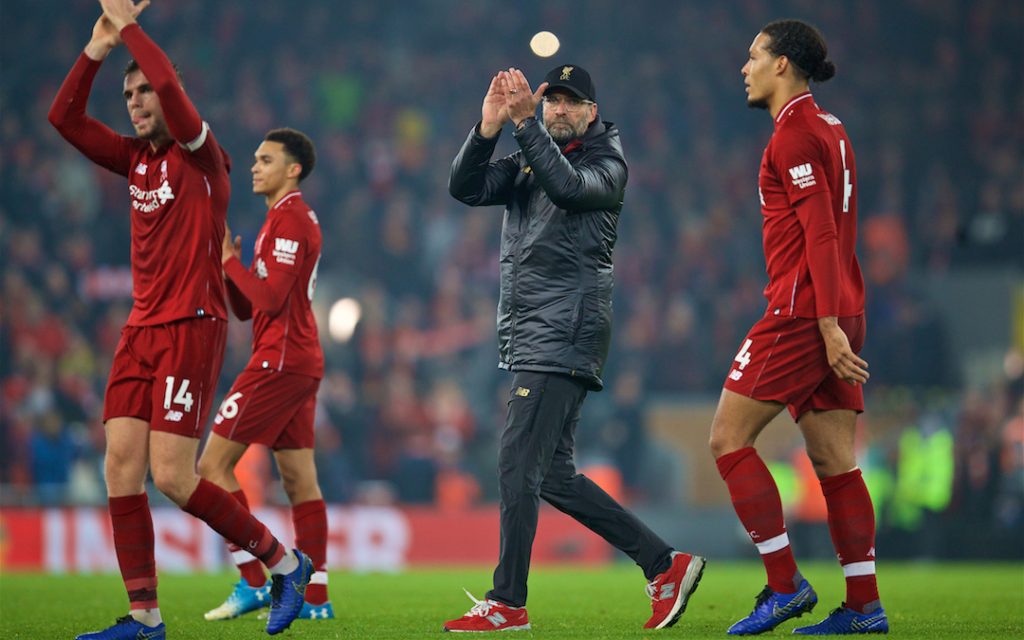 Beating Arsenal would be enormous. It's no given but it's well within our gift to give to ourselves. They aren't in form and we're much better than them anyway. The leveller, the potential pitfall, is in fatigue. This Saturday's Anfield game is just 72 hours after the Newcastle victory.
Jürgen Klopp knows that there are five recovery days between this weekend's encounter and that looming six-pointer with City at the Etihad. It will tempt him to ask his A-team to go again, safe in the knowledge of that five-day buffer.
The Liverpool manager can partially refresh by giving starts to Fabinho and Naby Keita without diminishing the threat to Arsenal. Others like Trent Alexander-Arnold and Dejan Lovren, and even Jordan Henderson, have not played so much football that they can't be asked to step it up again.
The gamble, the recurring-theme gamble, is the temptation to put Mo Salah, Roberto Firmino and Sadio Mane into the fray yet again. Klopp could be calculated and pull Salah and Firmino out, knowing that he can still use them as a break glass option from the bench. If that happens it will be because he trusts Daniel Sturridge and Xherdan Shaqiri to more than adequately compensate for their absences.
The manager will allow himself one more sleepless night wrestling with this quandary before finally settling on the "fuck it and be damned" solution of simply picking his best team.
Make no mistake, though — weary limbs or not — it's a very, very good team.
Predicted 11: Alisson; Trent, Lovren, van Dijk, Robertson; Fabinho, Henderson; Keita, Firmino, Mane; Salah
Kick off: 5.30pm, Saturday
Referee: Michael Oliver
Odds by Redsbet: Liverpool 1-2, Draw 7-2, Arsenal 23-4
"Who the fuck are Manchester City, who the fuck is anyone compared to this Liverpool team." ✊

🗣 Subscribe and listen to our immediate post-match reaction show after the Reds go SIX points clear at the top of the League 👉 https://t.co/XZAK9veWt7 pic.twitter.com/wYvagvbAM7

— The Anfield Wrap (@TheAnfieldWrap) December 26, 2018
Recent Posts:
[rpfc_recent_posts_from_category meta="true"]
Pics: David Rawcliffe-Propaganda Photo
Like The Anfield Wrap on Facebook
To get the latest Liverpool news straight to your phone, download the Football Flash app…