IT was a routine win for Liverpool on the south coast, but not as you know it.
Pundits and "experts" may look back on the game as one where Liverpool cruised to an easy victory, without acknowledging the near perfection this Liverpool team are achieving.
In truth, Bournemouth never quite did enough. Their slow start was picked upon by Liverpool's forwards, Mo Salah and Roberto Firmino, who both showed their complete superiority over the opposition. When they did start to establish a foothold in the game they left themselves too open again and paid the price.
Eddie Howe's side looked as though all they had was their shape and the rest they were leaving to the chance that Liverpool made a mistake, but this side no longer live on the footballing tightrope they used to occupy. They now toe a line closer to that of absolute perfection.
All season the question has been asked, "when will it click for this Liverpool side?" But the expectation seemed to be that Liverpool would return to their old selves. A team that could put six past their opposition but operate solely on the basis of being able to overwhelm the opposition with running and goals, that an improved defence would look after itself.
What we're seeing now is the most mature Liverpool side since the days of Rafa Benitez doing bits away in Europe. Jürgen Klopp deserves complete credit for taking a side that were once merely the most exciting in the league to one of the most mature, winning teams in the league — just behind the team who may well sit below them by the end of today.
The Reds are lucky enough to field some of their most mature heads game in, game out. Today it was James Milner's versatility, Virgil van Dijk's complete composure and Alisson Becker's absolute fearlessness.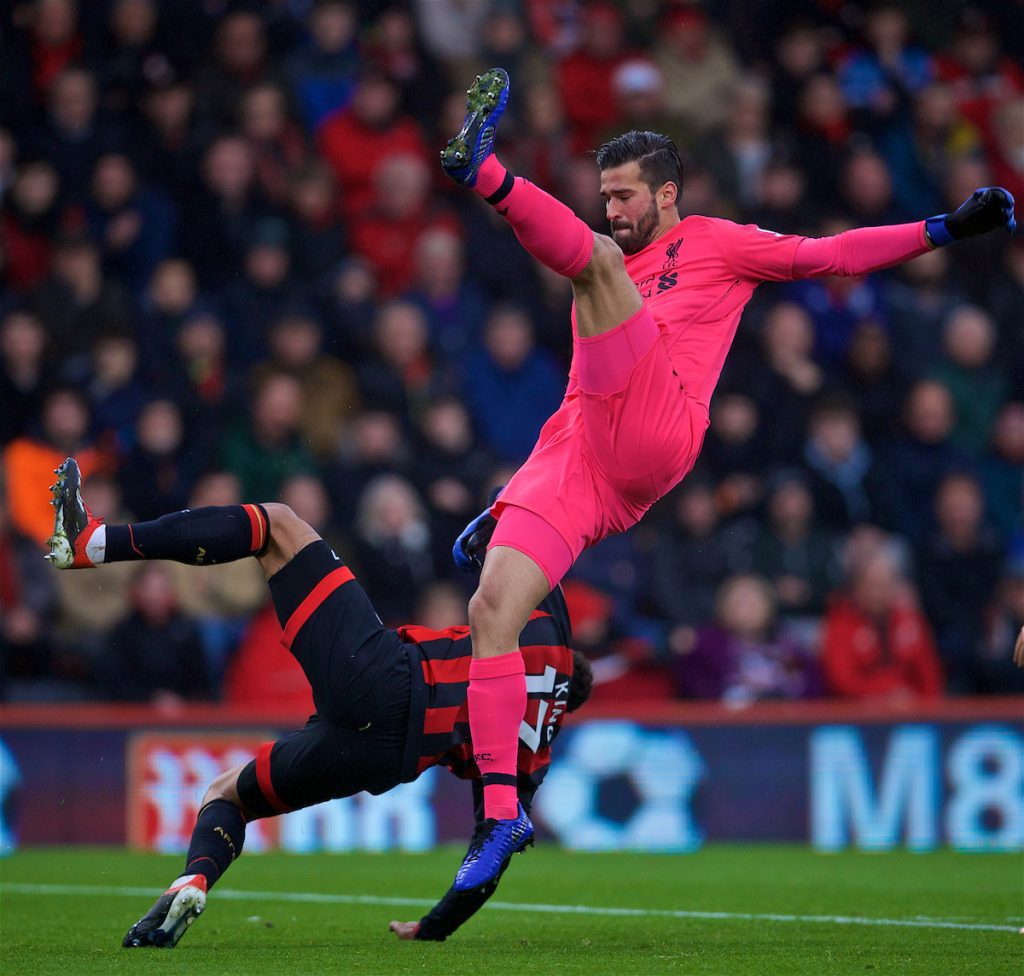 The Brazilian's header in the first half demonstrated the side of Alisson's game you were worried may have disappeared with his error at Leicester. Except he seems to have banked that bad memory and used it to ensure that when he comes to collect, the chance of failing is zero to none. The epitome of taking ball and man.
As a pairing, van Dijk and his new deputy Joel Matip haven't had the biggest of tests in the last two games. Both tough aways, granted, but not the kind of stars they'll likely encounter on Tuesday night under the lights at Anfield — and hopefully several more times in the coming months. Nevertheless, they've both shown their strengths. Neither afraid to put their foot on the ball when it is required, or to bring their goalkeeper into the game in an attempt to stretch Bournemouth out and release an attack.
The two who occupied Liverpool's most attacking positions looked back to their best today. Both Salah and Firmino have had questions asked of them this season, but both made a big impact off the bench in the week and they picked up where they left off. Salah's hat trick sees him reach 10 league goals in a season we've been trying in vain to dampen expectations around him and his goal return. Firmino notched an assist and his best work came from the slightly deeper role we were worried was hampering him this campaign. Both proving us dickheads wrong.
The midfield had a good showing. All four able to pick gaps in Bournemouth's setup, and all popped up and showed themselves in good areas throughout the game. As mentioned in a piece by our own Karl Coppack on Friday, both Fabinho and Naby Keita are starting to look completely at home in this Liverpool side. Gini Wijnaldum kept things ticking over and held the ball as well as he always does. Xherdan Shaqiri the nuisance who loves to take the legs out of opposition defenders.
So Liverpool go top of the league with Manchester City to face a Chelsea side who appear to be losing grip of what made them look like unlikely title challengers just a few weeks back. The Reds need London's Blues to find that touch again.
Regardless, Liverpool have done their job again and get to put their feet up while Pep Guardiola's side attempt to win back top spot. Liverpool have done their job again in a way we're likely to see more of for the foreseeable future.
Jürgen Klopp's Liverpool. Cool, calm, collected, mature. Winners.
Libpool, Libpool, take the piss. 👊

Top of the league. Up the fucking Reds 🔴

🗣 Subscribe and listen to our reaction to Liverpool's 4-0 win at Bournemouth 👉 https://t.co/q0tg7SFik9 pic.twitter.com/WiarElAP7H

— The Anfield Wrap (@TheAnfieldWrap) December 8, 2018
Recent Posts:
[rpfc_recent_posts_from_category meta="true"]
Pics: David Rawcliffe-Propaganda Photo
Like The Anfield Wrap on Facebook