LAST night Alisson Becker had a big moment in a big week.
Liverpool deserved the victory but they wouldn't have got it had Alisson not spread himself wide and strong to deny Arkadiusz Milik from point-blank range in stoppage time. We'd be looking at the Europa League and buses to Baku. Instead we've potential ties with Barcelona, Juventus and the rest of the big lads in the last 16. Fine margins indeed.
People sneering that it "just hit him" are missing the point. For a start, how many shots from that range hit a goalie and go in? This one doesn't because Alisson is not just positioned well but is bold and firm with his actions. The usual Manchester attention seekers, ironically putting it down to luck, should try and think back to Peter Schmeichel. Absolutely loads used to just hit him. Because he'd already done the hard work.
I must admit I was sceptical about spending so much on a goalkeeper in the summer, especially after watching Alisson in the World Cup where he looked decent but not much more. Mainly because I was dubious about how much a goalkeeper could actually improve us.
Obviously after the Kyiv debacle we needed a new goalkeeper. But at the price and at the inevitable expense of spending elsewhere? An analysis of our results last season saw seven draws at home, including 0-0s against Stoke and West Brom, who both went down. Wouldn't a better use of money for those games be more firepower on the bench? Couldn't we have signed the lad Arsenal got and spent the rest on a striker?
There weren't many league games last season where you could say our goalkeepers cost us points. Arsenal away is one obvious one. There were probably others. But if you contrast that with the amount of games a Liverpool goalkeeper has nothing to do, it didn't really add up to me.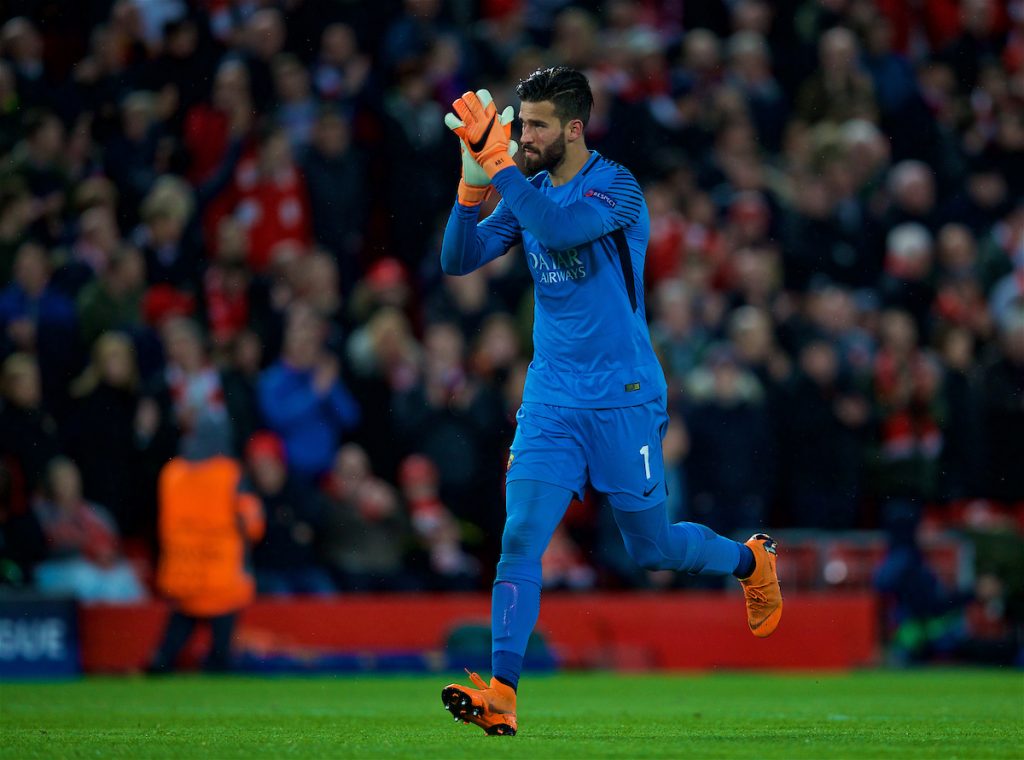 I just felt the value of any goalkeeper compared to an outfield player was summed up in Liverpool's home game against Roma. Liverpool battered Roma because they were much better at football and there was very little the handsome lad in their goal could do about it. If you want to beat a team, you need better outfield players and a 'keeper to do his job.
On this occasion it was me who was missing the point. It's not just what points a goalkeeper costs you but what points they win you. This week Alisson has been winning points. Not by not messing up but doing things you wouldn't have criticised him for not doing. At Burnley he is clawing shots from under the crossbar and starting rapid counter attacks. Against Napoli he's concentrating until the last moment before saving a shot that screamed goal.
But don't just listen to me, the stats speak for themselves. Alisson's save ratio is the best in the league and a ridiculous 20 per cent higher than the lads who played last season. His impact has led to calm, solidity and lots of clean sheets. His teammates clearly love him. So they should. It might be too early to say he's the best in the league, but he's definitely in the top one.
I'm delighted Liverpool continued their policy of ignoring me and got the very best they can for each position. Like the centre half, they saw a problem, went out and got the best available by paying the necessary price. It sends a message to those inside and outside the club that we aren't messing about. The necessary class to get in this team is as close as possible to world.
For the goalkeeper, he doesn't need to worry about being close. He is there already. Don't believe me? The stats and saves speak for themselves.
"Reina was good, but Alisson is the best goalkeeper I've seen play for Liverpool." 👏

🎥 Watch last night's 'Post-Match Pint' in full here on our YouTube channel 👉 https://t.co/KECcj5vasI pic.twitter.com/j54OxfLtMS

— The Anfield Wrap (@TheAnfieldWrap) December 12, 2018
Recent Posts:
[rpfc_recent_posts_from_category meta="true"]
Pics: David Rawcliffe-Propaganda Photo
Like The Anfield Wrap on Facebook