THEY fucking love getting their hair cut in Watford, you know.
I'm not sure I've ever seen so many barbers in one gaff in my life. About 10, in a row, all of them chocker. Mad that, isn't it?
Alisson: 7
Tried to pass one to Firmino at centre half first half but fucked it up because, like everyone else in the ground, he was like, "what the fuck are you doing at centre half, you bellend?" Makes a great save when Degsi falls over. Nothing else to do apart from fill the goal.
Trent: 8
The free kick, mate. Right behind that. Half crying that Shaqiri had gone off, then he just bins it, like it's dead easy. Needs a song, you know. Wish his name rhymed with Ronnie Whelan. Been singing Ronnie Whelan songs all day. Dead easy.
Virgil: 8
He's our centre half, he's our number four.
Troy Deeney got interviewed by the BBC or BT or someone and got asked who he hated playing against the most. His response…
Virgil van Dijk. Too big. Too fast. Loves fighting. Smells nice. He runs past you and you're like "ooh" smelling him.
The best ever.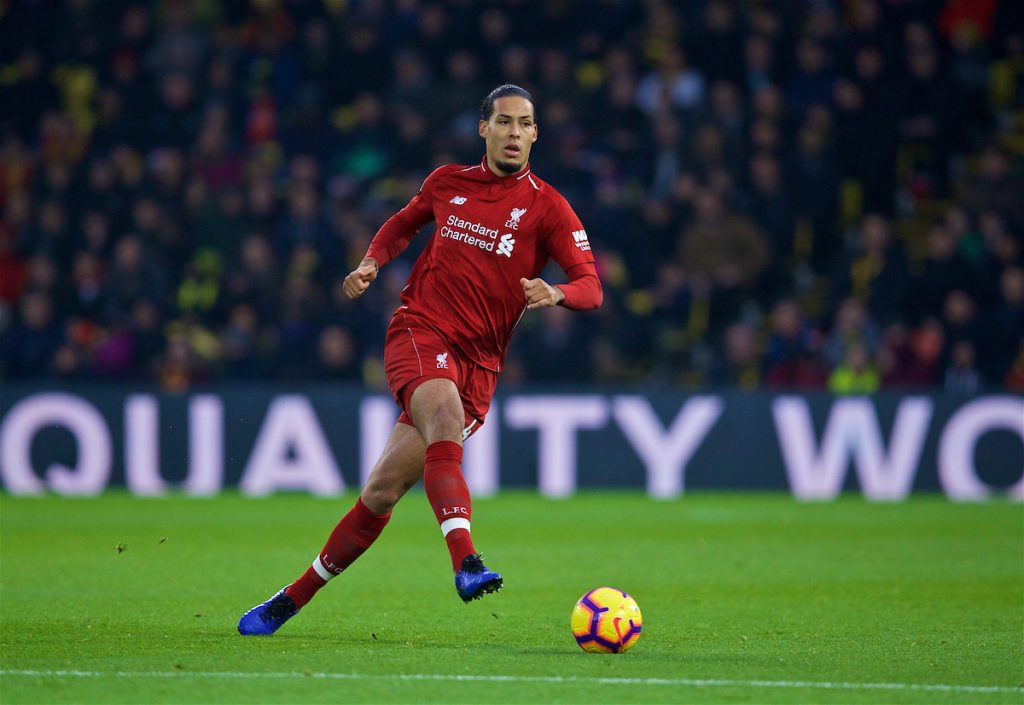 Degsi: 7
Did well first half considering he was playing with two boxes of fish fingers instead of boots. Fucking loves falling over, doesn't he? Last year, a Degsi fall over was a goal. This year he has lads to dig him out. Well in, Degs. Get your feet in front of the fire and warm them up, lid.
Andy Robbo: 7
Sets up Mane to set up Bobby for the third, at a time when arses are twitching. Boss.
Henderson: 4
Ticked it over and done alright, but in fairness the sending off was fucking ridiculous. Daft as a brush. If the game had gone the other way he might have been strangled, and rightly fucking so.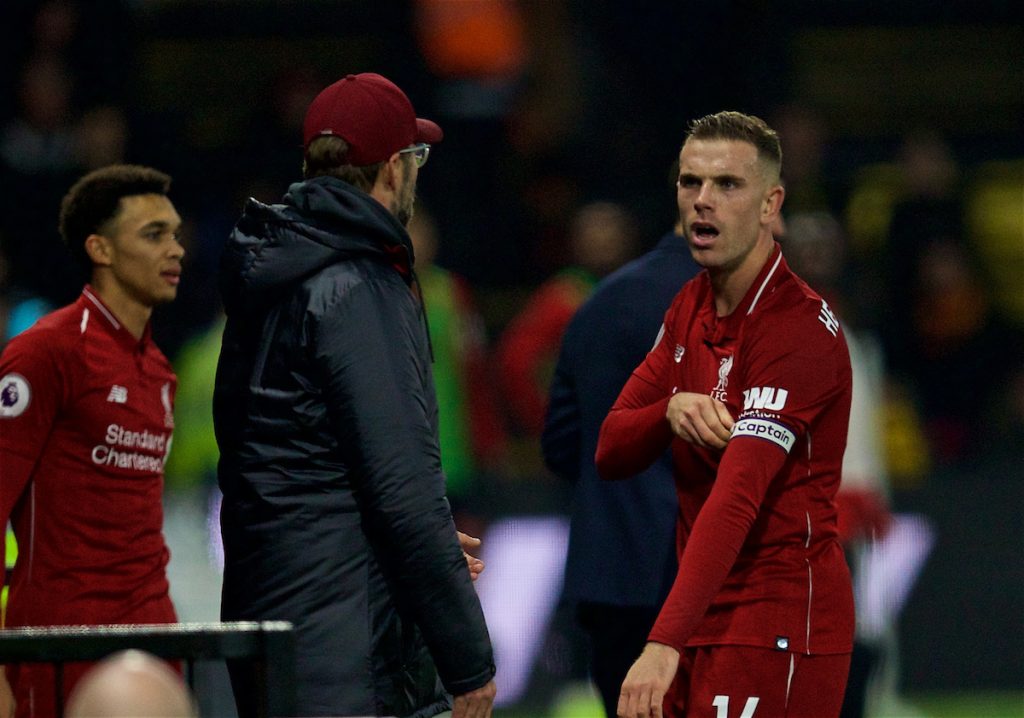 Gini: 7
Did some keeping hold of the ball for a bit. Can't remember much else. But The Reds won 3-0 and frankly I could hug all of them.
Shaqiri: 7
Feels like when he plays no-one else bothers there arse trying to create anything and just leave it to him. A little bit cursed, really. Did alright. Bright, can't half pick a pass, just needs everyone else to play their normal game around him.
Mo Salah: 8
Don't like him playing upfront, you know, but then he scores every time he does, and maybe I'm just a bellend who doesn't know his arse from his elbow. Did some jiggery to get that goal in. Not sure what it was. Just seen it trickle over the line.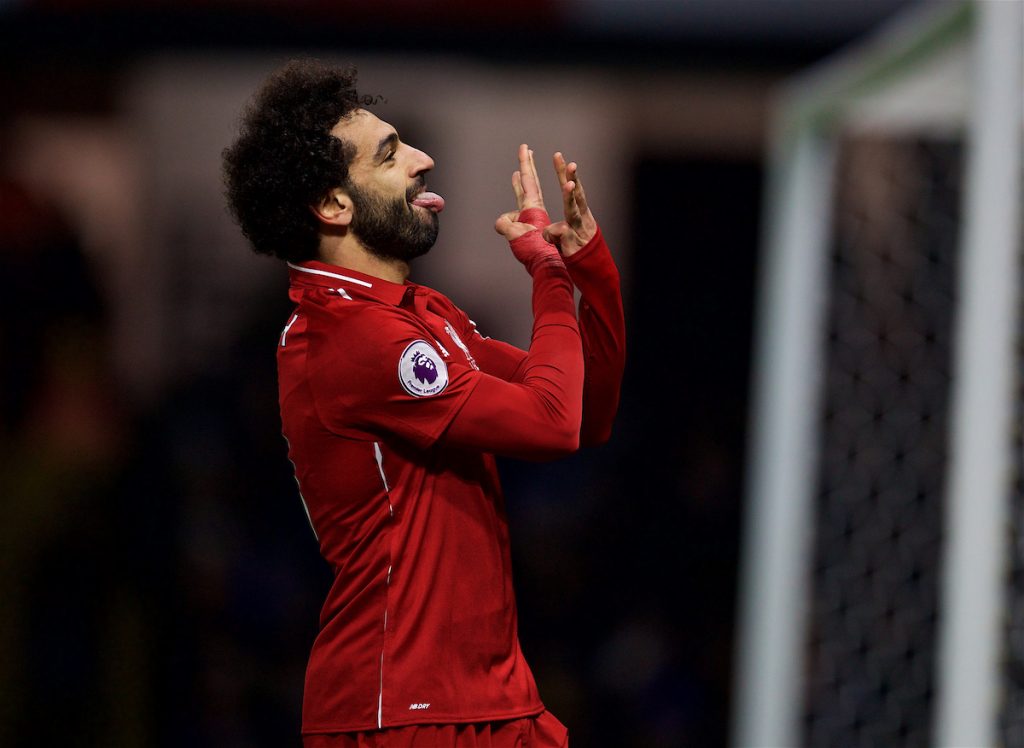 Sadio: 7
Think he might be getting diddled a little with our mad 4-4-2 shape, but still dangerous at times. Signed a new contract. Frankly, if I could get away with it, I would wear my undies on my head for a week.
Firmino: 7
Another one who might be getting had off by being made to play centre mid/centre half/centre forward, basically anywhere centre. But then he scores second half and does an exaggerated bow celebration, and we should all just carry him on our shoulders until we die.
SUBS
Matip:
Massive fan of the Big Joely five-minute sub. The piano man. Love him to get a league medal based on 19 five-minute appearances.
"The first one went in, it was bedlam. Trent's went in, fuck off Watford!"

Subscribe to listen to our Post Match Show from Watford 👉https://t.co/8FirX5zZxk pic.twitter.com/CIsJPY7zl7

— The Anfield Wrap (@TheAnfieldWrap) 24 November 2018
Recent Posts:
[rpfc_recent_posts_from_category meta="true"]
Pics: David Rawcliffe-Propaganda Photo
Like The Anfield Wrap on Facebook