A SUNDAY 12pm kick off has got to be one of football's worst ideas.
We've heard Jürgen Klopp continually gripe about it in the past, including last season when The Reds played Everton at 12.30pm.
"I would at least like to have seen it put on at a normal time and not at breakfast," he said.
He's got a point, hasn't he?
Yesterday's game was always going to be flat atmosphere wise, and so it proved. When so much of human life is geared towards a big Saturday night what does anyone expect?
It might work for someone watching a telly somewhere but when the spectacle is reduced and "the product" diluted, what's the point?
Of course Fulham fans did what any away contingent would do and questioned the location of the "famous atmosphere" at Anfield but it was alright for them, they'd been up for hours to make the trip north… (I'm joking, that's another reason why it's farcical).
Away from the scheduling though, there is a wider point about the collective mindset here. As concerns about Liverpool's play — and number of goals scored compared to Manchester City — continue to seep into supporter conversations, perhaps there is a need to flip the focus onto ourselves for a moment.
"Shaqiri hasn't put a foot wrong at all for Liverpool… he's been brilliant." 👏

Shaqiri ✅
Salah ✅
Robertson ✅

🗣 Listen to this week's FREE Anfield Wrap podcast here 👉 https://t.co/ekPUSeOFQj pic.twitter.com/m2gnxL5exd

— The Anfield Wrap (@TheAnfieldWrap) November 12, 2018
Klopp has made it clear from day one that Liverpool at its best includes the fans. And few would disagree.
The manager wants a partisan atmosphere, a rabble collectively asking why it is now the longest run for 16 years without a league penalty at Anfield, a crowd spurring our players on, putting theirs off and in general playing a part in the occasion to lift it beyond 22 men and a ball.
Home is where the heart is, or it should be and right now Liverpool are in a title race. Yet it's all a bit shrug of the shoulders rather than clench of the fist.
Home records are where challenges are built and more needs to be made of the fact that Liverpool are unbeaten in L4 in the league since April 2017.
That's all of last season and all of this one so far. It's alright that, isn't it?
It might be "early" to be thinking about topping the league, and Manchester City's FFP-busting machine skews perception. But this Liverpool side is a good one. A very good one. And it's turning it on regularly at the most important ground to do so.
The chicken-egg argument will inevitably rear its head in this conversation — would better performances and more goals lift us to another level in the ground? Maybe so. But, equally, would an angrier, louder, more passionate noise help the performance and the number of goals?
When Liverpool have been blood up, guns blazing, punches swinging under Klopp it's felt right. The ground has rocked at times. Under this manager this very debate has waned. Famous atmospheres haven't been a thing of the past or a figment of the imagination. Borussia Dortmund, Manchester United, Manchester City, Roma and more — fans have proved that modern football hasn't ran away with Anfield's soul.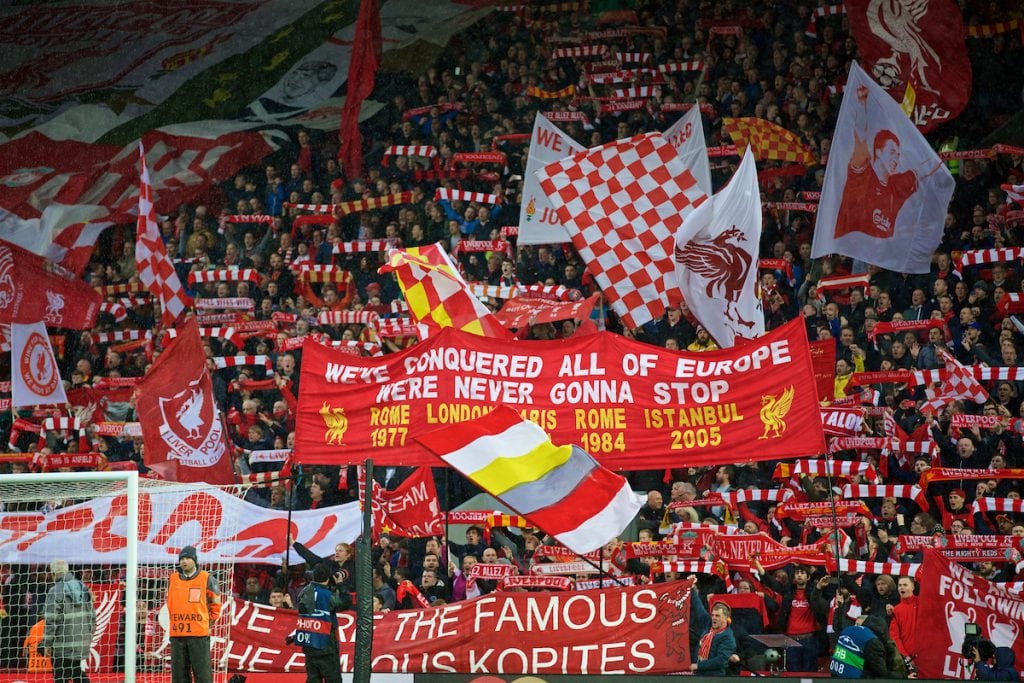 But what about the humdrum and the week by week? Bottom of the league Fulham when people are rubbing sleep from their eyes was always a big ask. Next up, though, it's the derby. Sunday again, this time 4.15pm. Instead of excuses, we should bring our A-game. Make it loud, make it proud, bring the flags and banners and take the time to learn the words to the Virgil van Dijk song.
Some are sniffy about all this but the manager isn't and neither should you be. And if you're on that pitch what is going to make you run one more time, harry again, chase that lost cause? Is it a stale and silent ground where you can hear the players shouting or a ground fired up to push for the end result we all want?
Football will unfortunately never give us 11 Andy Robertsons and sometimes you have to hold a player's hand. Who didn't love his willingness to leg it when many would have left it yesterday? That there's a cheer and a song to follow for the most basic of tasks shows the way for the rest. This is what we want to see, lads.
Liverpool have — more often than not — been doing the business for over a year at home. Can those who click through the turnstiles always say the same? A slightly spoilt, taking it all for granted vibe isn't conducive to the performances we pray for.
We could be watching one of the best Liverpool sides in decades here, should results continue to be clocked up as they are — one that could potentially outscore the points total of any Reds side in the Premier League era, and even the great 1987-88 side (which played more league games in a season than this one will).
It will be December when that shower turn up at our home. So when Liverpool run out, come let us adore them.
We've been nominated for @The_FSF awards and we'd appreciate your help by voting for us in the Fan Media of the Year category! 🗳️

✅ Vote for TAW
✅ Vote for @Carra23
✅ Vote for @MoSalah & @VirgilvDijk
✅ Vote for @JNorthcroft

Nice one 👊

Vote here: https://t.co/wn2w7FrhjU pic.twitter.com/2qkyxWpYvZ

— The Anfield Wrap (@TheAnfieldWrap) November 6, 2018
Recent Posts:
[rpfc_recent_posts_from_category meta="true"]
Pics: David Rawcliffe-Propaganda Photo
Like The Anfield Wrap on Facebook