IT'S the nightmare so many Reds have been whispering about.
The idea that this Liverpool side – which has been showing for 12 months or more now that it can clock up consistent results and compete at the top of the Premier League – ends up with a record points total in the competition and still doesn't win the bloody thing.
It's a worry you see etched across faces of those who have seen it all before, and writ large in the race to rage online every time Jürgen Klopp's side fail to achieve perfection in terms of result and performance.
It was there again post Arsenal, and the rest of the weekend unfolded just how everyone thought it would to add fuel to the fume – Manchester City tonked Southampton 6-1, Chelsea beat Roy Hodgson's Crystal Palace 3-1 and Liverpool now lie in third place in the table, behind Maurizio Sarri's side on goal difference, and behind Pep Guardiola's by two points.
If this is causing frustration among the red hordes, it's fair enough; it can feel unfair. Should Liverpool keep up current form, they are on course to register 93 points, seven more than the club has ever managed in a campaign since the last title in 1989-90 and one more than the great Liverpool side of 1987-88.
And yet, it might not be enough.
Manchester City won 100 points last season, dropping only 14 points in nine months of league football. It's an incredible pace, and one they are setting yet again.
A two-point gap now stares out at those looking in from a Liverpool perspective, while City's goal difference reads 13 better than The Reds', after Guardiola's side made it a victory of five or more goals for the 12th time under his leadership (when no other side has bettered six in the same time frame).
None of this is in Liverpool's control. No one, not us, not the players, not Klopp nor the owners, can derail Manchester City's momentum beyond the opportunity offered when The Reds play at the Etihad Stadium on January 3.
So why should our happiness and enjoyment of what is a very good Liverpool side be dictated by what happens at a club 35 miles away?
Further, away from how us fans react, Klopp has a job on his hands to keep the players firing and focused with the distraction of City's seemingly relentless charge. Everyone at Liverpool must stay committed mentally to their own game and their own achievements. Because they are achieving. And doing so to a very high standard.
The crazy levels of the Premier League may be hitting home, but importantly Liverpool are right up there competing at the business end, not looking up from afar as has so often been the case in the past.
The idea that Liverpool can achieve 90-plus points this season can not be tossed away lightly when the 80-point barrier has only been breached by the club four times in 26 seasons – 2001/02 (80), 2005/06 (82), 2008/09 (86) and 2013-14 (84).
Further, the last time Liverpool won the league, they did so with 79 points. The bar hasn't just been raised. It's been kicked into space.
We constantly look to the past, remember those increasingly distant glories and demand a repeat as though it's that easy. But, ironically as Sky themselves put it in an advert for the Premier League back in the beginning, this is now "a whole different ball game".
The Reds' 27 points out of a possible 33 this season has matched Liverpool's record for a best ever start to a Premier League season, which came in 2007-8.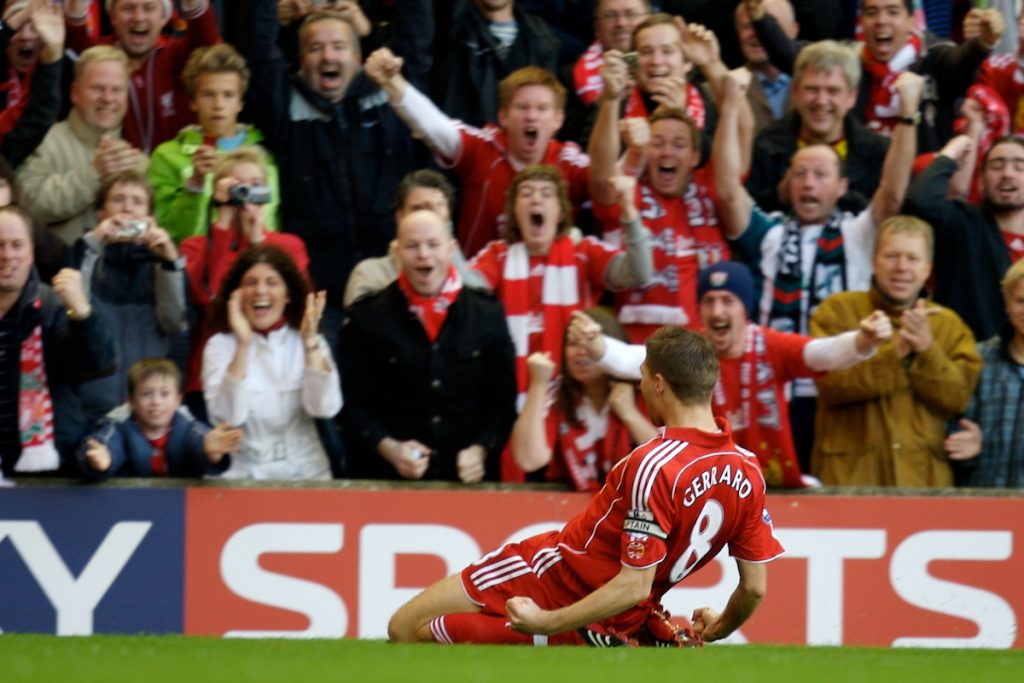 Klopp's class of 2018 have maintained a zero in the losses column despite travelling to Tottenham, Chelsea and Arsenal away, and facing Manchester City at home. There are easier games to come and tougher ones for City to face.
Alexandre Lacazette's sickening, but in fairness, sublime, late equaliser was only the fifth goal a defence we can rely on has conceded in 11 Premier League matches.
We can gripe about the referee and the offside that wasn't, we can bemoan Virgil van Dijk's nearly-but-not-quite efforts in front of goal, and we can wonder why a rare moment of opportunity was punished so ruthlessly by Arsenal while that very trait was lacking at the other end.
All fair. All human. All understandable. All borne of frustration.
But it shouldn't cloud the progress. Where we were and where we are. Liverpool are already eight points better off than this stage of the season 12 months ago.
Saturday's draw was depressing but not disastrous, at a ground where Liverpool have only won twice in 13 attempts and against a team that was unbeaten in 13.
Klopp's words post match may not have been the tub-thumping type that spark tops off primal screams but they were correct nevertheless: "A point at Arsenal will always be absolutely a good result. We take that, now let's carry on."
Liverpool remain a club and a side pointing in the right direction despite the weekend shift of positions. There's room for improvement, and the midfield players returning from injury can help with that, but a coolness and a calmness needs to remain for everyone involved.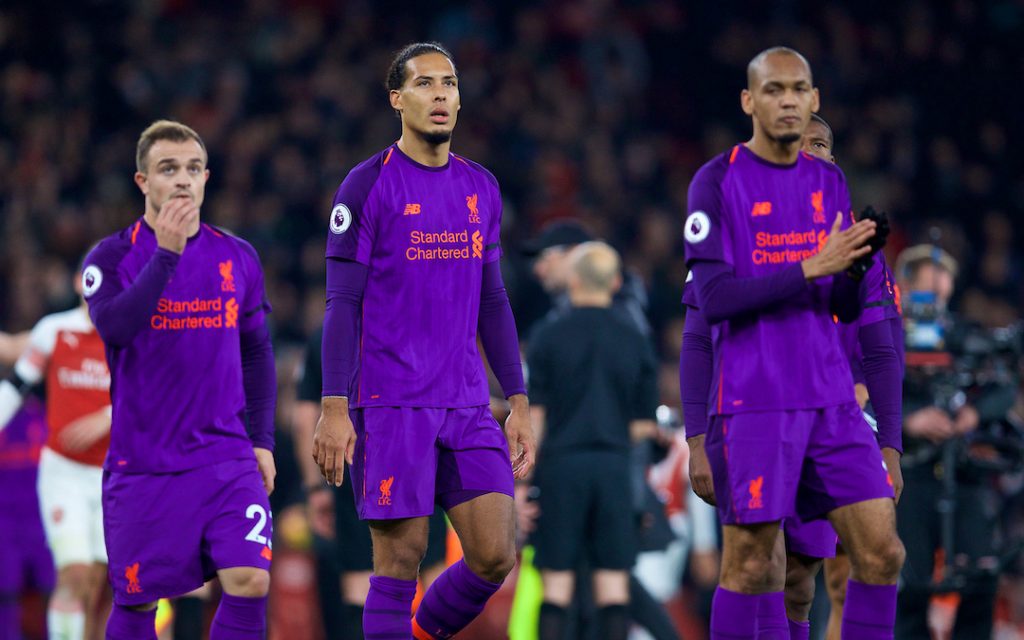 It's a great base to climb further. The Reds just need to keep knocking, consistently. Stay in contention. Stay in the race. Stay competitive. Right now they are doing just that. And one day it will count. We have to believe that.
Five years back, when the psychiatrist Dr Steve Peters was involved at Liverpool, he told The Independent: "A goal is something you must be able to control and you can't control [your place] in the league.
"It depends on how others play, not just you. You always like to influence things and influence as much as you can but accept that most things in life are a dream. They're not guaranteed to happen."
That is unfortunately where we are – now and every season. But right now we can still dream and do so realistically.
What is much harder to accept is when there is a clear opportunity missed. Leicester were confirmed champions in 2015-16 when they had won just 77 points. And Liverpool? The Reds finished the season eighth with 60 points.
Two seasons on, The Reds are three points shy of accruing half that total after just 11 games.
These are good times. Let's treat them that way.
"You mention Milner, [Klopp will] be delighted with Milner second half." 👊

"But I think it might be really hard for him to pick Fabinho in that position in a game like that for a while." 😫

🗣Subscribe to TAWPlayer to listen to our 'Review' show 👉https://t.co/q0tg7SFik9 pic.twitter.com/ZkkiDD6mRE

— The Anfield Wrap (@TheAnfieldWrap) November 5, 2018
Recent Posts:
[rpfc_recent_posts_from_category meta="true"]
Pics: David Rawcliffe-Propaganda Photo
Like The Anfield Wrap on Facebook