'YESTERDAY I got so old I thought that I would die…' (In Between Days – The Cure, 1985)
There are abiding clichés in football about "regret". Usually trotted about before cup finals by managers and pundits. There's always talk of "leaving nothing in the changing room", about "leaving it all on the pitch". Quite what "it" is, we're meant to understand intuitively.
Liverpool are in a deep funk at the moment. We've been quietly distracted and not ourselves all season. For the most part, this didn't manifest itself in results – we've won eight out of 11 league games.
Now though, bad shit is beginning to happen, and with a worrying regularity. The defeat in Belgrade was our third in the last nine games. We've also won just three of those nine. We are a team out of sorts and out of form, and there's no point in whispering it any longer.
All of this is OK. It's fine to have a period of doubt and a sense of underachievement. These phases are inevitable. The trick is to limit damage within them, to salvage anything at all.
I hazily remember a time when the media spoke of many things representing a "loss of working days to British industry". It usually occurred when the government were issuing statistics about things like the flu, or dental appointments, or people getting too pissed on a school night.
In myself, I've come to recognise the days of my life that really should be counted as having been definitively "lost to British industry". Those periods of time, usually hangover induced, where one is "good for shit", to be technical about it.
As a person who likes to be kind to themselves, I've endured many of these kinds of day. So many in fact that I developed a coping mechanism. By "coping", I mean, worked out a way to still be productive while feeling like I was good for nothing.
The trick, if it is one, is to see the 24 hours ahead as gone. Over with. To pre acknowledge that you've wasted a day out of life. Once you can be at peace with that, that you are useless waste of space of a human being at that moment, then the only way is forward.
So, when I'm in a trough, I give myself the simplest of tasks to do. I park the oppressive guilt I'm feeling at not doing any of the big important things that I'd scheduled to do (before getting hammered the night before). These things must wait for the bette me to return. Instead I get stuck into the simple things. The tasks you could all but train a cat to do.
Quietly, unhappily, the day unfolds, progresses and reaches its conclusion, and I have accomplished stuff. Not much, nothing earth shattering, but enough small things to make a bigger thing, a thing that I am happy I will not be distracted by when the better me does eventually return, fitter, fresher and ready for real action.
We all have "regrets" when we overindulge. We all regret those times when we haven't given the best of ourselves. My key, and I want it to be The Reds' key too, is to just accomplish what you can, within those darker days. When seasons end up going more right than wrong, those are the times I have regrets on behalf of the team.
I think back to Brendan Rodgers all-conquering 2013-14 side. All but won the league with 11 straight wins in the spring, only to be cruelly denied by fate at the very death. I wondered, when it was all over and done, whether the boys cast their minds back to games, much earlier in the campaign, like Hull City away. Liverpool were crap that day and lost 3-1. We combusted and looked anything but potential champions. The team was not playing well, and they knew it.
That Liverpool eventually picked itself off the ropes and hurtled towards the brink of a league title. I wonder though, in those moments when the lads knew in their hearts that they were just out of form and pale shadows, if they had just taken on board my wisdoms, just how things might have turned out.
Liverpool didn't need to lose at Hull City on that day in 2013. They could quite easily have taken a miserable point. Liverpool didn't need to lose 2-0 in Belgrade last Tuesday. At one nil down we still tried to play for the 4-1 victory that we believed was our divine right before kick off. All we had to do was be calm, accept our immediate fate, and target just one simple thing – the next goal.
The odds are against bottom of the table Fulham at Anfield this coming Sunday. But they are facing a much better Liverpool at the right time. Rarely will a side so lowly have such a good opportunity to topple a giant.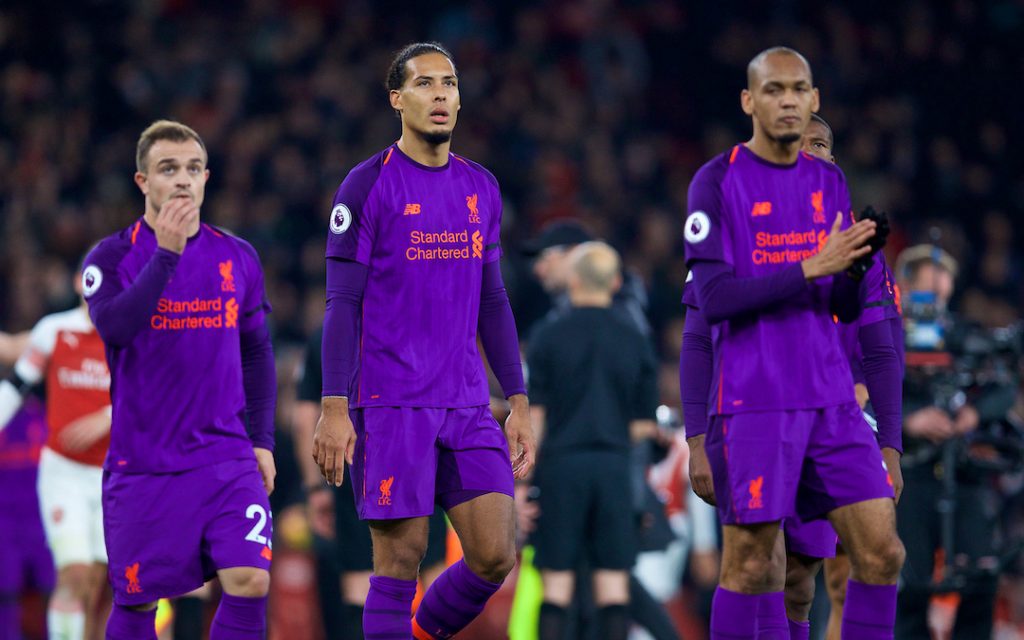 Many fellow fans I've talked to this week have said things like "we just need to batter Fulham 4/5-0 to get our mojo back". I really hope the players aren't feeling like this. I hope Jürgen Klopp asks only one thing of them – score the first goal. Just that. You cannot set out to score four goals at once. They may come, but you must blot that possibility out.
These feeling-sorry-for-themselves Reds need to accept their current plight and try and achieve the small mercies for which they may prove eternally grateful in better future times. And the better times are coming. This remains the potent squad of men we were all relishing watching before the season's commencement.
Another thing that helps when things aren't going according to plan is a bit of good news, however small. Two bits, and we've got a chance again. Naby Keita is back from injury and has been flying around the training pitch all week. The skipper, Jordan Henderson, he's also fit.
These two have a strong chance of being dropped straight back into the first 11 and I hope they're joined by Xherdan Shaqiri. He will have been hugely frustrated at not getting the start he'd so clearly earned for the midweek Champions League game.
There are a lot of frustrations around this team just right now. Time to unleash them.
Regrette rien, Redmen.
Predicted 11: Alisson; Trent, Gomez, van Dijk, Robertson; Henderson, Keita, Shaqiri; Salah, Firmino, Mane
Kick off: 12pm, Sunday
Referee: Paul Tierney
Odds: Liverpool 1-9, Draw 10-1, Fulham 22-1
"We're not asking them to raise their game to new levels. If we get to 90% of what we were doing last year, teams won't be able to live with us." ✊

"We'll be a scary prospect." 👀

🗣 Listen to this week's FREE 'Weekender' show ahead of Fulham 👉https://t.co/5sutzzZoPN pic.twitter.com/DNZVAa7Gkz

— The Anfield Wrap (@TheAnfieldWrap) November 9, 2018
Recent Posts:
[rpfc_recent_posts_from_category meta="true"]
Pics: David Rawcliffe-Propaganda Photo
Like The Anfield Wrap on Facebook