THEY say consistency breeds success.
In a footballing sense, this is not always the case. To be consistently shit will result in a broad sense of negativity, and destroy every grain of hope and enjoyment that you aspire to achieve, from giving your time and energy to the experience of watching the game repeatedly. Just ask any Evertonian…
However, consistent achievement, in an objective sense, can also act as a red herring, an unconscious intention to mislead and lull into a false sense of security and routine.
As with all inevitabilities such as death, taxes and Everton being shit, Arsenal's ability to secure Champions League football on the back of their invincible era in 2003-4 up until their failure to qualify in 2016-17 was something at the time you just took as a given.
With an average accumulation of 70-plus points ensuring a top-four finish continuously, The Gunners became a pillar of consistency for the Premier League, and with Arsene Wenger's ability to frequently add domestic silverware they were the envy of many Liverpool fans who felt their own club's lack of direction was at odds with the repeated competence shown by the Londoners.
Arsenal at the time though, resembled something of a faux existence. The epitome of not knowing what goes on behind closed doors, despite on the surface resembling the model citizen neighbours living the suburban dream.
This all of course came to the fore, with Wenger's reign becoming a corrosion spread across the Emirates Stadium, emanating in Arsenal Fan TV-led hyperbole and conjecture demanding the Frenchman's departure.
The point is that, for Arsenal, it wasn't enough. They became lesser than the sum of their collective parts in the view of the supporter base and a lack of ambition was labelled all too frequently.
As mentioned, the 2016-17 season saw the pendulum swing north with Jürgen Klopp's Liverpool pipping The Gunners to fourth place on the final day of the campaign. The importance of this moment is maybe somewhat underplayed as time has passed.
Not only did the league table reflect Arsenal's inability to secure Champions League football for the first time in over 10 years, they were denied by a Liverpool side that were brimming with excitement and adrenaline.
Suddenly, Liverpool had purpose; they were at the start of a journey with their enigmatic manager while Arsenal remained tired, jaded and frankly seeming a little bored of the whole thing.
The Reds have continued to go from strength to strength and are now at their most collectively ambitious since many can recall. Their progression carefully plotted, with the caveat of being very unfortunate not to have any silverware to reflect the Klopp era as yet.
A second successive finish above Arsenal and obtaining Champions League football in 2017-18 has given Liverpool an superiority over the now-transitional Londoners going into Saturday's fixture at the Emirates.
The idea that this Liverpool should use Arsenal as a barometer of being none of their business going forward is not an unreasonable one, from an Anfield viewpoint. Unai Emery has started his career in England very well and seems to be putting his own stamp on the club following years of the dictatorship under Wenger.
Yet any notion that Arsenal's development under the Spaniard can now match the likes of Liverpool and Manchester City is slightly naïve, despite their impressive start to the season. Although Arsenal fans will be encouraged by life under Emery to date, they will likely admit they have had to backwards to go forward in recent years.
All of this remains an enigma, a question of what is enough? What constitutes success and what defines failure? This week's excellent "Unwrapped" show on The Anfield Wrap debated whether a trophyless season would spell failure for Liverpool?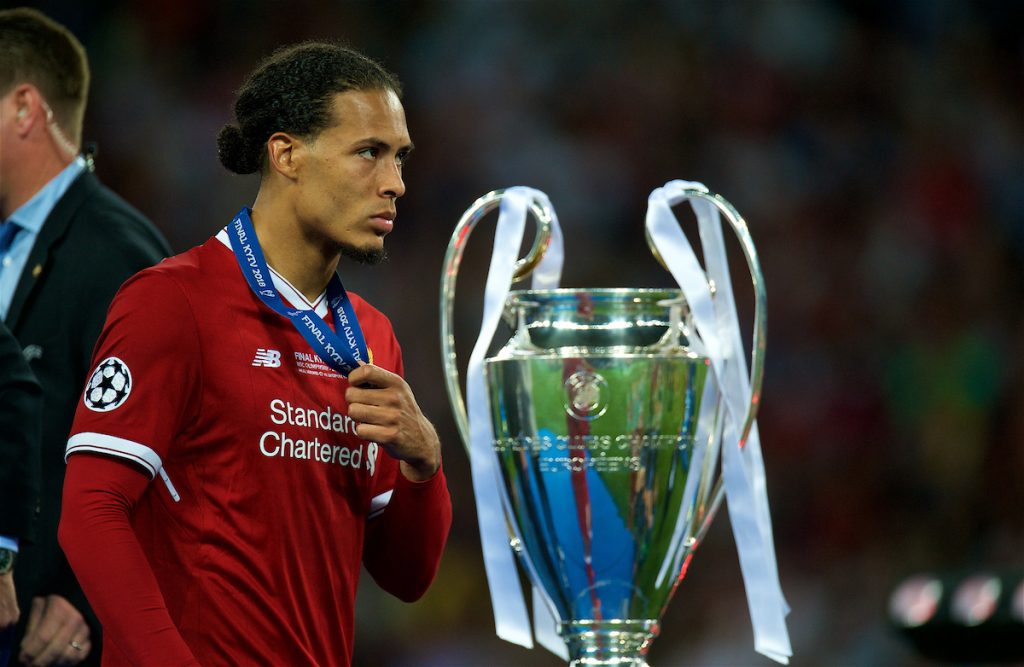 Several points of validity were raised and will continue to be debated on terraces and in pubs this season and beyond. Many will say it is all about trophies, about crowning moments with silverware and a tangible reminder of the collective quality of the team during a time and place.
Others will point to the accruing of enough points on a consistent basis to ensure you dine at Europe's top table the following year, and enjoy enough lovely days of attending the match while watching your team win more often than not.
Arsenal had both the league acumen and domestic trophy attainment for what seemed like an eternity, and still unrest presided.
The reason being Arsenal clearly lacked identity and ambition. They had no obvious plan to exceed and excel in the league and Champions League, and everybody could see it.
It is why they still glance enviously at clubs with Klopp, Pep Guardiola and now Maurizio Sarri at the helm. Why they pine for something that remotely resembles a contrivance to be the very best about, even if it seems practically unattainable in the current moment.
They could reach that goal under Emery, but for the moment Liverpool remain slightly ahead of the game and are the ones Arsenal and others now look up to as a benchmark for what is currently deemed as successful in the Premier League, the same way The Reds did during The Gunners' regularities in the mid 2000s.
Consistency takes on many forms in a footballing context, yet the ability to consistently have hope and ambition in line with clear signs of progression is enough to be deemed on the right trajectory and for general appeasement to reign across a modern-day football club.
Liverpool currently have that in abundance, and where it leads remains boundless.
"If we got to the League Cup final and lost, Klopp would get more criticism than going out in the third round." 👀

🗣 Subscribe and listen to our latest 'Unwrapped' show, looking at the pressure Jurgen Klopp is under to win a trophy at Liverpool 👉 https://t.co/lmNtBz4ADz pic.twitter.com/OcHxIpirJz

— The Anfield Wrap (@TheAnfieldWrap) October 31, 2018
Recent Posts:
[rpfc_recent_posts_from_category meta="true"]
Pics: David Rawcliffe-Propaganda Photo
Like The Anfield Wrap on Facebook