DEJAN Lovren has always been an accident waiting to happen at Liverpool, yet this season we are still waiting for the next one to happen. And it's November.
I am not suggesting Lovren is a totally changed man. An international week spent baiting Sergio Ramos, England and even the Lightning Seeds has confirmed he's the same Marmite personality that proclaimed himself "one of the best defenders in the world" earlier in the year. But maybe he is becoming a little less error prone. Maybe.
One careless snap at Sergio Aguero in the Manchester City game last month might easily have conceded a soft penalty but then even the masterful Virgil van Dijk got lured into a costly lapse in that match. Stuff happens, particularly to robust front-foot defenders looking to impose their will on opponents. It's a line of duty risk they have to take.
Lovren has played in one World Cup final more than many of the true greats of the game. He played well in Moscow too. Last Sunday, his manager decided to deploy a high defensive line against one of the swiftest strike forces in world football.
It was a tactic as suicidal as Roma's at Anfield last spring, but Lovren's performance against England still impressed even Gary Neville. He will take a World Cup final over a Nations League semi from the international season.
The smooth graduation of Joe Gomez has eased Liverpool's dependence on Lovren this season. Gomez has emerged as the athletic and classy Lawrenson to van Dijk's unflappably regal Hansen.
Lovren is altogether more Razor Ruddock. At his best, there is a lot of Sami Hyypia about him, at his worst he is down with the Kvarmes and the Piechniks. There are no shades of grey beneath that red number six shirt.
"The only way this ends is with Real Madrid coming to Anfield and there being about three reducers in the first minute." ✊

🎥 Watch today's Talking Reds in full here on our YouTube channel 👉 https://t.co/yT3YbqpYFP pic.twitter.com/cPNuTm8Cil

— The Anfield Wrap (@TheAnfieldWrap) November 15, 2018
Last season he was a real candidate for Liverpool's man of the match in Kyiv and yet he was substituted before the half-time kettle was on at Wembley. For such a bear of a man, his calamities are so hapless and helpless.
There have been times when there has seemed no way back from some of the carnage he's caused. The stains on his record take some wiping away. Not even that extraordinary winner against Dortmund has quite squared Lovren's Liverpool record yet.
But this is the child of a refugee family. This is a guy who was brought up in a war zone. You don't lose sleep about Harry Kane when you can still recall the retreat to the basement shelter as the air-raid sirens sound.
The great Liverpool team that I reported on in my Radio City days contained some tough nuts from edgy estates, but Bruce Grobbelaar had fought for his country and seen friends fall beside him. He was different. He had to be. Lovren reminds me of Bruce.
Because of his stoutly combative, confrontational character, it is difficult to see him accepting a Ragnar Klavan "walk-on" role in Liverpool's season. Jürgen Klopp knows that he offers an alternative solution to any defensive challenges his team face.
If and when it comes to putting a head on the ball or a bruise on a backside, Lovren ticks the boxes. Don't get me wrong, his use of the ball has improved markedly and his lack of searing pace has forced him to read the game better, but it's his heart and soul that are his biggest strengths. He's a serial defender.
The Anfield dressing room does seem to be stocked up to the rafters with good guys. Mo Salah and Sadio Mane are humble geniuses, Bobby Firmino and Alisson Becker are loving life, Andy Robertson and James Milner would run through those proverbial brick walls. Jordan Henderson and Trent Alexander-Arnold wouldn't be far behind them. It's a squad full of role models, full of eager and earnest standard bearers, full of lads you think you could go on The Kop with, you could have a drink with… Of Ribena, naturally.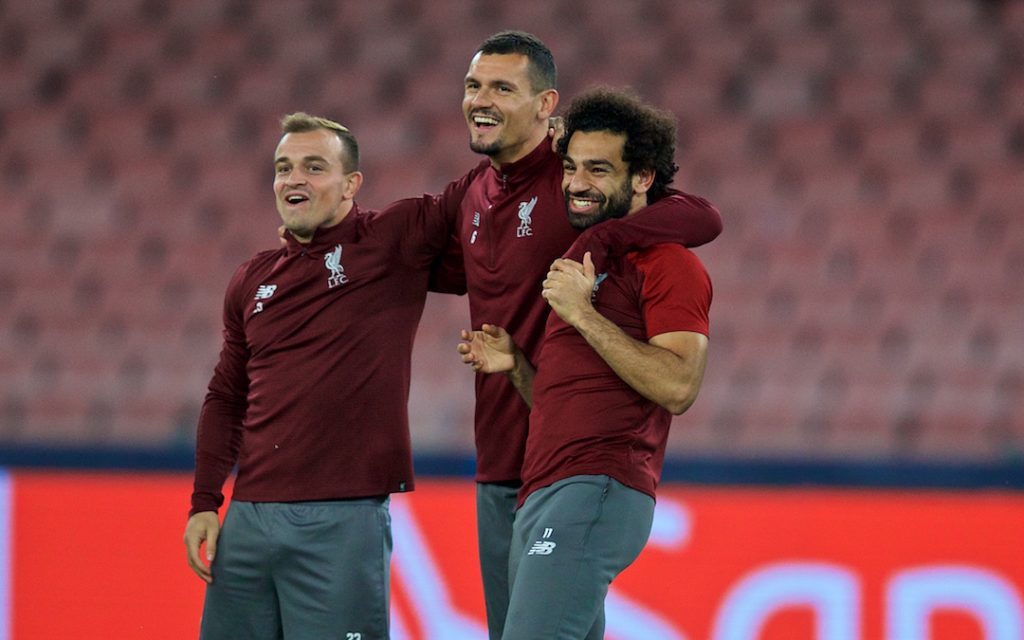 Shaqiri has got a bit of front but where is the Souness, the Carragher, the Case, the Smith — Stevie G could leave his foot in too. Where is the "toughie" that gets going when the going gets tough? The enforcer.
You wouldn't wish to get into a fight with the manager but if there was anyone on the payroll you really don't want to get on the wrong side of I suspect it's the player who was taking painkillers for a significant part of last season just to get him across the white lines. You wouldn't mess with Dejan.
If I could be so bold as to suggest that he's got a lesson to learn from Liverpool's past, it would be to work on the engagement between his brain and his mouth… And his Instagram account.
That list of enforcers above did their dirty work quietly. If Graeme Souness had elbowed Sergio Ramos by way of reprisal for the Champions League final there would have been no official announcements… Just some hospital bills.
There is a Liverpool way. It is built on consistent standards, on quiet respect, on accident prevention.
"This year we *can* win the League, we're in position now where we can win the League.

"Man City can twat teams 10-0 if they want, but we'll still be there." ✊

🗣 Listen to this week's FREE Anfield Wrap podcast 👉 https://t.co/CULYfNh2fs pic.twitter.com/oT0M2eV4Qq

— The Anfield Wrap (@TheAnfieldWrap) November 19, 2018
Recent Posts:
[rpfc_recent_posts_from_category meta="true"]
Pics: David Rawcliffe-Propaganda Photo
Like The Anfield Wrap on Facebook