LIVERPOOL are stuck in a bit of a rut.
It's the kind of rut that gets you 30 points from your first 12 league games.
As if the results of the first three months of the season were not encouraging enough, the sense of optimism is somehow heightened by a feeling that the team has not yet found its best form. I agree with the opinion but I can't share the optimism. Liverpool can and must play better to maintain their challenge.
If there is a virtue in winning games without playing your best football, it's short term. It's not the single quality that defines champions. It's a useful knack to have in order to keep the scoreboard ticking over when you hit a flat patch. It's not something to take pride in or rely on. Sorry, but I'm posing the awkward question, "just when did Liverpool last play really well?"
They've done "enough" on the home front so far. It's points that win prizes and I happen to think that Liverpool have earned every one of those 30 points. I can't bring to mind a result their performance hasn't merited. Ironically, the six points they have dropped have all been against good teams, in good games, in which Liverpool have given a good account of themselves.
But I don't think you can separate Premier League and Champions League form. For me, the painful defeats to Napoli and Red Star were accidents waiting to happen. Did Liverpool play significantly better against Huddersfield, Cardiff or Fulham than they did in Belgrade? Or were they simply not required to? You can't just keep doing just "enough".
We've been nominated for @The_FSF awards and we'd appreciate your help by voting for us in the Fan Media of the Year category! 🗳️

✅ Vote for TAW
✅ Vote for @Carra23
✅ Vote for @MoSalah & @VirgilvDijk
✅ Vote for @JNorthcroft

Nice one 👊

Vote here: https://t.co/wn2w7FrhjU pic.twitter.com/2qkyxWpYvZ

— The Anfield Wrap (@TheAnfieldWrap) November 6, 2018
Only twice in the league this season – against West Ham and Southampton – have Liverpool put an opponent away with time to spare. That can be wearing. What has changed with the presence of Virgil van Dijk and Alisson Becker is the degree to which the team can make even a slender lead look relatively secure. They are much better at managing games now. The Fulham victory was as comfortable as a 2-0 win can be… In the end.
Liverpool were a lot better than Fulham. Such is the quality and depth in this squad, they are better than most teams they face at home and abroad. But whenever your performance level slips, you leave yourselves open to the possibility of incidents and moments taking a game away from you.
Anfield was enjoying a nice lunchtime snooze when Ryan Sessegnon went clean through. It only takes him to score and then the linesman to keep his flag down and you've got a rude awakening on your hands. If Liverpool play to the level they undoubtedly can and maximise their overall supremacy more, those fine margins can be avoided.
So, what's missing? When results are as good as they are you are left to pick at the fine detail of individuals and systems and that can be dangerously over analytical. Liverpool are only slightly out of sync. There just seems to be a bit of clarity and precision missing. Some better decision making needed. Too many promising situations don't result in a goal chance. It's a matter of opinion as to where the fine tuning is required.
I happen to prefer 4-3-3 to 4-2-3-1. I'd go with the old guard over the new in midfield and upfront for now. I do think it will happen again for Adam Lallana eventually. To my mind, Fabinho is a work in progress but he's learning the ropes well and I'm not yet quite as taken with Xherdan Shaqiri as many are. None of the three would be in my first 11 right now.
I think the attack functions best when the ball is passed rather than carried. I throw stuff at the telly when players get flicky or run into traffic or hit wishful shots into blocking defenders. I could go on but it's just an opinion and mine carries no more weight than anyone else reading this – unless the boss happens to have logged on.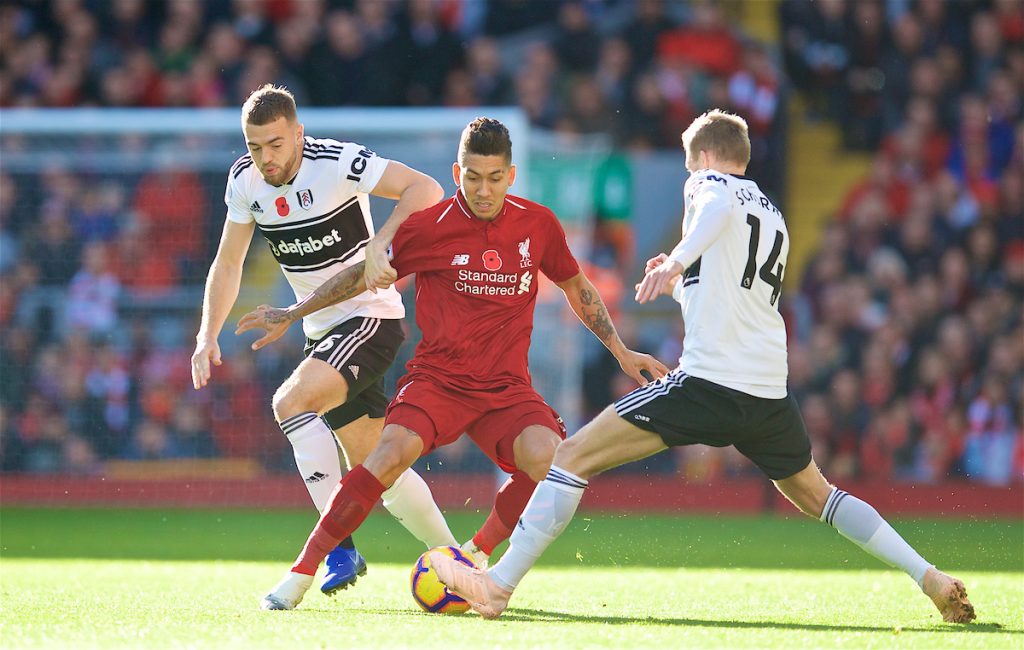 Jürgen Klopp knows best. We can all argue about certain selections and semantics but you can't ignore the overwhelming evidence that he is the right man for this job. However much we might be debating what would work best, the manager is on it 24-7.
I'm not sure I buy it when he shrugs off bad spells with that endless smile of his. I suspect that when he says "and obviously that's not cool" in a disarming post-match interview it translates into a bit of a bollocking for someone behind a closed door. I hope so.
In answer to the question I asked at the start, Liverpool have probably played their best football of the season against the best sides they have faced. Certainly in spells. In that sense, the challenging fixture list they face after the internationals may be no bad thing. Something to really concentrate the minds.
I hate to mention the "C" word but City are playing better than Liverpool at the moment. You don't have to scratch your head for long to remember when they last really turned it on. I'm not getting dreamy about them, I'm just saying. They are the standard.
It's a standard I honestly believe Liverpool are capable of getting very close to but not at 90 per cent capacity. They need to find that missing 10 per cent soon if they are to stay in this wonderful rut.
"Every time Shaqiri gets the ball, his first thought is… 'what can I make happen?'" 🔥

🗣 Listen to this week's FREE Anfield Wrap podcast here 👉 https://t.co/M7zkv7ZGxa pic.twitter.com/yZ1HfCVapP

— The Anfield Wrap (@TheAnfieldWrap) November 13, 2018
Recent Posts:
[rpfc_recent_posts_from_category meta="true"]
Pics: David Rawcliffe-Propaganda Photo
Like The Anfield Wrap on Facebook