"IF you ever find yourself near Ramses, get down on your knees."
Liverpool supporters may well be feeling that, after a start to the Premier League season that has seen them concede only five goals, a little prayer of thanks is in order to our new goalkeeper.
Alisson Ramses Becker has certainly become a significant part of Liverpool's much-improved defence in 2018.
It was always going to take a lot to dislodge Pepe Reina from his lofty perch as my all-time favourite Liverpool goalkeeper but Alisson Becker has made a pretty good start in that regard.
Reina was the best Liverpool goalkeeper of the modern era by a country mile. From the moment he arrived it felt as though Liverpool had a 'keeper worthy of following in the footsteps of Tommy Lawrence, Ray Clemence and Bruce Grobbelaar.
I would regularly get to my seat for home games in time to watch his warm up, a sort of renewal of vows if you like to remind me how good he was, how safe I felt with him in goal.
Pepe had it all, dominating the box, a commanding voice marshalling his defence and that wonderful distribution. Capable of turning defence into attack in the blink of an eye — how he would have loved the opening goal against Fulham.
Of course, Pepe made errors over his nine years and 285 games at Anfield but those mistakes were few and far between and were far outweighed by all the positives.
"Every time Shaqiri gets the ball, his first thought is… 'what can I make happen?'" 🔥

🗣 Listen to this week's FREE Anfield Wrap podcast here 👉 https://t.co/M7zkv7ZGxa pic.twitter.com/yZ1HfCVapP

— The Anfield Wrap (@TheAnfieldWrap) November 13, 2018
I always felt that Reina made the defenders better, something for which he, like many other goalkeepers, did not get the full credit he deserved. That's not to detract from those who played in front of him in any way, but a recognition that defending is an intriguing mixture of personal ability and collective understanding.
The opening goal against Fulham on Sunday was perhaps the moment when in my mind I was ready to move on, to reluctantly accept Reina is now a part of Liverpool's storied past.
When you watch it back, a couple of the 14 seconds between Fulham's offside "goal" and Mo Salah's opener were actually spent with Alisson screaming and gesticulating at his defence before he took the freekick and released Trent Alexander-Arnold.
Alisson isn't anywhere near the complete answer for Liverpool yet. Like Naby Keita and Fabinho, we need to allow time for the acclimatisation to be completed, for the adjustment to English football to fully take place.
But there is one area where, without doubt, Alisson has made a contribution already. The improvement in the Liverpool defence.
There is no doubt that Virgil van Dijk has this season become one of the best defenders in the world, and similarly no doubt that Joe Gomez's progression as a central defender has been nothing short of meteoric. While both take a considerable amount of credit, Alisson has been a significant contributory factor to both.
Context is everything when making a subjective judgement it informs opinion based on acquired experience. And subjective judgements are very relevant when talking about Liverpool goalkeepers.
Alisson has benefited substantially in this regard, in that he is the successor to the Simon Mignolet/Loris Karius co-catastrophe. The bar was set pretty low by his predecessors, but that should not detract from the Brazilian's first three months at Anfield.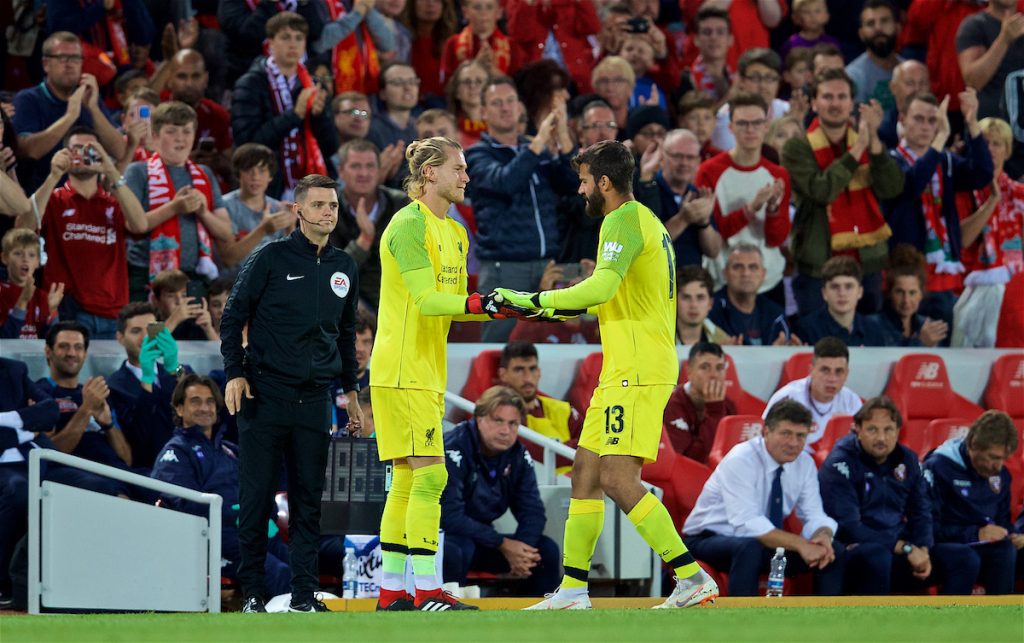 The immediate post-Reina era was one that I struggled to come to terms with. I never warmed to Mignolet, was always on the negative side in any debate about him and will freely admit that my confirmation bias was so engaged that I found it impossible to see good in pretty much anything he did.
He was and never will be forgiven for being the man who displaced Pepe. Mignolet was not the solution to replacing Reina, who was considered by many to be in decline and I don't believe Brendan Rodgers thought that for one minute when he engineered Reina's exit.
There is a strong argument to say goalkeepers define managers. Reina represented Rafa Benitez's solidity and insistence on a team's solid spine. Peter Schmeichel the bombast and arrogance of Alex Ferguson, and Ederson Moraes the "total football" of Pep Guardiola. You could even argue that Mignolet represented Rodgers' approach of you score three, we will score four — though that was surely not by design.
In that same sense, Alisson is the epitome of Jürgen Klopp; larger than life, charismatic but supremely self confident. The man who Klopp can build the sort of solidity his Borussia Dortmund team became renowned for.
Perhaps Alisson's most telling achievement to date is that he has shifted the narrative among the media, the footballing world and Liverpool's supporter base. The debate about the Liverpool defence in general, and the goalkeeper in particular, has ceased.
Liverpool fans have every right to rest more comfortably that their last line of defence is once more in safe hands.
We've been nominated for @The_FSF awards and we'd appreciate your help by voting for us in the Fan Media of the Year category! 🗳️

✅ Vote for TAW
✅ Vote for @Carra23
✅ Vote for @MoSalah & @VirgilvDijk
✅ Vote for @JNorthcroft

Nice one 👊

Vote here: https://t.co/wn2w7FrhjU pic.twitter.com/2qkyxWpYvZ

— The Anfield Wrap (@TheAnfieldWrap) November 6, 2018
Recent Posts:
[rpfc_recent_posts_from_category meta="true"]
Pics: David Rawcliffe-Propaganda Photo
Like The Anfield Wrap on Facebook