THE away end going bananas.
Away ends are good at doing that, and it was the third time this particular away end had done so on Saturday afternoon.
While Roberto Firmino was confirming with the assistant referee that he was allowed to celebrate a legitimate goal, and then proceeded to do so (for a good while), Liverpool fans cheered a confirmed three points to head back up the motorway with from Watford.
It was Firmino's first Premier League goal in over two months since his one-yard tap in against Tottenham at Wembley Stadium, which is quite a surprise when you consider his scoring record last season.
The Brazilian, with teeth whiter than the cliffs of Dover, found the net 15 times in the league in 2017-18 and managed 27 overall in 55 appearances.
Firmino started this season well, at one point scoring in three consecutive Liverpool games against Leicester, Spurs and Paris Saint-Germain, as well as bagging one for Brazil in between.
However, following his late winner in the 3-2 victory over the French champions, the 27-year-old's form dipped noticeably. His touch was off, he wasn't scoring and his general effect on the team didn't seem to be quite as, well, effective.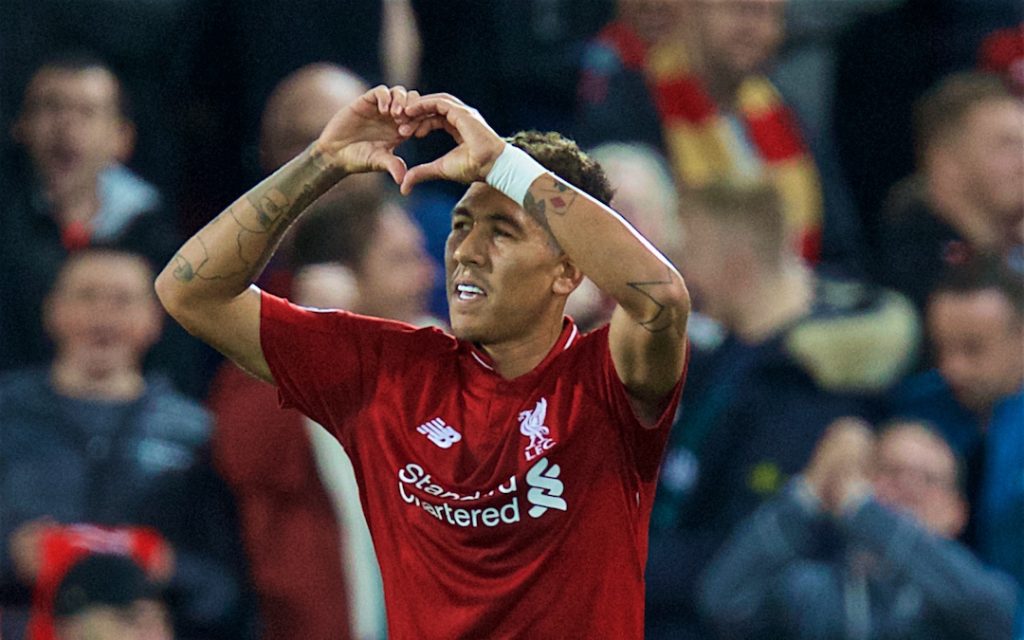 It has been widely recognised that Firmino's work rate, game intelligence and selflessness have been a key ingredient, if not the absolute catalyst, in the mesmerising way Jürgen Klopp has had his team playing in the last couple of years.
It has been deserved praise, but with it comes tremendous responsibility. When the team hasn't appeared to be firing on all cylinders, Firmino's drop in form has been chiefly getting the blame.
It can't have been easy for him. With the slight modification of the system this season pushing Mo Salah into more of a central role, which has in turn seen Firmino move back, it has taken a while for Bobby to adapt and find his groove again.
That being said, the deeper role is not entirely unfamiliar to him. It is more or less the one he occupied at Hoffenheim, where he played – mostly behind Kevin Volland – during his successful time in Germany.
On arriving in England though, he struggled to recreate that form. Having a player like Christian Benteke ahead of him instead of the more mobile Volland may have had an effect, but even when Klopp arrived, Firmino didn't really thrive at Liverpool until he was moved to the striker role.
There have been some concerns, from myself included, that the recent change in position was contributing to his lack of effectiveness, but he showed on Saturday that he might just be getting the hang of it.
During the 3-0 win at Vicarage Road, Firmino's average position was even deeper than that of Xherdan Shaqiri, but his performance looked to be an indication that he might be getting back to his best. Both he and Liverpool purred in an attacking sense at times in the second half in a way that has been missing for a while.
Football is about moments, and Bobby provides them, even if his overall game isn't always as consistent as would be hoped. The backheel nutmeg in the Cardiff game while he was sat on the floor got The Kop going again on that day, while his sensational bit of skill to drag the ball through the legs of Troy Deeney on Saturday ultimately led to a corner, and the travelling Reds breathed fire that eventually saw Salah prod in the opener.
In a more practical sense, Firmino had a big hand in all three goals. The sensational defence-splitting pass to Sadio Mane for the first, fighting off Adrian Mariappa to win the free kick for the second, and scoring the third.
Perhaps his best moment of the season so far, though, was his late winner against PSG at Anfield on matchday one of the Champions League group stage. It felt big at the time and looking back now, it may turn out to be huge.
Had he not scored it, Liverpool would be heading to Paris tomorrow probably needing a win to stay in the competition. If he can do similar at the Parc des Princes on Wednesday night it would be most welcome.
Liverpool have had a phenomenal start to the campaign, their best in the Premier League era in fact, and if they've managed to accrue 33 points from 13 games while their attacking catalyst has been out of form, imagine what they're going to be capable of now if he really is coming back to his best.
If you were to ask Pep Guardiola which one player from Liverpool he would add to his Manchester City team if he could, I suspect it would be Firmino. Salah and Mane would surely thrive in any side, particularly one that plays the way City do, but in Leroy Sane and Raheem Sterling they already have similar.
You get the impression that despite the goals, Pep still isn't fully into Sergio Aguero's all-round game, while Gabriel Jesus's form seems to have fallen off a cliff since the World Cup. Firmino and his multiple attributes would make any manager look on with envy while Gary Wright's Dream Weaver plays in their head.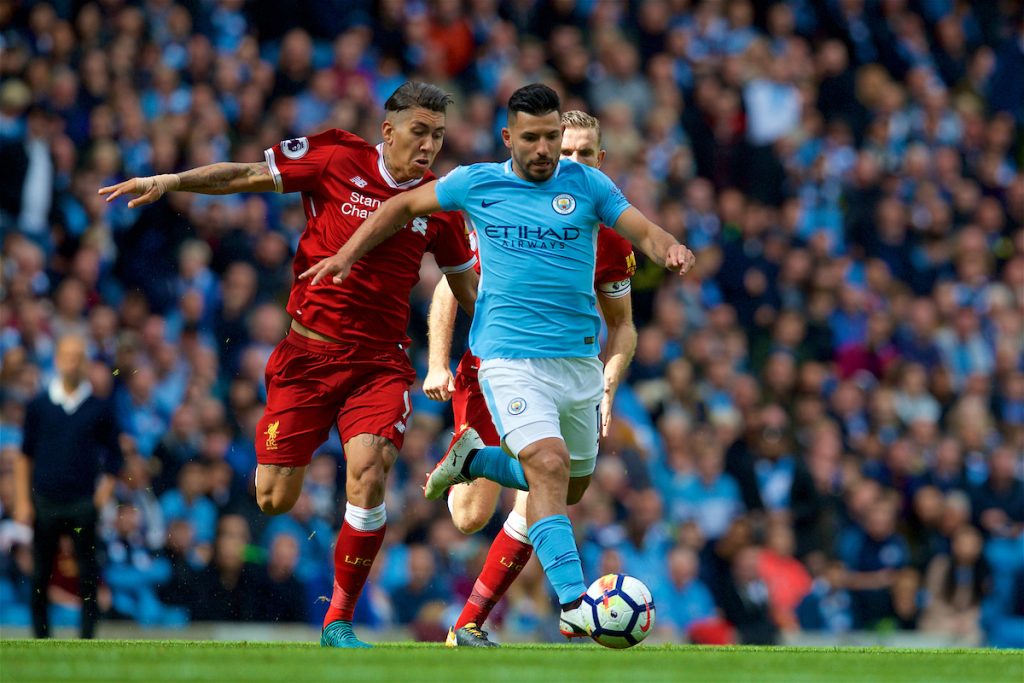 As to be expected, his manager never had any doubts. Klopp told the club's website when asked about Firmino's impact "It all depends what you want to see, what you expect and what you compare it with.
"In the last home game against Fulham, I had 20 German coaches in the stadium. Most of them were friends of mine, and I know them all.
"They watched the game. I'm not sure what the critics were saying about Bobby Firmino after the game, but when I saw the coaches later and we had drinks together, they were like 'Bobby Firmino… What a player!'
"It's because of the small things he is doing, he is working hard, he is here, he is there, he has five goals now and he opens 5,000 gaps for everybody. It's about how you see it."
I quite like the idea of Jürgen and his German mates sat around a table, quaffing beer and waxing lyrical about Bobby Firmino, going into the wee hours of the morning until they're all doing the eye patch celebration and bringing back the short-lived "Tequila" song from pre-season (shame that never caught on).
Whether it's with one eye or with two, it seems that Firmino is starting to see it again as well.
"At the time I didn't, but watching the game back, I thought Liverpool were actually really good." 👏

🗣 Subscribe and listen to our latest 'Review' show, taking an in-depth look at the Reds' win over Watford 👉 https://t.co/lmNtBz4ADz pic.twitter.com/4PcNuRCL8Q

— The Anfield Wrap (@TheAnfieldWrap) November 26, 2018
Recent Posts:
[rpfc_recent_posts_from_category meta="true"]
Pics: David Rawcliffe-Propaganda Photo
Like The Anfield Wrap on Facebook