YOU want to see our spec there, you know.
Gazprom have our season ticket spec in the Kemlyn for a jolly band of Russians, Serbs, wools and fat fellas so we get lashed elsewhere for the Euro games. Tough shit, lads. Thanks for the warm up.
Our spec is row nine behind the goal in The Kop. Can't see a fucking thing. Well in fairness, you can see The Kop box really clearly, but other than that fuck all.
You want well-considered, thought-out ratings with a lovely blend of insight and tactical analysis? Go and read some fucker cryarsing about having no power to polish their shoes in the main tonight.
Alisson: I'm going 7. Extra point for a clean sheet.
What do you give someone who turns up for work and has fuck all to do? Seriously? Is it a seven? Is it a five? Is six par? Boss warm ups, in fairness. His arms are long. His beard is thick. At least they were in the first half. He might have had a shave there at half time for all I know.
Trent: 7
He's a lovely footballer, isn't he? His balance, his strength, his passing ability, his positional sense, intelligence. One of the best we will ever have by the time he packs in.
Virg: 8
Starting a Big Virg appreciation society, if you fancy it. Going to meet every fourth Tuesday of the month in the Bennett's. Need a treasurer and a secretary. Four quid a week subs. Need to bring your favourite Virg poster, pictures of dogs dressed as Virg and some that look like Virgil. Here's the agenda for next month:
What's your favourite bit?
How do you like his hair?
Where would you like to go on holiday with him?
Where do you reckon he goes on holiday?
Anyone got any dogs dressed as Virg?
What's his fancy dress game?
Captain, leader, legend?
Any other business.
Time and date of next meeting.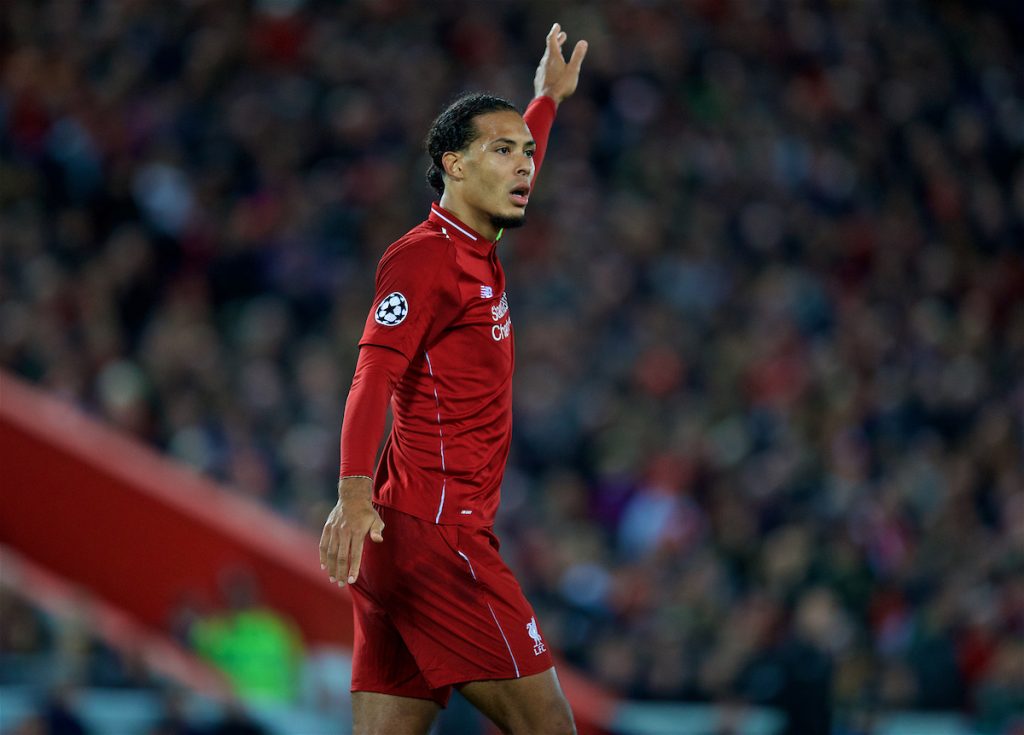 Joe Gomez: 8
Flawless again. To the extent that he was probably better than Virgil, and to be fair, if the Virg appreciation society heard me say that my days would be numbered.
Andy Robbo: 7
Was boss again. Worry that he is going to be knackered when we need him most, but in fairness the thought of Moreno playing any games whatsoever fills me with dread. One of them, init? Sorry Andy. Rest up, lad. Seventy games for you this year.
Fabinho: 8
Lovely big massive long legs, hasn't he? It's been a while since one of our centre mids was an expert in tackling first and foremost. He loves a tackle. From every angle. When you don't think he is going to get it, in pops a lovely big pink-headed leg to pinch it back. Thought he was excellent tonight. Would like to see him do it in a faster paced game, mind you.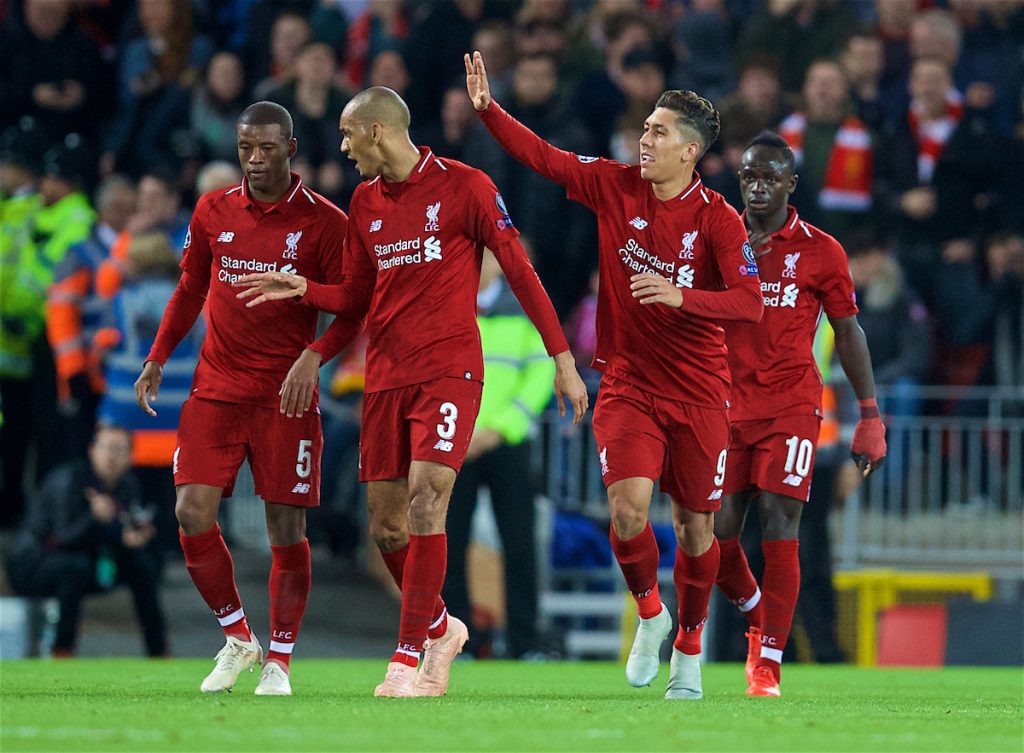 Gini: 8
Thought the pair of them were great, in fairness. Love the way he gambles and draws the man in for the tackle and then rolls them for fun.
Sheridan Shaqiri: 8
As soon as their no fans in the Upper Kemlyn Gazprom section stated booing him I wanted him to score six, whip his undies off to reveal his own red star, surrounded by a massive tattoo of Fernando Torres ghosting Nemanja Vidic before whipping round with a tattoo of himself on his own cock. Cop for that, lads. Go and have a Gazprom and Coke. Great for at least two of the goals. His passing, and movement is pretty fucking good, you know. Might be up there with the best in the team. Mad that he played for Stoke last year.
Firmino: 8
Was it my lack of depth perception or did he play as a number 10? Was good, wasn't he? Great for his goal, loved the way he just twatted it right down the middle.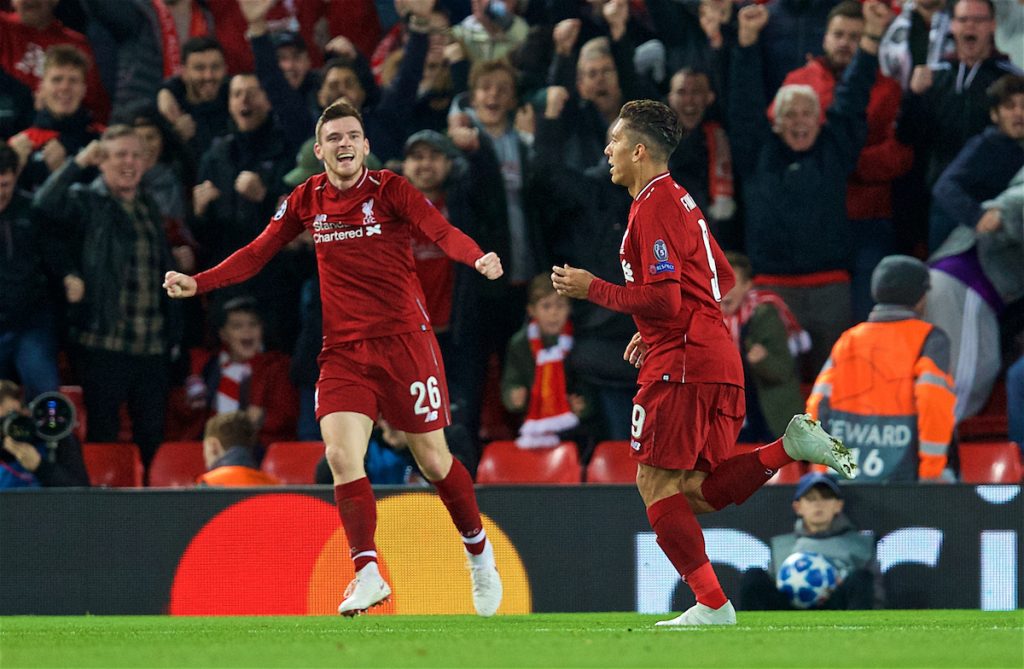 Mo Salah: 8
Love them little pop offs the front three do to each other all the time. Without looking. Great movement, decent pen, great finish for the goal. Fancied a trick, didn't he? Fuck that lad, save your legs.
Sadio: 7
Was quiet. Unlucky with the pen cos it's a pretty good save, but then makes up for it with the goal. I'm not sure I'd cope with a broken thumb. Dead hard to do your fly up with no thumb. Probably needs to have someone dress him there, you know. That would do my head in.
SUBS
Moreno: n/a
Mad the way he might be signing for Barca and he come on at 4-0 or whatever, and the thought bounces through your head as to how long is left, and whether there is enough time for them to get back in it. Lovely back heel.
Lallana: n/a
Looked lively, lovely half turns, some decent pressing, got put through on goal, looked like he was trying to run away from an Alsatian in a nightmare before he got his shot off. As he woke up from his dream the Ally was chewing his calf.
Dan Sturridge: 7
Lovely ball for Mane's goal. Big role to play this year, la.
"Every Red Star player just thought, 'fucking hell we can't live with this.'" 🔥

🗣 Subscribe and listen to our immediate post-match reaction show after the Reds' 4-0 win over Red Star 👉 https://t.co/Y74hlJ4yQF pic.twitter.com/bIMRvhYUjV

— The Anfield Wrap (@TheAnfieldWrap) October 24, 2018
Recent Posts:
[rpfc_recent_posts_from_category meta="true"]
Pics: David Rawcliffe-Propaganda Photo
Like The Anfield Wrap on Facebook