IT'S turning out to be a strange old season, this one.
I genuinely don't know how I feel about it. I mean, I'm happy, I think. Yeah, I must be. A good barometer of my football contentedness is my inclination to watch other teams play football. I'm watching any old shit at the moment. Everton v Palace is on the telly in the background as I tap away doing this.
If Liverpool lose, or draw disappointingly, I'm usually too bereft to go near the sport for a few days. As a kid, I used to turn to other hobbies for distraction. I'd listen to records for hours, or think about food. Or get anxious about death. Until sleep would eventually come to provide some respite.
As a young adult, the diversions became more interesting. Going out. Getting wasted. Girls. A wider range of takeaway food options.
As a self-employed grownup, I'd find some solace in turning all thoughts to my enterprise. It could be a productive relief to not view "earning a living" as merely something I was obliged to do in the gaps between matches.
Viewed overarchingly, I think there's been an incredibly consistent rhythm to supporting Liverpool over the past 25 years or so. We've rarely been incredibly good for any really sustained period of time, but equally we've never defaulted to terrible, or even endured a lengthy period of shitness. Like say a team, like, erm, I dunno… Everton.
With Liverpool, even when things have become a bit grim, you can always be sure there'll be some much better times round the corner. We're usually merely "quite good". Which is no bad thing.
So that's the darnedest thing about this campaign. It's had some of the flavour and scent of a frustrating season, but cloaked within, what the facts show, is actually an incredibly good one. Seven league wins in nine, with just three goals conceded, is the stuff of champions.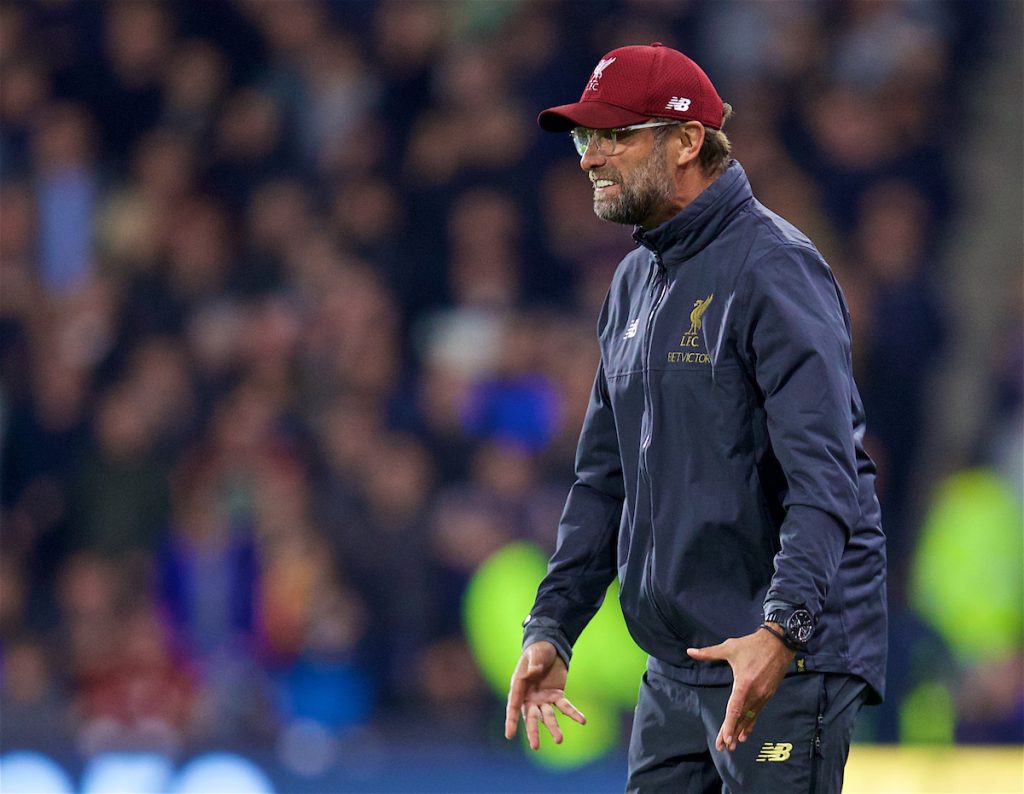 Yet, if we're honest with ourselves, it doesn't feel like we've been watching potential champions. It felt more like that last season. But then again, we don't really know what champions look like — at least, from the inside. We can see it in other sides, but can we recognise it in ourselves?
My predisposition to paranoia is grading this Liverpool alongside the flatter to deceive merchants of 2002-3 — Gerard Houllier's side that lead the table till early December before fading to pale grey and finishing a shabby fifth. I'm being unfair. I'm sure I am. I'd just like a nice, old-school Liverpool goal fest to calm my frayed nerves. And by old school, I mean last season.
We're now into a batch of fixtures all but designed to rehabilitate the soul of our football. First in the sequence, at Huddersfield, provided a productive win but not the resumption of normal service.
Jürgen Klopp won't be stressing the way I am. He will be preaching and urging for "more of the same". He has tweaked this Liverpool to be a team skilled in "keeping the result". It is a prerequisite for title contenders. It is as important as being able to blow teams away.
Red Star at home is our third test in this season's European Cup. It is something of a diversion from the anxiety of chasing down leagues. Red Star held Napoli at home in the first game of the competition but were humiliated 6-1 in Paris.
Red Star are a big noise back home. They've won 11 of their opening 12 in the Serbian first division. They are already seven points clear at the top. Checking the bookies' odds for their game at Anfield is instructive, though. Belgrade are 50-1 to win at ours, 16-1 just to get a draw. To say they're not "fancied", is an understatement.
Klopp will, therefore, view this as a fixture ripe for rotation. My calls are that Andy Robertson and Virgil van Dijk will be rested. Andy has played loads of football already this season. Virgil is still healing a rib injury. It shouldn't significantly weaken our cause to reinstall the now in-demand Albie Moreno (reportedly wanted by the likes of Arsenal and Barcelona).
Jordan Henderson joined Liverpool's "tight thigh" club this week (Mo Salah, Naby Keita and James Milner all complaining of hamstring tension in recent weeks) and might also find himself not risked. There's a possibility the recently recovered Milner is not asked to perform either so soon after Saturday's exertions.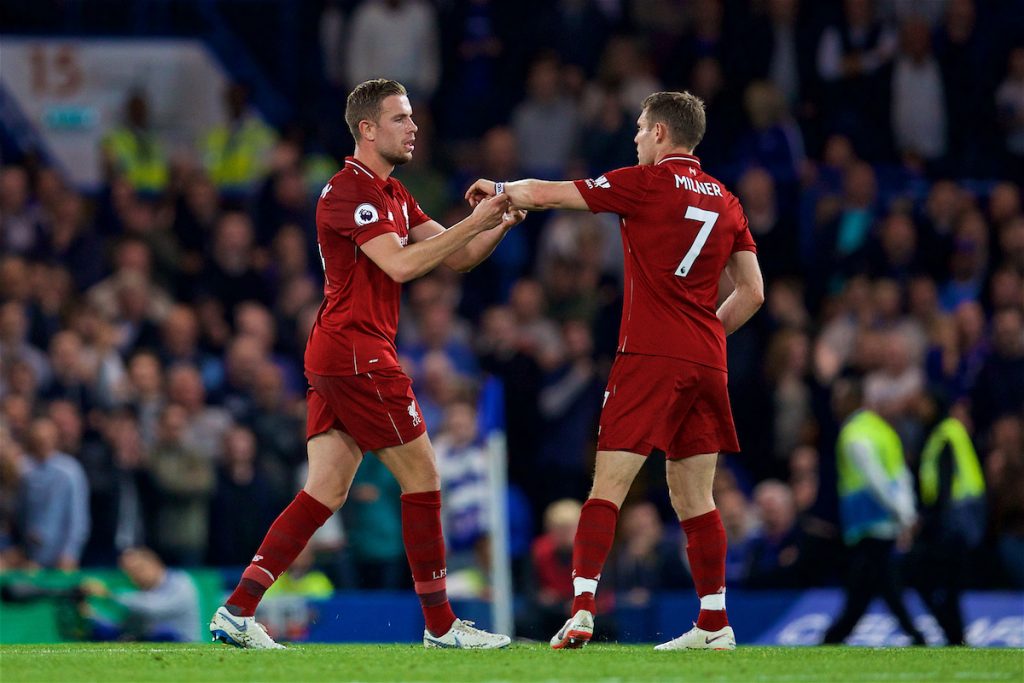 I'm pitching for a midfield of Fabinho, Gini Wijnaldum and Adam Lallana. It would be yet another new combination, but one with exciting potential. Fabinho hinted at more to come during his cameo at Huddersfield. Adam Lallana hinted at more of his old self to come back. He's barely started in 16 months, but he was recognisable as the player we feared we'd lost forever. A real bonus for the manager and our cause.
All eyes will be on Klopp's front-three selection. Sadio Mane will be fit enough to return even if his fractured thumb requires some industrial protective mitten to preserve it. Bobby Firmino, rested for the last league game, is a near certain starter. Klopp must then decide whether or not to put the old band back together again, or permit Salah a night off (or close to it).
I don't see Daniel Sturridge being asked to play twice in four days, but will predict that Xherdan Shaqiri is asked to go again, in Salah's right-sided berth.
Klopp will stock his bench with insurance policies, be assured. If my calls are correct then we'd still have the likes of Salah, Sturridge and Milner to leap from the dugout and put us back on course.
We want to see "convincing" against Belgrade, but again I'm taking a win of any hue. We haven't come this far to limp out of a Champions League campaign at the group stage.
No margin for error now, Reds.
Predicted 11: Alisson; Trent, Gomez, Lovren, Moreno; Fabinho, Wijnaldum, Lallana; Shaqiri, Firmino, Mane
Kick off: 8pm, Wednesday
Referee: Daniel Siebert (Germany)
Odds: Liverpool 2-35, Draw 14-1, Red Star Belgrade 41-1
[wonderplugin_audio id="74″]
Recent Posts:
[rpfc_recent_posts_from_category meta="true"]
Pics: David Rawcliffe-Propaganda Photo
Like The Anfield Wrap on Facebook