INTERNATIONAL breaks. Always there to dullen your weekend, injure your favourite players and give you one less excuse to avoid decorating the kitchen.
Spain and England tried to light the fire of the UEFA Nations League with their five-goal thriller in Betis, but let's face it, most of us agree with Jürgen Klopp on the newest international competition. To paraphrase King Arthur in Monty Python and the Holy Grail: "On second thought, let's not watch the Nations League. It is a silly place."
Turkey manager Mircea Lucescu took exception to Klopp's comments about the Nations League being "senseless", saying that the German's view was "ego driven" and that "when Klopp manages a national side I believe he will change his mind." That was before Turkey's exhilarating 0-0 draw with Bosnia-Herzegovina and 2-0 defeat to Russia.
However, this weekend sees the return of domestic football. Lovely, cuddly and familiar domestic football, and it also sees the start of a run of fixtures that should have Liverpool rubbing their hands together like a cat that found the cream… And for some reason has hands instead of paws.
Between the previous international break and this one, The Reds had what scholars would refer to as an "absolute arse" of a fixture list. Seven games, of which six were against Champions League-quality teams. Wins against Tottenham, Southampton and Paris Saint-Germain got them off to a perfect start, though defeats to Chelsea and Napoli bloodied their nose slightly.
However, the two league draws against Chelsea and Manchester City, while not the ideal outcomes, were still worthy of praise and hope — especially as the reward for working their way through that incredibly hard schedule is a gentler run (on paper) between now and the final international break of 2018.
A trip to struggling Huddersfield starts things off on Saturday, followed by a home tie with Red Star Belgrade, and then another home game against bottom of the table Cardiff City. A week's rest then leads into an away clash at Arsenal, which is then followed by the return trip to Belgrade and finally, a home game against Fulham.
The battle with The Gunners could prove tricky given their run of form, but even in their best games during that run, Unai Emery's men have looked very susceptible to counter attacks, and in their 5-1 thrashing of Fulham last time out they still conceded 21 shots to the Cottagers.
Now I know what some of you will say, "don't jinx it!" Well too late. Also, let's be frank, if Liverpool are to have any hope at all of winning this Premier League title, they will absolutely have to beat teams like Huddersfield, Cardiff and Fulham. Even if they just do that and draw at Arsenal, they'll be on 30 points from 12 games having already played four of their five main rivals. Win all four though, which they very much can, and 32 from 12 looks frankly remarkable, even if it still wouldn't guarantee top spot.
Keeping pace with City in particular is going to be crucial. This was the point last season where Pep Guardiola's men started to motor off into the distance, leaving the chasing pack in their sky blue dust. Liverpool can't let them do that again so early in the campaign. With City's upcoming fixtures including Tottenham at Wembley on a Monday night, the day after an NFL game, and a Manchester derby (though one might question if that is likely to be much of a test for the champions at the moment), there is a possibility for Liverpool to hit the front at a crucial time.
It would also put huge pressure on Chelsea, who while impressive thus far, appear to have been giving all they've got. Maurizio Sarri's charges have Manchester United at home and Burnley away coming up, and will likely maintain their absolute reliance on Eden Hazard while the Belgian is pulling petals off flowers going "Madrid want me, they want me not, they want me, they want me not…"
One setback for Liverpool from this international break has been players arriving back slowly but surely, with wounds of battle that could force Klopp into rotating his side more than he perhaps wanted to at this stage. Virgil van Dijk, Mo Salah, Sadio Mane and Naby Keita all seem to have picked up minor knocks during the last week.
In fairness, van Dijk was already injured before going on international duty and top Red Ronald Koeman sent him back after one game in order to rest the rib issue he sustained last month and had been playing through since, and early reports suggest that the Dutchman might actually be fit for Saturday's trip to Yorkshire.
Despite his widely discussed "slow" start to the season, hearts were in mouths all over the Liverpool world as news emerged that Salah had picked up a thigh strain for Egypt. However, once fears of a tear were eased, the mood seemed to change to "Daniel Sturridge or Xherdan Shaqiri to come in against Huddersfield? Fair enough."
That might also be tempting to Klopp, regardless of the Egyptian king's injury status. Salah may not have done as much damage to himself as first feared, but the strain could still be a result of overworking, and a brief rest during a time when Liverpool don't have too many intimidating opponents coming up could be just what Mo needs. It's perhaps not something Klopp would have considered last season, but with Shaqiri and Sturridge now viable options for him, it could be the right time to utilise his other weapons.
The manager may also look to his midfield and think similar, though for slightly different reasons. James Milner is supposedly fit for the weekend, but even so could probably do with a rest (or the physios could just put him on charge overnight).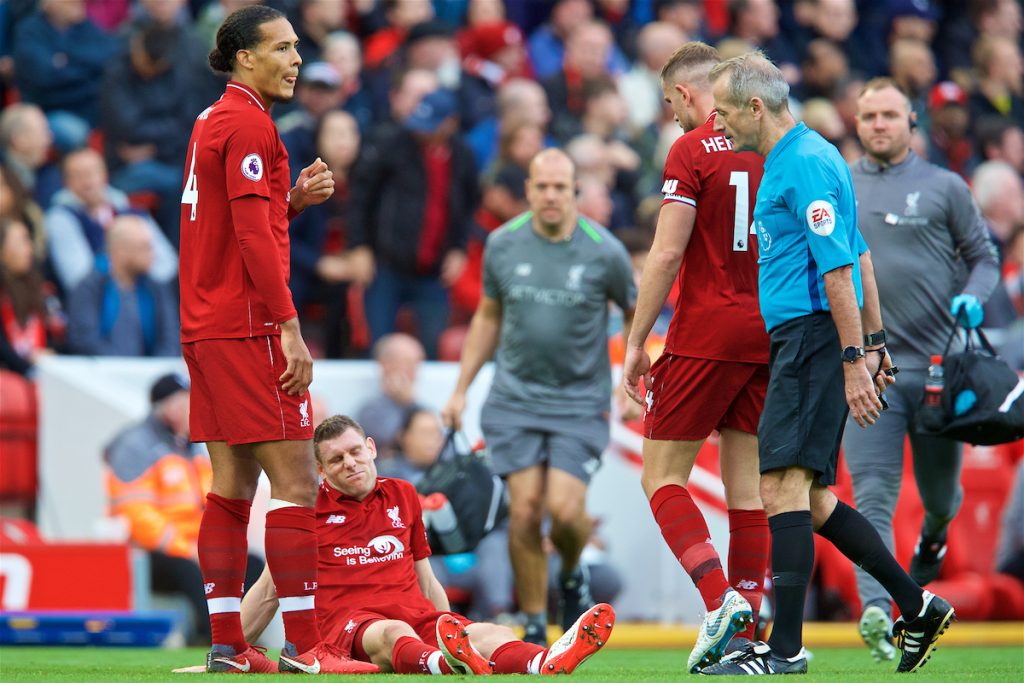 It could also be a good time for Fabinho to finally start playing some meaningful minutes. The Brazilian bizarrely didn't always get picked for his national side when he was getting regular game time at Monaco, but now that he's warming the bench at Liverpool, is being selected by the Seleção. The Reds' number three played the whole game against Saudi Arabia on Friday, albeit at right back, and continues to give numerous interviews on how much he has learned from Klopp in training about how he can adapt to his new team.
It also sounds like Adam Lallana could be back and, if he can finally stay fit for a run of games, he might just be what Liverpool have been missing in their midfield. His ability to join the middle and front three could be just the tonic in games against the lesser teams in particular, and could replicate what Klopp was hoping to get out of Nabil Fekir before the transfer saga of the summer collapsed at the 11th hour.
There are no guarantees in football, and it goes without saying that Liverpool will need to give 100 per cent every game to make sure they get the job done. If they can get ahead early in some of these games then the opportunity should be there for swift substitutions to rest star men and give fringe players some vital minutes.
One player who particularly comes to mind in that regard is Dominic Solanke. The 21-year-old has not played a single second of first-team football yet this season, or even been on the bench in a Premier League game. There's no more League Cup ties for him to gain minutes in, and at his age if he is to build on the work that went into his development last season, he needs to take to the pitch again soon in a Liverpool shirt.
The former Chelsea man came off the bench for the England under 21s the other night in the 7-0 demolition of Andorra and looked hungry as he scored one and was denied another by a defender turning the ball in. In games similar to Southampton, where Liverpool are three or four goals up on the hour mark, surely Klopp can turn to someone like Solanke to kill two birds with one stone, giving the youngster much-needed minutes and resting one of his best lads for a more testing afternoon/evening.
Liverpool will have to be professional about it, but their upcoming run of fixtures is practically night and day from their previous one, and they have a glorious chance to manoeuvre themselves into an even stronger position in the league, as well as putting pressure on their rivals in the Champions League.
Then before you know it we'll be arriving at another international break, and be back to saying "wait, Ricardo Quaresma is STILL playing?"
"I had written Sturridge off in the summer, but he's going to crucial for us this season." ✊

🗣 Subscribe and listen to this week's 'Review' show, looking in-depth at Liverpool's season so far, here 👉 https://t.co/lmNtBz4ADz pic.twitter.com/sZCWdweepH

— The Anfield Wrap (@TheAnfieldWrap) 15 October 2018
Recent Posts:
[rpfc_recent_posts_from_category meta="true"]
Pics: David Rawcliffe-Propaganda Photo
Like The Anfield Wrap on Facebook