I CAN'T lie to you, I've been thinking about Philippe Coutinho quite a bit.
Like a relationship you've told yourself was completely over until you heard "your song" or smelt her perfume in a shop doorway somewhere, the abundant sense of melancholy around the little magician has only really engulfed me this past week, following his move to Barcelona last January.
A lot has happened in that time, while Coutinho's start to life in Catalonia was relatively low key by his standards, Liverpool were purring in a blitz of Alex Oxlade-Chamberlain-inspired attacking prowess, coupled with the introduction of the formidably reassuring Virgil van Dijk at centre back.
A common misconception about Coutinho was that he had stopped performing and was playing within himself, when in fact some of his performances in the first half of last season were Coutinho at the best we had seen him in a red shirt.
He was unapologetically instrumental and unplayable in games such as Brighton and Bournemouth away and Spartak Moscow at home, the latter encapsulating all of the hyperbole around Liverpool's "fab four".
Inevitably, four became three and Liverpool's number 10 decided to leave the band. Liverpool more than got by though, and have in the main looked a more balanced and collective unit as they strive to compete on all fronts in 2018-19.
This season, there has clearly been a different, more workmanlike feel to Liverpool's midfield with the frequently selected Jordan Henderson, Gini Wijnaldum and James Milner contributing heavily to the 20 points amassed by Jürgen Klopp's men.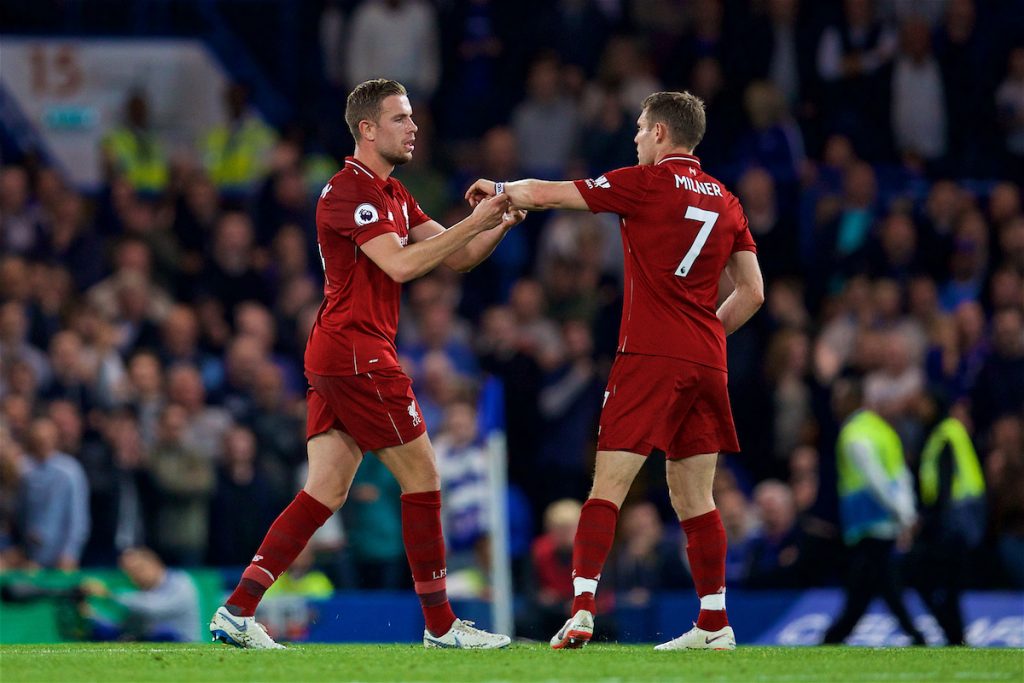 Liverpool's midfield shape has looked a lot more conventional in comparison to the previous triangular-based axis we have become used to. The covering in full-back positions by the midfield this term is further evidence of their willingness to facilitate constantly.
This has led to a label of conservatism in some quarters, with what has been perceived as a lack of creativity and supply into the front three.
It would be harsh to criticise though, as Liverpool now exert much more control over fixtures and are now relatively comfortable with a one-goal lead in games, for example, due to their strength and cohesion front to back.
Klopp continues to oversee a diverse range of issues which are ever present for any elite football manager. While formulating a plan for The Reds' challenging fixture list, he has also had to integrate a host of new players into the squad, as well as managing both individual and collective morale across the board.
It can be argued the manager has kept his faith in the players who got him to the brink of Champions League glory in Kyiv last May, thus allowing his new signings a period of integration before fully thrusting them into the fold.
Yet, with Liverpool having rid of the ostensibly described "nightmare" run of opening fixtures, there is now scope for the manager to tweak both the shape and personnel in the coming games. Given the depressingly familiar sight of players returning injured from international duty, he will have no choice in some cases.
This could see the return of the much-debated link player to operate between the midfield lines, in the way Coutinho and Oxlade-Chamberlain did so well last season.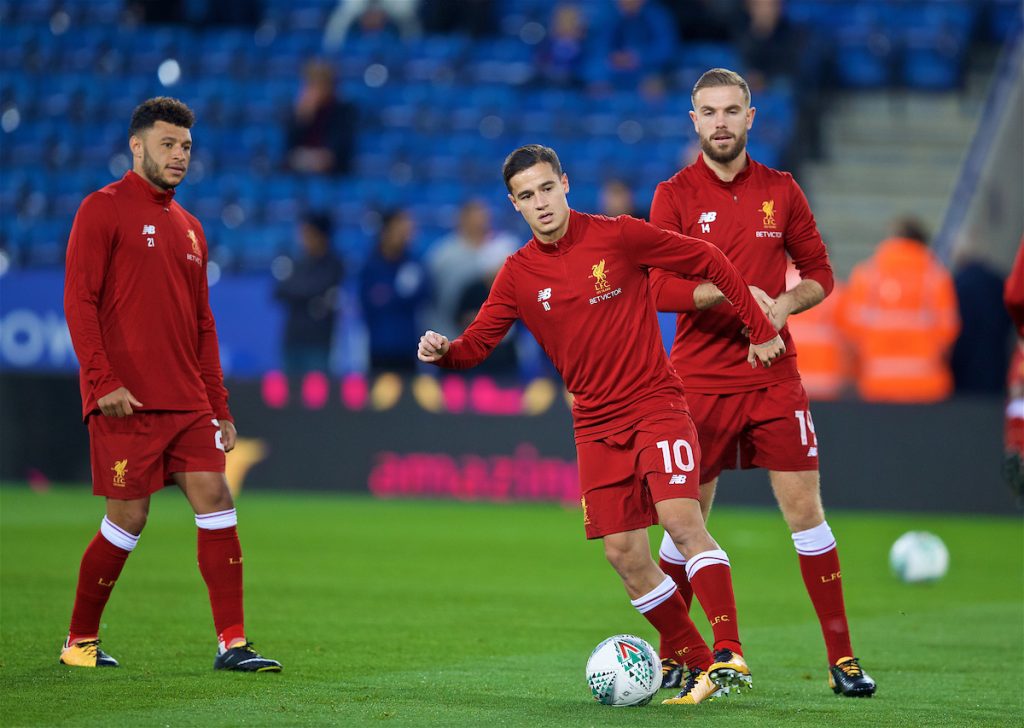 Klopp arguably sees this as his preferred approach given the wealth of players recruited and linked to Liverpool in these positions under his stewardship.
It has become more abundantly clear in recent weeks why Nabil Fekir was so coveted and came so close to joining the squad this summer, particularly given his recent performance against Manchester City in the Champions League.
It could also explain the signing of Fabinho slightly more, with the long-term plan to have the Brazilian anchor and Henderson operating rotationally behind one or two rabid attacking midfielders.
If Liverpool are to implement a more attacking midfield axis for what is likely going to be a frustrating opposition approach from the likes of Huddersfield and Cardiff in the coming weeks, there will be a need for options to spearhead that attack from deep.
Given that the severity of Naby Keita's injury is as yet unknown at the time of writing, it may be that The Reds have to unfortunately rule him out for the foreseeable future until the length of his absence becomes clear.
This will be disappointing for all as it was hoped that Keita may have been able to find the expressionism displayed in fleeting moments in some forthcoming fixtures of less intensity, and as a result play himself into an influential patch of form and harness an identity within the team.
Xherdan Shaqiri is another option to take up that role with his industry and energy in line with his flashes of willingness to take responsibility at crucial times. Shaqiri has obviously been learning studiously at Melwood about what is required of him.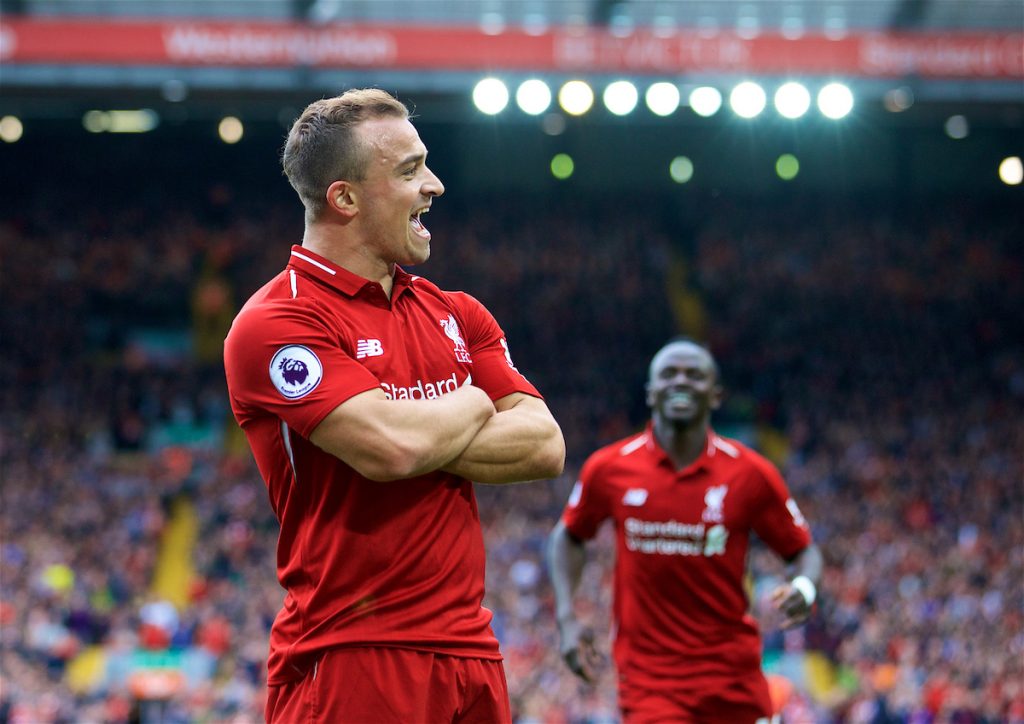 If he can harness the tactical awareness Klopp craves then he could find a place in the side for the coming run of games. However, with Sadio Mane another possible injury doubt it may be that Shaqiri finds himself required in a more familiar wide-forward role.
Similarly, Daniel Sturridge, back off Liverpool's goal and player of the month awards, may find himself back in from the start with the option of Roberto Firmino dropping deeper or wide, or even lining up beside him in a change of shape completely, which resembles something more of a 4-2-3-1 or 4-1-4-1 with Sturridge spearheading the attack.
There is also the more wildcard option of the now-maligned Adam Lallana. Following repeated injuries that have seen the midfielder's career completely stall, Klopp could use this run to hand the responsibility to Lallana and test his increasingly apparent fragilities around fitness.
It has been felt in some quarters that Lallana is a player who needs games to reduce the injury risk and to build his fitness. If this view is shared then it could be he finds himself back in the fold and developing his muscle memory on the pitch with the hope he can remain free of further setbacks.
There is no doubt Lallana is an exquisite footballer who can affect any game when operating at the peak of his capabilities. Even if Klopp decides on a more gradual approach to his reintegration to the team, it will be hoped he can have an impact on the forthcoming fixtures and beyond, this campaign.
This is obviously not a time for looking back, Liverpool are in rich vein of form and health with high aspirations for the remainder of the season. That isn't to say that what has worked before should not be something Liverpool look to emulate again over the coming weeks and months.
If the band now wishes to fully reform without an original member, a vacancy remains to fill the final spot. Apply within.
"Going on loan to West Brom and not being involved in that Champions League run, for him now to be back at the top table…" 🔴

"It's a nice story for @DanielSturridge." 👏

🗣 Listen to this week's FREE 'Weekender' show ahead of Huddersfield tomorrow 👉https://t.co/5sutzzHNrd pic.twitter.com/CTdcwwQrem

— The Anfield Wrap (@TheAnfieldWrap) October 19, 2018
Recent Posts:
[rpfc_recent_posts_from_category meta="true"]
Pics: David Rawcliffe-Propaganda Photo
Like The Anfield Wrap on Facebook