JIMMY Case and Ray Kennedy were best mates.
The only time you could separate them was on matchdays when they patrolled opposite flanks of one of the finest midfield quartets ever assembled in English club football. The brilliant bookends to Graeme Souness and Terry McDermott. Half time at Anfield for Jim and Ray would always start with the same question: "How's Kemlyn Road Joe today?"
In the bottom tier of what is now the Sir Kenny Dalglish Stand sat (or often stood) a particularly vocal fan neither of them knew or ever met. He was a Red to the core but was routinely the first supporter to register his impatience if Bob Paisley's team didn't have the match won inside 20 minutes. "Oh, he was giving me stick at the first throw in," Ray would tell his pal. Jimmy knew what to expect in the second half.
I wonder if Jordan Henderson and James Milner have had cause for a similar conversation once or twice this season?
"Joe" was probably the kind of fan who would offer any Evertonian outside if he so much as breathed a bad word about Case or Kennedy at his local. We treat the players in "our" team like family. We can call them not fit to burn but just let anyone from outside the family try to take a pop at them and it's a declaration of war. We feel like we know them. Feel like we know them so well that we can even tell whether they are giving their best or not.
The right to criticise Liverpool or any team comes with the price of a match ticket. Football is a game of dreams and sometimes those dreams get tossed and blown by a guy on £200,000 a week… A guy we think we know. It can grow oddly and perversely personal.
I'm only the dad of a Liverpool fan but I wasn't having Loris Karius for one single second of his Anfield career. I couldn't hear his name without pulling a face. Mind made up. He could have saved six penalties in Kyiv and he wouldn't have changed that set mind of mine. Nothing gets us quite like football. For better or for worse.
Pressure is an overused and under-defined word around football. Pressure is all about expectation. The players and management can play it down in the time-honoured way but Liverpool's expectations are now higher than for many years. Both outside and inside the dressing room. They know and we know that this squad has a chance of winning things. Pep Guardiola's approach to last weekend's match suggests that he knows it too.
The Manchester City match was big boys' football. The heavy metal madness of the ear-splitting encounters at the start of the year had been replaced by the taut, tense soundtrack from a slow suspense movie. Once City weathered the early press fest, the rest of the match was played largely on their terms, but Liverpool dealt with that. They were always in the game.
Yes, they survived the day's biggest moment thanks to Riyad Mahrez's moon launch but such moments only matter in close, even games. Daniel Sturridge's equaliser at Chelsea, Lorenzo Insigne's winner in Naples… You've got to find a way to make those moments go your way in order to nick the big points but first you've got to be good enough to give yourself a chance of seizing the moment. Liverpool have done that without fail so far this season, even in Italy.
It is a sign not just of more defensive stability, but of a more grown-up attitude towards the art of winning games. A year ago, they lost 4-1 to Spurs. That looks a thing of the past.
Half time in the Southampton match provided the hardest evidence of that yet. Three up and cruising — Xherdan Shaqiri spreading his wings, Fabinho just waiting in the wings — Jürgen Klopp had a free pass to do as he liked. Game over.
His response was to shelve the successful experiment of playing Shaq as a 10 and to use the second half to return to his trusted 4-3-3 and lock down the points. The most exciting team in the Premier League have found a pragmatic vigilance. Get used to it.
They've been here — or somewhere like it — before. Remember those hard yards to Champions League qualification at Stoke, West Brom and Watford in spring of last year? Klopp is not deaf to the charge that he has a "Plan A" team that may run out of juice if they just try to blow opponents away twice a week. There is a "Plan B" and more.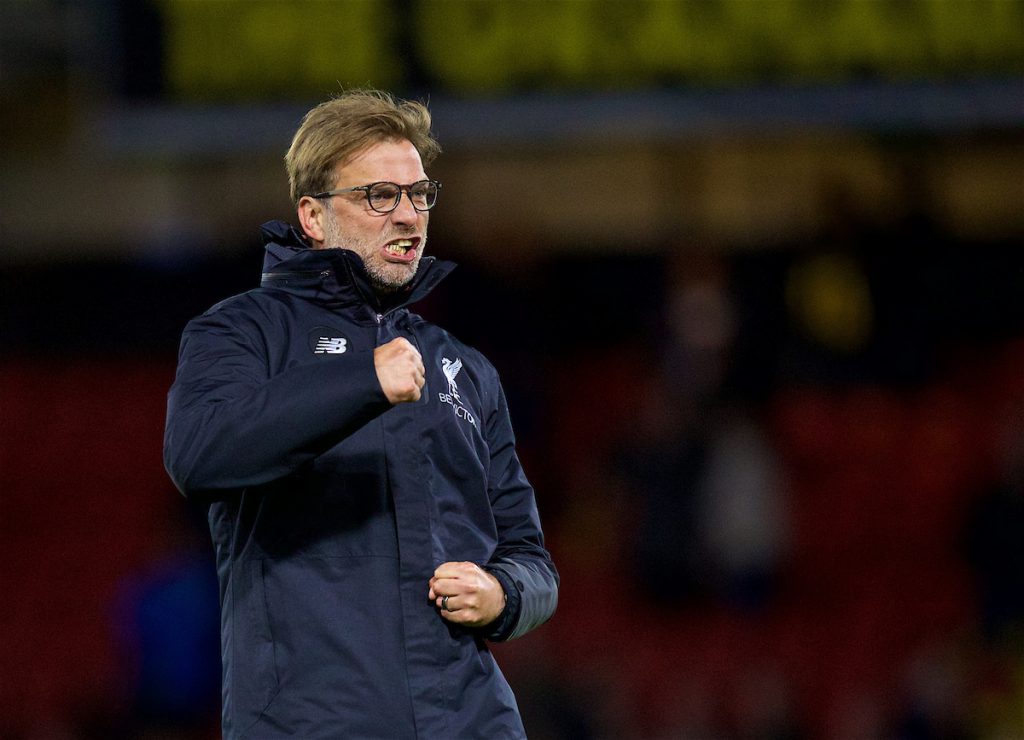 Alternative approaches may become necessary if the front three don't catch fire soon, but they are also a sign of a developing squad with more strings to its bow. The rigours of this international break may well force Klopp's hand but the next batch of fixtures will reveal how much faith he has in the renewed depth of his squad. He's got to go there.
The manager said something about his team matching City last Sunday as well as they had done in any of last season's victories over the champions. I think what he meant was that the goalless draw had been a very different test to the previous games but that Liverpool had adapted.
He knows they need to improve to close the gap and that improvement could have been attempted by recruiting a Nabil Fekir or a similarly creative talent. Or it could be a quieter, wider, deeper improvement into a more effective unit.
Even Kemlyn Road Joe would admit that Case and Kennedy were effective. Twenty-odd major winners' medals between them in Liverpool colours settles that argument.
They wouldn't make any all-time Anfield 11's, any more than Henderson or Milner would, but they gave a similar balance to the mix of talents and personalities that the best Liverpool teams have struck.
This particular team has probably thrilled as much as the Suarez/Gerrard/Sterling side and even pushed the Barnes/Beardsley/Rush team at times but it has spilled as well as thrilled.
Main Stand Jürgen is dealing with that. He knows what he's doing. Trust him.
"Keita has just had eight games playing against some of the best players in the world… Huddersfield and Cardiff will do him the world of good." ✊

🗣 Subscribe and listen to this week's 'Review' show, after the Reds' 0-0 draw with Manchester City 👉 https://t.co/lmNtBz4ADz pic.twitter.com/xHUd5gfKzX

— The Anfield Wrap (@TheAnfieldWrap) October 9, 2018
Recent Posts:
[rpfc_recent_posts_from_category meta="true"]
Pics: David Rawcliffe-Propaganda Photo
Like The Anfield Wrap on Facebook