IT HARDLY counts as all that perceptive to point out that there are elements of fickleness when it comes to football analysis.
Indeed, as someone who writes a weekly article about one football team, I am reliant on a certain fickleness to continue to produce talking points worthy of writing about every seven days, and so for this week's effort I'll be referencing that very topic (whoa, how meta of you Dave… As is talking to yourself in your own article).
The particular reasons for feeling the need to address the issue were my own fault, really. I sometimes watch the Sky Sports debate show called, err, The Debate. A show that calls itself "compelling" and "insightful" in its own intro, so I'm not the only one who does it.
In fairness, it can be a good watch, particularly when presented by the excellent Kelly Cates and when perennial sense talkers such as Craig Bellamy and Liam Rosenior feature. Sometimes there can even be a temptation to bathe in the very fickleness that is usually such an irritant, like when they talk for 20 minutes about how Manchester United are in crisis after a draw with Wolves, just days after they were "back" following three consecutive away wins. They left themselves with nowhere to go once United lost to Derby County and West Ham (though that didn't make those repetitive conversations any less entertaining to me, at least).
Unsurprisingly, my ire was drawn last week when the show featured the topic of Liverpool the day after the Chelsea defeat, and whether Jürgen Klopp HAS to win a trophy this season. Former Tottenham players Ryan Mason and Darren Bent tried their best to remain balanced, but essentially the conclusions from both were that, yes, Klopp HAS to win a trophy this season. And now that he's carelessly been knocked out of the League Cup, it would make sense for him to prioritise the FA Cup, as again, he HAS to win a trophy this season, but that he's unlikely to because the Chelsea defeat showed that the squad isn't actually that strong, so come the end of the campaign he'll be under pressure.
It all felt a little bit "we've been waiting to stick the boot into Liverpool after weeks of praising them".
Funnily enough, very little of this kind of talk was around when Liverpool still boasted a 100 per cent record for the season less than a week ago. There had been some mention that more pressure was on for silverware given the amount spent in the summer, ignoring that every competition The Reds are competing in features at least some teams that have had significantly more squad investment over the last few years. However, it was the first indication that as soon as something wobbled at Liverpool, the foot would likely be on the throat, such is the price of previously being so heavily praised by all and sundry (well, most and sundry).
Don't get me wrong, I like it when the wider media and football populace are being complimentary about my team, and not only has most of the praise been deserved, it has been genuine as well. However, it inevitably comes down to the "build them up to knock them down" scenario.
It's another reason why I was so relieved to see Daniel Sturridge smack a late equaliser in at Stamford Bridge on Saturday. You could already guess the inevitable discussion points being drawn up for the following few days. "Wasteful Liverpool", "Same old problems", "Salah the one-season wonder", "Smelly Klopp and his stupid poo-poo face" etc. (That last one would have been a one-hour TalkSport special.)
However, Sturridge did bend it into the top corner and now only one of those is actually a live talking point.
It is no secret that Mo Salah hasn't started this season in the electric form he showed for most of the last one. His manager has acknowledged it and you can see frustration from the player himself. It's a worthwhile talking point on the face of it. A superstar who scored nearly every week last year is missing chances this year.
Jamie Carragher addressed it on Monday Night Football and summed it up perfectly when he said that the general analysis of Salah's form has been over the top. He may not in good form by his very high standards, but his numbers show he's not really in bad form either. He's still scored three goals, one less than this time last season, is still getting into enough positions to be top of the "expected goals" chart, and is still doing brilliant things to create the chances that he's missing. In fact, this time last season the general consensus was that he was a very good player, but a bit wasteful in front of goal. Maybe he hasn't changed all that much. Perhaps only expectations of him have.
Where the Egyptian has struggled in front of goal, his former Chelsea teammate Eden Hazard is thriving. There is no denying that Hazard is in terrific form for his club, coming off the back of a very good World Cup.
However, this sudden rush to catapult his name into the conversation for the best player in the world feels like another example of conclusions being made from a small sample. The popular suffix to go with is "on current form", but if you want to talk about the best player in the world based on six or seven games then you'd have to include the likes of Sevilla striker Andre Silva, which will have fans of his parent club AC Milan roaring with laughter, or Genoa's Krzysztof Piatek, Hertha Berlin's Ondrej Duda or even your good friend, Iago Aspas, who is putting in some terrific performances at Celta Vigo.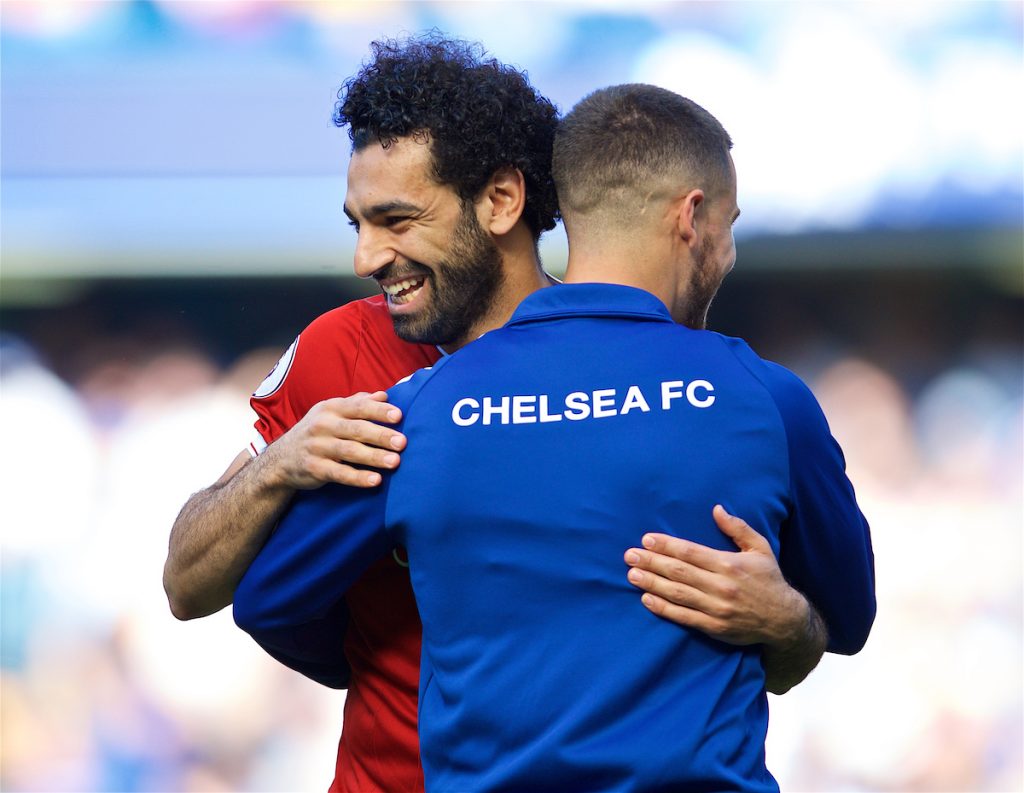 There is no issue with giving praise where it's due, and Hazard is playing sensationally at the moment, but it seems to be a growing trend in the game to talk about a player or a team achieving something before they've actually done it. Thanks partly to his manager Maurizio Sarri, the conversation has turned to whether the Belgian can hit 40 goals this season, despite having never bagged more than half that in a campaign in his career. He might do so this year, but can people at least wait for him to do it before talking about him as if he already has and putting him in the same bracket as Cristiano Ronaldo, Lionel Messi and Salah?
Any non-Liverpool fans reading this will likely be calling me a hypocrite or worse right now, so here's the twist. You could also argue that the same praise prior to achievement is partially true of this Liverpool team.
The Reds are a high-quality side with a world-class manager. Though the hype may be a welcome change, it remains a bit strange to me just how many neutrals are tipping Klopp's men for the title when they have gone so long without one, and are up against the best team the Premier League has ever seen as well as a Chelsea squad that won the league themselves only 17 months ago.
They can do it, and have started brilliantly in their quest to do so, but that unbiased analysts are suggesting they will overcome City because of a couple of impressive-looking transfers seems a bit optimistic, and the natural cynic in me sees it as more likely that this exaggerated enthusiasm will only lead to further overly harsh criticism should there be bumps in the road along the way.
By its very nature, football is always going to attract fickle opinions, especially in this day and age of 24-hour news and social media discussions. Hopefully when Liverpool lose the odd game somewhere down the line, a wider perspective will generally be kept.
After all, the champions elect are worth praising. Unless they lose to Napoli or Manchester City this week, in which case they're a useless shower of bastards.
"It's the ultimate vindication for both player and manager. Klopp and Sturridge can be rightfully proud of what they've given to each other." 👏

"Sturridge is our [joint] top scorer." 👊

🗣 Watch this week's FREE show: https://t.co/VKi31vKIzX
👂Listen: https://t.co/5sutzzZoPN pic.twitter.com/qZI7bEqb3K

— The Anfield Wrap (@TheAnfieldWrap) 2 October 2018
Recent Posts:
[rpfc_recent_posts_from_category meta="true"]
Pics: David Rawcliffe-Propaganda Photo
Like The Anfield Wrap on Facebook