IN a game which felt like a throwback to a decade ago, what a contest between two very modern football teams.
Back in those days it was Rafa Benitez and Jose Mourinho locked in enthralling tactical battles, with players of supreme quality all over the pitch.
Chelsea were the side Liverpool seemed to constantly come up against, and that in itself was a sign of how good those two sides were, complemented by two of the world's best managers at the time.
However, that's where the comparisons between those days and today end.
Despite some pre-season doubts about Chelsea's ability to challenge for the title, the way their players have adapted to Maurizio Sarri's system is nothing short of a miracle. They have a team of very good players and a manager who is quickly establishing himself among the world's best.
What may let them down over the course of the season, particularly in games like today's, is their strength in depth.
It was an issue that plagued Rafa's Reds a decade ago. They had the quality on the pitch and a manager with the ability to take on anybody in the world on their day, and challenge right at the top end of the Premier League and the Champions League.
Fucking get in Daniel Sturridge ❤ pic.twitter.com/mt2t8zbySi

— The Anfield Wrap (@TheAnfieldWrap) 29 September 2018
What caused them to fall short at the last hurdle, more often than not, was the drop off between those who occupied the starting roles and those in reserve.
That was never an issue at Stamford Bridge. The quality Mourinho boasted back then were the kind of riches Rafa could only dream of — backed by an owner who put his money where his mouth is, in contrast to a couple of cowboys who very much did not.
Fast forward to present day, Liverpool have the quality to match Chelsea every step of the way on the pitch, and a manager in Jürgen Klopp who is right up there with the very best in the world, but crucially they have options in reserve with the quality to make a difference.
While Chelsea brought on Alvaro Morata, Victor Moses and Ross Barkley to sustain their momentum, Liverpool introduced Xherdan Shaqiri, Naby Keita and Daniel Sturridge into the fold to flip the game on its head.
It was Sturridge who made the difference in the end — and, good lord, what a difference it was — but Shaqiri and Keita were also bright when they were introduced, though the former will be thinking he should have had his own name in lights with a chance earlier in the game.
By contrast, Morata toiled, Moses gave energy but little else, and Barkley gave the ball away.
That will hopefully be the difference between the two sides when the medals are handed out in May. While you can guarantee Pep Guardiola's Manchester City won't be far away from any and all honours, Liverpool's squad should take them right to the wire.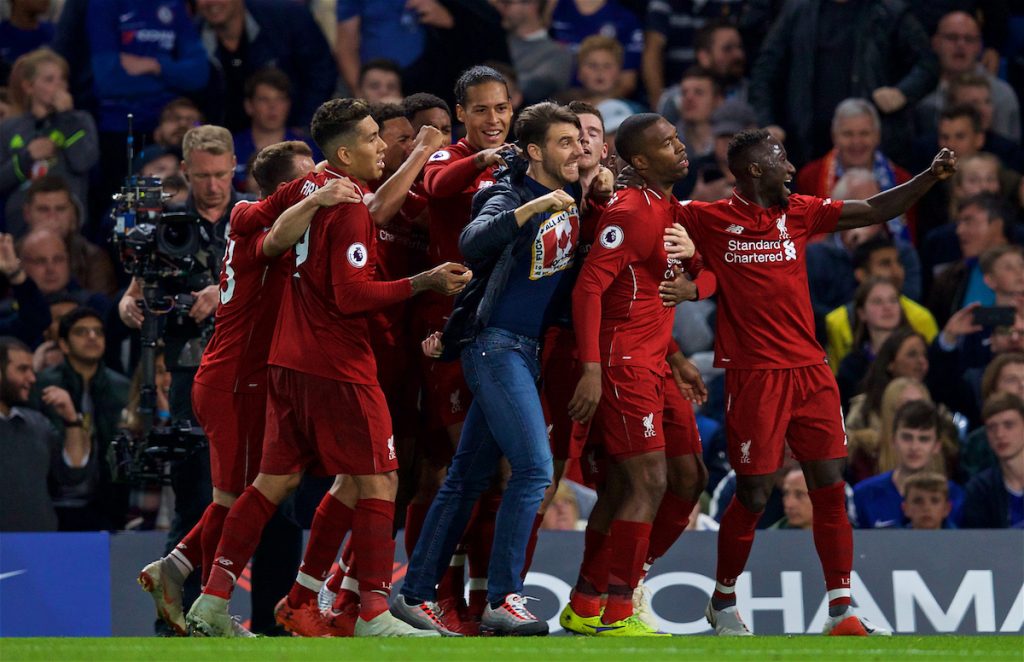 Chelsea's might not but they are definitely set for an exciting season and a title challenge to boot. That says a lot about the job Sarri has done in a short space of time, and you can be sure it won't be long before they are running City and Liverpool a lot closer.
That three-horse race would guarantee the most excitement.
The styles of Rafa and Mourinho no longer strike fear into sides around the world. What we saw today was a battle between two great modern teams, with two great modern managers, whose styles will be adopted, and adapted, by managers across the globe.
The former Liverpool and Chelsea managers find themselves at clubs, in Newcastle and Manchester United, with huge question marks hanging over them. The days of their tactical battles are long gone, and have been replaced by complete uncertainty.
For Klopp and Sarri, the future is much more certain and it is bright.
Let's just hope The Reds' is a little brighter, a lot sooner.
Recent Posts:
[rpfc_recent_posts_from_category meta="true"]
Pics: David Rawcliffe-Propaganda Photo
Like The Anfield Wrap on Facebook