FIRSTLY, let's start by getting them all out of the way…
Mo Salah was devastated Liverpool scored an injury time Champions League winner on Tuesday against Paris Saint-Germain, and in his clear repulsion he unmasked his disdain for both his teammates and the club he plays for.
The team hate Salah and the rest of the front three, and this was evidenced by Gini Wijnaldum liking a comment on Instagram criticising their apparent ego trip after the victory against Tottenham.
Jürgen Klopp has realised he's made an error in signing Fabinho. Fabinho has made an error in signing for Liverpool. The best midfielder on this planet, Fabinho, is not getting a game despite the clear need for him reflecting in Liverpool's results, six consecutive wins, the best start since 1961.
Jordan Henderson remains shite, and his performance against PSG was a mirage of propaganda. It was akin to a party political broadcast by those you detest. Don't watch the game back, everything done by the number 14 in red was fake news. Didn't happen.
I could go on, but even now I'm concerned the irony may already be lost on some (see you on Twitter at 3am, lads).
When deciding to write about this, there were a number of things I've had to ponder. What repeatedly came to the fore was a desire not to create a "them and us" narrative at any point.
Them being the players and us being the supporters. Them also being the fans who see things their way and us being the fans who I surround myself with and see things another. It is easy enough to suddenly find yourself immersed in, even at a subconscious level. The notion of tribalism is, in many ways, embedded in every one of us and is only further heightened by the prominence of the internet age.
I also had to ponder whether to even give the disruptive voices any credence at all. Maybe I am contradicting myself and doing just that by the very nature of writing the piece, yet I can't help but feel the stick in my craw.
In Anfield on Tuesday night, there was a moment just after James Milner converted the penalty which put Liverpool 2-0 up where I was stood inhaling the red mist from the pyrotechnics and the Spion Kop concrete shook almost in tandem with the electricity and noise. It made me realise there is truly nowhere else in the world anyone should ever want to be at that moment.
Something was happening somewhere, it was in Anfield. The party was back in our house. Someone had just played Can't Do Without You by Caribou in the kitchen at 4am and it was going off with people you don't know, but for now you still love.
What follows a win such as the one on Tuesday is an instant longing, a reinforcement of that absolute release you felt in those 90 minutes. The dopamine takes you to your tribe, yet in the aftermath my timeline became engulfed by a clip of Salah slamming a water bottle into the bench during the elation of Roberto Firmino's winner.
The context of Salah's reaction was quickly given a sinister slant. Of course, further footage later emerges with his arms aloft before slamming the water down. Of course, he isn't the first person alive to celebrate a goal in sheer frustration; sheer fuck off-ness which manifests in a release of such a plethora of personal and individual battles we endure over 90 minutes watching our team.
The prominence of the conspiracist, who finds something slightly negative and caveats the clear signs of progression with a "yes but" argument, has considerably subsided as Klopp's influence on the club has developed.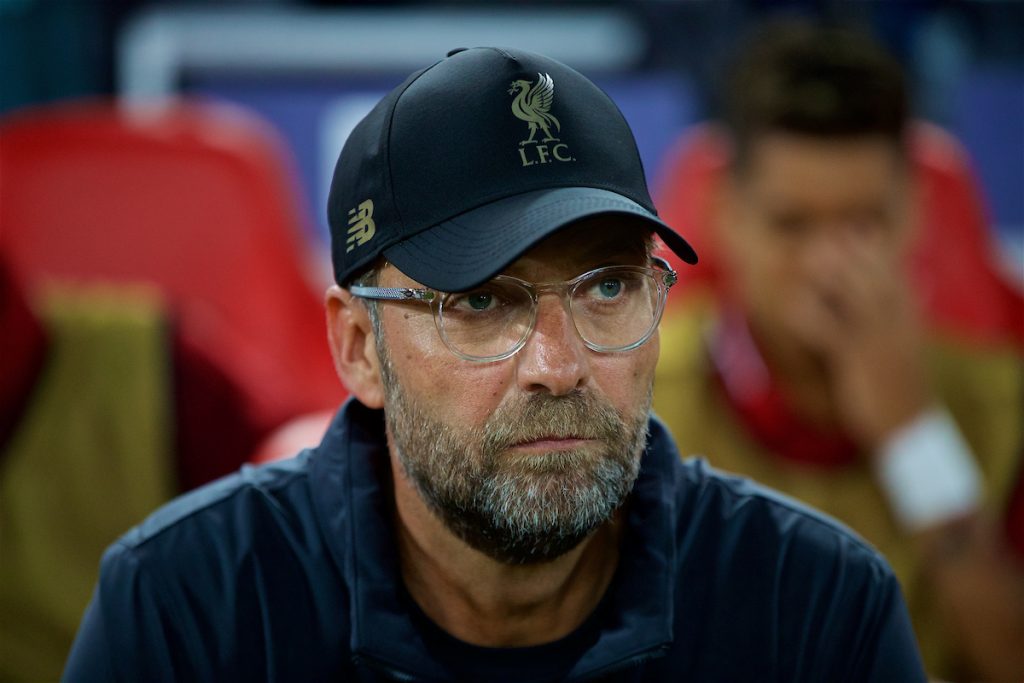 Klopp spent the best part of two years acting as counsellor to a supporter base you felt had maybe seen too much go wrong at key times. Looking around Anfield today, the general positivity is what engulfs you. The enjoyment of going through the turnstiles and getting to watch the team is night and day from when the inspiring German took the reins in 2015.
Yet there are still a very miniscule few, their intention unknown, who look to find something lurking underhand that threatens to destroy the whole enterprise. The fact is Liverpool don't have to worry about losing an enigmatic talisman who you feel holds it all together. They don't have to be concerned about a chronic lack of backing financially or a divide at management and boardroom level. The notion that the quest for supremacy hinges solely on one factor has been truly dispelled by Klopp's all-encompassing approach.
The hope is that these ludicrous fabrications are not given any credence by the players or the manager. So much work has gone into the breaking down the barriers previously erected between players and supporters, and it would be a real shame if the players suddenly felt like the supporter base was something they had to again treat as a separate entity they must distance themselves from somewhat, on account of a few fictitious rumours questioning applications and desire in some.
The example of Wijnaldum accidentally liking a completely unfounded criticism of elements of the team shows that the players are looking at this, some may even be seeking it out and taking it as a party line. It isn't.
I have no doubts that they don't all get on. They are adults in a workplace. They are made of hugely diverse demographics with their own personalities and they are extremely wealthy young men. I have worked in offices with not even a quarter of the makeup of staff and have encountered people who are not for me, to put it mildly.
It is vital to remember in all of this that the very thing that this whole journey is built on for players and supporters, the thing that is bringing the results and the factor that lies behind all the sense of good feeling is unity. Every single one of us from Salah to you and I has a responsibility to protect that. The players are certainly doing their bit; we need to ensure we keep doing ours.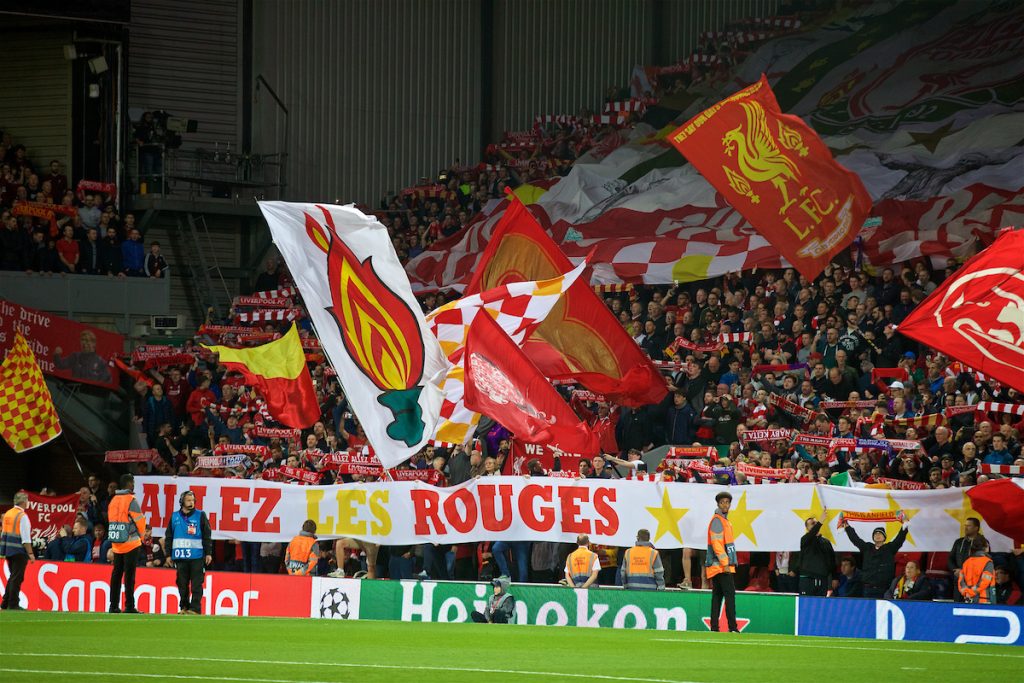 So in the true spirit of this piece of writing, let me address the bullshit with my take on current affairs surrounding Liverpool Football Club:
Salah was absolutely relieved and rejoicing in Liverpool's win over PSG. It just so happened to show itself in a form that for a couple of seconds resembled frustration.
Wijnaldum and all of the squad fully support Liverpool's forward line and are fully aware of their worth.
There is no need for Fabinho to play purely on the basis of the club signing him for a lot of money last summer. He will play when it is right for the team and he is completely on board with this.
Henderson is and remains a very good footballer, who continues to have very good games for Liverpool. On the very rare occasion that he doesn't that is completely rational, and no video montage attempting to justify why he is the devil reincarnate is required.
Above all, Liverpool are currently one of the best sides in Europe and getting to support them is an absolute privilege. I feel very lucky to be behind this club and this gang of players.
That is all that should matter. It is all that does matter. Anybody trying to sell you any other notion should be met with the same contempt shown to a certain water bottle on Liverpool's bench Tuesday night.
"We might win forever…" ✊️

🗣 SUBSCRIBE and listen to our post-match reaction show after the Reds' 3-2 win over PSG 👉 https://t.co/Y74hlJ4yQF pic.twitter.com/0h7ISHJ1jf

— The Anfield Wrap (@TheAnfieldWrap) 19 September 2018
Recent Posts:
[rpfc_recent_posts_from_category meta="true"]
Pics: David Rawcliffe-Propaganda Photo
Like The Anfield Wrap on Facebook