THIS is the type of game I look forward to most.
Following a team involves so much tense anticipation and trepidation. Who really relishes the prospect of a derby or watching us go to Old Trafford? Yes, there's excitement at just how important a result could be secured, but equally there's nothing to be savoured about living on nerves for the best part of two hours.
These sort of games, though — the ones that pitch us against the, let's not be coy, shittier teams in the league — I look forward to as a real treat. Liverpool, bang in form, full of goals, matched up against a bottom-half side, at Anfield, 3pm on a Saturday. It doesn't get more retro than that.
My happiest memories are of the Saturday mornings before the Anfield afternoons against this kind of opposition. I've lived for most of my time for one thing, and one thing only — Liverpool wins. Nothing more, nothing less. There are two modes of enjoying those wins — luxuriating in them once they've happened, and then there's the relishing of the prospect of them. I almost enjoy the latter more. It's as though you have a window into your own future. You say to yourself "by 5pm on Saturday night I know I'm going to be truly content". At peace with everyone and everything.
Of course, these prophecies so often prove false. Default post-1990 Liverpool have not been a team to be entirely trusted to blow inferior opposition away at Anfield. In this knowledge, I'm more excited about Southampton than I have been about a home game for a while. We have nothing to fear and all to look forward to, because of a truth, namely, that Liverpool now, 2018 Liverpool, are a very, very good football team.
We saw major indicators of this last season, but opening the current campaign with a salvo of six straight wins, confirms it.
My bravado notwithstanding, Southampton is actually a disproportionately important game for Liverpool. It is the filler fixture in a harsh batch of seven that commenced with Tottenham last weekend and ends with Manchester City. By then, we'll have also played Paris Saint-Germain, Chelsea twice and Napoli. All in this schedule, bar Southampton, are sides that can properly hurt us if we're not sharp about our business.
We must beat Southampton at home at the weekend simply because all of our titles rivals will, at some juncture. Additionally, a win would take our opening sequence of league victories to six, and provide us with something of a buffer when we play Chelsea, before the early "decider" against Man City in October. A draw or defeat would represent an undoing of the fantastic work done at Wembley a week ago.
I scouted Southampton against Brighton on Monday night, Jürgen Klopp will be pleased to hear. I've sent you over my detailed analysis, boss. I'll précis it here — Southampton were lively and a bit better than I'd imagined they'd be. They looked likely to really thrash Brighton at one point, but then lost all focus and ended up drawing. Also, Danny Ings has found his level and is doing well. I'm mildly relieved that "bang in-form" Danny won't face us this weekend, as he's a loanee at Southampton and still technically our player.
Mark Hughes will have said that, despite disappointment at Monday's game's outcome, he was pleased with his boys and that he saw things that really encouraged him. That's fine Hughesy, so that does this mean you'll now send your not-quite-as-shit-as-you-thought-they-were heroes to Anfield to "have a go"? As opposed to the bricked-up goal tactic we are so familiar with seeing from the likes of the Saints.
Tbh Hughsey, we aren't arsed either way. We'll be sending out a very hungry Liverpool team. We played like rabid dogs for much of the midweek win over those Parisian big shots. Klopp talks about needing to keep his team "angry". On Tuesday night, his Reds looked positively livid. And PSG paid the price.
In this first cluttered phase of the season, rotation has obviously become the order of the day for the Liverpool manager. In the week he made two changes from the side that had seen off Spurs. It was satisfying to see that he could change two of his front four and not noticeably weaken the team in any way. For Southampton's visit to Anfield expect him to again make a couple of switches.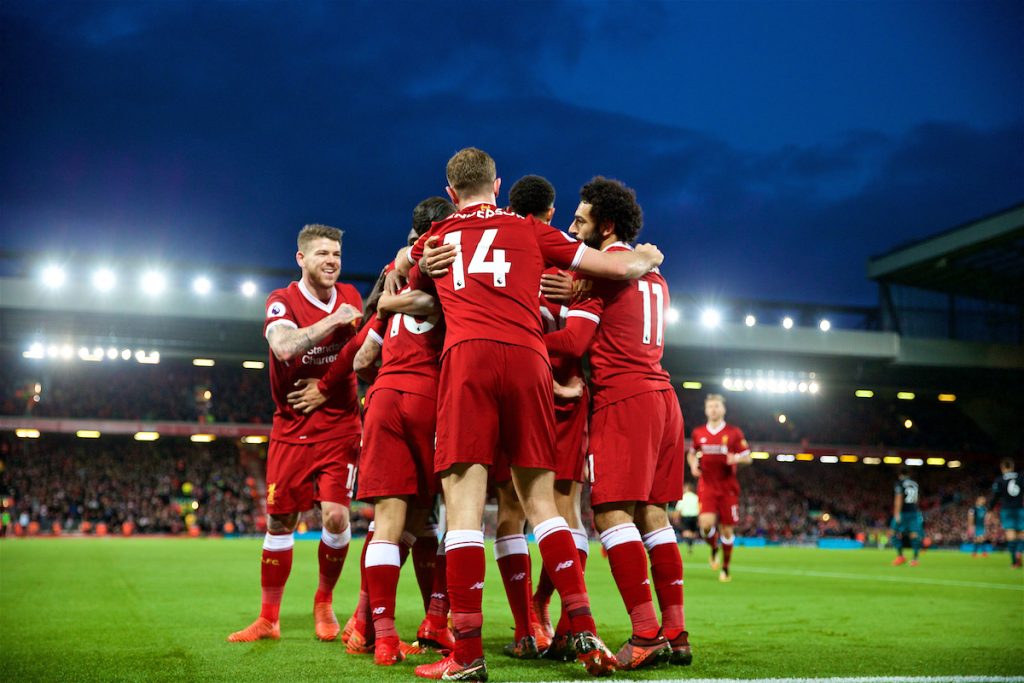 The smart money will be on Bobby Firmino returning as number nine, ahead of midweek goalscorer Daniel Sturridge. It may also be deemed time to rest one of Milner or Wijnaldum, who have both played a lot of football already this season. Henderson most likely keeps his place, Naby Keita returns surely. There's an outside chance that summer signing Fabinho earns his first start, but Klopp will probably be more inclined to hold the likes of him and Sturridge back for the League Cup clash with Chelsea, next Wednesday night.
Having comprehensively written off Southampton's chances I'll u-turn mildly in the interests of not entirely jinxing the outcome of the game, by caveating that "there are no easy games at this level" and by stressing that we need to retain the fierceness and hunger we demonstrated in the Champions League.
The Saints won't exactly be bringing Neymar and Kylian Mbappe down ours, but their scalps in our current context are equally if not more important.
Predicted 11: Alisson; Trent, Gomez, van Dijk, Robertson; Henderson, Milner, Keita; Salah, Firmino, Mane
Kick off: 3pm, Saturday
Referee: Paul Tierney
Odds: Liverpool 27-20, Draw 11-4, Paris St-Germain 39-20
"We might win forever…" ✊️

🗣 SUBSCRIBE and listen to our post-match reaction show after the Reds' 3-2 win over PSG 👉 https://t.co/Y74hlJ4yQF pic.twitter.com/0h7ISHJ1jf

— The Anfield Wrap (@TheAnfieldWrap) 19 September 2018
Recent Posts:
[rpfc_recent_posts_from_category meta="true"]
Pics: David Rawcliffe-Propaganda Photo
Like The Anfield Wrap on Facebook