I'VE developed a new app that's going to be bigger than Facebook, Instagram and Twitter combined.
It was a flash of inspiration during The Anfield Wrap's weekday video Talking Reds with host Neil Atkinson last week, and I've already got investors from around the country swamping me with calls trying to get on board to back it and bring it to market as quickly as possible.
As with all of the best inventions, it's dead simple. It just allows fans of other football clubs to prevent any element of Liverpool supporters enjoying themselves from seeping into their lives.
No tweets, no messages, no photos. No videos of our happy faces bouncing around the place singing songs and letting off flares.
The rest of the world is desperate for it, Reds. They can't stand it. Can't stand watching us having a laugh because our football team is so fucking good.
We'll sell it for a fiver a pop and reinvest all of the money back in the team, basically just buying Bobby Firmino whatever mad clothes he wants because The Reds don't need any more players, they're already too good and it's not fair on everyone else.
I can't wait to flick through non-Liverpool Twitter today, just to see all of the cryarsing from the rest of them having to watch us have so much fun.
I'm still not sure why they hate it so much – it's meant to be fun, isn't it? Isn't it meant to be a laugh, something that takes us away from the mundanity of daily life?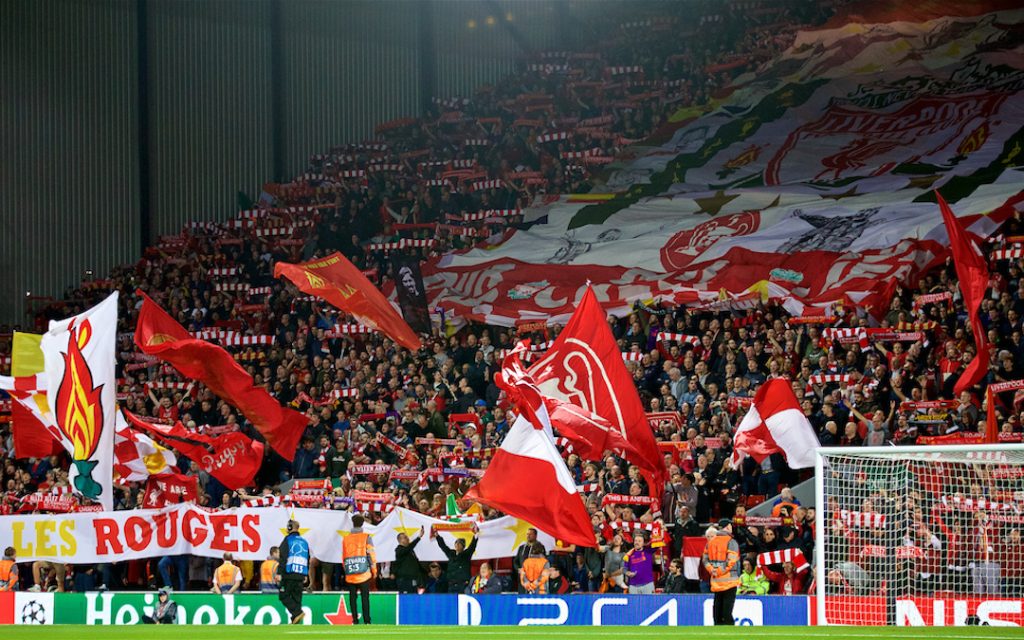 I'm not really arsed if they think it's not, because unless they can get my new app up and running within the next few months, I'm concerned for them that they're going to have to get used to watching our grinning faces peering out at them from every nook and cranny of the internet for a while.
Thought you were checking how your nan is on Facebook? Unlucky mate, there we are, sitting next to her at the bingo, teaching her the words to Allez, Allez, Allez. And she fucking loves it. She'll be calling you soon to ask why you don't support Liverpool, and telling you how this Firmino seems to be an absolutely lovely lad. Smashing white teeth.
Wanted to see how Theresa May is getting on with her latest dance on Twitter? Never mind, sunshine. There's a gaggle of tweets for you to get through first, every one of them showing happy faces of Liverpool supporters enjoying their fucking faces off.
I've talked before about walking and talking the way you want to be before it actually happens. Walk the walk and talk the talk, and sooner or later the universe will catch up. Well we've been singing about taking over Europe for months now. We've been telling them we're never going to stop.
They can't say we didn't give them plenty of warning.
The first game in the group stages of the Champions League isn't met with such excitement in many places around Europe. But they made a mistake again, didn't they? They made sure that whatever group Liverpool entered would be the group of death by putting them in pot three.
The pot that Manchester City have moaned about being in for years. Crying their eyes out about how the whole thing is rigged and it's not fair.
They didn't realise we're not like them, though, did they? We love it. Send us your big boys. Send the biggest you've got. We've all been taught since we were kids that if you're getting picked on by a group of bullies just knock out the biggest one and the rest will take care of themselves. We're not frightened of you.
You and all your money, and your second (third?) best front three on the continent. They're no match for ours. No match for The Reds' ferocity. No match for our belief. No match for James Milner, Gini Wijnaldum and Jordan Henderson.
Jordan fucking Henderson.
If you watched that game and still think he's shite you need your head testing. I don't often use the line "you don't know what you're talking about" in football conversations, because none of us really know what we're talking about.
But if you watched our captain smash into their show ponies time and again and come out with the ball, if you watched our leader regain possession for fun and ping one-touch passes off spinning balls like he was strolling around the local park with his kids, if you watched all of that and still think he's fucking shit then you don't know what you're talking about.
He was immense alongside his unfashionable teammates in the middle of the pitch. A midfield three that the oil barons wouldn't be interested in, but one which Jürgen Klopp has turned into a powerhouse of energy, shape and gegenpressing mastery.
I think my favourite thing in the world now is watching Milner get to the ball just a split second late so that he can smash it as hard as he can into his opponent. I can picture him practising it on the training pitch for hours. Sparring partners brought in one after the other while he boots the ball into their nether regions from a yard away through a disguised tackle.
The show-pony jibe aside, we shouldn't overlook the fact that Paris Saint-Germain are a quality football team. After dominating the early stages of the first half, those of us in the ground could slowly feel that creeping sensation that only happens when you're watching world-class players knocking the ball around for the opposition.
When they get anywhere near the edge of your box and you feel the muscles in your back tense just a little bit more. The relief flooding through your body every time they're dispossessed without even a shot materialising.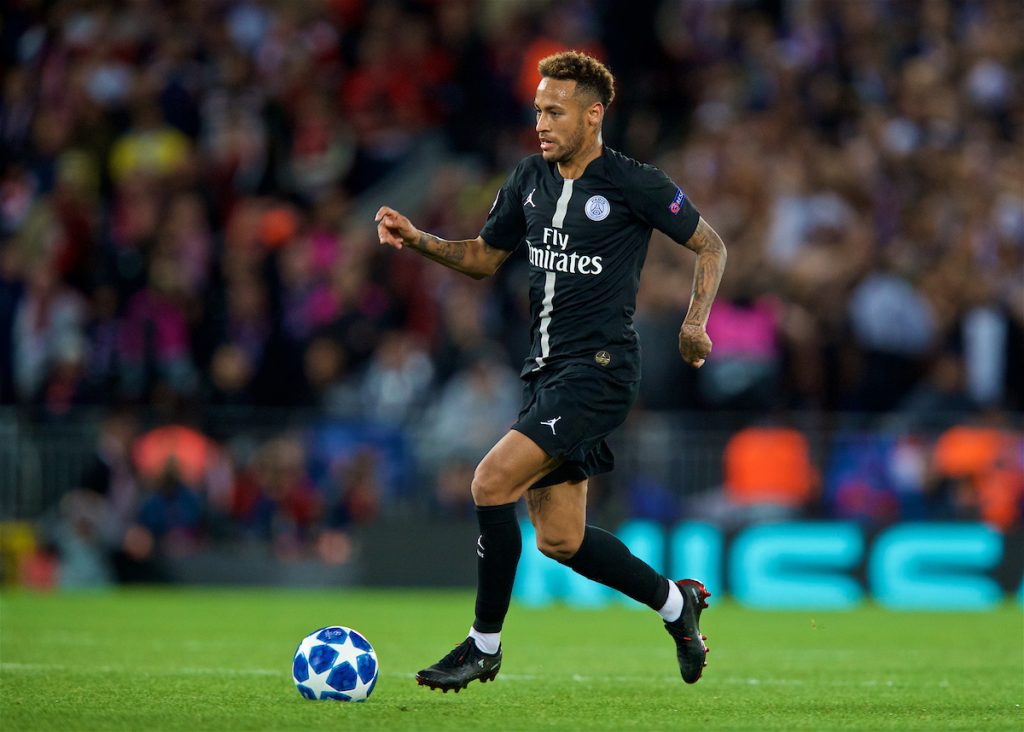 They're good, make no mistake. They're good, but Liverpool are absolutely fucking mustard.
For all of those fans of other clubs dreading accessing the internet whenever The Reds have won, there isn't much good news to report. It's now six wins out of six, including two tough-looking away games to Crystal Palace and Leicester, a win away at Spurs and a home victory against the champions of France.
And all of that still without the front three clicking into gear and with the biggest weakness being that they haven't been clinical enough. Liverpool could have scored 10 goals against Spurs and PSG combined without batting an eyelid.
The statistics look good, but they still don't have any stats to show how often The Reds could have scored if one of their attackers had chosen a better option than they did, or if Sadio Mane and Mo Salah could regain their finishing composure from the end of last season rather than the "hit it as hard as you can" technique that the rest of us deploy.
As soon as that rectifies itself and they all get back in the groove they were in during the second half of last season, it's unlikely that Liverpool will get worse than they currently are.
What a position to be in. Six out of six with some obvious improvements that can be made by the coaching staff on the training pitch. A £40million centre midfielder not yet able to get any more than a couple of minutes in the first team. A back five that is still getting used to playing together, with two of the five being brand new to their positions in that setup under this manager, one of the five being a teenager and the other being the greatest left back the world has ever seen.
I'm sure Liverpool will lose a game again sooner or later. At this rate, I think it's likely to be some time in 2028 when Milner needs a rest after playing 587 consecutive games.
The bad news for everyone else is that the feeling running around this football club is as we all hoped and expected after last season's Champions League final defeat, when they all started to get worried.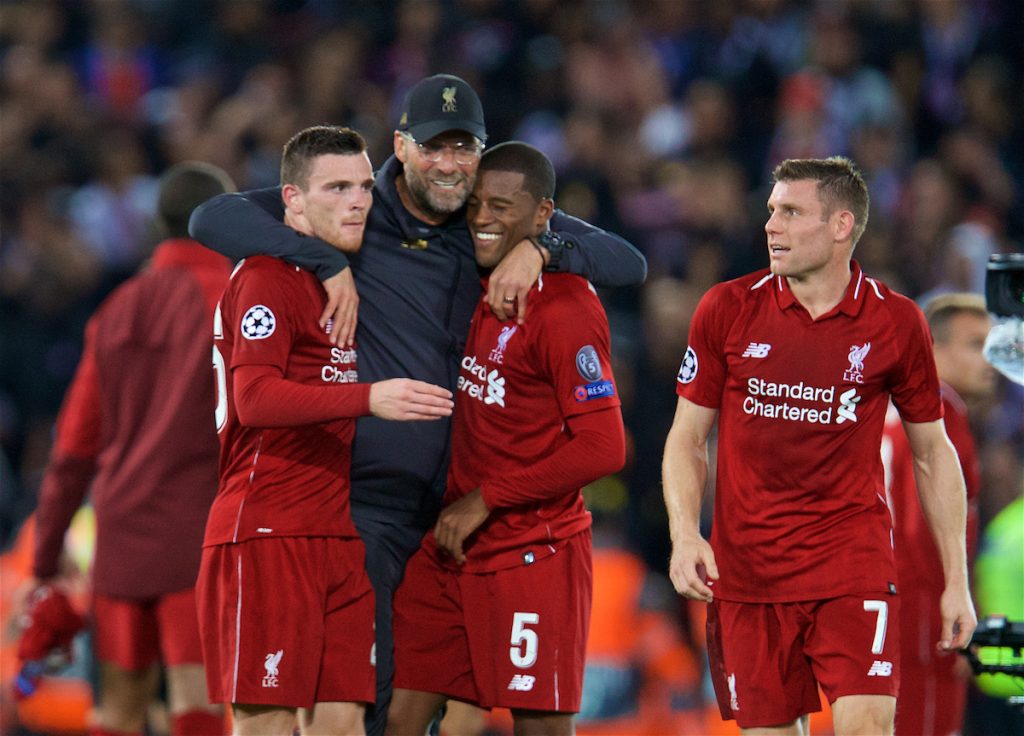 When they saw us come away from that laughing, singing and telling stories about how much fun we'd had, they knew it was a bad sign. They realised that instead of imploding like Liverpool have so many times in the past, we were all settling in for the start of an exciting journey, not the end of a disappointing one.
And they were right. The Reds have started exactly where they left off, except this time there's a hunger to go one step further. A desire to put the finishing touches to all of the hard work that's gone before.
Whisper it quietly, but there are echoes of Manchester City at the start of last season, winning tight games with last-minute goals to keep momentum going. Building a fear factor that puts them ahead in games before they even kick off. Everyone glancing at the fixture lists to check when they have to face this red machine.
No one fancies taking The Reds on when they're in this mood. Meanwhile, we can't wait for the next game, hungry for another opponent to swallow up and spit out, churning through them one after the next, discarding their carcasses over our shoulders as we plough forward to whatever challenge lies ahead.
Send whoever you've got. Send your biggest and your best.
We're not frightened anymore.
But they should be. This is only going in one direction.
"We might win forever…" ✊️

🗣 SUBSCRIBE and listen to our post-match reaction show after the Reds' 3-2 win over PSG 👉 https://t.co/Y74hlJ4yQF pic.twitter.com/0h7ISHJ1jf

— The Anfield Wrap (@TheAnfieldWrap) 19 September 2018
Recent Posts:
[rpfc_recent_posts_from_category meta="true"]
Pics: David Rawcliffe-Propaganda Photo
Like The Anfield Wrap on Facebook