IT is the return of the UEFA Champions League. All the exciting nights, big games and Gazprom you can consume.
What a ride it was last time out. Sure, the ending in Kyiv wasn't ideal, but personally I wouldn't swap those experiences with any other set of fans (apart from maybe Real Madrid's, if you want to be all literal about it).
It hadn't exactly been a glamorous start, though. Last season's group stage wasn't wall-to-wall giants of the game — no offence to Sevilla — but this time it's different. Liverpool start their campaign by inviting a juggernaut to Anfield.
That is a juggernaut in Paris Saint-Germain that has never actually won a European Cup. There are a few of those in the Premier League as well, as it happens.
However, PSG have won another European trophy. The European Cup Winners' Cup in 1996. Allow me to take you back to one year later, when the French outfit faced Liverpool as they tried to win it again.
The year was 1997. It was a simpler time. The charts were topped by a catchy little ditty called I Believe I Can Fly by R Kelly, who would go on to do… Other things. The number one film at the box office was a delightful romp starring Jennifer Lopez and a massive anaconda called, erm, Anaconda, while New Labour were less than a month away from winning the General Election. Oh, and we'd just been introduced to the Teletubbies.
Elsewhere, other Reds were looking for success. Liverpool had been going well in the league and reached the semi finals of the Cup Winners' Cup. The competition wasn't as important as the European Cup, but was still a European trophy and, more to the point, the only one the club didn't yet have in their collection.
Exactly a month prior was the second of the famous 4-3 wins over Newcastle that had put Roy Evans' side in a good place for a title challenge. However, defeat at home to Coventry left a huge dent in that challenge just four days before the trip to Paris.
I was only 10 at the time but remember being taken along to our local pub by my dad for the first leg. He sat me down with an orange juice and a chocolate bar and hoped we'd be able to watch European history together as Liverpool faced the tournament holders. It was not the night I believe he envisaged.
I was still relatively new to football at the time but even I could tell that Liverpool were playing terribly. I'd already seen the defence concede some of the softest goals imaginable in the previous season or two, but this was another level. PSG were tidy, but essentially just waited for their visitors to self destruct and took advantage. A 3-0 thrashing, if anything, flattered Liverpool. Dad didn't take me back there for the second leg.
Nothing from that night survived very long, to be honest. The competition was ended by UEFA two years later and, a few years after that, the pub closed down.
To be fair to Evans and his boys, they gave it a fair go at a raucous Anfield, winning 2-0, but fell just short of a famous comeback. A draw with Everton and defeat to Manchester United in the league between the two CWC games poured further cold water on a title challenge, and all of a sudden a season that promised so much fizzled out into nothing.
Fast forward 21 years and the two clubs come face to face for the first time since that season. Both have had their fair share of ups and downs in the meantime, but both also arrive in this clash in as healthy a position as they have arguably been since then.
PSG have the obvious widening of their pockets back in 2011 to thank, while Liverpool now have the squad that has been built by a manager who is trying to take The Reds back to the very top of the game.
After that night in Paris in 1997, Evans told reporters: "We lacked passion and we lacked pride and that is desperately disappointing for me. It is one of the most disappointing nights I have experienced because you do not expect Liverpool to perform like that. We played the game so slowly, we didn't defend and we didn't attack."
Pretty much every fault he listed are traits that you simply cannot imagine from this team at the moment. Say what you want about some of the refinement in their five wins so far this campaign. Liverpool, to a man, have played each game with passion and pride. They know how to defend and they certainly know how to attack. I'd put good money on Jürgen Klopp's post-match interview being nothing like that one from Evans, regardless of the score.
For those too young to remember, the Liverpool side of 1997 wasn't dreadful. After all, they did reach a European semi and challenge for the Premiership (as it was then) until the last few weeks. Evans had built a team with an iffy defence but an electric attack in Steve McManaman, Robbie Fowler and, when he could be bothered, Stan Collymore.
However, their problems in Paris were well-summed up by Jason McAteer in a recent interview with David Lynch for the Evening Standard when he said: "We were a very expansive, easy-on-the-eye team, loved attacking and our way was that we'd score more goals than them.
"I felt we were a bit naive, to be honest, with all guns blazing and maybe didn't show them too much respect."
The first sentence might sound a bit like the current Reds, but the second very much does not.
Showing respect is something that Klopp and his captain were sure to do in their press conference ahead of the game. The manager was very complimentary of his opposite number, Thomas Tuchel, a man who has succeeded him in two separate jobs, and of course a man Klopp beat on a famous Europa League night back in 2016.
However, it was Klopp's comments on Neymar that were more noteworthy. The Brazilian superstar has been making efforts to tell everyone how unintimidated he'll be by Anfield, but the Liverpool manager simply resorted to praising the £198million man and reassuring him that he won't get booted in the air as often as he sometimes does against other teams.
"He doesn't have to worry. We don't go for him, we play football, we want to win the ball and we don't try to act in these kind of ways," the gaffer said.
"We try to avoid passes to him, we try to avoid challenges and all that stuff. I am not sure if it's possible to avoid his quality 100 per cent."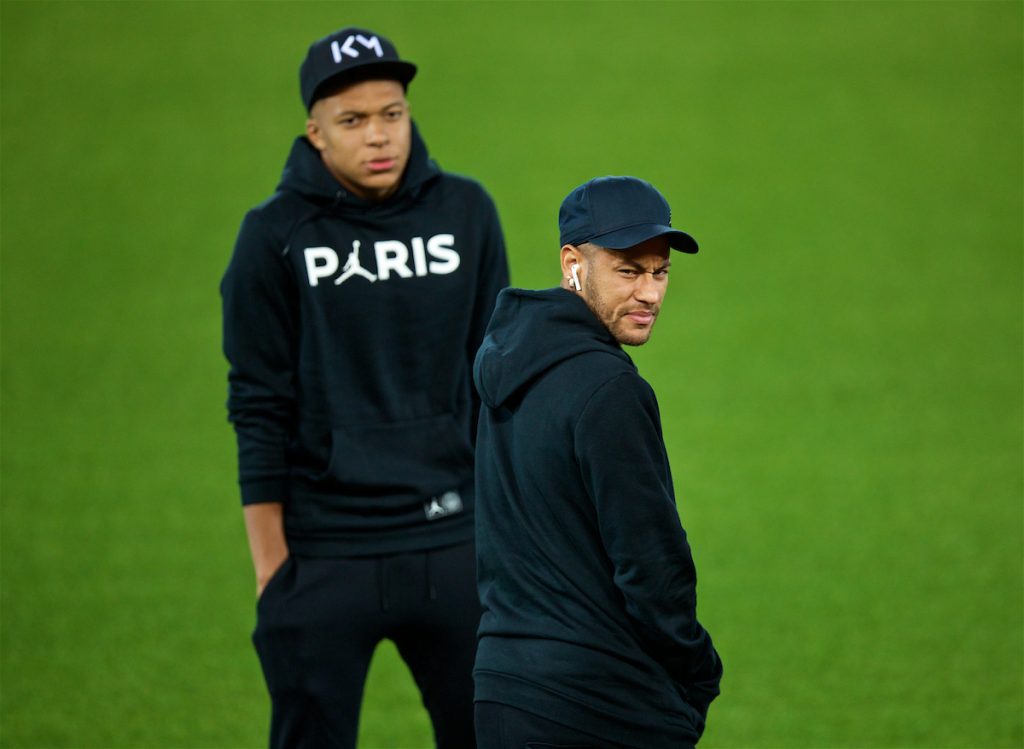 Klopp didn't even rise to the bait when asked about Neymar's overwhelming reputation for diving, after a World Cup in which he seemed to spend more time rolling around than rolling footballs into goals.
"I don't think he is a person who wants to act or stuff like that, because if you are like that then you cannot play football how he plays," he added.
"I saw a few games at the World Cup, and I know that people were talking about that it looked like he made a bit more of situations than it was.
"For me, it's a completely normal reaction. Players are really going for him, that's the truth, and he wants to protect himself. I understand that as well."
Of course those words are all well and good, but you just try and stop Trent Alexander-Arnold from putting him in the Main Stand if he tries a nutmeg in the opening minutes.
Jordan Henderson backed up those respectful words on the former Barcelona man, saying: "Neymar is a world-class player, I'm sure it'll be difficult to stop him, but we're capable. We've proven that against top players before.
"For us, we just need to treat it as a normal game. We've proven we can perform. He's just one of many good players."
However, while putting some respect on PSG's name while they spoke, both crucially emphasised that, while Liverpool absolutely recognise the quality of the French champions, they do not fear them. The Champions League finalists will enter this year's competition with a deserved swagger, with a clear mind on the job at hand.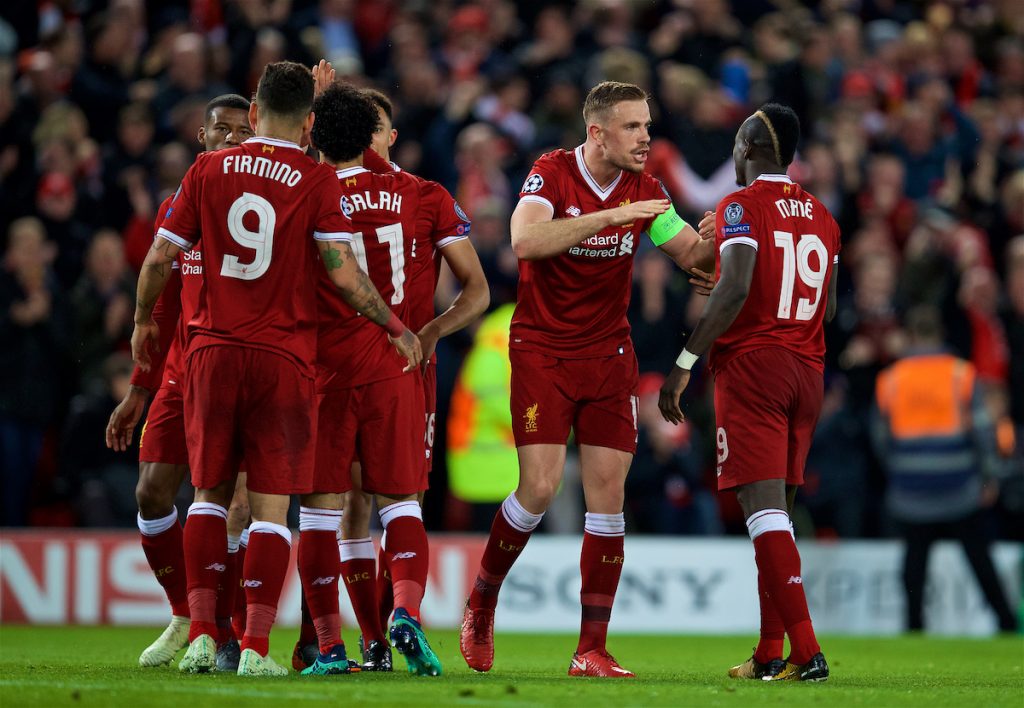 PSG are at a much higher standard than they were in 1997, but then so are Liverpool. The difference between the two sides back then was the English side not taking the threat of their opposition seriously enough and not concentrating. It seems safe to say that won't be the case this time, and so their two Champions League Group C clashes should ultimately be determined by which team shows more quality, and there is a lot of quality to be shown.
On that thought, if Fabinho isn't to be used again I have another job for him. Find Kylian Mbappe as soon as he gets off the coach, put his arm around him, make him feel welcome, gently and "accidentally" guide him to the home dressing room, get him within hugging distance of Klopp and scramble his young friend's mind before the game.
Give Mbappe conflicting feelings, make him realise what he could have when he then steps onto the pitch and sees Anfield under the lights, experiences The Kop on a European night, and then watches our lads do their thing to his lads. Planting seeds in the mind of a future Ballon d'Or winner will never hurt.
Only kidding of course, and apologies. I should be more serious here, because after all, that's what The Reds are, and will be.
They were literally within touching distance of the Champions League trophy last season and you can already sense how much they want to right that wrong this time around.
After all, they've conquered all of Europe and I'm led to understand are never going to stop.
[wonderplugin_audio id="72″]
Recent Posts:
[rpfc_recent_posts_from_category meta="true"]
Pics: David Rawcliffe-Propaganda Photo
Like The Anfield Wrap on Facebook