LIVERPOOL got away with murder at the King Power this afternoon.
Liverpool — top of the league.
Liverpool were poor.
Liverpool deserve their win. You get to defend well. You get to do the business without having the ball. That is the hardest thing at times to acknowledge — when you win the way you aren't accustomed to. Liverpool won in a way they aren't meant to.
They won.
They are top of the league.
Football doesn't have to make sense, but it does tend to work out.
Things that happen in the first half:
Liverpool get behind Leicester four times and are worthy of two goals by 20.
Liverpool score one goal.
Gini Wijnaldum gives it away.
Liverpool are abject for 20.
But Leicester create nothing.
Liverpool make it 0-2.
Half time.
The first half sort of makes sense as a game of football that Liverpool play. It was a firm reminder that football is sort of random and sort of not, and that you get what you deserve and what you don't. Leicester had hard lines. But they didn't. For a vast swathe of the first half, they were firmly second best. For a vast swathe of the first half, they were on the verge of forcing an equaliser.
James Maddison aside, they lacked Liverpool's cunning, lacked Liverpool's incision. But they were very much in the ascendancy at home and so often that in, and of itself, can be enough.
And so it proved. And that is the "but". Many games have a but. In the second half, Liverpool were pushed right back by Leicester's desire to force the issue and they were rattled by it. Gone were Liverpool's creation of chances, they were hanging on for dear life, getting territory, forcing the ball into corners and looking to take time out of the game.
Liverpool were left to not be Liverpool, to be the side who you say "but" about. That "but" could prove positive or negative. They could find themselves being brilliant on the attack but able to hold sides out. They could find themselves being a side who promised a lot but ran out of gas.
Today, they were the side who weren't great but found a way.
Joe Gomez's performance was rolling a six on snakes and ladders and getting to 94. He went from supporting act to best defender on the pitch, a pitch with both Virgil van Dijk and Harry Maguire on. He went from boy to man before our very eyes. He was everything. The list of things you want from central defenders. Great on the ball, good in the air, brilliant on the turn, smartest man on the pitch, body on the line. Gomez's performance is one to walk around. There should statues built off the back of it.
Elsewhere there was a shortage of quality but a lot of heart and a fair amount of brain. James Milner the standout for that. He oscillated between infuriating to incendiary. He won some tackles that should have meant more. He should be the man who launched Liverpool on a four on two which would have led to it being 3-0.
Instead, minutes later it was 2-1 through the goalkeeper making his first mistake of the season. He was rightly punished and he will be again. This is what we are bought into. There is no relief from this. The rough with all his smooth. I love his smooth. He will do for me.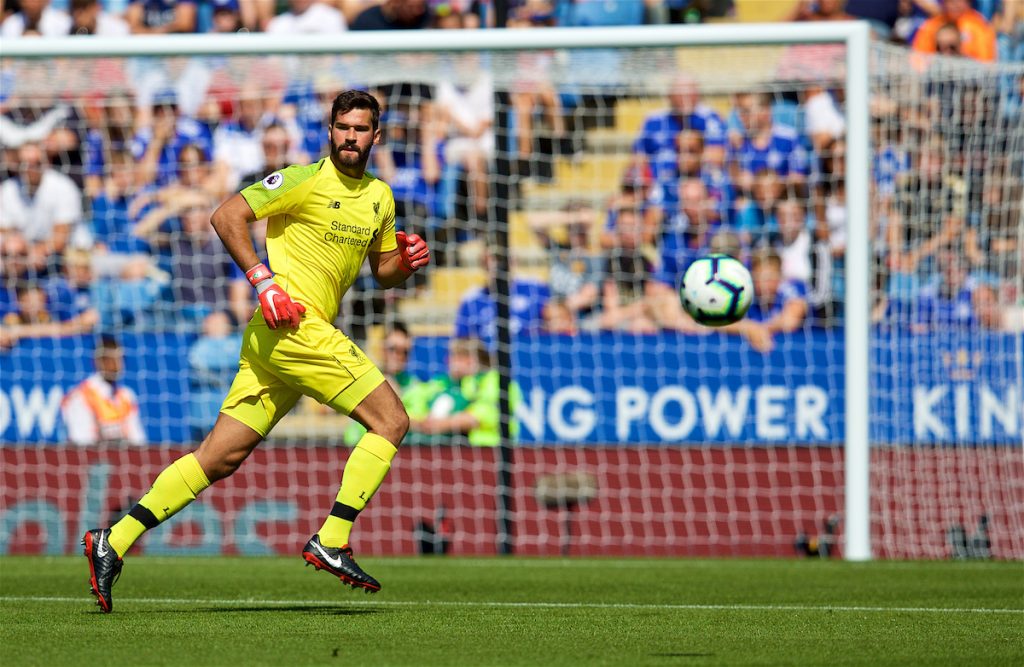 He wasn't punished. Roberto Firmino was dreadful but — another but — my god did he work. Did he give us everything. Did he hunt Maguire down after 90 passed. Did he make it a nightmare to have the ball around him.
Against this Liverpool side what is striking is they can keep a good side at arm's length. Leicester hurt Liverpool but — but, but, but — they couldn't punish them. That's testament to a Liverpool side who went from excellent to poor in the blink of an eye but who remained switched on. They kept their shape, kept talking and kept working.
Football is the best of the sports because it makes you make peace with the random while addressing a set-piece situation while tending towards allowing class to prevail.
When our shape goes wrong it can be like a clock that can't tick. But it can still do the business occasionally.
Class prevailed, he types as he grins to camera. Class prevails. Liverpool prevail.
Four down. Twelve from 12. Thirty-four to go. Good lord. Thanks for the break…
"This is how you win leagues." ✊

🗣 SUBSCRIBE and listen to our immediate post-match reaction show after the Reds' 2-1 win over Leicester City to make it four wins in a row 👉 https://t.co/lmNtBz4ADz pic.twitter.com/gB5JYbRjbO

— The Anfield Wrap (@TheAnfieldWrap) 1 September 2018
Recent Posts:
[rpfc_recent_posts_from_category meta="true"]
Pics: David Rawcliffe-Propaganda Photo
Like The Anfield Wrap on Facebook