I AM currently reading, and very much enjoying, Damian Hughes' new book The Barcelona Way, which is all about understanding the winning DNA built at Barcelona.
Damian is a psychologist who specialises in the development of high-performance cultures, and has appeared on The Anfield Wrap to talk about culture and leadership within sport.
Despite being a Mancunian, I really like Damian. He explains concepts in a simple way and in a style that allows you to apply it to other things. Because, like the rest of us, I'm obsessed, I usually relate it to Liverpool Football Club. What are their key principles, how much do they stick to them and will they lead to The Reds becoming a winning team?
Football is a funny business. Despite huge evidence to the contrary in almost every walk of life, football seems to think clubs should exist in a constant state of upheaval and short termism as a way of getting positive results. Managers are given no time to implement ideas, star players are indulged in the hope they will do something magical and the future is constantly sacrificed for the now.
As Damian describes, a truly winning DNA is built over time, and not just by one person but by a culture that runs throughout an organisation. Jürgen Klopp is important as the man who enforces the values of an organisation from the top, and removes people who don't adhere to them, but he can't be there all the time, and isn't on the pitch when the going gets tough. When people need to dig deep.
Those needing evidence of the positive culture currently being demonstrated at Anfield need only look at this week and several individual stories. On Wednesday night Jordan Henderson bounced back from some bizarre yet now standard criticism to produce a captain's performance against Paris Saint-Germain. While many continue to doubt him, his manager hasn't been one of them. He values not just his skills but what he brings to the group as a leader.
Part of Henderson's problem is our obsession over captaincy, and who could be doing it better. Damian largely ignores captains — after all, where else in society do they exist? — and speaks instead of "cultural architects". Those who live the values and principles of the team as an example to others. It's the old "you can never have too many leaders in the team" but more so. They don't just lead, but influence. Their strength of personality and status within the squad means their good practices are seen as the minimum standard. If you can't meet it, then you know where the door is.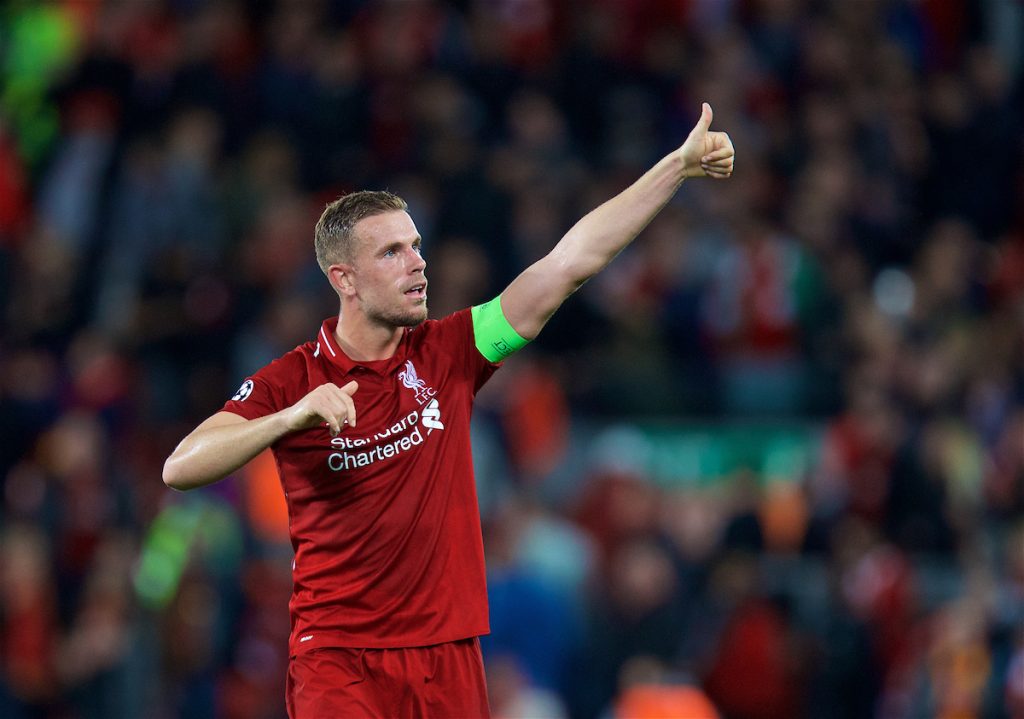 In today's press conference Klopp praised James Milner and Alex Oxlade-Chamberlain not just as players — after all, the latter might not play this season — but as people and squad members. Klopp described Milner as "the best example for them". He said Chamberlain will "always be a very important part of the squad because of the guy he is". All the time he is talking about footballers as more than what they are able to do with a ball. Neither need an armband to be a leader.
Tuesday's game was an example of a "commitment" culture succeeding over a "superstar" one. Studies into Silicon Valley tech start-up companies showed there were five different types of culture within an organisation. Superstar, autocratic, bureaucratic, engineering and commitment, and that observing them over time showed companies with a commitment culture to be far the most likely to succeed. It can be the most difficult to build, getting an entire organisation to follow the same beliefs, values and goals, but when it works, like it did at Barcelona, the results are clear to see.
Liverpool beat PSG not because they had better players, but because they were a better team. Because the best footballers are also the best examples. Which makes the scorer of the opening goal for Liverpool even more interesting.
It is fair to say Klopp and Daniel Sturridge haven't always seen eye to eye at Anfield. Even when Sturridge looked one of Klopp's most talented footballers, certainly his best goalscorer, the manager refused to indulge him. If the player wasn't able to reach a certain physical level, or willing to do a certain amount of work for the team, he wouldn't play.
On so many occasions when things weren't going well, it must have been tempting to play him more. But Klopp, like Pep Guardiola with Ronaldinho when he took over at Barcelona, believed that relaxing standard for one player would destroy the commitment culture he was trying to build. So he held firm and Sturridge went out on loan to West Brom.
That there has been redemption in the Sturridge story says positive things about all the individuals involved. Sturridge for adapting and Klopp for showing there is always a way back if you respect the culture.
Where the larger story will end, we will have to wait and see. But evidence suggests that everything Liverpool are doing gives us the best possible chance for success.
"Don't get caught up in the 'they're all crap…' Leicester away is tough, Palace away is tough, Spurs away is tough." ✊

🎥 WATCH today's Taking Reds in full here on our YouTube channel 👉 https://t.co/jqgdSnqAzm pic.twitter.com/n1sJGooN4V

— The Anfield Wrap (@TheAnfieldWrap) 20 September 2018
Recent Posts:
[rpfc_recent_posts_from_category meta="true"]
Pics: David Rawcliffe-Propaganda Photo
Like The Anfield Wrap on Facebook