ONE of the theories for Liverpool's current run of form under Jürgen Klopp is that the core group of players understand what is expected of it.
They know where to play, when to go, when to stay – what their responsibilities are. And The Reds are reaping the benefits, even when they're not at their best.
With Anfield gearing itself up for the return of European football tomorrow night, there's an argument to say it isn't just the players who are in the right place to influence the club's destiny at the moment.
Not so long ago, it seemed like the Anfield atmosphere debate was never far away. There were genuine theories that it was dead and gone – a figment of a collective imagination that could never be rekindled, a golden age gobbled up by modern football.
While some aspects of that debate remain – the price of, and accessibility to, tickets, trying to get likeminded supporters who want to create an atmosphere together in the ground and so on – we are no longer digging into ancient history to find an Anfield atmosphere that we can proud of, and one that we can genuinely claim spurred the players on to more.
It helps that from the get go Klopp has publicly placed value on the power of supporters in the stand to influence the players on the pitch. It was clear he was lured by the romance of the club, and from his programme notes to his press conferences, atmosphere and support has been a recurring theme throughout his near three-year reign.
Best remembered in the wider football world is when Klopp, just a month into the job, pointed to those making an early exit from Anfield as he suffered his first defeat as Liverpool manager, a 2-1 loss to Crystal Palace.
"After the goal on 82 minutes, with 12 minutes to go, I saw many people leaving the stadium," he said. "I felt pretty alone at this moment. We decide when it is over. Between 82 and 94 you can make eight goals if you like."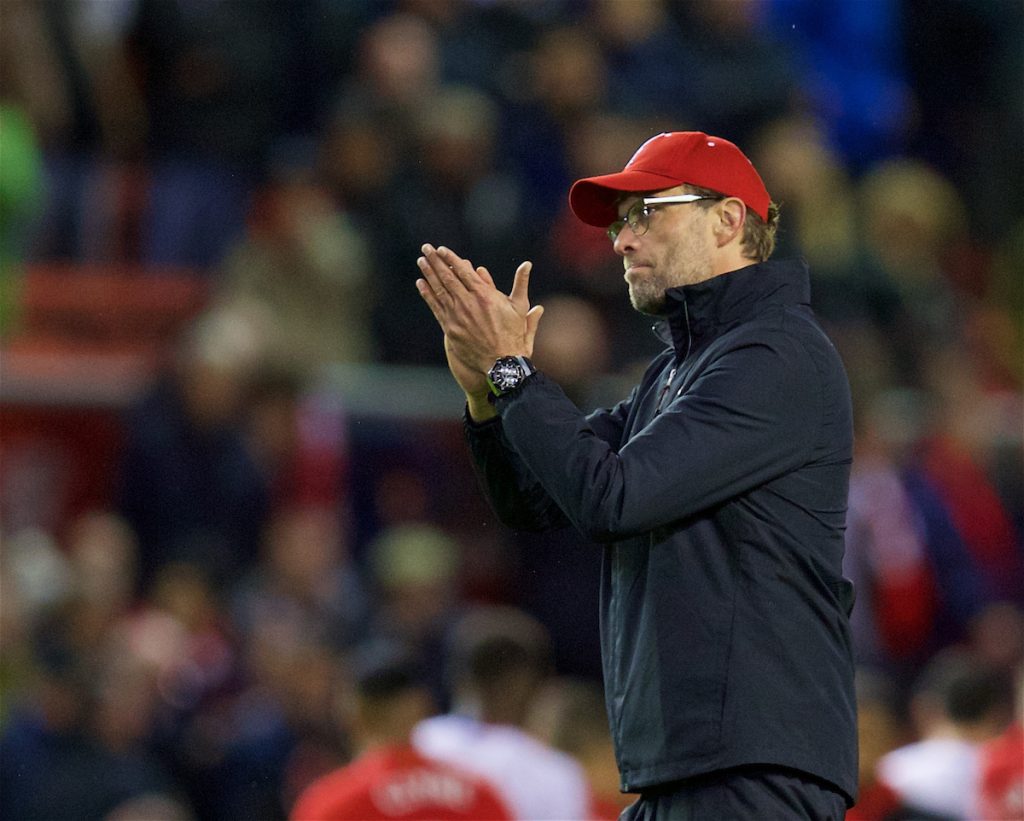 His point then was not only aimed at supporters, it was about the players too – that they had to show, through their play, their mentality, their spirit, that they were a team that could be trusted to fight for every point.
This team now is just that. And whomever the opponent, Klopp can point to the muscle memory of past conquests in his reign that mean they should fear no one, particularly in Europe. Think Manchester United, Borussia Dortmund, Manchester City and Roma.
In those very same games, plus the match with Villarreal, supporters played a part. The atmosphere was again the envy of all around. It spurred Liverpool on. Team, manager, us supporters – all of us felt it in the ground and talked about it afterwards.
A less-heralded Klopp soundbite on the issue comes from a time when things didn't go to plan for his side. When Liverpool raced to a 3-0 lead away in Seville, it looked like game over. It wasn't. And a second-half fightback saw the Spaniards claim a point, the equaliser arriving in the 93rd minute.
That night, the home crowd sensed blood. It bayed and booed and their players reacted to it. Liverpool did something similar – something better – to Borussia Dortmund.
In a press conference that followed shortly after that Sevilla game, Klopp said: "They can make all the difference, that's how it is.
"We felt it a week ago in Seville. At Anfield, if we were 3-0 up, I don't think it would have happened. Football only really works, in my understanding, when we all play together, when we all work together, and that involves the crowd, 100 per cent.
"We do it only because people are interested, when they leave it feels strange. Players don't stand in the stadium going 'oh, people are going home', but they feel it. It's a big difference, we can perform better when the atmosphere is there."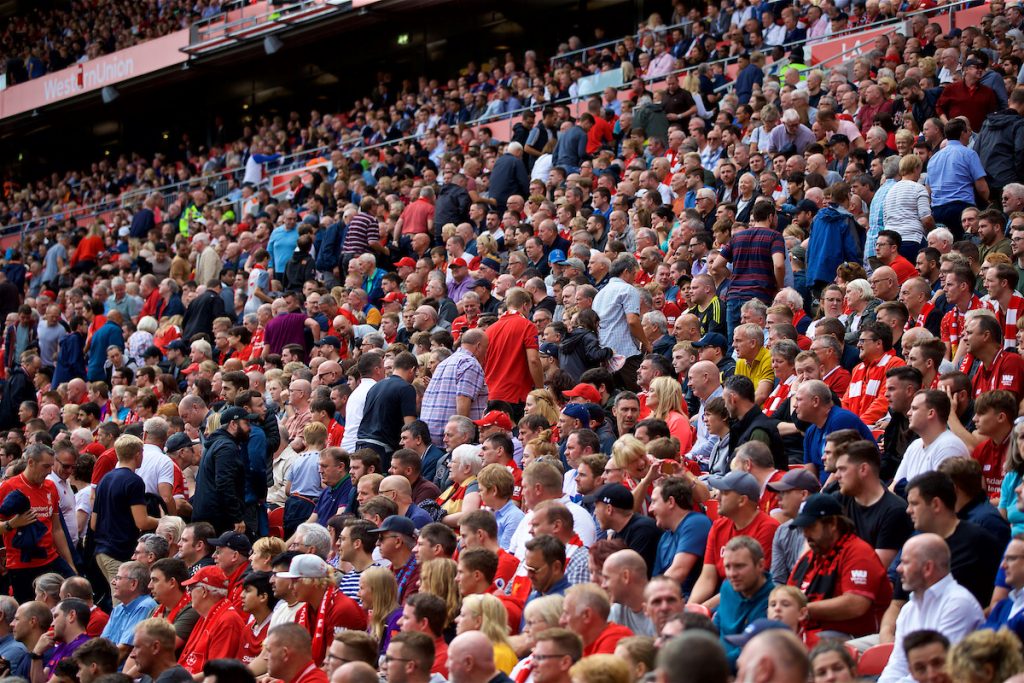 Liverpool supporters have demonstrated during Klopp's reign that they can still do European nights better than the rest in England.
Anfield doesn't need club-coloured foil or club-issue flags for nights that are owned by the most passionate of supporters, those who devote their own time, energy and money to decorating the ground as it should be for continental competition.
The ground too has fizzed with the electric of old when once tales of doom said it was gone for good. Klopp came from a club famed for its atmosphere and found one that can do it even better.
After the Dortmund game at Anfield he said: "The atmosphere was the best I have ever experienced. It should serve as an example to everyone about how supporters can influence a team and influence a game."
Tomorrow, we get to do it again. It's the first day back, time again to experience the edge of a European match, and it's a suitably tasty tie too.
Paris Saint-Germain have money, superstars and short odds to win the Champions League. Yet their European pedigree pales in comparison to Liverpool's with just one Cup Winners' Cup and an Intertoto Cup to their name. They need reminding of that.
As supporters we know our contribution is valued – the manager and the players have said so. These are the nights when we show it best.
Anfield, 8pm, you know what to do. It's another adventure, another big night and another indicator that Gary Neville talks shite.
Forget about Europe? No chance. We'll leave that to those less equipped.
"It's a fantastic time to be a Liverpool fan… I can't see any negatives. This really is what you're in it for." 🙌

🗣 Listen to this week's FREE Anfield Wrap podcast in full here 👉 https://t.co/fuxOdwWB6T pic.twitter.com/XmjhbCXUzt

— The Anfield Wrap (@TheAnfieldWrap) 10 September 2018
Recent Posts:
[rpfc_recent_posts_from_category meta="true"]
Pics: David Rawcliffe-Propaganda Photo
Like The Anfield Wrap on Facebook