I'M excited.
Excited and a little bit afraid, if I'm being completely honest.
Excited that this could well be the best Liverpool team and squad that I have ever had the pleasure of watching in my entire adult life (which I count as 1998 onwards, for those who aren't familiar with my age, but could easily extend before my adult years to 1990 onwards if I could remember that far back).
But a little bit afraid because there are no guarantees that being this good will be enough to win the league.
In fact, I've realised I have an acute fear that Jürgen Klopp could create the greatest ever Liverpool side in the history of the club, accumulating more points than any previous side has ever managed, and we still might not win the title.
I think if I was a bit younger I'd be petrified at the thought.
As it stands though, and as we chatted about on the new post-match video The Second Look following Sunday's demolition of the United of West Ham origins, I'm not going to waste too many of my waking hours worrying about how good Manchester City might be. There might not be much I can do about jumping up in the middle of the night in cold sweats about it, but I can control what I think about during the day.
Subscribe to our YouTube channel where we'll be previewing, immediately reacting to and analysing every Liverpool game…
And I'm choosing to think about how good we are now.
We were all excited heading into the first game of the season, but I'm not sure many of us would have predicted such a stroll in the park for our opening day victory. The consensus seems to be that we didn't leave second or third gear in order to completely dominate a rejuvenated West Ham side packed with new signings and led by their highest paid manager of all time. A Premier League winner, no less.
But for all of our opponent's new-found optimism heading into the new season, we swatted them aside with ease. After half an hour I wondered how they could find a way into the game and a goal just before half time made me question whether they might just declare in the dressing room and let their fans get an earlier train back to London, having already been through their entire 1980s back catalogue of anti-Liverpool songs and spent half an hour telling us how quiet we were before sinking into their own silent protest for the second half. It's depressing to see that some things never change.
We all hoped that we might send out a message to the rest of the league, and I'm not sure we could have done it much more emphatically. A 4-0 victory that could easily have been eight. A goalkeeper making his debut without being tested in any meaningful way. Goals for our returning hero, new number 10 and long-lost lover continuing his pre-season form, breaking out the wriggly arms to the glee of the crowd, to put the cherry on the cake.
But, more than that, a look of aggression across the pitch. World-class players strewn around the Anfield turf. Pace, power and trickery at every turn.
We're right to be excited, and we're right to get carried away as quickly as possible, regardless of how good anyone else might be. Let's not waste any time being cautious about what happens next.
For so many years now I have been with many of you in bemoaning how lightweight and timid we've looked. Even when we've had sides packed with ability, we've always just lacked that aggression that all great sides have. That bit of needle that the best take with them to every party.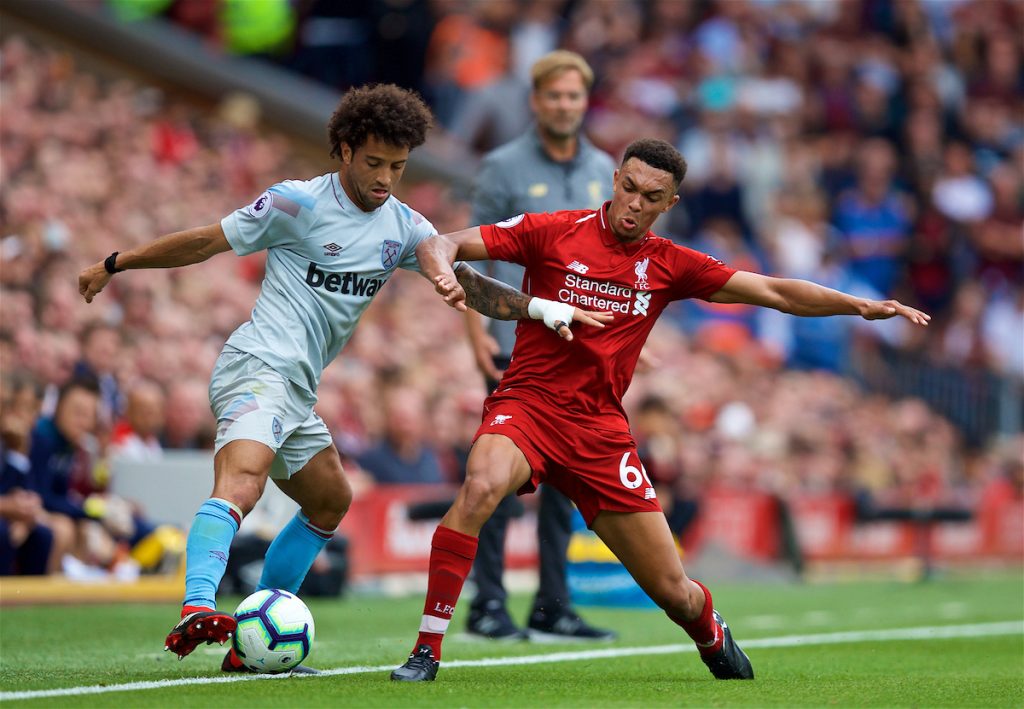 When Trent Alexander-Arnold got booked for pushing Felipe Anderson in the chest I couldn't have been happier. Our young right back, rightly keeping his place in the first team despite the return to fitness of our other England international defender, showing that it doesn't matter who you are or what your reputation is, you can't just waltz past us like we're not there anymore.
There's Virgil van Dijk gliding around the pitch from centre back barking orders at everyone around him, a man mountain in goal oozing a calm control. A terrier at left back who looks ready to "take this outside" at any given moment. A centre midfielder playing with 15 stitches in his head and another who's no stranger to getting a red card, strutting around the place with the kind of arrogance I love in footballers.
These lads mean business. For the first time in a long time, it looks as though a team and squad has been built that combines the flair and skill we've seen in past Liverpool teams, with the aggression, desire and determination that's been missing in so many of those sides, and we're seeing it across the pitch and across the squad.
The iron fist in a velvet glove we've been dreaming of for so long.
And what a velvet glove it is.
Lads everywhere who look able to take a touch that makes us drool, beat opposition players with ease and play intricate one twos in tight spaces that leave their adversaries chasing shadows.
I left Anfield on Sunday with the never previously experienced feeling of looking forward to when we play against a team which traditionally sets up shop in their own box and challenges us to break down their defence. A team that turns up each season laughing about how easy it is to stop Liverpool by frustrating us.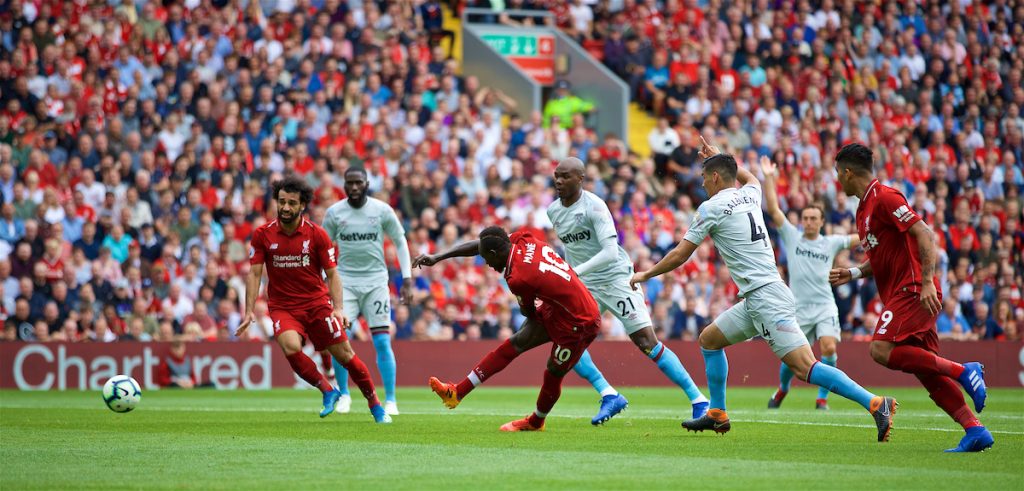 Good luck with that this season, lads. Leave this team with the ball for long enough and it looks as though it has the cool heads and tricky feet needed to slowly drive you insane. Calmly passing the ball from side to side, moving your tired legs around the pitch while prodding and probing for space then, out of nowhere, bursting past three of your players as though they don't exist. Maybe they don't. Maybe you're playing with fewer players than us. Can that be right? "We started with the same number, didn't we? But it feels like these red bastards have got more. It feels like there are two number eights on the pitch. Didn't I just clear that ball? Why is it coming back at me so soon? Why the fuck have I got three men to mark? SOMEONE COME AND HELP ME FOR FUCK'S SAKE, THERE'S LOADS OF THEM."
But no one can come to help, mate. They're all fucked as well. They've got three men to mark and no one can understand why. Van Dijk's meant to be a centre back but he's standing 40 yards from your goal as our deepest-lying defender, staring you straight in the eyes with a knowing grin on his face.
I know it doesn't seem fair but you're just going to have to live with it. Take a 4-0 defeat now and we might go easy on you. But, then again, we might score 10. We could need the goal difference in May. No hard feelings, it's just business.
I'm not sure there could be a more glowing compliment for a Liverpool team in the modern era than me actually looking forward to watching it trying to break down a packed defence. Even as I write that I think of Jose Mourinho's depressed face and whining voice and how wonderful it would be to tear his negative, defensive setup to bits while we dance in the aisles.
This team is capable of anything and everything. The games against Manchester City are going to continue to be epic battles, and there's nothing we can do about how they get on against everyone else, so we might as well just enjoy every second of watching this beautiful red machine in action for the next 37 games.
It's going to be incredible.
"Liverpool were excellent without getting anywhere close to what they're capable of." ✊

🗣 Listen to our first FREE podcast of the season after the Reds' 4-0 win over West Ham 👉 https://t.co/IK9RpE4ECz pic.twitter.com/HDeu6gGy8k

— The Anfield Wrap (@TheAnfieldWrap) 13 August 2018
Recent Posts:
[rpfc_recent_posts_from_category meta="true"]
Pics: David Rawcliffe-Propaganda Photo
Like The Anfield Wrap on Facebook