THAT was a summer, weren't it?
What have you been up to? I'll be honest, I've tried to swerve The Reds, there; I haven't seen a minute of pre season, didn't really get involved in all the transfer voyeurism, just sort of lived for a bit, which was sound. It meant going into the game today I was genuinely excited to see what all our new lads are like. That's nice, isn't it?
When I say I tried to swerve The Reds, I mean that's a bit like trying to swerve your own face. It's always there, gegging in, bouncing around in mirrors like there is no tomorrow. Here he is, the big bellend. I mean I can literally see my nose as I am typing this, just there in my peripheral vision; cooey, here I am. The Reds are the same, lad.
I mean this is me below trying not to think about The Reds:
Picture the scene: a man sits at a desk, gazing into the middle distance, he looks weary, worried, pain etched across his face. All around him is a scene of utter greyness. Everything is grey, or shades thereof, in spite of the scorching weather outside. He is reliving something over and over in his mind. The opening, slow, somewhat haunting bars of Fiesta by the Pogues is on a loop ha in his head, forever looping:
De De De De De
De De De De De
With no end in site. No payoff.
Something snaps him out of his slumber — the record jumps.
The Joycey alarm.
Liverpool agree fee with AS Roma for Alisson in region of £66m. Nothing to stop other clubs doing likewise, but Liverpool the first. Permission granted to speak to player.

— paul joyce (@_pauljoyce) 18 July 2018
Colour fills the screen. Every colour imaginable. Flowers are falling from the sky, filling the room, rainbows shoot across the vista. A whistle blows, the beat kicks in. All of a sudden the man is marching around the room, party poppers are going off all around him. Dancing safari animals are marching in a procession behind him, three rhino's on hind legs swinging their arms in unison to the beat. Monkeys wearing Bermuda shorts are hanging from the light fittings playing tiny guitars:
Ey ey ey ey
Aarrrriiiibbbbaaaa
The man leading the march is transformed. Gone is the worry, the stress, his hair is growing back, he looks 15 years younger. His kecks have somehow disappeared and he is marching, cock and balls swinging in the breeze underneath a rainbow-coloured grass skirt, a coconut filled with rum in one hand, pyro in the other.
He leaves his house, door ajar and turns right towards town. The postman joins the back of the conga. Next door's cat is getting a piggy back off the dog from over the road, happiness fills the world, as far as the eye can see. The procession carries on in an endless party, towards town, the townest of towns. At the end of time, if you look closely enough, on the horizon, as the sun sets for the final time you will still see that dancing party, forever lost in a world of happiness. Fiesta.
Anyway. Yer, jibbed The Reds there, didn't I?
Alisson: 9
Pretty sure if he made a video of his summer holidays I would project it onto the Liver Buildings. Fucking transcribe it onto rock in hieroglyphics then grind the rocks up and shoot them into my toe. Extra two points for not being big Si or Lagos Kagos. Was made up with him catching it and that. Haven't seen that for ages.
Trent: 7
Thought he looked a bit rusty but then in fairness he's just come back off holiday. I was away last week and was still falling asleep at me desk on Thursday and eating me dinner at 11am. Went the gym Friday had to get off after half an hour on the bike and have a breather in me car before I started driving. So you know, he will be sound next week. The ball to Keita for the second was pretty special.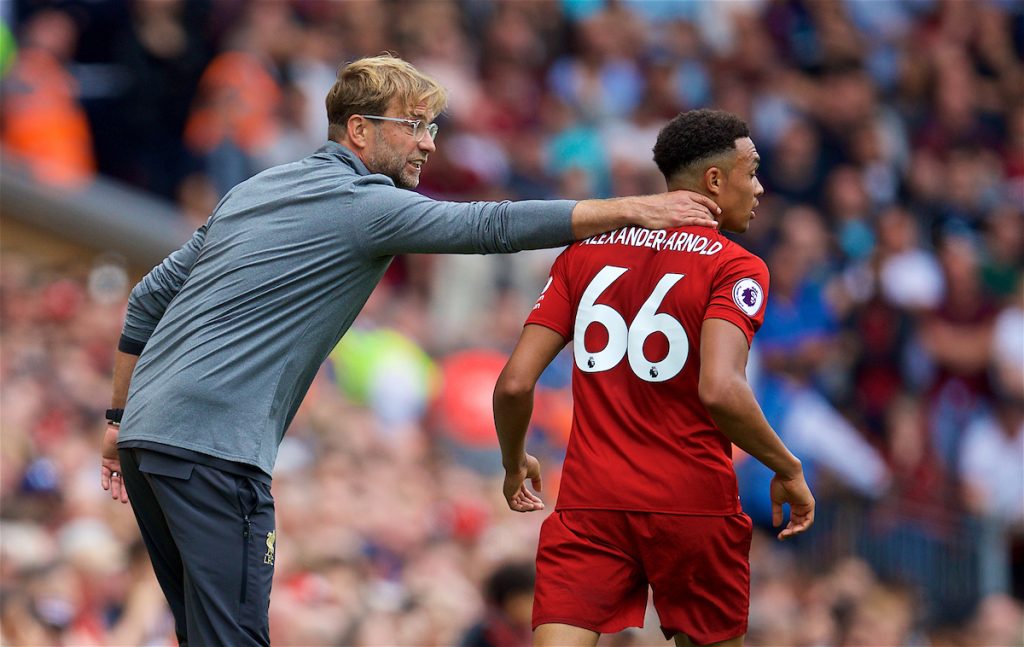 Joe Gomez: 7
Looks skinny, doesn't he? Just had to ask the lads what his name was there which seems a bit harsh. Soz Joe. Reckon he has been on the same diet over the summer that Shaqiri is currently been lashed on. Just beans and the occasional fish. Didn't have much to do but done it all pretty well.
Virgil: 9
Jesus Christ. He's like a giant playing with kids mate, got a Snozcumber in his arse pocket. He makes it look so easy. Imagine playing next to him.
Andy Robertson: 9
Did he set up all the goals and all the chances? How long has it been since we had two boss full backs? Twenty years? Absolutely brilliant, there. What a fella.
Gini: 8
We played so well he didn't really even need to play, but he pinged it about and looked sound. Wanted to see him playing a bit further forward and so did he.
Milner: 9
Thought he was man of the match, there. The sinew. Joined us together like no-one's business. Grafted more than everyone and does unbelievably for the second to keep it in. I wonder if he has to wear that headband all the while. On the ale like fucking McEnroe.
Keita: 9
First time I've seen him play. Fucking hell, he is glorious. He might be one of the five greatest players to play for Liverpool, the other four are Gegsi and our front three.
Mo Salah: 9
He is class, isn't he? Scored, has grew his hair a bit and still loves Allah. Is right, lad.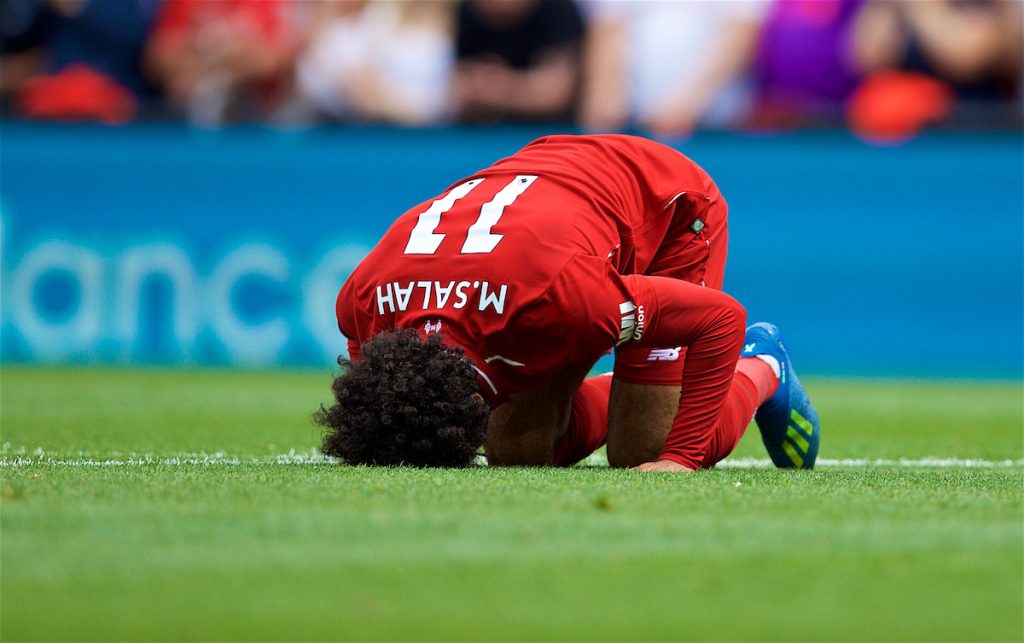 Sadio Mane: 9
Bloody hell, this might the best Liverpool team I have ever seen. Seriously. Mane isn't our best player. That's crackers that, isn't it?
Firmino: 8
Thought he grew into it. He isn't our best player either and is better than almost all our players since 1990. These Reds, mate. It's hard to see how this front three could get any better. How many times were they all stood in row ready to tap it in?
SUBS
Karius: 9
Looks boss on that bench, there. Wear your jeans next week, kid.
Sheridan Shaqiri: 7
Wasn't arsed in the slightest about him till Charlie Adam questioned his professionalism. Got his whole body tattooed on my body the next day. My chest hair is doing a pretty good impression of his jig, there. Had to stitch some paper to my sides there, as I wasn't wide enough. Built like a fucking big armchair, isn't he? Might be my favourite ever.
(Sheridan courtesy of Adam Melia Entertainment plc.)
DAN Sturridge: 8
Lovely wrigglies. I've missed them so much.
Non Sub – Big Si The Mig: 8
I hope we didn't even give him a ticket. Tux in town times when he leaves, la.
"LIVERPOOL, TOP OF THE LEAGUE, LIVERPOOL, LIVERPOOL, TOP OF THE LEAGUE." 🔥

🗣 Subscribe and listen to our first 'Post-Match Show' of the season, after the Reds' 4-0 demolition of West Ham 👉 https://t.co/lmNtBz4ADz pic.twitter.com/BKuXp3xW6Y

— The Anfield Wrap (@TheAnfieldWrap) 12 August 2018
Recent Posts:
[rpfc_recent_posts_from_category meta="true"]
Pics: David Rawcliffe-Propaganda Photo
Like The Anfield Wrap on Facebook