"I LOVE the first day, man, everybody all friendly and shit."
Namond Brice in The Wire had it right. School is in as of this weekend and we all get to go back to an environment where fun and enjoyment is just as fundamental as the learning process we continue to go through with Jürgen Klopp's Liverpool.
When Liverpool open their Premier League campaign against West Ham United at Anfield this Sunday they do so on the back of a summer holiday filled with ambition and optimism. The summer transfer business, pre-season form and general vibe in and around the club, particularly with the conscious efforts to integrate players and fans, has left many of the opinion that this is the year that Liverpool take the next step and achieve major honours.
The contrast of The Reds' pre season versus a summer of World Cup and premature transfer window chaos that has engulfed those around them represents an opportunity, there is no doubt about it. Liverpool are well aware, however, that they are completely at the behest of a Manchester City side who achieved 100 points last term.
Nothing is guaranteed in the football world, especially in England where you would be foolish to dismiss the likes of Manchester United, despite them having a manager who represents that fella you used to work with who told you everyday how shit his job was but stayed there for 30 years.
Nothing is guaranteed, this much we know. Everyone starts on nil, nobody has the right. Don't do it for you, do it for Lucas.
Opening day cliches apart, an opportunity does present itself in the first four fixtures of the campaign for Klopp's men to set, or at the very least keep a pace at the top of the table. With chaotic pre seasons and the likelihood of opposition absentees following those who went deep into the summer in Russia, the Liverpool boss has no doubt earmarked the early fixtures as a chance for his team to open up a gap on the rest.
You feel Klopp has become more ruthless over the summer. His margin for error and willingness to rehabilitate which could be to the detriment of the team is now at its slightest. The signing of Alisson Becker, on the heels of some concerning pre-season displays by Loris Karius which came after the manager had briefed his support for the German stopper to continue as number one despite what happened in Kyiv, is evidence of his desire to take the next step.
"…to not have to talk about the goalkeeper for a few years is priceless." ✊

🗣 Subscribe and listen to our immediate reaction to the arrival of Alisson Becker 👉 https://t.co/lmNtBz4ADz pic.twitter.com/ZE8vg1IAyE

— The Anfield Wrap (@TheAnfieldWrap) 20 July 2018
The thought of Karius as Liverpool's number one turning up to a rambunctious Selhurst Park on a Monday night in August was potentially a recipe for disaster.
The prospect of needlessly dropping points on the second game of the season could be the difference between winning a title in May and, more importantly, setting the wrong type of tone for the squad who need the utmost concentration and desire from the get go.
Klopp and his team have rectified a major weakness in Liverpool with the intention of no more excuses being made. His side look ready to step up and will need to do so from the first whistle.
There is a historic body of evidence to suggest that themes to a season can be set as early as the first day. Emile Heskey smashing one in the roof of the Anfield Road net against Bradford in 2000-1 set a precedent for him to spearhead a treble-winning Liverpool attack and have the best season of his career.
In 2013-14, Liverpool earned a 1-0 victory against a horrible Stoke side after a Daniel Sturridge strike and, more importantly, a late penalty save by Simon Mignolet. That day I came out the ground thinking Liverpool could really do something on the back of that result and the impending return of Luis Suarez.
Conversely, there is a moment on the opening day of the 2010-11 campaign where Stewart Downing smashes the crossbar of Sunderland's goal from 25 yards in a frustrating 1-1 draw which not only set a frankly weird tone of repeatedly hitting the woodwork throughout that season, but also one that ensured Downing himself didn't get to kick on and as time went by, regardless of his limited ability.
These things can be brushed off as coincidental. However, in the subconscious mind of a player and team, they matter in the same way positive reinforcement does. If opposition clubs and supporters have spent the summer stating Liverpool will challenge for honours, then a strong start will only add to their proclamations and fears.
Liverpool already have a lot of miles in their legs and look strong entering the new campaign. They have played on average three games more than everyone else. This, we know is a trademark of Klopp's, to get his boys in the best possible physical shape to start strong, yet don't be surprised to see similar levels of rotation to last season once 2018-19 hits its full stride.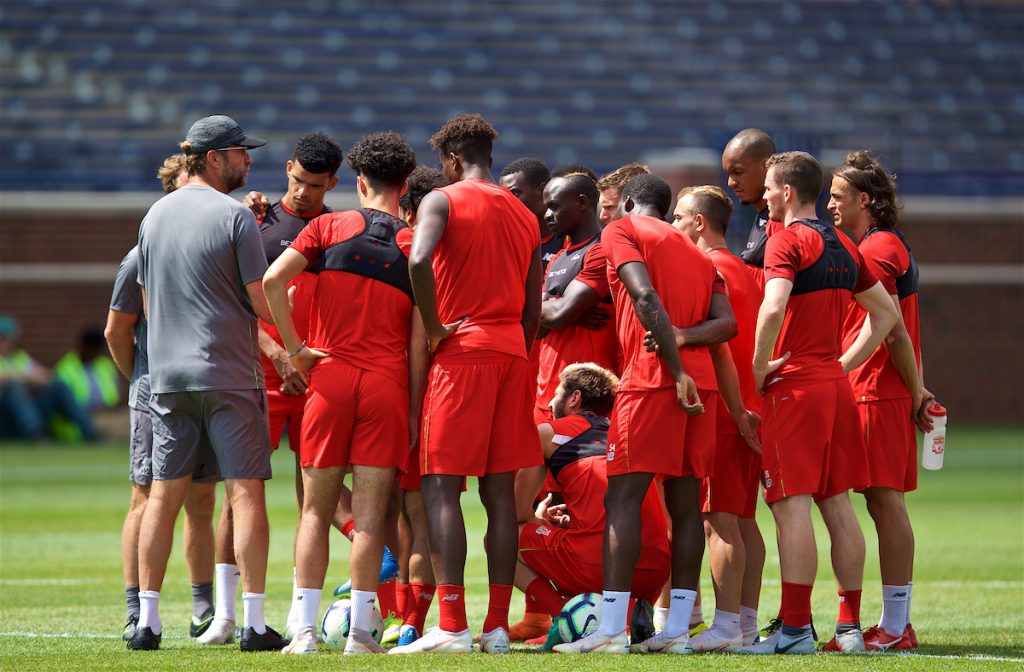 The amount of players at the manager's disposal, in line with the sheer weight of a league and cup campaign he now knows is so weathering, means there remains an element of hope more than know surrounding the fitness and reliability of the likes of Sturridge and Adam Lallana, coupled with keeping key players fit throughout the campaign.
Regardless, you feel The Reds haven't been in such a healthy position going into the opening day in a long time. West Ham will provide a difficult test and are, in many ways, very hard to read due to their manager and player turnaround. Yet it will be solely down to what Liverpool and Anfield do on the day to ensure we get off to the start we all want.
The manager and club have gone to great lengths in pre season to harness the feeling of togetherness that grew with the Champions League run of last season. There has been a responsibility placed on the supporters now to ensure that the team feels the full support of the crowd and the opposition feel the full wrath of Anfield as often as possible.
There is now, more than ever in my lifetime, a feeling of all of us being in this together. If we take our lead off anything it should be how much these players are going into work every day with a smile on their face, loving being a part of what is happening at this football club.
As we enter the new campaign, it is vital to remember everything good we're feeling about going the match right now, the concept of everyone enjoying themselves and being the envy of the football world in the process. This manager demands it. He won't stand for anything less. It is, in his eyes, as much a route to success as signing world-class players.
The first day awaits us all. Comb your hair and shine your shoes. Liverpool Football Club, class of 2018. The best days of your life.
"Rarely has there been this much excitement going into a new season." 🙌

And there's never been a better time to subscribe to #TAWPlayer…

Home ✅
Away ✅
Europe ✅
Previews ✅
Immediate reaction ✅
Exclusive interviews ✅

🗣 Your season starts here 👉 https://t.co/lmNtByMZeZ pic.twitter.com/aibO33KSps

— The Anfield Wrap (@TheAnfieldWrap) 8 August 2018
Recent Posts:
[rpfc_recent_posts_from_category meta="true"]
Pics: David Rawcliffe-Propaganda Photo
Like The Anfield Wrap on Facebook