IT'S a good time to be alive, isn't it?
A few days till the league starts and The Reds are all on the karaoke.
The Instagram videos of new boys Alisson Becker, Fabinho, Naby Keita and Xherdan Shaqiri all having to sing in front of their new teammates, showed just a small dose of the togetherness that Jürgen Klopp has instilled into his players.
Those players that have arrived, have made solid starts. Keita and Fabinho give us strength and depth in the midfield. Shaqiri's overhead kick against Manchester United shows not only his skill, but also his self belief that he deserves to feature regularly. Alisson also saved what looked to be an unstoppable shot in training, put in a decent enough display against Napoli, and can play the guitar. What more do you want from your new goalie?
The new players have been welcomed into the family, and it is as close knit as a family at present, as the videos of Trent Alexander-Arnold arriving back from the World Cup with a beaming smile show. This is a team that everyone wants to be part of.
It's been said in the past that, before purchasing a new player, Jürgen and his team investigate the personality of the player to see if they'd be a good match in terms of the harmony of the squad, as well as the mental attributes of implementing Klopp's style on the training pitch and in games.
"The beauty of the squad that Klopp has put together is that there's loads of flexibility… there's every chance we see Shaqiri in a central position this season." 🔟

🗣 Listen to this week's FREE Anfield Wrap podcast in full here 👉 https://t.co/EnPUEzD1Kk pic.twitter.com/u2xNRj8kx4

— The Anfield Wrap (@TheAnfieldWrap) 6 August 2018
In that case, do you reckon they've looked at Lionel Messi and gone "bit of a tit, him," and fucked him off? I like to think so.
This close-knit atmosphere around the players, and the club as a whole, can only breed success. I'd certainly try harder and have a willingness to win, if I was playing with all my best mates. The connection between the supporters and players has never been stronger. Social media means we get to see the good times that they're experiencing while playing for our club. We can have a laugh at them doing karaoke, and they can have a laugh while doing it.
And it should be a laugh at times. Why can't they enjoy their football? At Manchester United, the manager has literally been publicly criticising a player for going to the birth of his newborn. Would that make you motivated to work harder for him?
I want this side to be successful but they are allowed to have a laugh along the way. If we can, they should too — and, as we saw in Rome, there doesn't need to be a disconnect.
I'm excited for this season, because it is the first in years where there are no worries or doubts about the manager, the players or the club itself. Compare that to 11 months ago where Phil Coutinho quite clearly wanted to leave the club, there were doubts about Champions League qualification, and the only two singings who brought any kind of hope were Chelsea and Arsenal "flops" Mohamed Salah and Alex Oxlade-Chamberlain.
That picture looks a lot brighter now. From those qualification doubts before meeting Hoffenheim, we can all look at the final in Madrid and think there is no reason why we couldn't go one step further this time. The incomings this year have got everyone off their feet. Andy Robertson was among those that joined the side last season and has unexpectedly stolen our hearts. Shaqiri could be the surprise package this season and if that goal is anything to go by, we could all be talking about another exceptional bit of business from the club in 12 months' time.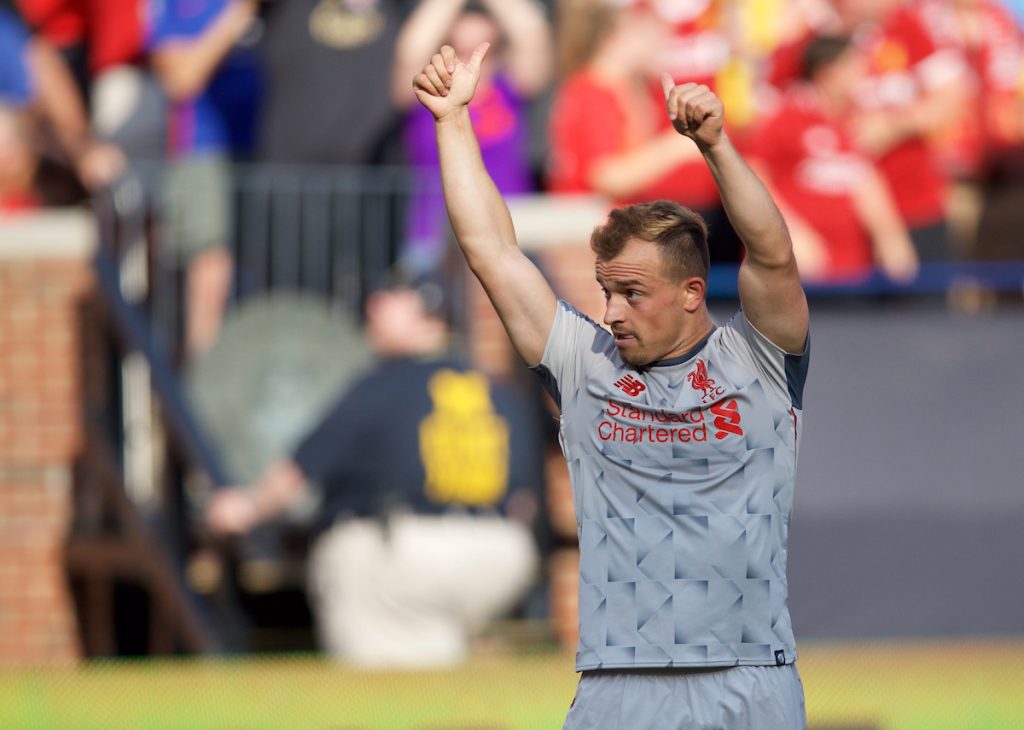 The best part about this side now is, there is no starting 11. It's too hard to pick, this is a "problem" all top sides have. It's now our only problem. It's a remarkable turnaround considering we had goalkeeper and defensive issues coming into 2018. There were only three fit midfielders in the run in to Kyiv, and now we can debate over who gets a start.
Not only have we bought players in areas that have long needed strengthening, the front three are signing long-term contracts, showing they're fully on board with work Klopp is doing, and want to be here for the ride.
The support shown over the last few months is amazing considering the disappointment of a European Cup final loss just a few months ago. I'm still wandering around the house singing "Allez, Allez, Allez". Even Klopp's been singing it. He believes and so do I.
Although the expectations have risen after the fantastic run to Kyiv, as a set of supporters we understand the difference between us and last season's champions Manchester City. We've now got a squad to match them.
This football club is on the right track. Jamie Webster and the Boss Mag lads have been travelling around America showing everybody "The Liverpool Way", the club seem to finally understand the importance of fans. The combination of a team and set of supporters as one can be unstoppable.
Could this year, be our year? I don't see why not.
"That afternoon showed that we're different. I'm not having it that that happens at other clubs.

"…that day in Shevchenko Park will live with me forever." ✊

🎥 Watch our documentary 'Singing to Ukraine: The Road to Kiev' in full here 👉 https://t.co/j5Okxwn3Ql pic.twitter.com/UaHeJWdp1k

— The Anfield Wrap (@TheAnfieldWrap) 19 July 2018
Recent Posts:
[rpfc_recent_posts_from_category meta="true"]
Pics: David Rawcliffe-Propaganda Photo
Like The Anfield Wrap on Facebook