NEW season eve.
Reds all over the land will go to bed on Saturday dreaming of what the football gods will bring like kids dreaming of Father Christmas.
The World Cup was a good distraction, but that is all it can ever be. I can't wait for the real football to start.
I can't wait to dust off my red and white scarf, and my cap that always comes in handy in the sun-soaked Annie Road end.
I can't wait to see the faces I only get to see of a matchday, and to feel the buzz that only a matchday can bring. I can't wait for our Danny to get carried away when we win, and for me to be typically cynical then get proved pleasantly wrong.
Danny's right to get carried away, though. We should all get carried away by these Reds, especially at the start of a season. It's not the hope that kills you; it makes it all worthwhile. If your enjoyment of something is dependent solely on the end result, you miss out on all the good bits in between.
Jürgen Klopp summed it up best in his recent chat with The Anfield Wrap, when he said: "We lost the final, but all the rest was pure joy. Roma – fucking hell! We have to enjoy the ride."
"We lost the final, but all the rest was pure joy. Roma – fucking hell! We have to enjoy the the ride." ✊

🇺🇸 Subscribe and listen to our exclusive 30-minute interview with Jurgen Klopp 👉 https://t.co/lmNtBz4ADz pic.twitter.com/6NxoShl9kO

— The Anfield Wrap (@TheAnfieldWrap) 26 July 2018
I can't wait for that ride to start again.
I can't wait for us to write more chapters in European history, because no matter how much I want to win the league, nothing compares to the relationship we have with Europe and the fervour of European nights. Not only the team, but also the supporters, grabbed the attention of everyone last campaign.
I can't wait for us to batter someone 6-0 and for "show them the way to go home" to be ringing out around the ground before the first half is even over.
I can't wait to see Mo Salah in the flesh again, to celebrate Salah goals and to sing Salah songs. He is one of those players that you never tire of watching, and that song is one that you never tire of singing.
He is undeniably the main man; the superstar; the name on everyone's lips, and yet his individual brilliance and iconic status does not detract from the tangible team spirit and togetherness that Klopp has instilled within the squad.
I can't wait for our new signings to hit the ground running. For the first time in a long time, our transfer business is sending out a statement of intent. The goalkeeping position has been an area of weakness ever since the departure of Pepe Reina, and in Alisson Becker we appear to have finally addressed that issue.
The long-awaited Naby Keita has shone in pre season and already looks as though he is going to boss the midfield and take the Premier League by storm. There is seemingly nothing he can't do. Fabinho has the chance to make the holding role his own. The Xherdan Shaqiri deal is one that will strengthen the depth of the squad, and between him and Daniel Sturridge, that's not a bad bench to have.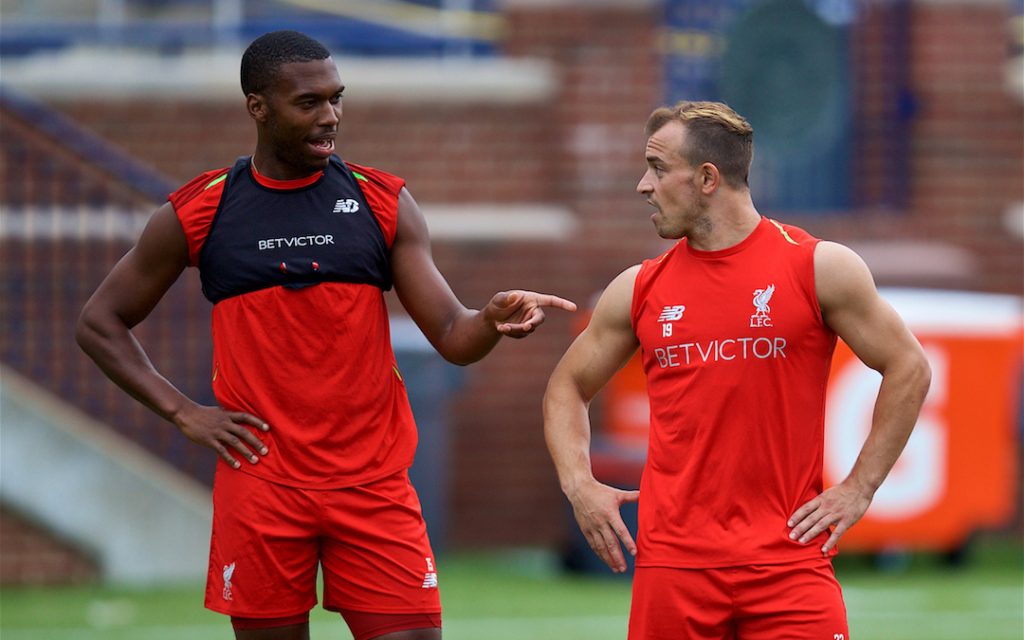 Should Nabil Fekir somehow manage to become a Liverpool player before August 9, it will be an added bonus to an already successful window. It follows on from other recent successes such as Virgil van Dijk, who made an immediate improvement to the defence, and the revelation that is Andy Robertson, whose understated arrival gave little indication of the player that we now know and love.
This is the most confident I've been going into a season for a long time. There's a momentum surrounding the club, both on and off the pitch, which just keeps on building. We've got arguably the most exciting and engaging team in Europe, and a supporter culture that has a life of its own.
Liverpool supporters are often accused of living in the past. We're also, paradoxically, accused of presiding under the delusion at the start of every season that "this year is our year".
The joke's on them though, 'cause we'll have a good time and make good memories regardless of what comes at the end. Last season was the epitome of that.
That's why, whether or not this does actually happen to be "our year," it's sure to be a special one.
"We have the chance to do something special. It's exciting times for the club." 👊

Subscribe to TAW Player to listen to our Post Match Show and quick interviews with Sturridge, Shaqiri, Gomez and Milner after Liverpool's win against Man United 👉https://t.co/q0tg7SFik9 pic.twitter.com/aEYX1dTVdG

— The Anfield Wrap (@TheAnfieldWrap) 29 July 2018
Recent Posts:
[rpfc_recent_posts_from_category meta="true"]
Pics: David Rawcliffe-Propaganda Photo
Like The Anfield Wrap on Facebook