LIVERPOOL have reached their eighth European Cup final, and with all the stories we've been told for years about the club's illustrious history in the competition, the younger generation now have their own to tell.
The chance to experience the delirious highs of reaching the final in Kiev is one that doesn't come around often, and the next generation of Reds living it for the first time have grasped it with both hands.
Ahead of the final, some of The Anfield Wrap's younger contributors reflect on their favourite moments so far from The Reds' pursuit of number six…
Trent Alexander-Arnold v Hoffenheim: Champions League Playoff First Leg – August 15, 2017
BACK in August we travelled to Hoffenheim. A small town south of Frankfurt.
There is no better place to start than the opening game, and the goal that kickstarted this tremendous run. We expected a win, and to progress to the group stages. Liverpool were awarded a freekick 30 yards out, the away section stood in anticipation, it was as if we knew what would follow.
Trent Alexander-Arnold hits the sweetest freekick since Gary Mac's against Everton. The bedlam that came after was for the goal, and for the goalscorer himself. The hopes and dreams of thousands lay on the shoulders of one lad. Grown men looked on like proud fathers, this meant the world to Trent, and to us. This is one of the defining moments of this European Cup run.
For a young Scouse lad to fulfil the dreams of everyone in that ground makes this goal even better. As well as the first time I'd seen Liverpool win away in Europe (after six attempts), the first goal of this European adventure and the first of many hurdles that we've smashed to smithereens.
It's a shame Trent's name is so long; we should have a song for him by now…
Emre Can v Hoffenheim: Champions League Playoff Second Leg – August 23, 2017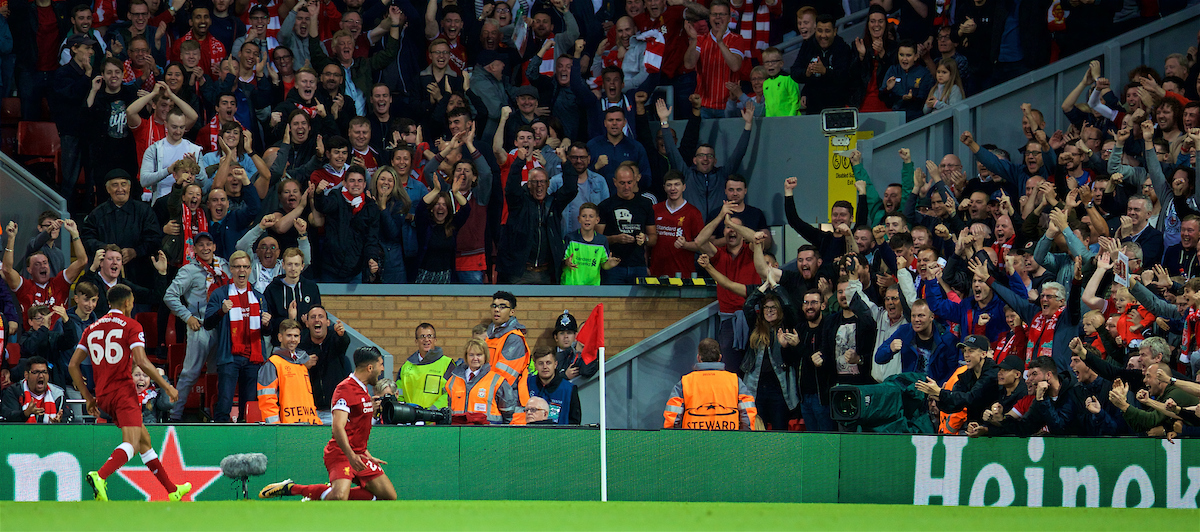 AMONG all the brilliant moments throughout this Champions League campaign, Emre Can's goal to put Liverpool 3-0 up against Hoffenheim in the qualifier has to be my favourite.
After his earlier goal, and Mo Salah's second, Liverpool were on the way to the group stage, but the third goal to me sums up why we're in Kiev.
The scintillating football we were witnessing before us was something I'd never seen before, it was programmed as though each player was a vital cog in the most important machine.
Moreno, Firmino, Wijnaldum, Mane, Firmino, Can. It took Liverpool 12 seconds to tear Hoffenheim apart and there was simply nothing they could do about it. Jürgen Klopp's men were clicking into full gear, just like his Borussia Dortmund side did in his third season at the helm.
This goal changed the way I looked at this Champions League run, it made me believe that we could beat any team in Europe. This style of football has got us to exactly where we are now, each individual being as vital as the next.
This result caused every team in Europe to stop and go: "Hold on, are Liverpool back?" The European nights we hear so much about were back at Anfield, and Liverpool were back at the top table in Europe.
It made me feel all the same feelings I did as a kid, standing on top of the chairs in The Kop during European nights. It made me excited, not only for the journey but for the football we were going to play.
I knew we were going to dismantle sides and everyone was going to have fun doing it. Especially us.
Alex Oxlade-Chamberlain v Manchester City: Champions League Quarter Final First Leg – April 4, 2018
AS the ball zoomed past Ederson Moraes and battered the net, you knew you'd just witnessed a moment you would remember and tell tales about for years to come.
You knew it was in the moment it left Alex Oxlade-Chamberlain's boot. Ederson knew it was in too — this was one he knew he had no chance of saving.
There was absolute pandemonium in The Kop. I picked up my younger brother who was standing next to me and threw him in the air, because it seemed like the only logical thing to do. I'm 26, he is 22, we're technically grown men, and Oxo-Chambo made me launch him above my head.
It felt like it came from nothing. The memory I have of it the first time it went in was that it came from nothing.
Prior to it, I had underestimated the ability of this team. My initial hopes were to  get to half time at 1-0, grab another in the second half and go from there, see where it takes us.
I tell you what, I'll never underestimate these Reds again.
The players, the manager and the fans were not here to give Manchester City the time of day. You may be running the roost in the league, lads. But this is the European Cup and this is our neck of the woods, so in a bit.
The City game was where I started to really believe that we might go on and get to the final. I felt that feeling for the first time after Chambo's goal.
That was the moment of this Champions League run for me.
Mo Salah v Manchester City: Champions League Quarter Final Second Leg – April 10, 2018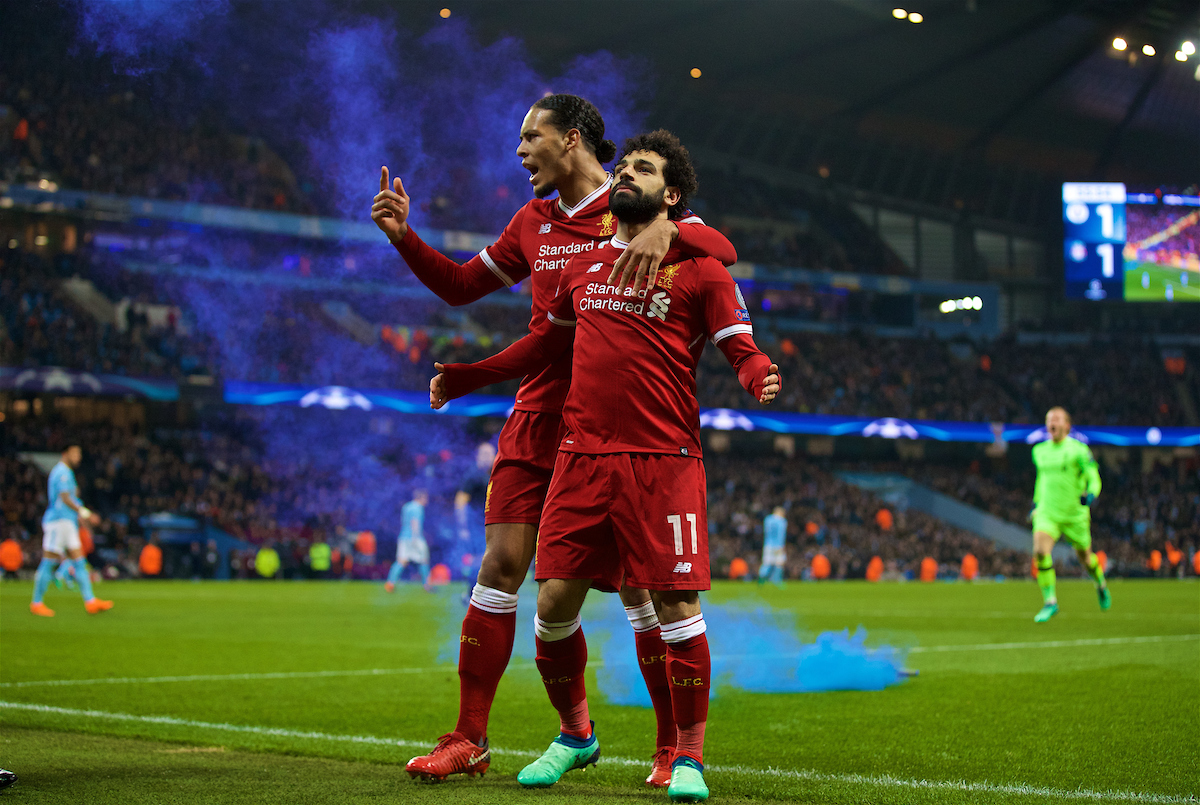 AS a football fan, there are moments you'll remember all of your life, that become stories that you can tell and retell.
As Mohamed Salah skipped past Ederson Moraes at the Etihad and scored Liverpool's first in the second leg against Manchester City, there was bedlam in the stands.
In contrast, our Egyptian King stood still, arms wide like a God, cool and calm, shrouded in blue smoke — watching all of us in hysterics, crawling over each other in celebration.
We knew the world was watching and Europe had sat up and taken notice, as we dispatched the tournament favourites on their own patch.
If this football team win the European Cup on Saturday, then that goal and game is written into our history as one of the club's great European nights. Salah's goal was the moment we all truly believed we could.
The euphoria experienced in that moment will be remembered fondly by the 2,000-odd fans there.
Win number six, however, and it would be rendered irrevocable.
Roberto Firmino v AS Roma: Champions League Semi Final Second Leg – April 24, 2018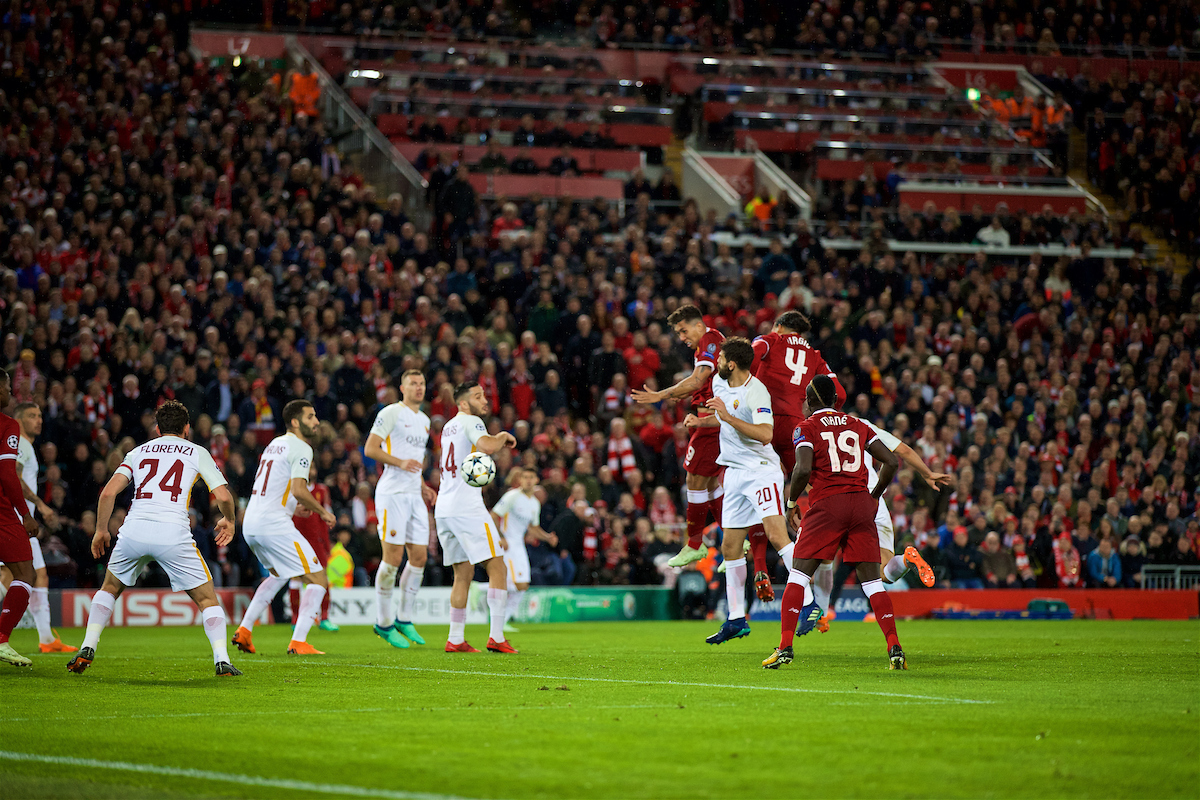 "IN it goes from Milner, van Dijk was in there, so was Firmino… It's a Roberto Firmino goal, it's 5-0, and Anfield is alive and celebrating this magical night for Liverpool."
Anfield is alive. Just as it was throughout the run to Kiev, both inside and outside the stadium. The streets, the houses, the pubs around the ground, before The Reds' first semi-final outing in Europe's elite competition since 2008, were awash with colour. The area of L4 afloat a red sea. People daring to dream, with new songs to sing.
But never more so than when Roberto Firmino, in his debut season in the Champions League, netted his 10th goal of the campaign to put Liverpool 5-0 up against AS Roma.
When have Liverpool, in the history of ever, been 5-0 up in a European Cup semi final? Never. That's when. Graeme Souness? No. Kenny Dalglish? No. Steven Gerrard? No. It's Roberto Firmino, mate.
Goals 1-4 that night I celebrated, primarily, by face planting the steps of 306. But, as Firmino's header bypassed Alisson "best keeper in the world lad, honestly, oh 'ang on, he's just shipped five" Becker and nestled in the corner of the net, I turned to Anfield Wrap stalwart Johnny Milburn, looking for advice more than anything at this point.
"What do we do, here?" Sing, shout, laugh or cry were all valid options. Expecting some kind of enlightenment from a man who has seen it all, he grabbed me by the face and shouted: "Don't ask me, I've never seen anything like it!"
We've conquered all of Europe… But we've never done this.
Jordan Henderson v AS Roma: Champions League Semi Final Second Leg – May 2, 2018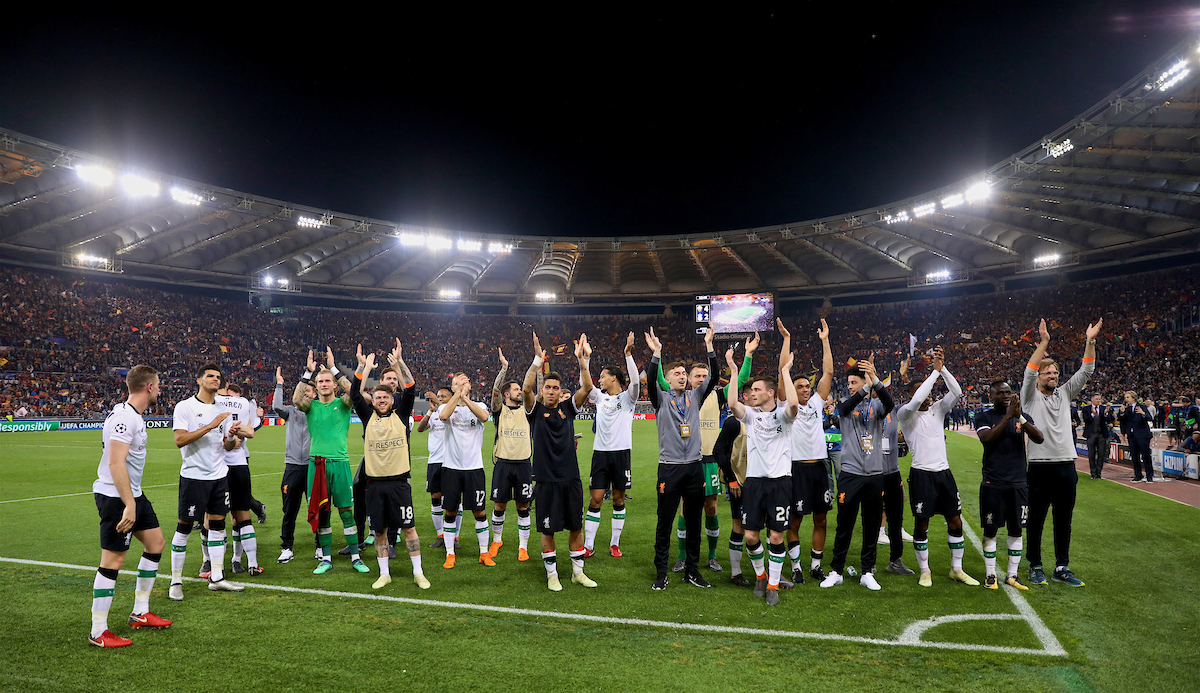 THERE have been some history-defining moments along this run to Liverpool's eighth European Cup final.
Goals that have made your jaw drop to the floor below you. Spells of 10 or so minutes where Jürgen Klopp's Reds have put whole Champions League knockout ties to bed. Celebrations that have made you fear for your life and not care in equal measure, 'cause you know it's unlikely to get better than that moment.
But my moment of this European Cup run is one which caused a serious degree of reflection.
A week prior to this moment, Sean Cox had been rushed to hospital having been attacked just yards away from The Kop end, a road matchgoing supporters have walked many a time.
Supporter Peter Carney made a banner paying tribute to Sean, and it was taken to Rome to be displayed in the away end. A show of solidarity for one of our own.
As the players danced and clapped in front of the adoring 5,000 who had made the journey to Italy, celebrating a 7-6 aggregate victory over AS Roma, Jordan Henderson was speaking to a steward. He was asking if the banner could be taken to allow the players to pay their own tribute.
Liverpool's captain instructed his teammates to stand behind the banner to allow the crowd to also pay their respects. The supporters responded with a rendition of You'll Never Walk Alone and realisation dawned.
We were there, in that moment at that time, because of football and yet it felt like the least important thing in the world. The most important thing was that a husband, father, brother and son was lying in hospital in a critical condition, and everybody present realised that.
We were stood, supporters and players united behind one of our own. And that, for me, was the moment of this run.
Get well soon, Sean. You'll never walk alone.
'There are a lot of young people in these away ends who have said, 'you know what, this is ours.'" ✊

🗣 Subscribe and listen to our chat with commentator Clive Tyldesley on covering the Reds in Europe and how he thinks they will fare in Kiev 👉 https://t.co/GrPC7z97qv pic.twitter.com/5Hzck6AZnp

— The Anfield Wrap (@TheAnfieldWrap) 23 May 2018
Recent Posts:
[rpfc_recent_posts_from_category meta="true"]
Pics: David Rawcliffe-Propaganda Photo
Like The Anfield Wrap on Facebook