IF we played a game of Liverpool FC word association, and I threw at you the words "beach ball", then there's only one player that's going to come to mind, writes GREG POWER.
But even before Pepe Reina's injustice at Sunderland in 2009, I associated a very different Liverpool player with everyone's favourite inflatable. As a 19-year-old, non season-ticket holding student, who was living on a diet of hot dogs and Fat Frogs (if you don't know what these are then you're all the better for it), getting to Istanbul for the May 25, 2005 was never really going to happen.
Living in town, however, meant that I could watch the final in the next best place. So at around 11am on that sunny Wednesday, a large crew of us descended upon the city centre, ready for the first proper European Cup Final of our lives.
The warm, sunny weather was contributing to a real carnival atmosphere and as the hours passed and the ale was sunk, more and more Reds turned up to crank the mood up to something approaching delirium.
The crowd in the square was bouncing, with songs and flags filling the time and air, and soon enough a beach ball entered the fray. For a good half an hour it was being thumped high into the air, with excitable "oles" greeting every strike of the ball. Lads threw themselves for diving headers over surrounding people, with drinks being scattered left, right and centre.
My chance to get a touch eventually arrived and nobody was going to be able to prevent me from smashing it as hard as I could. "Boom," I thumped it with all my might. "That'll get a massive cheer," I thought. Oh shit. I've sliced it. I've skied it like a Serginho penalty. It's landed on the roof of Modo. For fuck's sake.
The crowd goes silent for what must have only been a second but felt like a lifetime. In that short period, I realised that I've spoilt everyone's game and the whole bleeding square is looking at me. My face goes the same colour as my shirt and the boos start to ring out.
"You can't have a fight when you've just won the European Cup." 😂

In the run-up to the final we're sharing some of our best #EuropeanCupFinalStories…

🗣Subscribe now and listen to all of our Champions League coverage 👉
https://t.co/g89BQNhe5z pic.twitter.com/tVQ4ufLjHS

— The Anfield Wrap (@TheAnfieldWrap) 21 May 2018
Within no more than five seconds of the ball making contact with the roof, a spontaneous, humorous, chant breaks out. It was a quick-witted chant, and one that was quite fair to all involved, but one that really, really didn't age well at all.
"Are you Smicer,
Are you Smicer,
Are you Smicer in disguise?
Are you Smicer in disguise?"
Vladimir Smicer was the person that the masses chose to contextualise my skewed effort. The man was leaving the club after the final and probably wouldn't even play. He's likely to be on the bench and even if we need to make an attacking sub, so what? What's he going to do?
Forever described as a player who looked much better in training than he did in competitive matches, the Czech winger hadn't lived up to expectations since arriving in Gerard Houllier's first summer in sole charge.
Smicer had been a Liverpool player for six years and really hadn't pulled up many trees. Arguably a replacement for Steve McManaman, Vladi got nowhere near to producing the consistent levels of danger and skill provided by El Macca.
Smicer produced on a very infrequent basis. He did chip in with a handful of goals on the way to the 2001 Treble, including two in the League Cup semi final v Palace, and scored a cracking late winner against Chelsea to put us top of the league in March 2002, but overall, he was a player who flattered to deceive.
It felt as though he spent more time on the treatment table than on the pitch and he often came across as being too lightweight for the English game. Injury robbed him of most of the 2004-5 season, and he started only two games during the campaign, a goalless draw with Blackburn, and a 1-0 defeat at St James' Park. Hardly form that would be likely to concern Paolo Maldini, Alessandro Nesta, Jaap Stam and Cafu.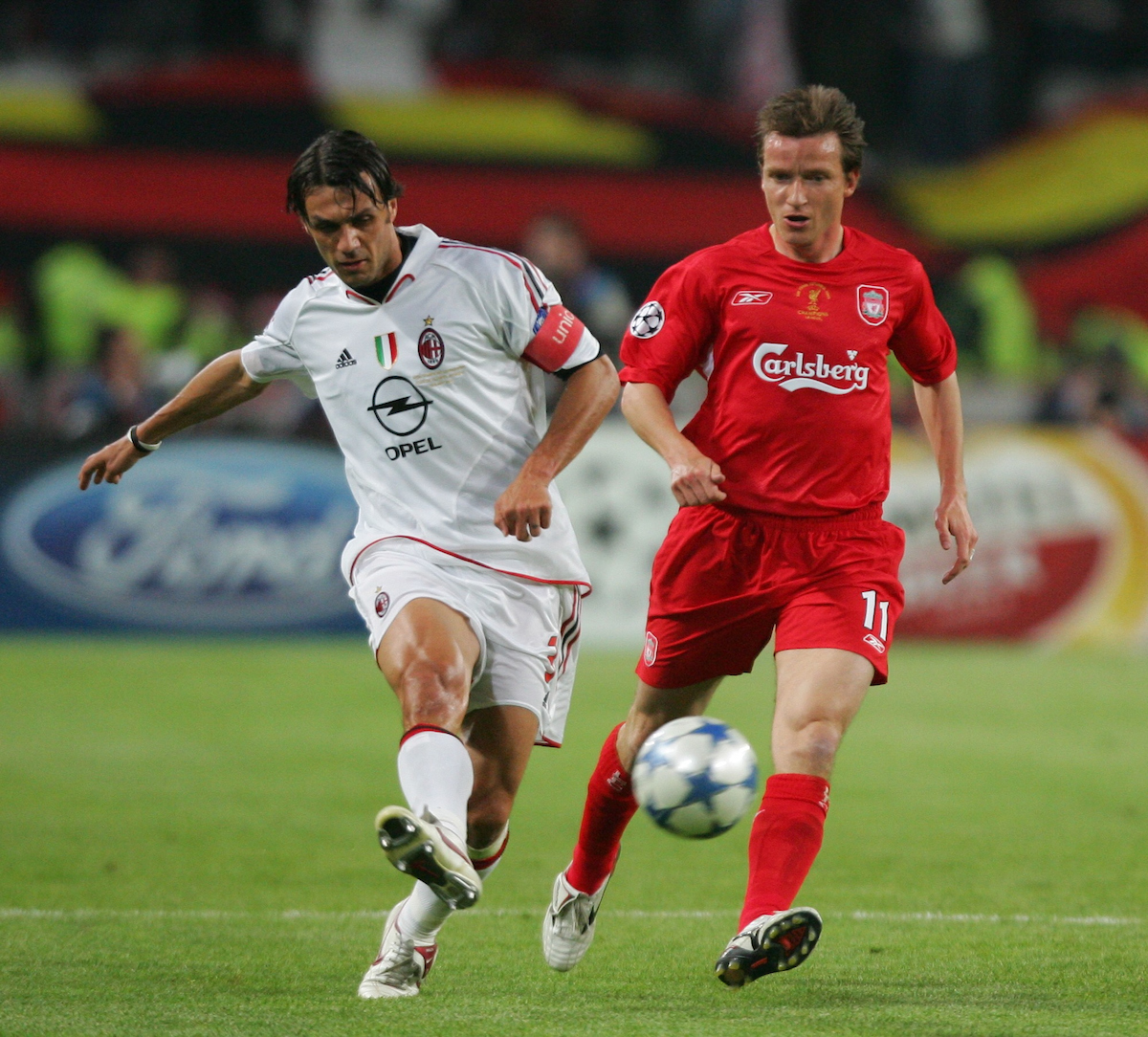 It was fairly clear to see why the man with the forever-concerned expression had been chosen as the stick to beat me with in my moment of need. Eighteen goals across six seasons was the record of a bloke who everybody subconsciously believed wouldn't be making an impact of any kind that night. I say subconsciously, because most fans wouldn't even have given him a second thought in the lead up to the final.
Andriy Shevchenko, Kaka, Andrea Pirlo, Clarence Seedorf, Hernan Crespo. Steven Gerrard, Xabi Alonso, Luis Garcia or maybe John Arne Riise. These were the players who could hurt the opposition. Smicer seemed to fit in well on the bench alongside Antonio Nunez and a 60 per cent fit Djibril Cisse.
When Harry Kewell goes off injured early on, most of us were thinking that Rafa would bring on Didi Hamann, a surprise non starter. Surely the efficient German would help Liverpool to wrestle back some control from the Rossoneri. Rafa however, didn't turn to Der Kaiser, and he surprisingly threw on his number 11, and the rest, as they say, is history.
Of course, the substitution looked to have had zero impact in a positive sense as the imperious Italians tore The Reds apart. No one was thinking about Smicer as Crespo dinked home the third. But his Liverpool career was ending in the most ruthless, chastening of fashions.
We've all heard the stories about what happened at half time. Even in hindsight however, we never really hear about what Vladi Smicer was doing. As Djimi Traore bounced in and out of the shower something surely must have been brewing in Smicer's brain. If it wasn't, then something must have quickly come over him as the ball rolled into his path, just a couple of minutes after Gerrard's header had found the corner of the net.
Smicer's 56th-minute strike can sometimes feel a little overlooked. Stevie's and Xabi's goals feel like they steal all of the glory in being the start and the end of the comeback, but that controlled drive from 25 yards deceived the giant Dida and really got people believing.
The image of the bespectacled bloke in the Ataturk holding his head in disbelief as all around him are thrown into a frenzy is one that few will forget, one that epitomises the range of emotions involved in the beautiful game, and this beautiful game in particular.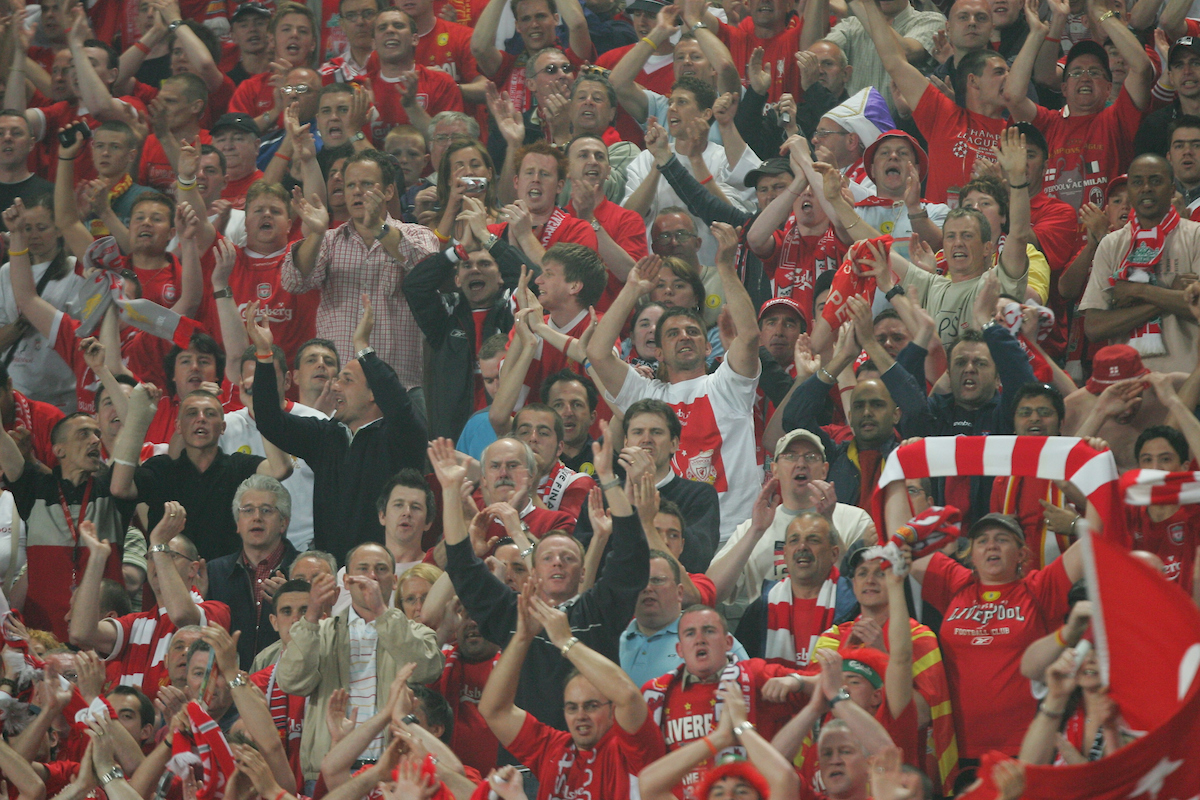 I must have seen the goal a thousand times since and there are a few things worthy of comment. First of all, if Kaka fixes his shinpads properly at half time then we may not have the night of our lives. Simple as that. A real sliding doors moment.
Secondly, one must credit Milan Baros for getting out of the way with an impressive Matrix-style body swerve, although it would have been great to see him deflect it home with his genitals.
Thirdly, I always feel a bit sorry for Vladi in that it looks as though nobody goes to celebrate with him. I know celebrations shouldn't happen when you're getting beat but I'd have loved somebody near him to just give him a big smacker for me, for that was the moment that I truly started to believe.
Finally, and obviously only recently, it occurred to me that Radja Nainggolan's goal against Jürgen Klopp's men in the Olimpico was quite similar to look at. Thankfully however, this one came far too late to make much of an impact.
Smicer had never shown a propensity for scoring long-range goals, but fair play to him. He trusted his instinct and we shall forever thank him for it. After an intelligent display across the 97 minutes that he was on the field, he then stepped up at a crucial point to regain Liverpool's initiative in the penalty shootout, beautifully sending Dida the wrong way before celebrating in the most passionate of manners. If his goal wasn't enough of a contribution to this most thrilling of nights, he had only gone and put the icing on the cake.
Even if he had never scored for us in the six years before that night, his transfer was now certified as worth it's weight in gold. Nice one, Gerard. Vladimir Smicer had literally elevated himself to being spoke about in the same conversation as Tommy Smith, Phil Neal, Terry McDermott, Kenny Dalglish and Alan Kennedy.
I hope he had the night of his life. I wish he could have witnessed the scenes that unfolded in The One4 establishment as the evening wore on. The leather sofas that the lucky few had managed to slump on during the first half were being used as bouncy castles and every single body in the place was covered from top to bottom in sweat, alcohol and tears of joy. Strangers hugged and kissed and rolled around on the floor together.
People roared themselves hoarse. Just shouting and shouting and singing and singing at the very top of their voice. Every pub across Merseyside would have been the same. Nearly every venue around the world would have had at least pockets of this jubilant behaviour. I can only imagine the scenes inside the Ataturk itself.
There were that many people in The One4, it felt like the walls were melting. A Derby County-supporting friend of ours had to leave through heat exhaustion early on. Tottenham and Manchester United-supporting friends of ours left at half time to watch the anticipated damp squib of a second half back at the relative comfort of home. Even the United fan was gutted to have missed out on seeing and feeling the atmosphere change in front of his eyes.
I guess the point of this piece, other than to inform you of a mildly amusing beach ball anecdote, is to help us remember that there could well be a very unlikely hero in Kiev. If, God forbid, Liverpool's front three aren't on top form, then stranger things have happened than big Dejan Lovren popping up to power home a header from a set piece. Someone could even emerge from the bench, like Vlad the Prevailer did 13 years ago, to write their name into Liverpool legend.
Supporters don't have to be told to keep believing and supporting if times get tough, far from it, but in the unlikely event of Dom Solanke, Danny Ings or Adam Lallana reading this, then remember this — if the boss decides to turn to you for salvation, then regardless of what has gone in the past few months or years, the stage could be set for you to leave a serious, lasting impression on the history of Liverpool Football Club and European football, a possible once in a lifetime opportunity.
Maybe it will be one of you that takes my mantle as Smicer in disguise.
"We've been to Hoffenheim and Maribor, Moscow and Seville…" 🎶

🗣 Subscribe to #TAWPlayer and listen to all of our Champions League buildup and reaction as the Reds look to make in number six 👉 https://t.co/yd76hpKGhg pic.twitter.com/SDqy0bNd8f

— The Anfield Wrap (@TheAnfieldWrap) 18 May 2018
Recent Posts:
[rpfc_recent_posts_from_category meta="true"]
Pics: David Rawcliffe-Propaganda Photo
Like The Anfield Wrap on Facebook