FOR the first time since his controversial departure from Liverpool to Chelsea in 2011, Fernando Torres has given his side of the story.
In Simon Hughes's new book Ring of Fire, which is released next week (Thursday, August 25), Torres exclusively catalogues the events that led to a British transfer record being broken and in turn, his own legacy at Anfield being shattered. 
This was a period in Liverpool's history when nothing was as it seemed. Here, Simon explains to The Anfield Wrap why that was the case.
---
I'VE been watching House of Cards. For those of you who haven't seen it but would like a glimpse into how many (if not all) major football clubs tend to operate — or any other sports institution for that matter — it is worth getting hold of the box set.
The only thing is, House of Cards is a political drama set in the White House around a Machiavellian character called Frank Underwood, who is played by Kevin Spacey.
Spacey portrays a democrat from South Carolina who, after being overlooked for appointment as Secretary of State concocts a scheme to propel himself into a position of greater influence through a process of systematic ruthlessness and manipulation, while aided by his equally ambitious wife.
The line from the first series that reeled me in came from one of Spacey's delicious inner monologues at a moment where he is planning on using a junior reporter to gain leverage on a rival.
He realises it is "unwise to make decisions so soon after sunset and so long from dawn" and convinces himself to wait until the next morning to take the decision of his next step, which proves to be the right one for his own advancement.
Now, from here, the House of Cards football analogy is two-fold. Fernando Torres certainly does not share the same raw personality traits as Frank Underwood. I interviewed him several times when he was a Liverpool player. Though at the time you could see he was career driven, I considered him to be shy, modest, talented, honest and sometimes brooding.
Frank's line about the sunset and the dawn, though, explains why Torres has chosen to speak now — rather than five years ago when he departed Anfield. Torres admitted to me that he had wanted to talk freely about the circumstances that led to his acrimonious exit for some time but being a Chelsea player made that impossible because there were pangs of remorse and a wanting of his life to return to the way it was between 2007 and the first half of 2009 when he and Steven Gerrard were irresistible together.
He did not argue with me when I suggested he performed as a Chelsea player like someone who could not forgive himself for making the wrong choices even though he achieved what he set out to do when he decided to go through with the move. "Win trophies."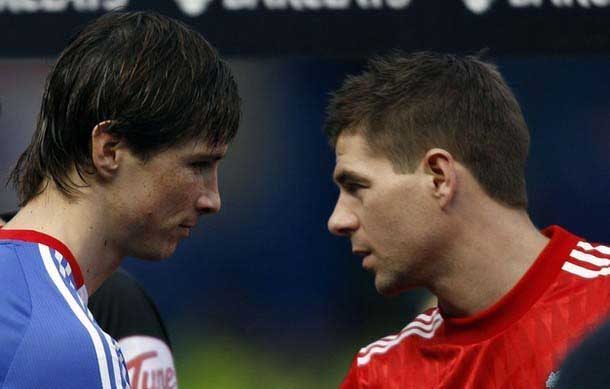 As 2009 rolled into 2010, indeed, Anfield and Melwood was like the White House in House of Cards, only dysfunctional versions which worked for nobody.
Torres had signed for Liverpool because leveraged investment had made it possible. While he became a legend, behind the scenes Liverpool was a mess with very few people serving the club's interests above their own. Had Liverpool won the 2008-09 Premier League title, it would have been one of the great sporting miracles, as Rick Parry, the former chief executive reflects elsewhere in Ring of Fire.
Under feuding owners Tom Hicks and George Gillett, auditors KPMG had expressed "material uncertainty" about Liverpool's ability to continue as a business as a going concern for the second successive year and Torres was dismayed by the decline in results.
Liverpool were out of the Champions League, Rafael Benitez, the manager he'd signed for, had been sacked, and Torres wanted to know whether it was true that he would be sold as the club attempted to deal with its highly publicised financial problems.
From here, there is an accepted version of events: one that suggests Torres asked Liverpool to consider an offer from Chelsea before verbal and written demands forced the move through.
I outlined in my proposal to Torres that a book would offer the opportunity for him to look back at his time at Liverpool with enough space for context to play a major role in the story, unlike a newspaper interview where word counts sometimes mean limitations.
Torres accepted my request that we meet far quicker than I expected. So I flew to Madrid in March sensing that maybe his take might be a different one.
You can read the much longer story next week when the book is released. There is more to the Torres interview than just the nature of his departure. But the short of that particularly thorny issue follows here.
Torres's sense of frustration was sharpened when Liverpool sold Javier Mascherano to Barcelona despite being assured only a month before that in order for a takeover to be completed, the club would need to keep its best players. To establish that, he had met with Christian Purslow on holiday in the aftermath of the World Cup held in South Africa.
When New England Sports Ventures (later to become Fenway Sports Group) acquired Liverpool in October in a purchase that Hicks would infamously label "an epic swindle," it was soon announced that Liverpool's structure would change, with a sporting director primarily dealing with the recruitment and sale of players. Damien Comolli was hired to the role, having achieved varied success at Tottenham Hotspur.
Torres recalls a meeting in the November: "Comolli told me that the new owners [FSG) had an idea of how to spend their investment. They wanted to bring in young players, to build something new. I was thinking to myself: this takes time to work. It takes two, three, four, maybe even 10 years. I didn't have that time. I was 27 years old. I did not have time to wait. I wanted to win. Here we are five years later and they are still trying to build — around the same position in the league as when I left."
Torres says he left neither meeting with Purslow nor Comolli believing he was wanted at Liverpool for reasons "only related to football".
It was the fall-out from the consultation with Kenny Dalglish that proved to be defining for Torres, however. Dalglish had initially been appointed on a temporary basis following the sacking of Roy Hodgson.
Though Torres admits of his unhappiness and that the possibility of leaving was discussed during the constructive discussion that did not include his agent or any other representatives speaking on his behalf, this conversation only happened after Liverpool had started negotiating privately with Chelsea.
Torres's future was delicately balanced when it was then reported that he had "verbally requested" to leave Liverpool. He determined this information had come from a deliberate leak and that his position as a Liverpool player was untenable because of broken trust.
"It changed the view of everybody, including myself," he said. "It was presented as if I was a traitor. It was not like this in the discussion(s). Liverpool could not admit they were doing something wrong with the whole team. They had to find a guilty one."
While Dalglish had not been a manager in more than a decade and was walking into a situation not of his making, FSG admitted to being baseball people and to taking lessons from mysterious sounding "pre-eminent advisors" about football.
A week after my meeting with Torres, indeed, the long running battle between Mill Financial, former owner Gillett and Royal Bank of Scotland revealed from a New York courtroom that back in 2010 when Mill were competing with FSG to buy Liverpool, that both Torres and Pepe Reina were viewed by FSG as being "probably beyond their primes".
Following the madness and drain of the Hicks and Gillett era and then the drama of a takeover, maybe matters got out of control.
Or, perhaps, in Liverpool's House of Cards, an aim was achieved in the end.
For podcasts on every Liverpool game this season, transfer gossip, the lowdown on new signings and more, subscribe to TAW Player for just £10 per month. Minimum sign-up is just one month. If it's not for you, all you've shelled out is a fiver! More information here.
Our latest free show post-Arsenal is here – just press play!