WHAT a day in May, what a sight to behold, what a team in Red, with a goalkeeper in yellow, being vastly superior all over the pitch. Everything beautiful.
The sun shone on Anfield today and Anfield shone right back at it. The football was effervescent from Liverpool; it was magnesium ablaze, twisting and spitting. This Liverpool side left the campaign on the hallowed turf with one last demonstration of what it loves to do, how it loves to consume an opponent across 20 minutes, how it loves to smother and flicker and explode. This Liverpool side showed us exactly what we are going to be missing for three months. It shouldn't be allowed to be taken away for that long. What are we going to do with our weekends when there isn't this magnificence to feast on? What will inspire the singing and shouting and the dancing we all need to do?
Liverpool today — good lord. They should have gone in 5-0 up. They should have had two penalties minimum on top of that five. They absolutely mullered Brighton from about the 15-minute mark. They left Chris Hughton's men dizzy. They confirmed Mo Salah's goalscoring season as one of the greatest of all time in the top flight. They crowned Dejan "Big Dog" Lovren's brilliantly unorthodox first 45 minutes with a goal. And among all of that, the half's defining force was Sadio Mane who may well currently be my most favourite of my 11 favourites, that 11 who wear Red.
Dominic Solanke started. I was joking before the game he might make 200 Liverpool appearances without a goal — constantly good performances combined with consistently hard lines. He was excellent first half, if unsure between the sticks. He does well for the opener and finds a way to stay involved in the game. He relished playing with the three great lads and he grew and grew into the contest until he got the goal his performance deserved. The way the side celebrated with him, with Salah, with Lovren and with Andy Robertson spoke volumes. The togetherness we saw after Rome is at the essence of what is good about Liverpool.
Jürgen Klopp needed a draw to guarantee Champions League football. Klopp took the pragmatic approach — he picked four forwards. This column will bang the drum until the skin comes off — pragmatism's definition isn't defensive per se; pragmatic football is what works. And what worked for Liverpool today was to devastate a Brighton side, exhaust a Brighton side, leave them unable to attack so, if they did somehow manage to hold out, they would be so drained from the work they have to do off the ball they would be unable to produce anything concrete on their rare forays forward.
It was Liverpool's best way to win the game and best way not to lose it. What Klopp has done across this season has been entirely pragmatic throughout. From the early rotation into the Christmas period into selling Philippe Coutinho and not replacing him, into waiting to signing Virgil van Dijk, everything has been about sheer effectiveness and acting in Liverpool's best interests. Today, as this season ends he deserves endless applause for helming this club through this campaign as well as he has, at seizing opportunities when they have come and at creating a circumstance where we can kick on across the summer.
In short, now the Champions League place has been secured and before the game in Kiev, it can be acclaimed as one of the best season's any manager of Liverpool has had without winning silverware.
And yes. The next thing.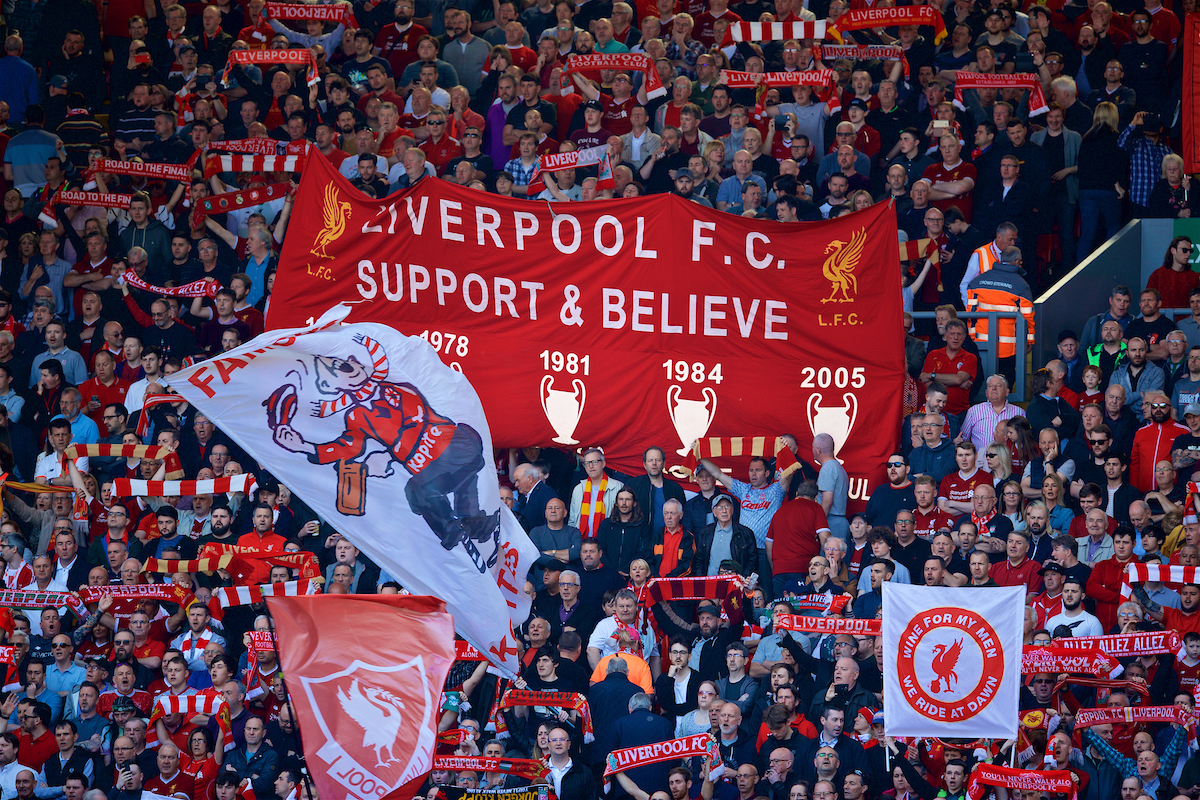 We get to do this one more time this season, one more time with this gang of lads in their current incarnation and one more time together, you and I reader. We get one more go at every song I write being about you and asking what's a song without you this campaign.
But that last song stands alone now in such a way. It's two weeks from now and its secondary objective — qualification for the Champions League — has now been nailed by these marvellous young men doing their best.
Instead, on that last go around in two weeks it's all about one thing — glory. We have nothing else to write about but that golden sky and whether or not Liverpool shift a very good season into a great one. It's one last game which psalms can written about, one last chance to sing Hosanna In The Highest, a one-off chance to climb Space Mountain.
We'll write psalms in two weeks.
We'll sing Hosanna In The Highest in two weeks.
In two weeks, you and I, we'll have a chat about this gang of lads climbing Space Mountain.
And so let this be the goodbye, the au revoir. You have a fabulous summer, handsome. Have a fabulous summer, queen. Enjoy it. This what you are going to do with your weekend: Spend time with loved ones. Holiday. Relax. Summer well is what I'm saying. Summer well. Prepare yourself. Because we'll be back here come August, we'll be back here ready to do this 38-game thing again, you and I reader. And I have a fancy we're doing it harder and longer and we're doing it for 90 points. We're doing that together.
We'll be back together — needing more than wanting; wanting for all time.
Thanks for your patience and gentility this season.
Much love as per.
"This means mission is accomplished and everything else is bonus and what a bonus it could be." 👊

Subscribe to listen to our Post Match Show as Liverpool qualify for next season's Champions League: https://t.co/oFCRQeLGZi pic.twitter.com/5De57iV4Yg

— The Anfield Wrap (@TheAnfieldWrap) 13 May 2018
Recent Posts:
[rpfc_recent_posts_from_category meta="true"]
Pics: David Rawcliffe-Propaganda Photo
Like The Anfield Wrap on Facebook