I DIDN'T sleep last night.
Spent the small hours fighting with my pillow, turning the TV on and off, getting up to take unneeded pisses. I'm not in a fit state now. I'm a troubled soul.
Why? I'll tell you why. Sadio Mane is injured. And Liverpool have a European Cup to win. How injured? We don't yet know. At my lowest ebbs, at 4am, just before the dawn, I'm imagining they're all injured. Mo Salah's got dodgy knees, Bobby Firmino's got ingrowing toe nails, Virgil van Dijk has chronic IBS, and Dejan Lovren's got gout.
I'm looking in the bathroom mirror at a guy with bloodshot eyes and the most furrowed of brows. I look like Droopy dawg after an all-night sesh. I'm sitting on the khazi scrolling through the Twitter on my phone. I put "Mane" in the search bar.
I now know more than I wanted to about a chap whose Christian name is "Gucci". Never heard of you, mate. Can you play left wing? Thought not. He looks the complacent type anyway. Apparently he's not injured though, while Sadio, sadly, is. But how injured? I'm injured for fuck's sake. I'm wounded, I'm in bits. There's no way I could play in that second leg away to Roma next Wednesday.
But before all that, there's domestic chores to attend to. Stoke City are a chore and they know it. Neither of us want this game, both of us need to win this game. I've done the sums and there's a disaster scenario to this season. Stay with me, I'll cheer up in a minute. The disaster is now not winning the Champions League while simultaneously not qualifying to participate in it next season as well.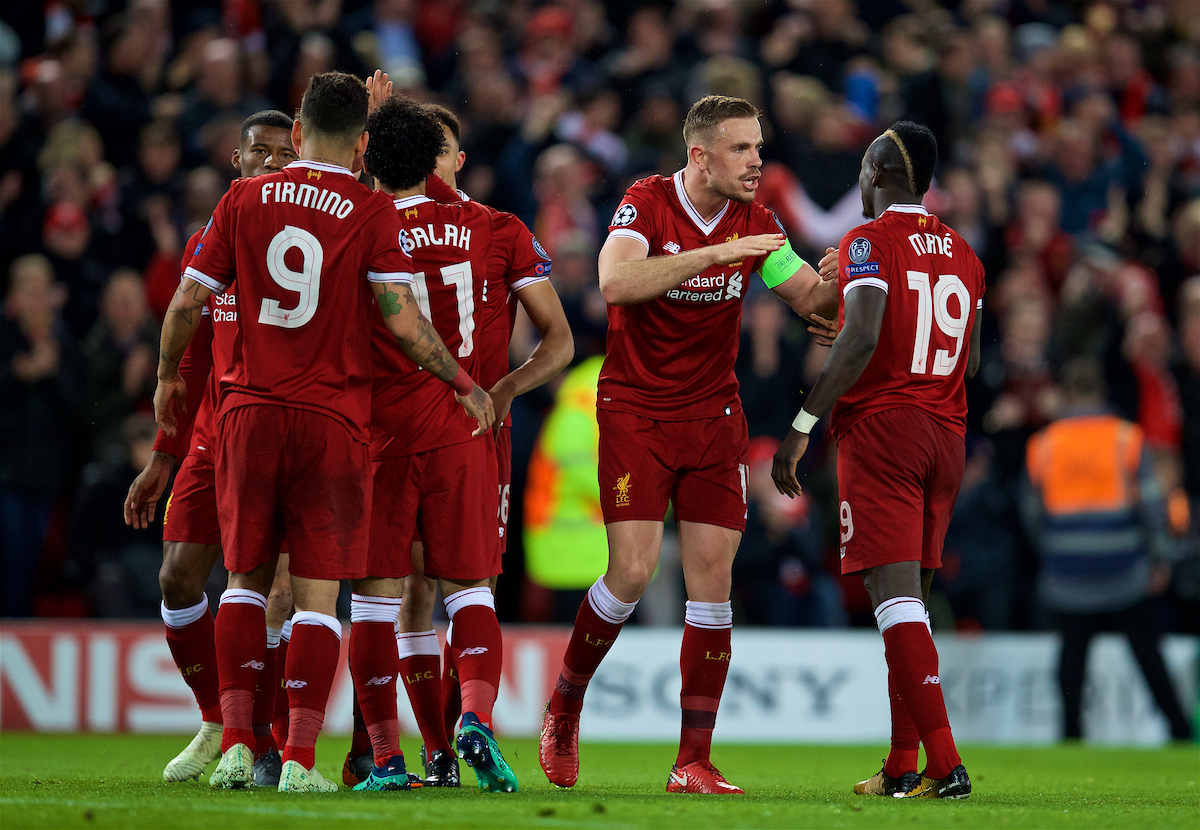 Those capable of being truly objective and rational (the rare beasts that they are) know that, whatever happens next, Liverpool FC have had a good season. We've achieved nothing yet, but shown we're capable of anything.
If we draw with Stoke, and Chelsea win at Swansea, and then rouse themselves to beat us at the Bridge the weekend after next, then we'll be going into the final round of games having to win. Of course we can still do that, but it all gets too close for comfort. If we lose to Stoke, all hell breaks loose. It's then in Chelsea's hands. That's made you think, hasn't it?
But we won't lose to Stoke. Will we? Well, no. The greatest team in Europe should not be contemplating such an inevitability. But the manager of the greatest team in Europe has some tough decisions to make. If ever you could contrive a situation in which a manager had to really earn his corn, then this is it.
We're hoping Mane is fine for that second leg in Rome next week. Did I say hoping? I meant praying in every religious format known to humanity. The crazy thing about this Liverpool team is how it is defined by the alchemy of just three players. Albeit three unbelievably good players.
These musketeers are fine individuals but together, they're greater than the sum of the greatest parts imaginable. There isn't a better front three combination in world football today. Write that down on a piece of paper and think about that all day.
People can argue that front threes that have players like Neymar, Lionel Messi or Cristiano Ronaldo in them have superior components, but none dovetail nor synchronise the way Salah, Firmino and Mane do. They are so good that they can lead the charge to usher in a second golden age for Liverpool on their own.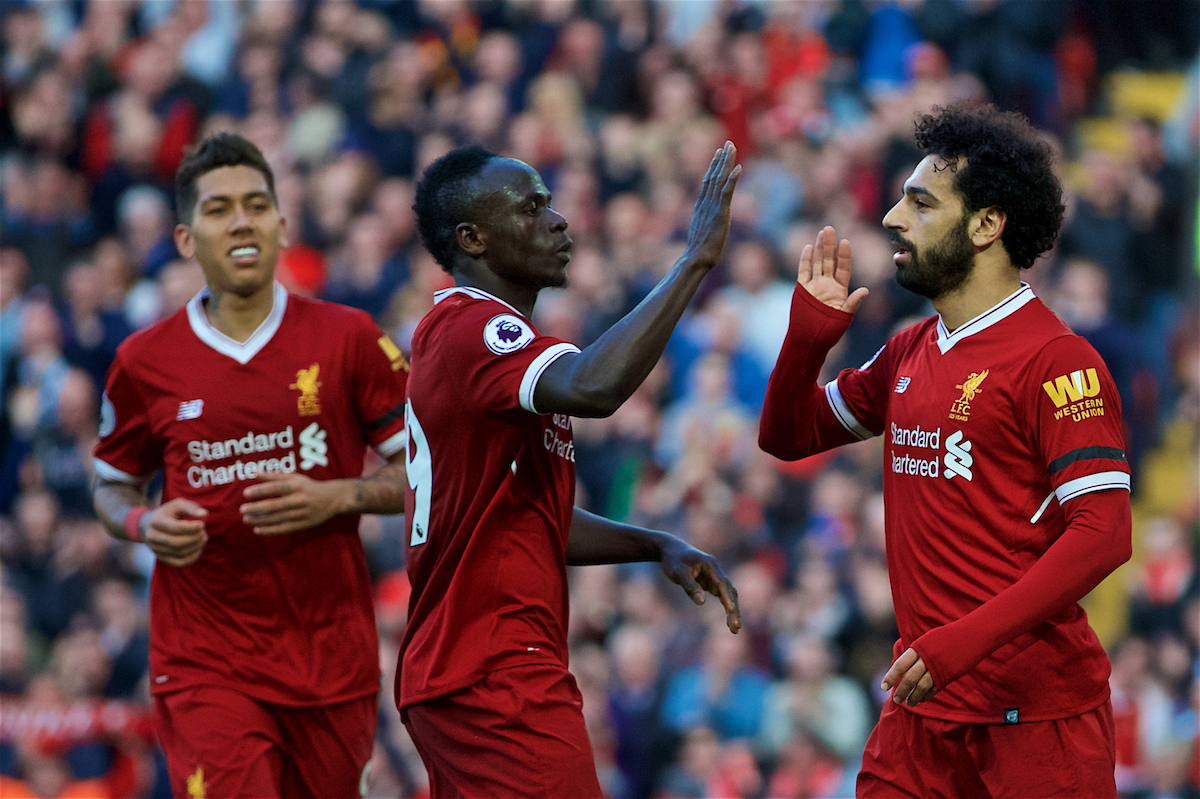 But take any one of them away and the drop off is so stark it almost renders the memory of the whole combination as a veneer. Against Stoke at Anfield, Liverpool will line up without Mane. Jürgen Klopp will also be sweating on having to send Salah and and Firmino into action again knowing that the mere act of putting Alex Oxlade-Chamberlain onto a football field last Tuesday was a precursor to losing him to injury for several months.
Stoke are all but relegated so there is nothing left for them to do but fight. Liverpool don't really need a fight just right now. They need an end of season stroll in the sun. A difficult balance will need to be found, by the manager, in his selections, and by the team on the pitch, in terms of the intensity of their play.
Klopp called Stoke "the game of the season" in his Friday press conference. He made a passionate plea for a reprise of the atmosphere the Anfield crowd delivered on Tuesday night. He'll be lucky, but his concern suggests that the inevitable drop off in the temperature from the midweek 7.45pm kick off to a Saturday 12.30pm start is genuinely troubling him.
It's crazy to be riddled with anxieties at this crazily exciting moment in the history of Liverpool FC, but I don't think it's necessarily a bad thing. Nerves are good. For all of us. They keep minds focused, eyes on prizes.
The time for parades is coming.
Predicted 11: Karius; Alexander-Arnold, Gomez, van Dijk, Robertson; Henderson, Wijnaldum, Milner; Salah, Firmino, Solanke.
Kick off: 12.30pm, Saturday
Referee: Andre Marriner
Odds: Liverpool 4-11, Draw 49-10, Stoke 21-2
"There's reasons to be monumentally excited about this football team." 🔴

"There should be no limits to people's excitement." 👊

🗣 Subscribe to #TAWPlayer and listen to all of our coverage as the Reds look to make it number six 👉: https://t.co/eTmRQkhp95 pic.twitter.com/IVXhBye7eW

— The Anfield Wrap (@TheAnfieldWrap) 25 April 2018
Recent Posts:
[rpfc_recent_posts_from_category meta="true"]
Pics: David Rawcliffe-Propaganda Photo
Like The Anfield Wrap on Facebook