DEFENDING things like this always come with a caveat so here it is.
Throwing bottles in the street is not a good thing. I'm dead against it. Presumably apart from the lads who were doing it, we all are. I'm less concerned about the safety of the Manchester City coach though as I'm fairly sure it can withstand a Carlsberg bottle at short range.
No, it's the people on the other side of the vehicle who are the issue – the bystanders who were caught in the crossfire. You should be able to go to the game and not end up on the business end of broken glass. That's not good. Stop that. Needs saying.
It's at that point though that I disengage my arm from that of the "moral majority" and head off down my own path.
I was on board with everything else that happened outside the ground. Well, everything that didn't involve bottles anyway. The noise, the smoke, the "welcome".
Bottles aside, it made a statement. You haven't even got in the ground yet and we're just as noisy out here as we're going to be in there. Welcome to Liverpool. You're not going to enjoy it.
This morning while looking for radio coverage about the game, as you do when you need just a little longer in the afterglow of a night like that, I came across a phone in/witch hunt which claimed to cover both the game and the events before kick off. It did nothing of the sort, of course. They didn't mention the game at all. Where would be the coin there when there's so much free outrage to mine?
A little later I checked in on Twitter. Aside from seeing my least favourite football expression – "these so-called fans" – repeated extensively, it contained the written version – almost a transcription – of the awful hand wringing I'd encountered earlier.
The Reds ✊️ pic.twitter.com/WMI8F2fjeU

— The Anfield Wrap (@TheAnfieldWrap) 5 April 2018
The stock phrases came out in a litany of auto-completed hot air. "The English disease", "haven't they learned from Heysel?", "hurting the real fans" and "games behind closed doors". The host even said that he was "bored" with the idea of welcoming the coach and its atmosphere of "supposed intimidation", adding that no City player was the least bit concerned.
I estimate that this man hasn't worn jeans to a game and stood on a terrace for at least four decades.
Bored indeed.
The most maddening claim about all this is that it somehow "tarnishes the result".
You know, when the final whistle went in the game, I turned to my mate with a look of dejection, and sighed "3-0 against one of Europe's top sides is all well and good, but I can't help but feel that those goals and clean sheet cannot make up for what happened outside. I won't bother with the pub, thanks. I just want to go home, to be honest."
Tarnish the result? The game ended 18 hours ago and I can still feel my heart doing tours of my ribcage. Three-nil? Second time we've beaten a genuinely brilliant side in three months? The possibility of a semi final in the European Cup? Tarnished?
Look, what happened wasn't good. It's hard to deny that, but it's a footnote to Liverpool storming into City in the first half and then showing they have the gumption to defend it in the second. The latter was just as glorious as the first.
It's nights like these which make you suddenly clench your fists and hiss "yes!" for seemingly no reason in mixed company days later. For some it will be the memory of Alex Oxlade-Chamberlain's goal, for others it will be Trent Alexander-Arnold virtually locking Leroy Sane in a room away from his mates. One of those nights.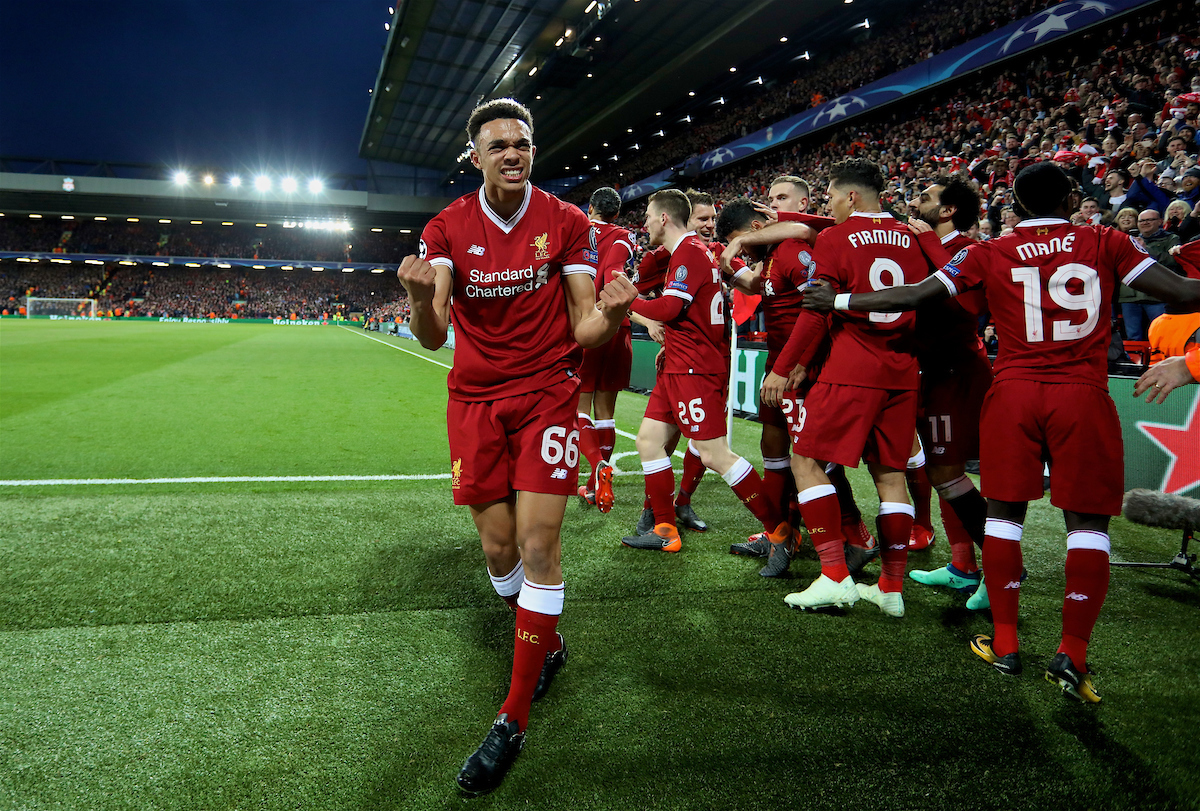 And that won't be undone by a thrown bottle or stern shock jocks talking gleefully about possible sanctions.
One more thing. There's been a call to stop the fans greeting the bus from now on. The lad on the radio thought that this was the first time we've done this (See above; jeans, terrace, 1972) and that it ought to be stopped. Furthermore, they want us to be respectful and play it in the Corinthian spirit (which, bottles aside, we generally do).
These are the same hollow voices who talk of continental passion and the noise and intrigue of the Bernabeu and Camp Nou and who speak of the yellow wall at Borussia Dortmund with hushed tones. Well, Liverpool are a European side and we like how they do things over there. To the best of my knowledge we're the only club on this island that do that. That should be applauded – not frowned upon.
And why do so many overseas fans look forward to visiting Anfield? Because on occasion (though it should be more of a regular thing) we are capable of making stands move with our noise and support. Fans love that.
How many times have we applauded European sides who have had their arses handed to them, but refused to shut up for the entire game? I can certainly recall The Kop going quiet after the 4-0 win against Toulouse and then singing their name out of sheer respect for coming over and doing just that. We like atmosphere. We like noise. This time it went over the top, but that doesn't ruin a thing.
No one wants anyone to be hurt, but no one wants an anodyne atmosphere with sporadic polite applause either, save for the banter merchants of talk radio.
Tarnished the result? Not here. Hand wring all you want. I'm sleeping fine.
"All of those lads stood up and were absolutely fucking counted." 💥

🗣 Subscribe and listen to our post-match reaction show after the Reds mauled Manchester City 👉 https://t.co/45GYIj4X4o pic.twitter.com/jJNelmhlGT

— The Anfield Wrap (@TheAnfieldWrap) 5 April 2018
Recent Posts:
[rpfc_recent_posts_from_category meta="true"]
Pics: David Rawcliffe-Propaganda Photo
Like The Anfield Wrap on Facebook