THERE was so much talk going into this game.
So much talk that it almost felt like the buildup to this Champions League quarter final first leg against Manchester City wouldn't live up to its own hype. Champions League first legs can be drab affairs, focus laid almost too heavy on the second leg.
This was absolutely not one of those nights.
Liverpool's first leg win over Pep Guardiola's champions in waiting not only lived up to all of its pre-match hype, it far exceeded the expectation of even the most optimistic Red.
In saying there had been a lot of talk in the buildup to the game, it's hard to ignore the talk around the atmosphere. So much has been written on these pages in the last few days on that subject. At times, it has almost appeared to border on persuasive. Anfield can do this turns to you must make Anfield do this.
A lot of that addressed the noises coming out of the Man City camp. Manager, captain, the Premier League's next young player of the season all quick to play down the effect the atmosphere inside Anfield would have.
What they perhaps didn't count on is the extent to which that would begin outside the stadium.
The Reds, eh? ♥️

Subscribe now to @TheAnfieldWrap to listen to our Post Match Show.

It's jubilant, it's excited: https://t.co/oFCRQeLGZi pic.twitter.com/AO55n6Mda0

— The Anfield Wrap (@TheAnfieldWrap) 4 April 2018
Hours before kick off the streets were lined with scousers. There have been bus greetings in the past, but you'd do well to find one which matched that in terms of sheer numbers.
Think back to the post-Istanbul parade. Images of lads hanging off signposts, atop street signs, doing anything to get a better glimpse of the main event. The City coach pulled up and looked hesitant almost immediately. Red smoke completely engulfed the view. Even those who had guaranteed themselves the best seats would have done well to pick out the away team's coach.
But the aforementioned main event was always going to be the arrival of the Mighty Reds. For all the controversy that surrounded the bus meetings. The jarg social media posters which spoke of showing the away side what money can't buy. The thought of that gathering being in any way about the team in the away dressing room at Anfield. None of that was present on Arkles Lane.
Liverpool's coach was greeted by the loudest scouse rendition of Allez, Allez, Allez that has possibly ever happened. It's a song which evokes so much emotion. So many memories. Such a bounce. And it was the perfect way to show those Liverpool players that they had nothing to worry about.
Ask those lads how much of an effect that had. How much that motivated them to put in the extra yard. Jump into that tackle when they would usually stand off.
It's not about them, of course, but I'd love to ask Guardiola, Vincent Kompany and Leroy Sane how they felt after seeing that. I can tell you after the first goal how they felt. Their heads had gone.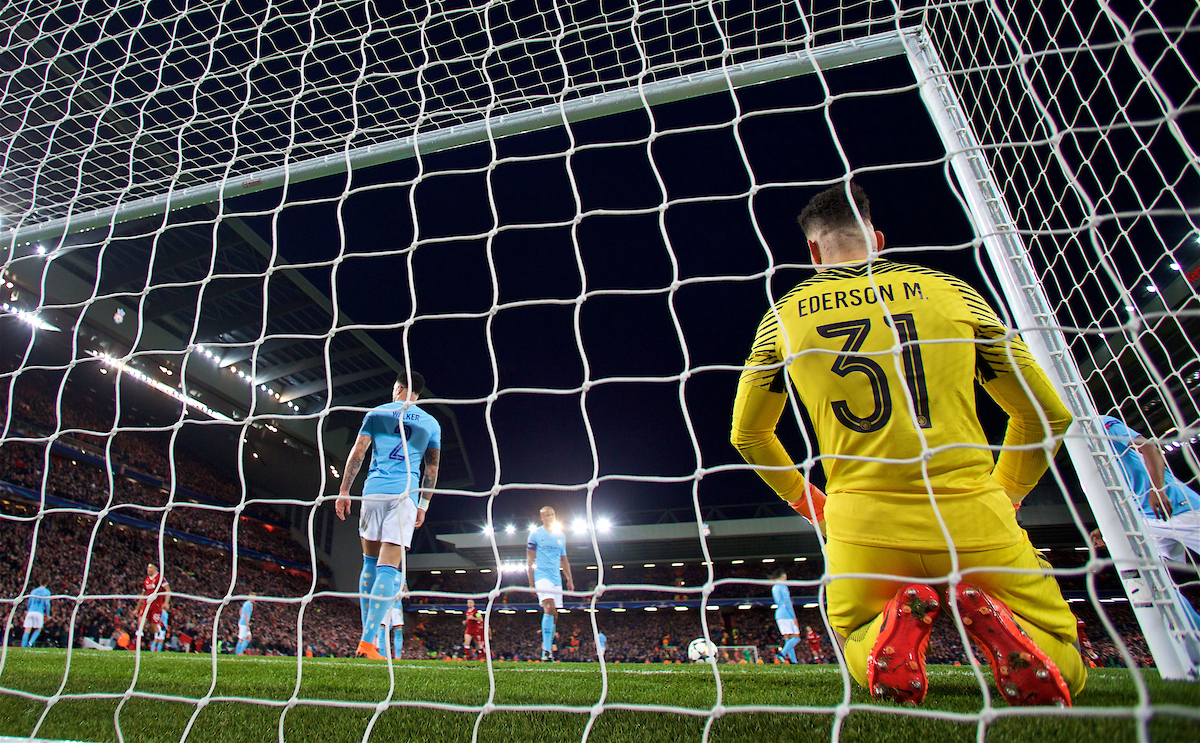 I'm saving a special mention for a particular young man tonight. A lad who was criticised after being targeted in successive away games. There was talk of him being targeted again tonight.
Sane will likely win the Premier League's young player of the season, and rightly so. But Trent Alexander-Arnold deserves absolutely every credit for the way he dealt with the player, the occasion and the game as a whole tonight.
He did not put a foot wrong.
Post Palace, those mad conversations started to happen again. The ones which are caveated with "I know he's scouse but…". Knock them on the head. Because this lad is a special footballer and he absolutely deserves his place in this football team.
He demonstrated that and then some tonight. The 19-year-old was head and shoulders above anybody else on the pitch. I joked on the way back from the game that it's the best performance I've seen from a Liverpool right back. I'm still not sure how big a statement that is but, given the circumstances around this game, I'm struggling to find anything to counter it.
So there was all of that. All of that talk. Liverpool shut absolutely everybody up tonight. This is a serious football team with a serious chance of finishing this season with something to celebrate.
The good times are here again. It's like they never went away.
Up the number six Reds.
"Anyone who underestimates Anfield, it's at your peril." 👊

"What a performance. What a night." 💥

🎥Subscribe to listen to our Post Match Show: https://t.co/eTmRQkhp95 pic.twitter.com/664IAUvtNY

— The Anfield Wrap (@TheAnfieldWrap) 4 April 2018
Recent Posts:
[rpfc_recent_posts_from_category meta="true"]
Pics: David Rawcliffe-Propaganda Photo
Like The Anfield Wrap on Facebook