THERE are games. There are big games. There are iconic games.
On Tuesday, Liverpool Football Club takes part in its most iconic game in years.
It wasn't that long ago that people would talk about The Reds as a former force, as a team that was somewhere between the elite, and the rest. Now, Liverpool are 90 minutes away from being the sole English representative in the UEFA Champions League semi finals, almost certainly along with the three best teams in world football.
Jürgen Klopp claimed that the childish morons who threw objects at the Manchester City team bus on Wednesday ruined the enjoyment of the evening for him. Perfectly understandable, and they may have cost us the chance of welcoming the coaches ever again. The vast majority of fans there that night did their jobs perfectly, as did the manager and the players. It was a wonderful performance at Anfield on yet another famous European night in L4, with another sensational atmosphere.
However, until the full-time whistle goes at the Etihad on Tuesday and The Reds are confirmed as semi finalists, I can't bring myself to commit to celebrations such as punching the air and spontaneous clothes removal. A job still needs doing, and make no mistake that it is still a big, big job.
There was a certain amount of trepidation heading into Saturday's Merseyside derby. Not that Liverpool might lose, of course. That's not even a thing anymore it seems. Liverpool had four lads on the bench whose chief hobbies were eating jam sandwiches and drawing superheroes the last time Everton beat Liverpool (maybe they still enjoy that, I don't know them very well).
The trepidation was that The Blues would leave a few hard challenges on their Red counterparts for shits and giggles, though with no Ross Barkley around anymore those chances had been significantly reduced. Aside from one stamp (and probably an accidental one in fairness) from Yannick Bolasie on Danny Ings, the game ended without much incident.
"Clyne hasn't been seen for a year, a 32-year-old centre-back playing left-back, Dom Solanke, who has never scored a goal, Danny Ings who hasn't started for about three years… and they still couldn't beat us!" 😂

🎥 Watch today's Talking Reds here 👉 https://t.co/QEThszDJWq pic.twitter.com/MluKVzeocY

— The Anfield Wrap (@TheAnfieldWrap) 9 April 2018
Ings and Dominic Solanke enjoyed rare starts but neither really did as much as I'm sure they would have hoped to. There may well be more opportunities for them soon though if Liverpool do go through and Champions League semi finals require rotation again. With Chelsea's draw against West Ham putting Klopp's men in an even stronger position, needing just three wins from their last five games to secure a position in the top four, Ings and Solanke might yet register their first goals of the season before it ends.
Domestic football fades into the background for now though. Qualifying for the Champions League is important. Winning it is even more so.
The 3-0 lead over City is a big one, but will seem a lot smaller if the hosts are able to score a couple of early goals, and anyone who has paid attention to Pep Guardiola's team this season will be aware of how routinely they are able to do such things with relative ease.
However, having failed to register a single shot on target in the first leg, and then being humbled by their noisy neighbours Manchester United at the Etihad on Saturday, the hope for the visitors has to be that City will experience confidence issues and that the aura of invincibility that has been pulsing over the blue half of Manchester this season will be gone.
That aura will surely vanish if Liverpool are able to score an away goal, which would mean City needing to score five. It's not just the away goal, but the fact that City seem to have developed a habit of conceding more than once in a short space of time. With a fairly rested Roberto Firmino and hopefully fit Mo Salah to unleash, Klopp will fancy taking advantage of a backline that has looked incredibly ordinary twice in the last week.
I couldn't help but enjoy Jose Mourinho and United get schooled in the first half on Saturday, though there was the worry that them laying down and having their belly rubbed as Everton had done the previous weekend would mean Guardiola's boys getting a nice rest in the second half.
However, the previously terrible Paul Pogba bagged a brace with his Man City hairdo, and even Chris Smalling got in on the act to turn things around, which meant City toiling and racing around the field to come back, to try and win the league, and to try and overcome the bizarre hypnotic spell that Ashley Young had put on the officials.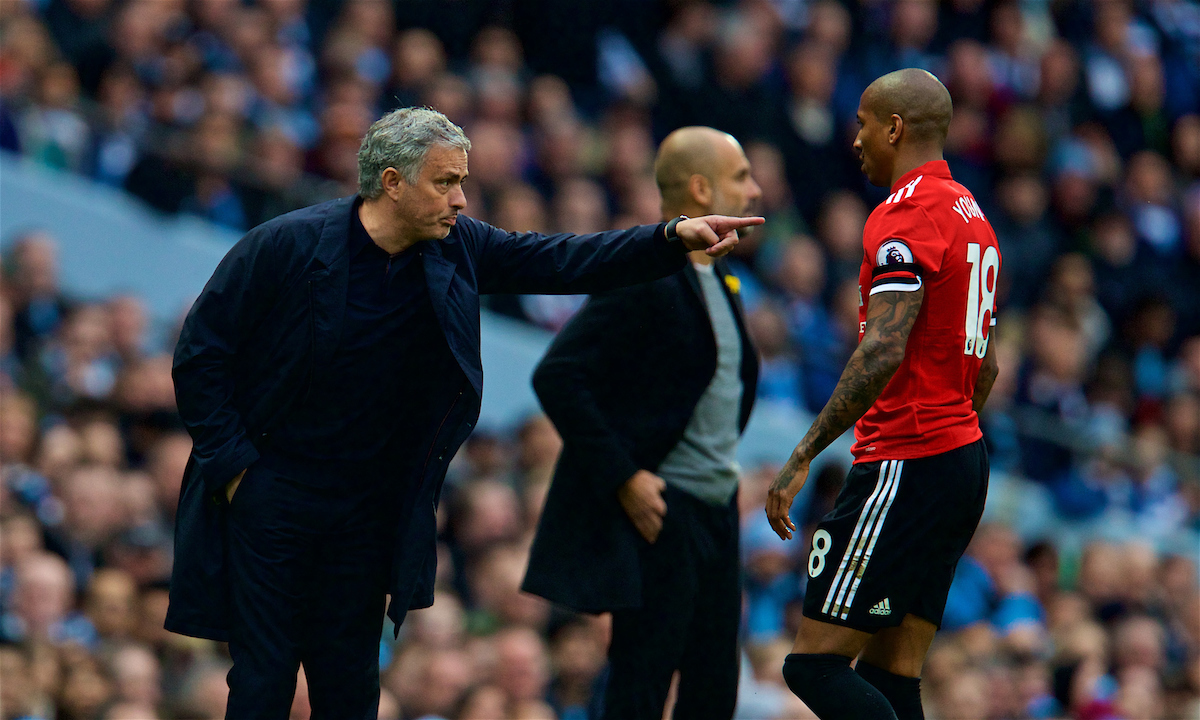 It must have been emotionally exhausting for them, and it has to have an effect with less than 75 hours break from full time on Saturday to kick off on Tuesday. Liverpool must take advantage of the inevitable doubt that will sit in the minds of every City player and fan, and probably the manager too.
Things are of course not perfect in the Red camp. Jordan Henderson's booking on Wednesday and Emre Can's ongoing injury problem means that Liverpool go into a game where they'll have to do a lot of defending without a defensive midfielder.
Step forward Gini Wijnaldum. The Dutchman hasn't exactly had a season to write home about to date. His reputation for going missing in games is not just a cliché, the stats back up that he simply doesn't do as much as his fellow midfielders. However, on Saturday he was deployed in a deeper role and thrived. He was busy, he was involved and he rose to the occasion. The test on Tuesday will be significantly harder, but perhaps this could be where Gini steps up as a leader. After all, his best game this season by a country mile was City at home in the league. He'll need plenty of help from Alex Oxlade-Chamberlain and captain for the night James Milner, and will surely get plenty of it.
It will be a tough and an insanely long 90 minutes. I anticipate watching more of the clock than the game on Tuesday, but once it concludes and that final whistle is blown, should it be Liverpool players falling to the floor with their arms raised in triumph, the world will take notice.
Klopp has been trying to turn doubters into believers for two and a half years, and having guided Liverpool to two finals, one a European one, in his first season, taking The Reds to a Champions League semi final would be an incredible achievement to signify to everyone that this club is on its way and means business.
I've psyched myself up far too much for this game. So much so that I can't even think of a rousing sign-off line.
*Ponders*
San Dimas High School football rules!
Oh, and up the Reds.
Recent Posts:
[rpfc_recent_posts_from_category meta="true"]
Pics: David Rawcliffe-Propaganda Photo
Like The Anfield Wrap on Facebook