"Tonight, I'm gonna have myself a real good time.
"I feel alive.
"And the world, it's turning inside out,
"I'm floating around, in ecstasy, so,
"Don't. Stop. Me. Now.
"Don't. Stop. Me.
"'Cause I'm having a good time,
"Having a good time."
WE'RE back, Reds.
Back, and ready to burst into song at the thought of a Champions League semi final.
After a brief interlude to allow a rotated defence to give a two-goal lead away to a set piece, dry pitch, shite referee-reliant West Bromwich Albion, and a subsequent opportunity for all of the absolutely miserable Liverpool "supporters" out there a chance to hang out to dry a team and squad that has been nothing short of incredible for months, we're back.
And when I say "we", I mean those of us who are revelling in this journey. Those of us who are soaking up every second of this incredible red cocktail.
This isn't for the others. They can find another article in another place. This is for you. This is for me. And this is for those Mighty fucking Reds.
Many of you will be old enough (or too young but with enough of a rich musical heritage) to recognise the opening lines to this week's call to arms.
I was away with mates a few weeks ago and someone told me the backstory to how Freddie Mercury wrote Don't Stop Me Now.
For those who don't already know it, Freddie was basically in the middle of a particularly hedonistic period of his life during which he was, shall we say, partying as hard as was humanly possible, to the extent that his bandmates were worried about him and had a little word in his ear, telling him that he might want to think about calming down. To think about maybe enjoying life a little less.
His response, as big a "fuck off, you boring bastards" as he could muster, was to write one of the most glorious, uplifting songs of all time.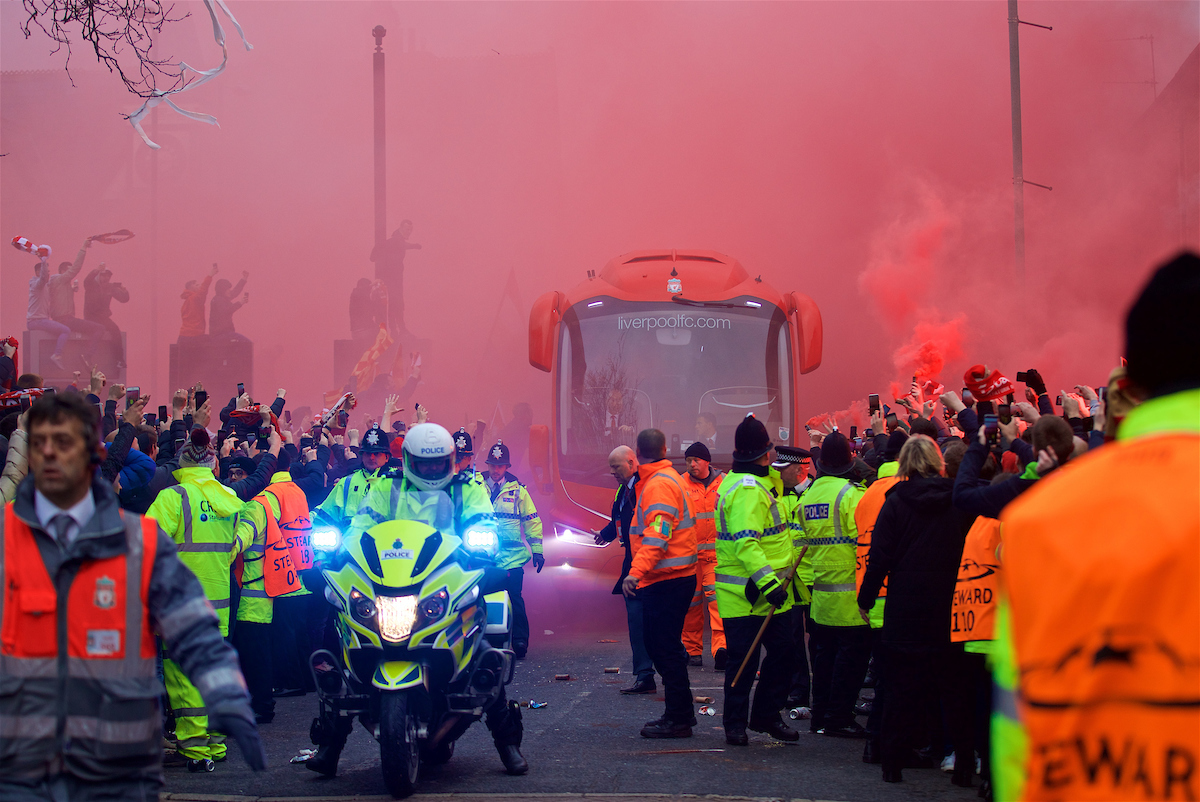 I'm not more than an armchair fan of Queen's music, but I've been listening to it everyday ever since. It's made its way to the top of my morning "invincibles" song list.
It's the perfect accompaniment to this stage of the journey. The perfect prelude to what comes next.
Now, before we go on, I should say that you should consume songs like this responsibly. After all, some of Freddie's mates (according to the internet at least) find parts of it quite sad because they trace his premature death to the period of his life to which some of the lyrics refer. So, let me just say, please don't take this as an invitation to enjoy yourself to death, or to do any harm to those around you.
But…
Freddie did get something right.
He knew that the world was to be enjoyed, not endured.
While he wasn't a massive Red, as far as I know, he knew that a 2-2 draw three days before a Champions League semi final is to be brushed off our shoulders with little more than a shrug.
He knew that it should be taken for what it was, a timely reminder that we can't always be invincible, and we still need to be at our very best to achieve everything we want to achieve in this life, in this competition.
If you've never heard that song, or you haven't heard it for a while, do yourself a favour and listen to it now. Take some time to sit back and soak it in, before reading any further.
Get the lyrics on your phone or on your computer while you listen to it. Sing it out loud. Fuck the people around you in your office, on the train or on the bus. Let them wonder what the fuck you're doing while you absorb the lyrics with a huge grin on your face.
"I'm a shooting star leaping through the sky, like a tiger, defying the laws of gravity.
"I'm a racing car passing by, like Lady Godiva,
"I'm gonna go, go, go,
"There's no stopping me."
There should be no stopping us now. No doubt in our minds about what this side is capable of. No need to worry ourselves silly.
If you're a worrier, just remind yourself that it doesn't matter now. We've got nothing to lose. The worst-case scenario here is that we get knocked out of the Champions League in the semi final during a year in which nobody other than a few lunatics gave us a hope in hell's chance of getting anywhere near this stage.
Our job is to enjoy it.
I've had a few days of rest and recuperation in the buildup to this one to make sure that I'm ready to enjoy it as much as possible. Alcohol free with loads of green veg. Some of the things they tell you to do on the internet if you want to live a long and healthy life.
I want to live a long and healthy life. But I don't want it to be long at the expense of it not being deep enough. I want to take every moment I can that presents itself to me to experience life as deeply and richly as humanly possible. Without unnecessary worry and without unnecessary stress.
Enjoying life, not enduring it.
That's what this is about. To many people around the world, this is just 22 rich, young men kicking a ball around a field. It has no meaning to them.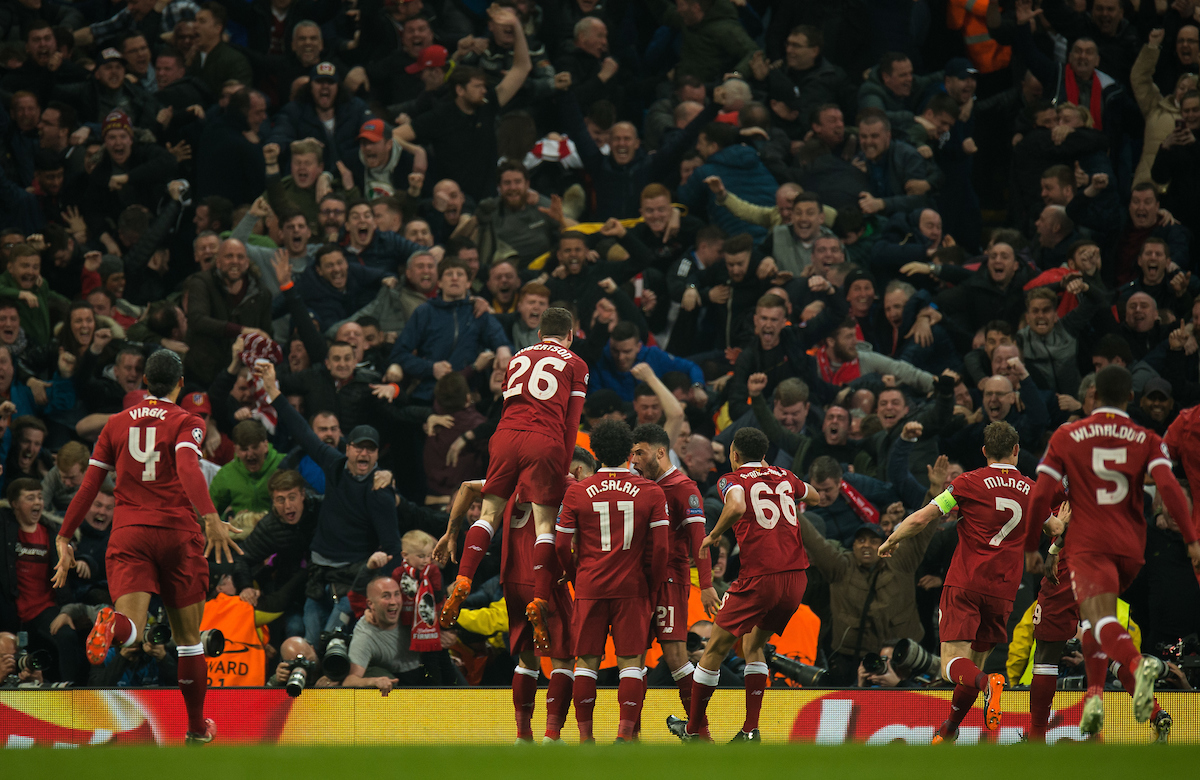 But it does to us.
To us it means everything. For these moments and in these times, it means the world.
In all honesty, I'm more on Carlo Ancelotti's wavelength than that of our own legendary Bill Shankly when it comes to these things though.
It's not more important than life or death, we know that all too well. It's not more important than your family, your friends and your general health and happiness.
But it is the most important of all the unimportant things.
Done the best way, this game, these lads, can improve your life immeasurably.
They can create friendships across the planet, bonds that last lifetimes and shared memories that demonstrate to all those who care to think about it that we are more alike than we are not alike. Wherever you're from, however you found this journey, we are all together. We are forever bound by the most important of the unimportant things.
And we are the most important club.
Remember them laughing after my pre-Manchester City piece?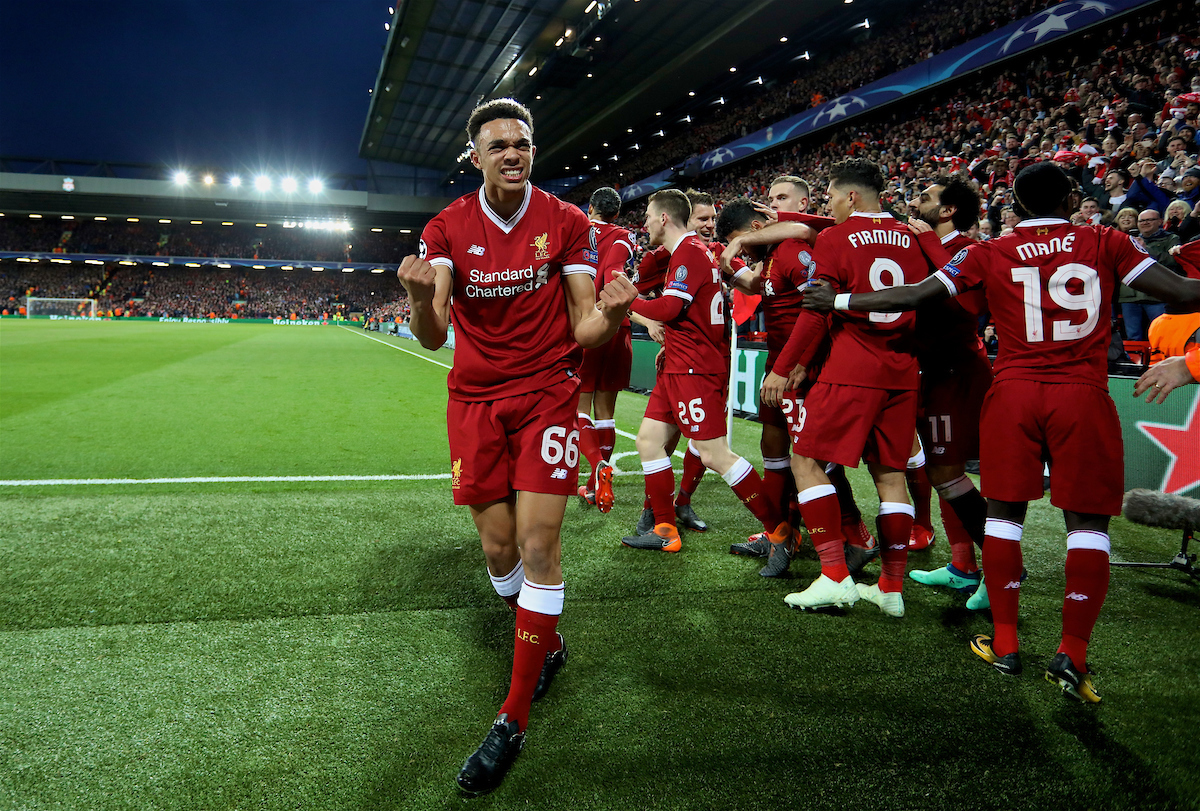 "They're deluded," they shouted. "They're always like this," they mocked.
Well they weren't laughing when we took their runaway league champions and demolished them.
We crushed them — not once, but twice.
The magical power of Anfield did again what we knew it could.
But Anfield is just a place. A building. Made of concrete and bricks and metal. It can't sing. It can't scream. It can't dance, and bounce, and laugh and cry.
You and I did that. We were the difference. We aren't just the 12th man. We make all 11 of the other players bigger, faster and stronger for 90 minutes as well, and we reduce the opposition to a nine or 10-man team for good measure.
We're the most important player in the squad, because we have the biggest influence over everyone else on the pitch. Every one of us, around the globe, contributing that unknown quantity that baffles opponents and defies logic. There isn't a stat for it.
The Roma players might be too wise to mock us. Our heritage in Europe seems to have more respect among continental Europeans than in our own country, which makes perfect sense.
They might be too astute to ridicule us, but they'll be looking at each other in their dressing room later wondering who it will be. Which one, or more, of them will crack under the pressure. Who will crumble. Someone will.
Players take a look at the Anfield pitch… 🏟
#ASRoma #UCL #LFCRoma pic.twitter.com/6vKIVYq87T

— AS Roma English (@ASRomaEN) 23 April 2018
It might not be Edin Dzeko or Daniele De Rossi, but they'll be looking at the other lads knowing that someone won't make it through unscathed.
Even Pep Guardiola knew that, which is why he went into the game at Anfield without Raheem Sterling, despite him being the team's top scorer in the absence of Sergio Aguero.
He knew, and he was right.
But we can't take it for granted. We can't just rock up and expect the atmosphere to be what it was before. We can't underestimate how good this Roma team is.
We wouldn't be underestimating Barcelona, and they were dumped out by this side.
So, let's take it up a notch. Let's crank up the volume and increase the screaming. Let's devour them. Let them leave saying that they're grateful they got to play in the famous Anfield atmosphere and are thankful that it was only 5-0 in the end.
We don't need to throw bottles at buses to achieve what we need to achieve.
They're worried enough without that, and the bottles just give the rest of the country a chance to deflect from the main part.
The part where our supporters can do something no-one else can do.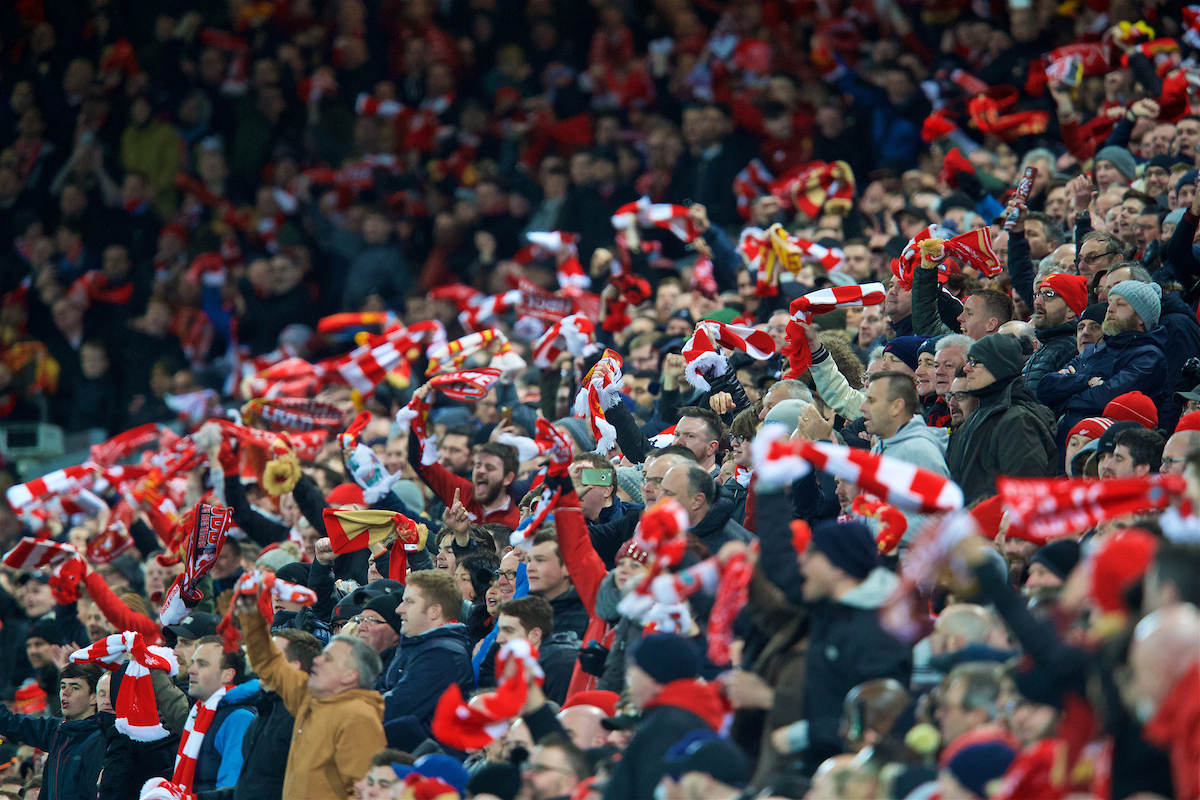 I was raised on the legend and have now witnessed it for myself on numerous occasions, as some of you have now done for the first time.
But I've never seen it anywhere else in England.
Plastic flags and staged "fun" aside, the atmosphere at the Etihad was actually pretty good from the home supporters. Pretty good, but not ferocious.
Not filled with fury and passion and five European Cup victories. Not filled with wit and charm and real European heritage.
It's time to show the world again what we can do. It's time to go to the next level. To go to the stratosphere.
We're burning through the sky, travelling at the speed of light, making supersonic men and women of those around us who we take on the adventure.
It's time to turn the temperature up.
Two hundred degrees.
Make them feel the searing heat of Anfield in the semi final of the European Cup.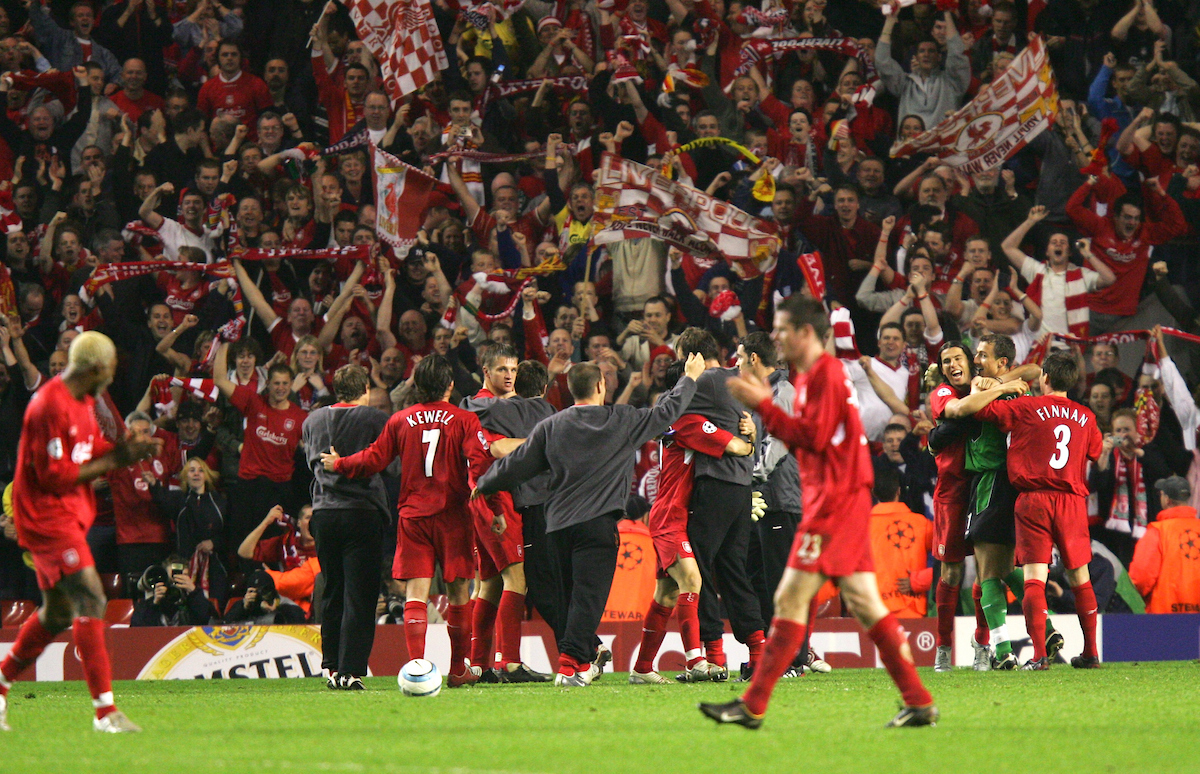 I was at Chelsea in 2005. In The Kop. I couldn't hear my own voice among the masses, despite screaming as loudly as I could. It was incredible. That was my first European Cup semi final after years of listening to the stories about all of the ones I'd missed, wondering if I'd ever get to experience one of those nights for myself.
This will be my fourth European Cup semi final and I'm not yet 40. I'm averaging a similar rate to my 72-year-old dad at this point.
We shouldn't take for granted what that represents. It shows why other clubs can't match this. We have a DNA for European football that most other clubs can only dream of.
But it also shows how rare these things are, even for the very best, and how they should be savoured. My dad and his generation have lived through the greatest era in this great club's history, and he's only averaged one European Cup final every 10 years.
I think that one of the problems with life in general now is that we too quickly take for granted the amazing things happening around us, so that we can focus instead on the negatives. In a football sense, I saw it after the final whistle of the West Brom game and I see it everyday, all around me.
If you are someone who tends to focus on the downside of everything, take a day off. For one day and one night, just allow yourself to dream. Allow yourself to savour how special this is. Grant yourself the opportunity to enjoy every moment of it. Wherever you are in the world, remember that worrying about what happens next won't help.
I heard a great line the other week that worrying is just praying for bad things to happen. If you're going to pray, pray for good things to happen instead. Imagine how it will feel when Sadio Mane scores the third goal of his hat trick because the Roma defence is so busy worrying about Mohamed Salah. Picture the scenes when Bobby Firmino scores a no-look goal in front of The Kop before celebrating like the cool customer he is.
We scored three against the best side in Europe.
I want five tonight.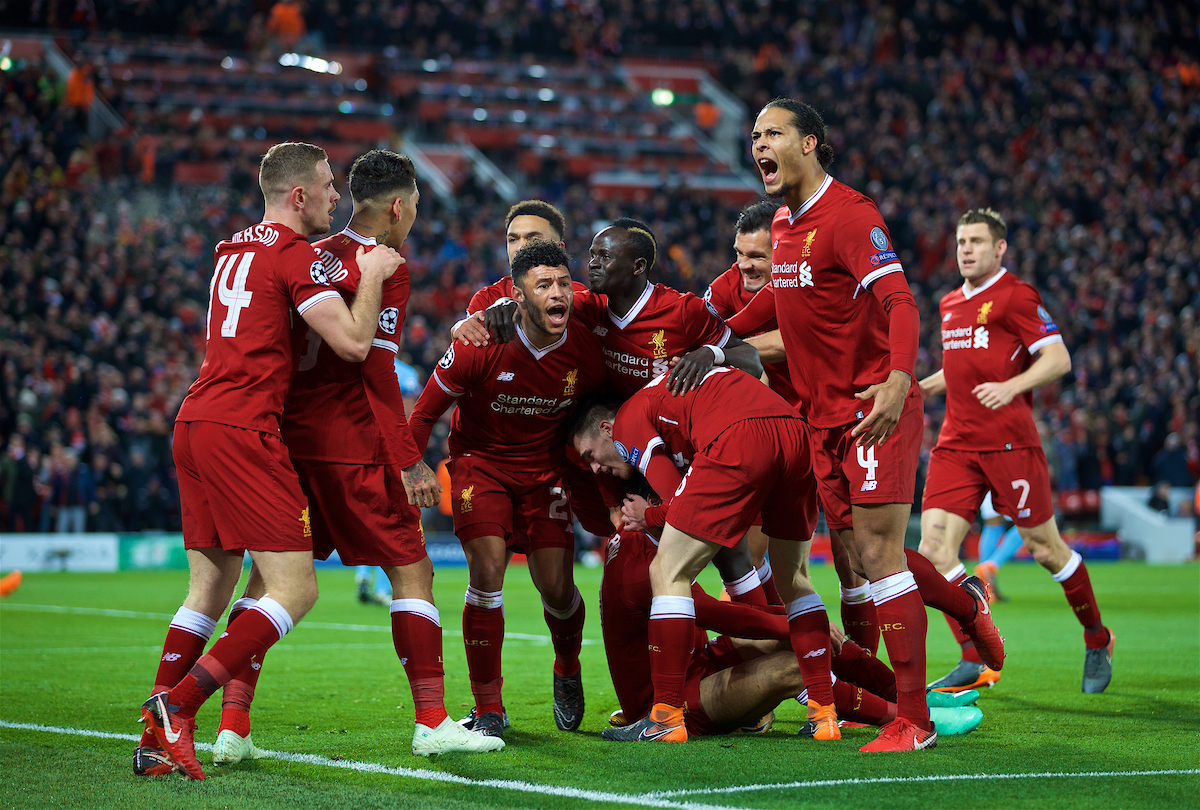 I want to demolish them in a hurricane of red shirts. In a torrential rainstorm of darting runs, incisive passing and dinked finishes.
As the fifth smashes into the top corner, I want us to roll around in the aisles laughing and crying in equal measure at this most glorious of Liverpool teams. At the speed and relentless power of these insatiable footballers.
We can adopt the position of not taking a wonderful team for granted while simultaneously aiming to destroy it. That's what we did to Manchester City and that's what we can do to Roma.
The Mighty Reds are rested and ready to go. As are we. They're angry that they didn't finish the job against West Brom, and Roma are going to pay the price for that anger. Like Greek gods avenging an injustice. Greek gods dressed all in red.
Bigger, stronger, faster than you've ever felt. Transmit it onto the pitch tonight. Fill those gorgeous Reds with the energy of five million people from all around the planet.
Make them invincible.
Don't stop us now.
Whatever happens next, this is only the beginning.
"Every single day I wake up I think about Kiev." 🏆

🗣 Subscribe to #TAWPlayer and listen to all of our Champions League coverage as the Reds look to make it number six 👉 https://t.co/rsl3LeA1dd pic.twitter.com/RxvERQHLwZ

— The Anfield Wrap (@TheAnfieldWrap) 23 April 2018
Recent Posts:
[rpfc_recent_posts_from_category meta="true"]
Pics: David Rawcliffe-Propaganda Photo
Like The Anfield Wrap on Facebook